WTCC - Ehrlacher Shines with Breakthrough Win
WTCC - 2017 Race of Argentina - Races Report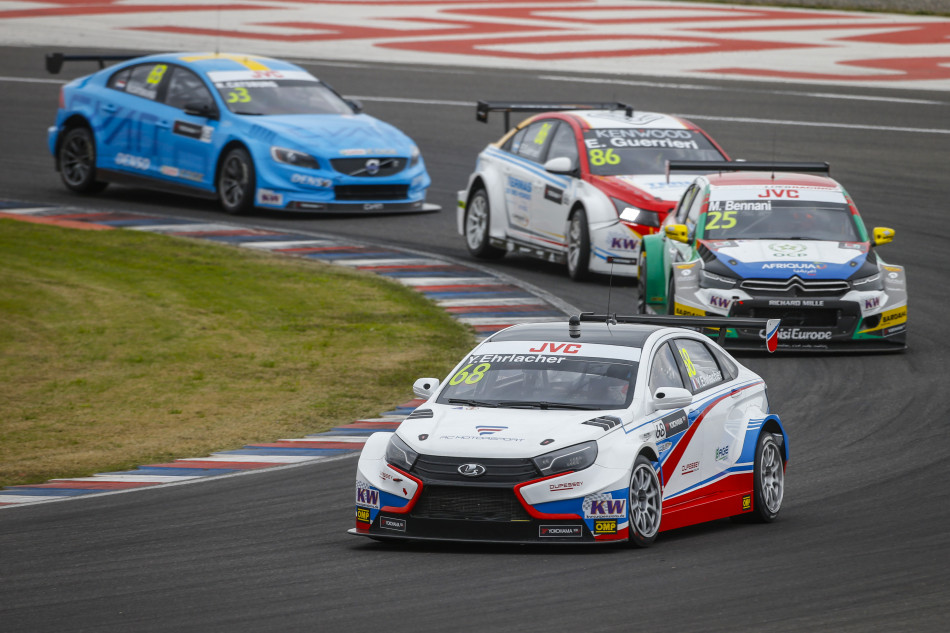 Find here all the pictures from the 2017 WTCC Race of Argentina
RACE REPORT: FIA WTCC Race of Argentina, 14-16 July 2017
FIA World Touring Car Championship 2017, Rounds 11 and 12 of 20
*Yvan Muller's 21-year-old nephew is eighth different winner of 2017
*Heartache for Catsburg as Michelisz helps Honda to manufacturer lead
*Guerrieri takes home podium and WTCC Trophy victory
Yann Ehrlacher scored a breakthrough maiden FIA World Touring Car Championship victory at WTCC Race of Argentina, converting a career-first standing start pole position into victory number one for him and the privateer RC Motorsport team.
The 21-year-old nephew of four-time WTCC champion Yvan Muller led away from the line only for contact with Tom Chilton to drop him back to second place. However, event officials deemed that the Sébastien Loeb Racing driver had gained an unfair advantage and handed Chilton a five-second time penalty, which dropped him from first to fourth at the finish of the Opening Race.
Nicky Catsburg made the most of his DHL pole position to lead the Main Race only to suffer a front-left puncture for the second race running. That let in Norbert Michelisz for his second consecutive win as factory Honda team-mate Tiago Monteiro gained the edge in the title chase with the runner-up spot. Heading into the summer break, Monteiro leads Thed Björk by an increased margin of 12 points with Michelisz up to third despite a non-score in the Opening Race following a puncture.
Björk's Main Race podium gave the works Polestar Cyan Racing team some reason for cheer after Catsburg's day of woe and a retirement for Néstor Girolami in the Opening Race following the onset of an electrical issue. With Honda out-scoring its rival make, it's the Japanese firm that now leads the World Touring Car Championship for Manufacturers heading to the next event in China in the autumn. Catsburg, whose frustration was compounded when he stopped to change a second puncture in the Main Race, bagged the TAG Heuer Best Lap Trophy for his early push.
Elsewhere, Rob Huff was twice in the top 10 from his lowly grid spot but is WTCC Trophy lead has been swallowed up with Mehdi Bennani now first on countback with he, Tom Chilton and Huff all tied on 87 points. John Filippi extended his point-scoring run with eighth in the Opening Race, while Ryo Michigami charged through from P16 to P10 for his first points since the season-opening WTCC Race of Morocco. Tom Coronel was a points finisher in both races, while American racer Kevin Gleason scored twice in the WTCC Trophy. Zsolt Dávid Szabó acquitted himself well on his WTCC debut, finishing P13 and P15 for Zengő Motorsport. His team-mate, Dániel Nagy, finished ahead in both counters.
In addition to extensive live global TV coverage WTCC Race of Argentina enjoyed substantial live airtime on FOX Sports Latin America and free-to-air channels TVPA and Canal 12.
RACE WINNER QUOTES (full transcript here)
Yann Ehrlacher (Opening Race winner): "It's a very nice feeling and I can't really believe it. It was a tough race. I got a little hit from Tom at the beginning so I lose a place to him. I was pushing a lot because Mehdi was pushing from behind. Winning because Tom [Chilton] got a penalty is not fair racing but it's a win so I take it."
Norbert Michelisz (Main Race winner): "I was a bit down after the Opening Race collecting zero points and I knew I had to push. I really wanted to take Nicky at the start but he did the perfect getaway from the line and I wasn't able to catch him. Then I tried to push but up until his puncture I was never in a position to really overtake. I'm sorry for him but happy for us, second Main Race win for me in a row and some really good points for the championship."
OPENING RACE REPORT
MAIN RACE REPORT
TEAM VOLVO POLESTAR LANDS WTCC MAC3 SUCCESS
Thed Björk, Nicky Catsburg and Néstor Girolami combined to give Team Volvo Polestar its fifth Manufacturers Against the Clock victory of 2017 to claim 12 more points in its bid to win the FIA World Touring Car Championship for makes. In the Tour de France-inspired time trial, they beat the Team Honda line-up of Norbert Michelisz, Ryo Michigami and Tiago Monteiro over two laps of the the 4.806-kilometre Circuito Termas de Río Hondo although a turbo boost issue for Michigami meant it wasn't the usual close fight. Afterwards, Alexander Murdzevski Schedvin, Head of Motorsport at Polestar, singled out home hero Girolami for particular praise. "In motorsport the closest you can come to a team effort is MAC3 and it started with a lot of hard work in the Free Practice sessions. That led to our pole position and MAC3 win. Bebu [Girolami] is our secret weapon on this track doing a lot of additional work, which is not so evident because everybody is looking at his result alone. But he's doing a great job for the team as you can see from the job we've done today. We're really happy about the promise of the team and to do well on this track."
RACE FACTS: Opening Race DHL Pole Position: Yann Ehrlacher (LADA Vesta WTCC)
Main Race DHL Pole Position: Nicky Catsburg (Volvo S60 Polestar)
TAG Heuer Best Lap Trophy: Nicky Catsburg (Volvo S60 Polestar) 1m43.480s
NEXT EVENT: FIA WTCC Race of China, Ningo International Speedpark, 13-15 October