This page contains archived information and may not display perfectly
WTCC - 2015 Race of Thailand - Preview
2015 FIA WTCC RACE OF THAILAND Rounds 21 & 22 – Chang International Circuit, 31 October-1 November
José María López will celebrate back-to-back FIA World Touring Car Championship titles* in twilight when Thailand stages the all-action WTCC for the first time from 31 October-1 November.
The second of two 11-lap races at the state-of-the-art Chang International Circuit in Buriram will take place at dusk under floodlights from 17h30 local time on 1 November with Citroën driver López on the cusp of joining an elite group of drivers to have successfully defended their WTCC crown.
However, if the 32- year-old Argentine is to follow Andy Priaulx (WTCC champion from 2005-2007) and Yvan Muller (2010-2011) and leave Thailand as champion for a second time then he must add to his season tally of 396 points, which has handed him a 75-point margin over team-mate Muller with four races left.
While there are myriad points permutations to consider, if López wins race one from pole then he's champion regardless of Muller's result. And should Muller triumph in the Thai opener having started from top spot with López finishing second from P2 or P3 on the grid, then López needs to finish race two third or higher to be champion, even if Muller wins the second race. But with eight wins, five poles and nine fastest laps, López is the driver in the ascendancy and has triumphed at all of the newfor-2015 venues used so far this season.
And López isn't the only driver eying WTCC title gold in Thailand, which has never hosted an FIA world championship event before. Norbert Michelisz holds a 25-point advantage in the race for the Yokohama Drivers' Trophy and the Zengő Motorsport Honda pilot could secure the accolade if results go his way in Buriram.
In the battle for the outright runnerup spot, Muller is 39 points clear of fellow Citroën driver Sébastien Loeb, who has excelled during his second season in the WTCC since switching from the World Rally Championship. The legendary Frenchman, who recently announced his participation on January's Dakar cross-country rally in South America, has claimed three wins in 2015 – just two less than four-time WTCC champion Muller.
Factory Honda drivers Tiago Monteiro and Gabriele Tarquini, plus works LADA trio Nicky Catsburg, Rob Huff and Nicolas Lapierre will also be in action in Buririam where Thai driver Tin Sritrai will be making his WTCC debut.
CHANG INTERNATIONAL CIRCUIT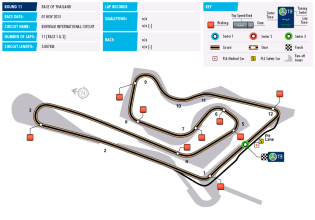 Lap distance: 4.554km
Race distance: 2 x 14 laps / 63.756km
Location: 444/5 m.15, Buriram-prakhonchai road, Muang Buriram, Buriram, Thailand 31000
Press officer: Mukkhaphon Amornwet, [email protected], +66 86367703
Airports: Buriram, 37km, Khon Kaen, 213km.
Lap records: Qualifying: To be established
Race: To be established
DID YOU KNOW?
2 August 1989 – Tin Sritrai is born in Khon Kaen. On 1 November 2015 he'll become the first driver from Thailand to race in the WTCC.
4 October 2014 – The Chang International Circuit opens for business 20 months after construction work began.
3 December 2014 – The FIA World Motor Sport Council rubberstamps the inclusion of Thailand on the 2015 WTCC calendar when it meets in Doha, Qatar. It will be the first FIA world championship motor race to take place in Thailand.
WTCC TIMETABLE
Thursday 29 October
09.00-10.00: Pre-event press conference, Grand Hyatt Erawan Hotel, Bangkok
Friday 30 October

12.00-18.00: Media Accreditation Centre open
12.00-18.00: Media Centre open
Saturday 31 October
08.00-18.00: Media Accreditation Centre open
08.00-20.00: Media Centre open
09.00-09.30: WTCC Testing
14.30-15.00: WTCC Free Practice 1
17.00-17.30: WTCC Free Practice 2
Sunday 1 November
10.00-10.20: WTCC Qualifying Q1
10.25-10.35: WTCC Qualifying Q2
10.40 (pit lane opens): WTCC Qualifying Q3
11.10 (approx.): WTCC post-qualifying press conference (Media Centre)
15.15-15.45: Opening ceremony
16.25: WTCC Race 1 (11 laps)
17.30: WTCC Race 2 (11 laps)
18.10 (approx.): WTCC podium race 1 and 2
18.30 (approx.): WTCC post-race press conference (Media Centre)
FIA OFFICIALS
Chairman of the Stewards: Rod Parkin (GBR)
2nd International Steward: Tim Schenken (AUS)
Race Director: Miroslav Bartos (CZE)
Assistant to the Race Director: Rui Marques (PRT)
Medical Delegate: Jacques Tropenat (FRA)
Technical Delegate: Manuel Leal (ESP)
Press Delegate: Richard Rodgers (GBR)
Incident Camera Delegate: Lionel Bérard (FRA)
Safety Car Driver: Bruno Correia (PRT) FIA
Coordinator: Olivier Steveny (BEL)
FIA WORLD TOURING CAR CHAMPIONSHIP CLASSIFICATIONS
The provisional classification will be available at www.fiawtcc.com FIA WTCC RACE OF THAILAND Results of each track session will be available at www.fiawtcc.com