This page contains archived information and may not display perfectly
WRC - Wales Rally GB - Press Conference
Transcript of the pre-event Press Conference organised by the FIA for the 2018 Wales Rally GB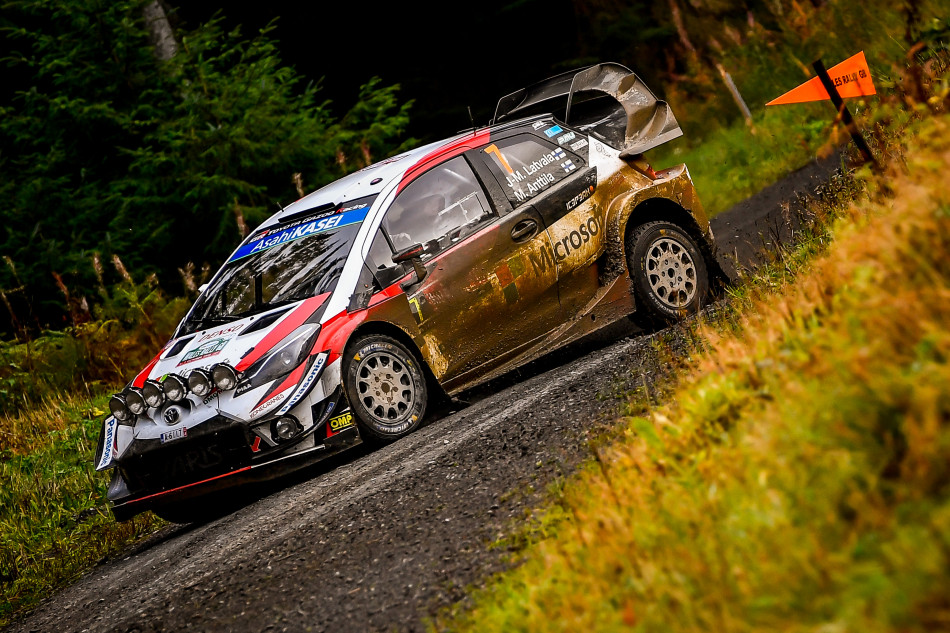 Present:
Ott Tänak, Toyota GAZOO Racing WRT
Elfyn Evans, M-Sport Ford World Rally Team
Craig Breen, Citroën Total Abu Dhabi World Rally Team
Hayden Paddon, Hyundai Shell Mobis World Rally Team
Q:
Ott, firstly let's start with what happened at shakedown this morning. We saw you off the road, how did it happen and what damage was done to the Yaris?
OT:
I had some electrical issue with the wipers, there was something before the corner and I tried to get them in the position so I could see out of the screen again. When I looked out, the corner was already there and I was much too quick, I should have been concentrating on the main job!
Q:
Not much multi-tasking went on this morning then…
OT:
Not at all. I ran out of talent.
Q:
Was there any damage?
OT:
There was a small hole in the top corner of the radiator which was leaking water. I was able to fix it and get back to service. We lost a couple of hours.
Q:
But you came back and it was all good after that?
OT:
Yes. All good.
Q:
You are second in the championship after three wins in a row and just 13 points separate you from the lead. You haven't allowed yourself to consider the title before, what is your thinking now? Does your strategy remain the same?
OT:
We know we are in the fight and we are not so far off. But we are still off, we have quite a bit of catching up to do. Our focus is to make a better result than the other two, but we know our competition… they are not easy fellas, we have quite a big job to do. Everything is going well and step-by-step we try to improve. The overall thinking is that I wasn't so comfortable in the car at the start of the season, but now I'm more familiar in the team and at one in the team. We are all pushing really hard. Now I think we are in a good position to fight for the last three events.
Q:
Why weren't you comfortable?
OT:
For the first time in my life, I switched teams. There were many new people, the car worked in a different way and I had to understand that. Then we had to understand the set-up tweaks… I felt a bit like a virgin at that moment. That's what life is like.
Q:
What do you think of this year's Rally GB route?
OT:
It's definitely a different challenge in places. Maybe the biggest difference is Friday when we have quite a few of these short Tarmac sections. But still I believe they are changing the rhythm from one road to another and the road and surface is changing constantly. To read all of this and see how it develops, we need to learn. We don't have too much experience on these roads, but really it's the same as always and we know roughly what will happen. Friday and Sunday are a bit slower, but Saturday these are more normal big roads and fast roads.
Q:
Elfyn what do you think of the stages – are they more enjoyable?
EE:
From a driver enjoyment perspective, maybe not so much. The stages in mid-Wales tick everybody's box. The stages up north are a lot less flowing, but they certainly create a challenge, that's for sure.
Q:
Twelve months ago we saw you take your first WRC win here in Wales. Everyone will be watching to see if you can recreate the magic of last year - is it possible?
EE:
That's the aim. You've got to aim high or there's no point coming here. I'm feeling good, and the car's good. We've got to be looking at least for a place on the podium, if not the top step – we're definitely going to aim for that. Let's see how it plays out. The road position normally plays a big role and it's usually hard to challenge from the back. The roads being different, it might not be so extreme. Let's see what happens.
Q:
What did you think of the new Michelin soft tyre?
EE:
It was dry, so not ideal conditions to test a really soft tyre. There are a few unknowns for everybody out there. Let's see how it goes.
Q:
What about the future for you?
EE:
There's not a lot [to talk about] at the minute. There's nothing decided or confirmed.
Q:
You've talked about the challenges of this year, can you go into the reasons for those challenges?
EE:
You can look and come up with a lot of different reasons and quite often it's not been the same pattern – we had some punctures at the start of the year, there have been some accidents along the way – more than what I would normally do or class as acceptable. That said, the times have been good as well. The feeling is that nothing has really gone our way. We know the potential is there to achieve good things and I hope we can bring it all together on the last three rounds.
Q:
Craig, this is as close as you get to a home rally. What do you think of this event?
CB:
I love to come back to this rally, I have such good memories from times with Jaffa (former co-driver Gareth Roberts) here. And, like you say, it's close to home. We get to the Great Orme and if we turn left then we land in my house! It's always nice conditions here and the stages are really, really nice. Even though it's still wet and muddy, there's still the DNA of Rally GB. The summer has been kind to these roads here and we've got some great stages.
Q:
What do you think of the changes to the route?
CB:
Some of the stages like Hafren and Myherin are running as shortened versions – look at Dyfnant, we're only doing nine kilometres and in the past we've done some really long stages in there. I'm sure there's a good reason why the stages are like that, but still, on Saturday we have some of the best roads in the world and we just want to do more.
Q:
How was your test?
CB:
It was a great day with blue skies, it was sunny all the time and it looked like the weather would be quite dry and now it looks like we're going to get some rain. I really enjoyed the test and took a lot of pleasure, feeling good. Straight out of the box in shakedown the car felt good. I'm looking forward to it.
Q:
Any news on next year?
CB:
I'm confident I will have a drive next year. Talks are ongoing.
Q:
Hayden, same question to you – what can you tell us about next year?
HP:
I'm confident we'll have a drive next year. There's not much more to say. It's quite early, but we've got people behind the scenes talking on our behalf. We're here to focus on the rally.
Q:
How was the feeling in shakedown?
HP:
Obviously, like always I'm really looking forward to the rally. The road position could be tricky, but we're going to try to stay in touch. Saturday is what I'd call the queen day – it's a long day, but it's nice road conditions and getting a good road position for Saturday is the target, we could make up some time there. This is one that I always look forward to.
Q:
You don't have any service on Saturday, does that affect your approach to the day?
HP:
Certainly not. You have to be flat out from the start to finish on WRC rounds. And anyway, the stages are in such good condition, Saturday is so smooth that if you need service then it's quite likely you've done something wrong. The key is to keep the car in the middle of the road – the roads are quite good for the car.
Q:
Which will be the toughest day?
HP:
Friday is a tricky day with the rhythm changes and grip changes. Saturday is more familiar to us all. The conditions are very good. They are two quite different days.
Q:
How was your test? Did you get any wet conditions?
HP:
It was dry and dusty.

FIA WRC 2 CHAMPIONSHIP
 
Present:
Pontus Tidemand, Škoda Motorsport II
Q:
Pontus, you are currently second in the WRC 2 standings behind team mate Jan Kopecky. Here last year it was a dominant win from you. Are you confident you can recreate the same this year?
PT:
I feel really prepared and I feel well. It's my third time here and I'm really looking forward to tomorrow morning. I want a nice weekend and to go quite quick.
Q:
What are your thoughts on the changes to the route? Do the changes make it trickier?
PT:
On Friday there are a lot of character changes. There's some Tarmac in there. On Saturday, the stages are wider and more flat out, then on Sunday it's twisty again. There's a bit of everything with some mud as well, it's a good challenge.
Q:
Tell us about your preparations for the event…
PT:
I have done some testing and some physical training. I try to be really motivated.
Q:
How tough is it to fight with your team-mate?
PT:
If we have any chance [of the WRC 2 title] we need to win. If we are in second place it's all over. We only have one goal.
Q:
Confident?
PT:
Yeah, I would say so. The feeling and the car is very god. Jonas [Andersson, co-driver] feels very ready, we will go for it.
Q:
Any stage tougher than any other?
PT:
I would say all of Friday is the most tricky. There are so many grip changes and it will be rutted on the second pass. Saturday is more easy. Sweet Lamb Hafren can be tricky, the rest is flat out.
Q:
What do you know about next year?
PT:
I don't say anything, I don't know anything.
Q:
When will you know
PT:
When I know.

FIA WRC 3 CHAMPIONSHIP
 
Present:
Taisko Lario
Tom Williams
Q:
Taisko, this will be your first time at Wales Rally GB. What are your initial thoughts on the stages?
TL:
Actually I thought it would be much more slippery, but it was just normal slippery. I would like nice muddy stages…
Q:
How was the recce?
TL:
I thought there would be larger roads in some places, but they are narrow all the time – there is no room for error and we have to stay focused all the time. If you push flat out all the time, you may not make it to the finish.
Q:
The possibility of the WRC 3 championship title is still alive, how much are you considering that?
TL:
Well, I don't know how much I think. First we have to finish and then we think to the points.
Q:
What's the toughest challenge?
TL:
Saturday will be tough without service and we have some muddy stages like Hafren Sweet Lamb with a lot of soft gravel and mud. It will also be difficult with the tyres if you get a puncture.
Q:
Has Tom [Williams] given you any advice?
TL:
Yes. I got some good advice for what is normally a muddy gravel rally; I have done these many times before, but nothing like this.
Q:
What's the aim here?
TL:
We go for the win, but everything can happen in the rally.
Q:
Tom, this will be your third attempt at Wales Rally GB, again in the R2 class. With your experience here, what is the target this time around?
TW:
This year we've done GB twice and it's nice to come to an event I've done before. In places like Turkey and Sweden it was really good to go there, but there was so much to take in. There's a lot of competition in JWRC and it's a big challenge, we are pushing for the best we can do. We had a good recce and the stages are in great condition.
Q:
We have seen you also compete in the Junior WRC this year. How was the experience and what have learnt this year?
TW:
This year's been amazing. From the start until now it's unbelievable the amount of mileage we've got through on these events and how much you learn in terms of pace notes and things. And there are 15 different nationalities in the JWRC, you learn a lot from everybody and that helps me. I'm hoping to pull it together on this last round.
Q:
We have seen some changes to the route here this year. From what you have seen on the recce does it make it more challenging?
TW:
It's very different to the last two years, especially with the closed roads. There's a lot more Tarmac. Brenig is so different with a new section and Friday in north Wales, there's a lot more mud around and it's a lot more tricky. Saturday is classic Myherin, more like Finland. But at home, I'm used to the mud, the rain and the temperature!
Q:
Do you have a definitive plan for next year?
TW:
Next year, we are waiting for the regs and hoping JWRC will be running and hoping to be in the R2 again. Let's wait for next year.