WRC - Vodafone Rally de Portugal press conference
2023 Vodafone Rally de Portugal - Transcript of the pre-event press conference organised by the FIA on Thursday, May 11.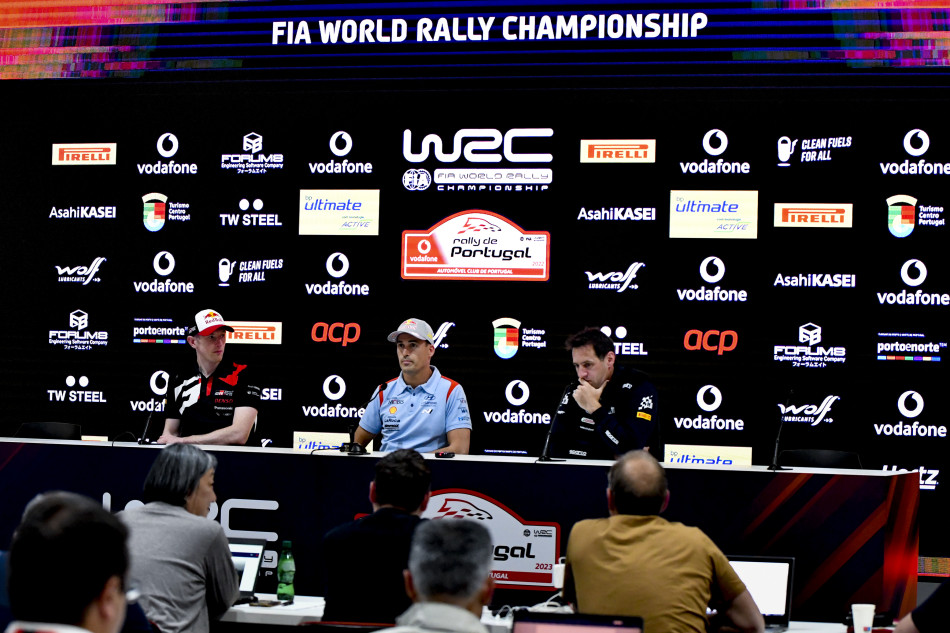 FIA WORLD RALLY CHAMPIONSHIP
Present:
Toyota Gazoo Racing WRT – Elfyn Evans (GBR), Toyota GR Yaris Rally1 Hybrid
Hyundai Shell Mobis World Rally Team – Dani Sordo (ESP), Hyundai i20 N Rally1 Hybrid
M-Sport Ford World Rally Team – Richard Millener, Team Principal
Q:
Elfyn, first on the road out there this weekend. You are leading the championship. The win in Croatia a couple of weeks ago led to that. As drivers have shown in the past, you can win from first on the road. How can it be won?
EE:
It is not easy on any gravel rally starting from the front. Kalle showed it was possible last year but obviously last year a lot of guys had trouble. Then there was the fight between the two of us and then we had the rain in Amarante. With that in mind we are here to do the best job possible. We know it will be difficult tomorrow and we will try and keep in touch if we can. 
Q:
Dani, from your position, you are a bit further back. Even that isn't so great here because so many rocks can get pulled out. It's difficult sometimes running a bit further back?
DS:
For sure, I think we have more advantage at the back and a disadvantage when the road is not clean. There can be dust in the stages and it can be complicated at some points. But it should be good for us. 
Q:
It's a long day out there and even longer with the fact that you don't have a mid-point service. Do either of you ever feel that there is some way that you need to protect the car on days like that or can you not be in that mode? Do you have to be flat out?
DS:
I think we are flat out from the beginning. We take some spare parts in the car or something. But, when you put the helmet on, you try to be as fast as possible from the beginning. They are long days without service. It's weird, no? 
EE:
It is always a difficult compromise where there are no services. Ultimately, if you break something proper and your day is over anyway. We have to strike that balance to carry some things to get you through but if anything major breaks anyway you cannot carry a truck load of spares. You will not be competitive. You just have to hope for the best.
Q:
It's an exciting time in the championship with five drivers separated by just 11 points. You are right in the thick of that mix. Are you feeling that excitement?
EE: 
I think it's more so that this time last year. It was almost game over by this time last year. Happy, of course, to be here but it is very early days and the European gravel rallies are just starting, let's say. It will be interesting to see how it evolves.
Q:
Seven gravel rallies all in a row. It's going to be a busy time of year coming up.  What is your target? Of course, you also celebrated quite a big birthday last week as well?
DS:
Of course, the target is to fight for the top, like always. I didn't celebrate the birthday. We will try to celebrate with the top step of the podium. 
Q:
Rich, a win and a second place so far in 2023 with Ott Tänak and in the thick of a monumental championship battle. What's your assessment of the M-sport season so far?
RM:
I think it would be silly to say that we are not happy. We are a handful of points off the lead and we come to this rally with a good road position and have been scoring good points throughout the season. México was a tough rally for everyone but, aside from that, I think we have done a very good job. Sure, Ott is pushing the team but I'm sure these guys next to us are pushing their teams as well. Trying to push the team is their job as well. It is nothing we are not expecting and we have made some good progress with the car in a slightly different direction to the other drivers when we were doing stuff last year. As long as we can keep making some progress, that's good. We had a good time on shakedown, so I think that's a positive start to the weekend. 
Q:
What do you mean by a slightly different direction? 
RM:
Ott has obviously had access to all the data from last year and hasn't felt totally comfortable with that. He likes to have his car set up a little bit differently and in a different development direction. Things like dampers and the chassis set-up we have continued to tweak over the different tests and events and that's what we are working on at the moment. We hope the work on that will progress and make him slightly more comfortable. We started this morning at shakedown with competitive times. But this is a hard rally and it's going to be a long day tomorrow. Ultimately, we just have to go away from here with more consistent points to keep the championship alive.  
Q:
You have the incredible experience of Ott Tänak on one hand and then Pierre-Louis Loubet, who has shown some brilliant pace in parts throughout the year. How is he developing? What is the target for him this season?
RM:
I think it is always difficult go to from a partial programme where you have no pressure and fantastic results to a full season where you have the twists and turns and, if you make small mistakes, like México, you end up running first on the road. He has made a couple of small mistakes. In Monte-Carlo, he won't be happy with, and it was a tricky start to the year. This is now the start of a run of events that he will feel more comfortable with and his goal now is build back to where he was last year. There is still a lot of the season to go. You can't get to the top within a year. These guys (Elfyn and Dani) have spent many years to be able to cope consistently with podiums and wins. It's not easy and there is always a lot of pressure on Pierre. It has been a tricky start but the team is behind him and he has a great team-mate. Hopefully, he can get a solid result to get his confidence and go in the right direction and we can see him stronger for the rest of the season. 
Q:
Two cars at the moment. Is there a possibility that we will see a third and Sébastien Loeb returning?
RM:
There's a possibility but I have nothing interesting to say about it. At the moment, our goal is still the same to push 100% on Ott with the limited resources we can play with. At the moment we are in the championship fight so anything towards that is the aim. The Manufacturers' Championship this year is probably not realistic, so bringing in another car to score points in that would not be realistic at this stage. We are 100% focused on Ott and Pierre. Let's see what happens over the course of the year. Seb has obviously signed up for his own rallycross programme. He's not going to be sat at home on his own, bored, anyway. He has been trying Rally2 cars and all sorts. Who knows where he will be next?  
Q:
There is still a dialogue between you though?
RM:
Not me personally, but I am sure if I texted him, he would reply... 
Q:
Let's talk about WRC2. Adrien Fourmaux is really happy with the upgrade to the Fiesta. Are you and is it going in the right direction?
RM:
We think the car has always been competitive. We spent a lot of time in 2021 looking at the regulations and a lot of time in 2022 with the Rally1 car. The Rally2 car has always had good pace but we weren't pushing it from our side that much. You know, there were the new cars from Škoda and Hyundai coming and a lot of competition and less drivers in the car compared to the other manufacturers. We have put a lot of effort into this year to pushing Adrien to see if he can compete and showcase the potential in the car and I think that has been shown so far and again this morning. There is continual development. This is our bread and butter for the company and the goal is to keep showing the car is competitive and selling the car. I think we are doing that doing that. We are seeing more good results and it's nice to see him competing and doing well. 
Questions from the floor:
Andre Gonçalves, Record (PRT)
Q:
People have spoken about changes that need to be made to make the WRC better in the future. In your opinion, what changes does the WRC need?
RM:
What time do we close….? This is not really the time and place to go into detail. We need to work hard together with teams and manufacturers, promotors and the FIA to work out how we can make the sport a little bit more well known. One of the keys that made me realise even more was last weekend. It was Miami, Formula One. The build-up to that was absolutely incredible, the race was not so incredible. But, ultimately, everyone watches an hour and a half of the build-up and doesn't watch the race. We have so much build-up and a fantastic sport as well and we are not showcasing it. There are some easy wins but we need to try and come together and come up with a three-month plan, a six-month plan, a one-year plan and a five-year plan of what we need to do. We cannot change this overnight. But I do feel we are a little bit behind some of the other series. We should swallow our pride and find ways to work together. 
DS:
I would say we need to change many things and we need to bring more manufacturers, for sure. We need help to modify some things and have more drivers fighting for the top. And in the media also, we need to make change as well. We are not Formula One, but they spent many years making Formula One special. We can discuss here for hours…  
EE:
I don't have a huge deal to add. There's clearly a lot of work that needs to be done. From our side, the key things is really that days seem to be getting longer and longer and the mileage of the rallies are getting shorter and shorter. Ultimately, we spend most of our days driving through countryside rather than doing stages or making entertainment. That needs to be looked at, whether that is more compact rallies or a different format in terms of how we manage the services, etc.
Richard Millener, M-Sport Ford World Rally Team
Q:
Can you tell us your tyre strategies for tomorrow (joking)…..?
EE/DS:
Laughter…

FIA SUPPORT CHAMPIONSHIPS
FIA WRC2 CHAMPIONSHIP
Present:
Toksport WRT 3 – Andreas Mikkelsen (NOR), Škoda Fabia RS Rally2
Sports & You – Kris Meeke (GBR), Hyundai i20 N Rally2
Q:
This will be your ninth participation in Portugal, an event that has been kind and cruel over the years. Back in 2016 you were second to Kris's outright win, your best result here. With another stellar line up in WRC2, how hard will it be to achieve the maximum here? Does it get easier over the years or is it still a big challenge?
AM:
No, it's a big challenge every time. This year is very similar to last year. The long stage is run in the opposite direction, no new stage and very similar. Of course, I did not do day two and day three last year with the engine issues. Last year we had a good run and were quite safe and tried to stay away from trouble. Suninen was really fast on day one and I expect that to be the same tomorrow as well. WRC2 cars are not as strong as WRC cars and also our tyres are not as strong. You have to find the balance between driving really quick and fighting at the top, as well to find the balance to take care of the tyres and the car. This is where experience comes into play. I think myself, Kris, Suninen know a little bit better than the younger guys but I am sure that they will be very fast. We need to strike a balance and we have a big challenge ahead of us. 
Q:
Andreas, your first WRC event of the year. Welcome back! You're in the brand new Škoda Fabia RS, which you drove to second position on the Azores Rally. How are you finding the updated car? What are the strengths over the previous model?
AM:
I think Kris knows better than me because I think he spent more time in the car. It feels good. We developed that car for quite some time now. I'm very excited to finally get going in that car. Obviously, I had a good feeling in the old car and I think the new car has some improvements in some areas. Most of all, the car is very strong and will take some little hits this weekend so we can bring it to the finish.
Q:
Kris, congratulations on picking up the win at the Rali Terras D'Aboboreira recently with Hyundai Portugal. You have taken on the drive in the Portuguese Championship in honour of your friend and former team-mate Craig Breen and that brings you back to the WRC after a four-year absence. How does it feel to be back?
KM:
It's honestly nice to be back, I have to say. Probably, after a few years of WRC you get tired of recces and stages the same and videos at night. I was actually quite excited to be here and was enjoying the recce. It was nice to come back, for sure, to do a rally. I have some great memories here in Portugal. It's obviously difficult to be here under the circumstances but the opportunity presented itself and I am here because I wanted to drive. Having James (Fulton) on board this weekend, it's going to be a challenging event, learning the car with a new co-driver. We will enjoy like always and try our best. 
Q:
Those are exactly the words Craig Breen would have said, 'have fun and enjoy'. You are taking on the role that he had with Hyundai Portugal. That win a couple of weeks ago must have been pretty emotional as well?
KM:
It was so soon after everything happened. When the opportunity presented itself, I declined the offer. I thought it was too soon. But, after a few days, we talked again and I talked to Craig's family and, for me, it's a pleasure to be back in a rally car. The small rally in Portugal was in the Amarante area and we used the last half of that stage. It was nice practice to be honest. All things in the car were new and we had very little time to test. It was enjoyable, opening the road. I suppose we will have a bit more grip but rougher stages here this weekend. It has definitely whetted my appetite for the WRC rally. 
Q:
You're a former outright winner here, so you know what the secret to success is. What is the winning formula?
KM:
To be honest, I have been following the rallies while I have been away and I've been, let's say, a bit disappointed to see only seven or eight cars in P1 - not so many stories to tell. WRC2 has been where all the action is with 30+ cars here. Andreas has won WRC events before, Teemu (Suninen) has been on the podium in Portugal twice, I think, so the level is certainly there. There is a lot of experience in the WRC2 category. The big challenge for me this weekend is understanding the tyres. Although I have been testing a lot at Škoda, when you don't have the experience of the tyres or how strong they will be, it will be a challenge and I am looking forward to it. 
Q:
Could this potentially lead to more events within the championship?
KM:
This just so happened because of Hyundai Portugal and this coincided with the WRC Rally Portugal. The priority for me is day one. I am driving for Hyundai Portugal and the Portuguese Championship and the points are taken after day one. That is a rally without a service and rougher stages. It is going to be a challenge. It is important for me to be there at the end of day one. After that, let's see what happens. 

FIA WRC2 CHALLENGER CHAMPIONSHIP
Present:
Armindo Araújo (PRT), Škoda Fabia Rally2 Evo
Q:
Armindo, this will be your 17th participation at Rally Portugal - 18th if we factor in course car duties! You bring a wealth of experience to the table in WRC2. An advantage? The season did not start so well for you in Fafe, a huge accident left you injured. Are you fully fit again?
AA:
Yes, it's true, I know the rally very well and it's always a pleasure to be here and to race with these fantastic drivers. It is our main race of the championship. It is perfect for us. I had the accident in March. It was a big impact and I retired from the races for one race and lose the way of the championship. I am okay and recovered from surgery and the back is quite okay. I am trying to make good results for the championship and to be the best Portuguese driver in the race. At the moment everything is okay for us. This is the last race with the old Škoda and we have the new Škoda for the next week. I will be able to do the tarmac part of the championship with the new car, so everything is going well. 
Q:
How has this event evolved over the years?
AA:
I did the last rally in the championship in 2001. The last time we did the Rally of Portugal in the north. It rained a lot. Later on we start to race in the north of Portugal and I won the rally and we passed to the Algarve and we won again. Now we are in the north, in Porto, and we are going to the same Arganil and Figueira do Foz. I think it is a good race. I did more or less all the races in the World Championship. I think this model is good for us, for the drivers and for the teams. The drivers are happy to race here. It is a good event and the ACP is doing a great job to keep this event in the championship. 
FIA WRC3 AND MASTERS CUP CHAMPIONSHIPS
Present:
WRC3 - Toni Herranen (FIN), Ford Fiesta Rally3
WRC Masters Cup – Nasser Khalifa Al-Atya (QAT), Ford Fiesta Rally2
 
Q:
Nasser, welcome back to the championship. Rally Turkey 2020 was your last participation. The FIA Middle East Rally Championship (MERC) has been your focus. What made you decide to add in WRC events this year?
NKAA:
Firstly, I am glad to be here in Portugal with all the famous drivers around me. It is a challenge for me to do the WRC Masters Cup. This my aim. I am quite old now. Maybe I am the oldest driver here – I am 57 now. I am trying to keep fit and keep challenging and enjoying life in motor sport with the things that I love. The reason that I came here is to learn a lot and gain more experience and to have good fun in this category. I am really excited for this. In the future, I will do my best. It is the aim for me to end my career with the World Championship. This is one of my aims after I've held a lot of positions in the past. I was the vice-president of the FIA and the FIM and the QMMF president in Qatar.  Now the time is to be behind the steering wheel and try to enjoy. 
Q:
What are your thoughts on the stages here? What is your strategy for this weekend?
NAA:
It is really different terrain that you need to find a proper set-up, especially to choose the tyres  and set-up on the car. You need to find the combination for the car to run well to adjust. It will not be easy because many drivers know this very well. I am trying to make a good balance for myself and, for me the most important, is to try to finish the rally and challenge in this category. I don't want to retire from the beginning. I need to finish this rally. Also, on the other side, this is making me happy. I really enjoy the stage. This is a part of my life to enjoy this adventure. 
Q:
Toni, last year we saw you in the Rally4 category on the majority of events in ERC and at home in Finland. You stepped into Rally3 at your home WRC event in Rally Finland and it's carried on this year. Firstly, how are you finding the Rally3 Fiesta?
TH:
It has been a difficult year. We have technical problems with the car in Croatia and it hasn't been easy. Hopefully we will get a good rally and it will work. 
Q:
This is your first time competing in Portugal. What do you think of the stages here?
TH:
Of course, it is going to be a challenge for the car and for me also. The stages look nice but rough with these numbers of cars and especially the second loop. We will need to look after the tyres. 
Q:
As a young driver, what do you do to help prepare for an event like Portugal?
TH:
Of course, we have the video looking in cars for the last years. We also had a good test day on Monday. Of course, it is different driving test roads to the rallies but we will see. 
Q:
This is going to be a proper Finnish battle this weekend. Only two of you in the WRC3 category. Are you good rivals?
TH:
Yes, hopefully ….