WRC - Vodafone Rally de Portugal post-event press conference
2023 Vodafone Rally de Portugal - Transcript of the post-event press conference organised by the FIA on Sunday May 14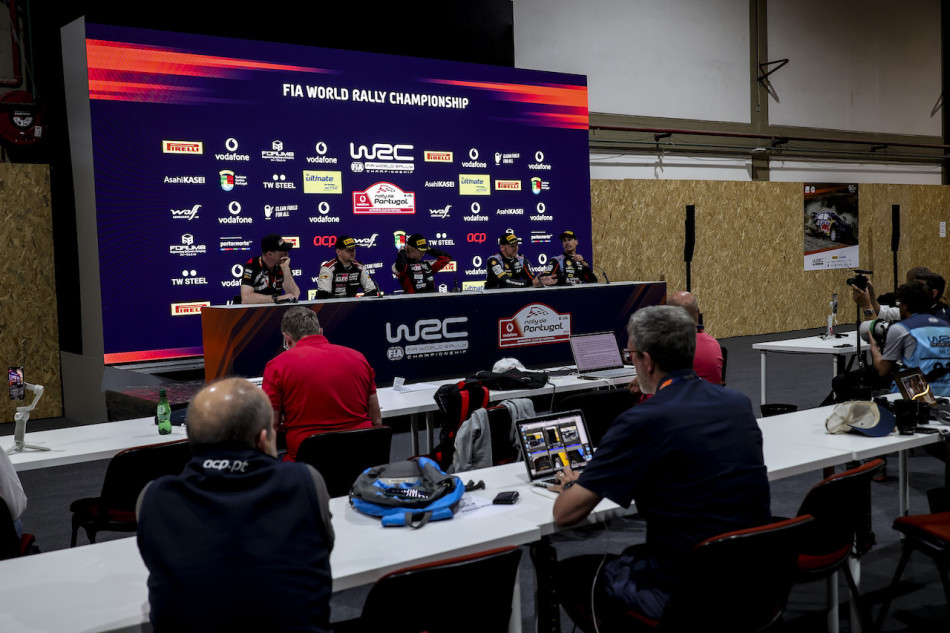 FIA WORLD RALLY CHAMPIONSHIP
Present:
Toyota Gazoo Racing WRT – Kalle Rovanperä (FIN), Toyota GR Yaris Rally1 Hybrid
Toyota Gazoo Racing WRT – Jonne Halttunen (FIN), Toyota GR Yaris Rally1 Hybrid
Hyundai Shell Mobis World Rally Team – Dani Sordo (ESP), Hyundai i20 N Rally1 Hybrid
Hyundai Shell Mobis World Rally Team – Esapekka Lappi (FIN), Hyundai i20 N Rally1 Hybrid
Toyota Gazoo Racing WRT – Jari-Matti Latvala, Team Principal
Q:
Kalle, congratulations on your first win of the year, an epic win. You must be feeling very happy?
KR:
Yes, of course, I'm happy at the moment. All is good.
Q:
Talk about the weekend because it really did kick-start on Friday morning early on when, as you described to us, you altered the set-up of the car between stages and took off like a rocket. What changed?
KR:
Some quite small things. The car was prepared quite well after we drove in Sardinia. It was nice to see that we were good with the set-up on the start and then small modifications were coming to get it better and more precise. That started our good feeling and then we pushed a bit more.
Q:
Saturday morning was the 'push a bit more'. It was quite incredible to see the time difference on that first stage between you and the other drivers. Did you feel that in the stage?
KR:
I felt like it was going to be a good time, for sure, but you are not sure what the others have done. It is always impossible to know where you end up. I felt that I was driving the maximum of our car's performance and grip at this stage. Like everybody said, it was really slippery in the morning and the grip was changing a lot. It was not really easy. I just pushed quite hard.
Q:
Esapekka and Dani, when you see the kind of time on the board that Kalle set on Saturday morning, how do you feel?
DS:
You feel like you are driving an R5 in a different category. We know he drives very well and has a big talent. He already did it last year. We know he can always go a little bit more and he go 'ciao bang.'
EP:
When I finished the stage it left like, as I said in the interview on the stage, horrible with no grip and the time was pretty okay at that moment – and then he came and I said to my co-driver it felt horrible and that was the truth. We could see that the gap was huge. But it's always these type of things happen. One second per kilometre just shows how good he is and we just cannot do it the same way.
Q:
Jonne, you are sitting alongside Kalle pelting out those notes a million miles an hour. Did it feel good on Saturday morning?
JH:
To be honest, I think that Friday was also good but the starting positions were also making a huge gap. I don't think people realise. I think he also did a nice day on Friday because we were leading after Friday. It feels good but, in a way, we had zero moments in the whole rally. It wasn't like a dangerous rally. We were super fluent and super precise. It didn't feel like crazy compared to like México. It was more scary in México than here. 
Q:
You built up a big lead very early on Saturday morning, something like 52 seconds by the end of the third stage. Did you switch approach at that point Kalle?
KR:
If you are not stupid you need to change the approach a bit and try to take care of the car and the pace on the afternoon when it gets rough, let's say. The afternoon loops were quite rough. It's not always easy to manage the speed.
Q:
Jonne, you will be first on the road in Sardinia now. It's a tough event. With a 50-kilometre stage there, are you going to be taking a little bit of honey for the throat?
JH:
I know, for sure, that it is going to be a disaster for us to be first on the road in Sardinia with the 50km stage, with the tyres and the heat. It will be really demanding. Also, maybe Sardinia is not the best event for us overall. We will do our best but it will be really tough.
Q:
Dani, second overall and a great result for you this weekend with some brilliant stage times and a great battle with your team-mates. You came out the best of it. How are you feeling about it all?
DS:
The feeling is very well. Saturday morning, I was losing a little bit of time and I make a small mistake at a hairpin and lose time there. But, in the afternoon, we pushed more and it was much better. I can be happy for the weekend.
Q:
Sardinia is always an epic challenge on the calendar. How much are you looking forward to it?
DS:
Sardinia is always good for us. We will try to make a good result. Seb [Ogier] will be there so we will have two super-fast Kalles there! It will be interesting.
Q:
Esapekka, your second third place in a row after Croatia. Are you happy with this weekend's performance?
EL:
Fairly okay. It was disappointing to see [Kalle] beating us 6-0 all the time. Even on Friday, he was not really opening the road but was almost opening the road and still he could do similar times to us. Then, with similar road positions, he beat us by 100 per cent. That's a bit disappointing to see that kind of pace from another team. I guess it is also showing us that we have a job to do as a team to try and develop the car harder and be better in the future.
Q:
What areas do you feel need developing?
EL:
Grip…
Q:
Talk about Sardinia. We have seen good pace from you there in the past. The 50k-kilometre stage will be a tough challenge for the cars and the drivers. What do you think?
EL:
I think the car can handle, maybe it will affect the drivers more. Over here we had a 37-kilometre stage. It was not too hot but, inside the car, it felt pretty warm at the end of the stage. My face was getting really warm. So, 50 kilometres can be a real challenge. 
Q:
Jari-Matti, what are your views on your drivers and co-drivers this weekend?
JML:
Definitely they have taken the victory in style. I am really pleased with the performance of Kalle and Jonne. I had the feeling already when I was talking with the boys after shakedown after I saw how they were driving. Even then, Kalle had the confidence in the car and he could push. On Friday, he was second on the road and that is not an easy position. After that he was unbeatable, basically. As a team we had some quite difficult times on Friday with Elfyn's big accident and Taka having an alternator failure, so Kalle and Jonne had a bit of pressure on their side. But, eventually, everything turned out good with their victory and it was great that Taka gave us two extra points on the Power Stage and that was helping us for the Manufacturers' Championship. At the end of the day, how it looked on Friday was a worry and, on Sunday, we are very happy.
Q:
You were not concerned at all during the weekend when he started building a lead? You were  confident?
JML:
In my eyes, the best day was Friday, because that was the most difficult one. He was second car on the road with lower grip conditions and driving at that speed to lead at the end of the day. I know that Saturday morning was also a great performance. I had huge confidence after Friday that they could handle it. They are very cool in the car and can take the pressure and this was under control unless something goes wrong with the car or we get a puncture. This is just the nature of what can happen in these kind of events.
FIA SUPPORT CHAMPIONSHIPS
FIA WRC2 CHAMPIONSHIP
Present:
Toksport WRT 3 – Gus Greensmith (GBR), Škoda Fabia RS Rally2
Q:
Gus, wow. WRC2 has been pretty dramatic in the last 48 hours. How are you feeling to be sitting here in the middle seat? Maybe this morning you didn't think that this was possible?
GG:
When I went to bed last night I didn't think it was possible. I thought the gap was too big and Oliver's in control. Then I woke up this morning and found out that Solberg has a one-minute penalty. I thought 24 seconds would be enough to stay in control until the end of the rally and I wasn't too stressed and then the first Fafe happened and that all went out of the window!
Q:
Before Fafe happened, you had dramas of your own. Tell us about your issues on Saturday afternoon?
GG:
It started with a water leak that we couldn't stop and it took some ingenuity and a lot of help from the Škoda engineers and eventually we managed to plug the hole and continue. We were all fairly certain that we would not get through 37 kilometres and somehow we did and somehow we made it to the end of the day. Then we had another mechanical issue and used ratchet straps to support a fairly important part of the car, shall we say, to keep it together.
Q:
Powersteering problems today? Full failure or intermittent?
GG:
It was just intermittent. It would lock occasionally and you never knew when. At the start of Fafe, on the second corner, it locked completely and I went into the bank and we lost the bumper and I almost rolled. We had to keep the pace up to keep Oliver behind. We almost had an enormous crash. I almost did. It was fairly close. I worked out from the stages before exactly how much time he was going to take out based on performance and he is also probably one of the best drivers in dealing with deep ruts. He seemed to have that figured out. I need to do some work on that.  I knew I had to push. If it locked in a corner or I had a spin we knew the rally would be over. I had to have some caution but it was just enough.
Q:
We saw the images of you both hugging at the finish. Oliver was obviously quite upset. What was your verdict on his penalty?
GG:
For me, it's an unpopular penalty. I understand why it was put in after Spain last year. There are questions that have been raised about the way it was implemented. It says in the rule book a minimum of five minutes and he ended up with a one-minute penalty. There are vagaries about what penalty you will receive. For me, it's harsh. It was in a controlled area and not on a road section. If it had of been on a road section I would have completely understood. I did think it was quite harsh. Then again, it's the crew's and the team's job to know the rules and not to break them.
FIA WRC2 CHALLENGER CHAMPIONSHIP
Present:
Toksport WRT 2 – Marco Bulacia (BOL), Škoda Fabia RS Rally2
Q:
Marco, you had a really strong Friday that put you into a good position. How has the rest of the rally been for you?
MB:
Yes, we were doing a very good race until the second stage on Friday afternoon loop where I had a problem with the air filter which broke and I continued without power and lost more than one minute there. Then we continued to do our job and then yesterday I had punctures and lose another minute there. Apart from that, let's say compared to other drivers who had problems, it was a trouble-free rally. Today we also had problems with the fuel pump and had to have our fuel tank almost full. We had to carry 30 litres more fuel than we usually need to have. Other than that it was a clean rally with some good pace on the stages.
Q:
What events are you targeting now for the rest of the season?
MB:
My next event will be Estonia, where I really enjoy the fast-flowing roads and jumps and everything. Then I will do Finland for the first time. It's a rally from some years ago I wanted to do. Then I will go to Greece and Chile. 
FIA WRC3 CHAMPIONSHIP AND FIA WRC MASTERS CUP
Present:
WRC Masters Cup – co-driver José Murado (ESP) translating for driver Alexander Villanueva (ESP), Škoda Fabia RS Rally2
WRC3 – co-driver Anssi Viinikka (FIN) representing driver Roope Korhonen (FIN), Ford Fiesta Rally3
Q:
Alex, congratulations on your win in the Masters Cup. It was a fantastic battle with Armin Kremer on Friday. How challenging has this event been for you?
JM:
It was a very difficult battle with Armin Kremer. We were a little bit scared with the punctures because, last year, we had to retire with three punctures in the first day. This year was completely different. On Friday was a very close battle and Saturday things changed for us and the battle was more easy for us. This is not the best way to win a rally. But, after all, it is a win and a good result for the championship. We had third position in Sweden and first here and we are leading the championship. We are very happy for your result.
Q:
The WRC Masters Cup is pretty competitive with some great drivers. Mauro Miele, the champion last year is back again. What other events are you going to be doing?
JM:
Our next event is Sardinia and we hope a new battle with Armin and Mauro. It will be a difficult event for us. It will be the first time there and we will try to be fast as we can.
Q:
Anssi, we believe Roope is not feeling too well at the moment. Everything okay?
AV:
I think so. He is in sick bed Saturday and Sunday to get some help, so let's hope he is back.
Q:
A win in WRC3. At first it was a good battle with Toni Herranen and then he dropped time. Then it was a big gap. Bearing in mind, Roope has been ill, it must have been a tough weekend?
AV:
Yes, it was a tough weekend and it was Friday when Toni lost lots of time and we can drive easier in the bad places. I think it was a little bit our help that Toni had some problems.
Q:
We've already seen a win for you in Sweden. What other events are in the programme this year?
AV:
We go to Sardinia and we also go to Estonia and Finland.
Q:
This season is a big learning curve for you. What are your next events?
AV:
Yes, especially this one and Sardinia. We should also have a Finnish event next weekend. It's been quite busy but could experience also.