This page contains archived information and may not display perfectly
WRC - Tour de Corse - Press Conference
Transcript of the pre-event Press Conference organised by the FIA for the 2018 Tour de Corse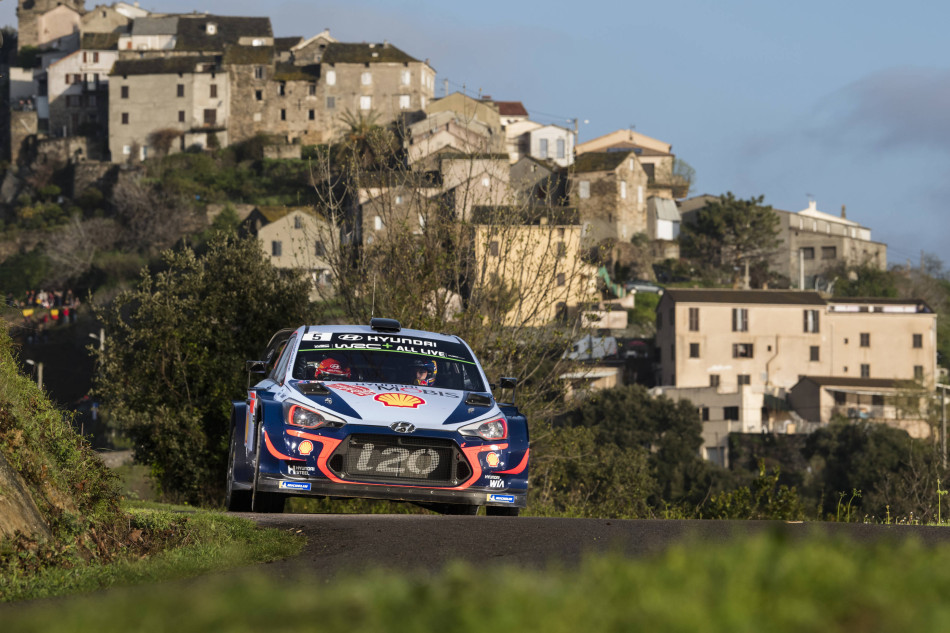 Present:
Sebastien Loeb, Citroën Total Abu Dhabi World Rally Team
Sébastien Ogier, M-Sport Ford World Rally Team
Thierry Neuville, Hyundai Shell Mobis World Rally Team 
Ott Tanak, Toyota GAZOO Racing WRT 
Q:
Seb, we saw you return to WRC action a few weeks ago in Mexico, score fastest stages times and even lead the rally. How did you feel you shaped up? 
SLoeb: 
For sure, I was pleased to see that I was able to take the fight to all my rivals. I had a good feeling in the car and I was pleased to be competitive after a five-year break. At the end, I was happy with my result, despite the puncture.
Q:
Corsica is a huge challenge for drivers and co-drivers with preparation being a key point. Do you feel you had a good recce? Do you feel you're ready?
SL: 
It was difficult to note everything. We had to choose what we wrote down. It was a bit confusing at the beginning. I think we did a good job and the tests have been positive.
Q:
The C3 has usually been quick on tarmac, as Kris proved when he led this event last year before an engine issue. How did you find the car during testing? 
SL: 
I found it easy to get to grips with, so everything's looking good. I hope I'll be able to fight at the front.
Q:
Three rallies in the WRC, are you going to do any more events in the Championship? Like the ADAC Rallye Deutschland during the summer?
SL:
Remember I have 12 rallycross events. And during the holidays, I prefer to be on the beach!
Q:
You put on a brilliant performance in Mexico. Now you're tackling the first tarmac rally. Are you feeling confident?
SOgier: 
In Mexico, we improved compared to 2017. So far, I'm happy with what we have here in Corsica. We know that Kris was super-fast last year, difficult to follow not to say impossible. We hope to be faster this year.
Q:
The first pure tarmac event of the season. Do you feel the Fiesta WRC can fight at the front? How did the car perform in testing?
SO: 
The feeling during pre-event testing is important, but to confirm it on the first stage is even more important. We'll see how it works out.
Q:
Sébastien Loeb could steal the win here. How do you feel about that?
SO: 
We can expect Loeb to be back at his best level this weekend. Like I said in Mexico before the start, I would be very happy to fight with him for victory, because it would mean that I'm up there with the best.
Q:
You have some great memories here with victories and a win in the Junior category 10 years ago. Let me take you further back to 2004 though when you were a mechanic at this event - tell us a little about that?
SO: 
It was for a very small local team. It was a great experience. I remember it was also Loeb's first title. I remember being like a fan back then, taking pictures and I never imagined at the time that I would race in this Championship. I'm very happy to be here today.
Q:
Thierry, before we even chat about the event let's head back to the pre-rally test and some pictures of your car off the road. What exactly happened and how much did that accident disrupt your preparation?
TN: 
It's nothing new and it's not a surprise anymore. It looked very spectacular, but from the inside it was okay. I was just going faster and faster and at one point I went too fast. We landed in the water. In fact my preparation wasn't really disrupted.
Q:
You won this event last year, we've also seen you win in the IRC days so maybe some of the new stages will be familiar to you. Confident?
TN: 
I know stage 2, from when I won the rally in 2011. A lot of new stages as well for me. Stages change your rhythm quite a lot. It seems easier than in previous years, but some of the specials are quite difficult. Like the one on Sunday morning.
Q:
You told me that you feel all the corners of the rally are in the long stage on Sunday morning, a real challenge then!
TN: 
It's very twisty. A lot of different corners. There's a lot of work to do before Sunday morning. I hope I'll still be in the fight at that point and I'll be able to make the difference during that stage.
Q:
Was everything okay in the Shakedown Ott?
OT: 
We had a small transmission problem but we repaired it and everything is okay now. We did two runs later.
Q:
Tell us about your first season with Toyota so far?
OT:
It's going pretty well, better than expected. I had never changed team before, so everything is kind of new. But I know several people in the squad and we're all pushing in the same direction, and there's lots more to come.
Q:
What do you think of your rivals here?
OT:
Everybody is competitive. I think we are well prepared, though. The car's well-balanced and I like the way it handles. So we're looking for a good result.

QUESTIONS FROM THE FLOOR:
Martin Holmes
Martin Holmes Rallying, UK
Q:
It's been 10 years since your last Tour de Corse, how has the event changed? And your preparation changed?
SLoeb:
Nothing has changed in the preparation, it's still pretty much the same. What has changed is that the cars are much faster. And of course a lot of drivers are no longer present. For me the stages are all new but they're still twisty, narrow and tricky although some are wider in places.
Q:
What can you tell us about La Porta?
TN:
I was quick both times last year. I love this stage. It's got almost everything. It's also a bit narrow and you can really make a difference in it. I hope everything will go off without a hitch because when you set off for 50 kilometres the slightest problem can slow you down and completely ruin your rally. Let's hope that we don't have any issues and that we can keep up a competitive pace.

FIA WRC 2 CHAMPIONSHIP
 
Present:
Stéphane Lefebvre, Citroen Total
Pierre Louis Loubet, BRC Racing Team
 
Q:
Stephane, we see you debut the Citroen C3 R5 in the WRC 2 category. Firstly, after 6000 kilometres of testing, what are your thoughts on the car?
SLefebvre:
The car is ready for the race. We will see tomorrow after the first stage.
 
Q:
How confident are you coming into this event?
SL: 
My level of confidence is high. I'm back in a slower car so it's not so difficult to be back in the R5.
 
Q:
What do you think about the stages and your rivals?
SL:
I never compare. For me, it's obviously easier than last year, but it's difficult as always.
 
Q:
The Championship title is the goal, is a win possible here?
SL:
I hope so. I hope to be on the podium and perhaps even to win.
 
Q:
Pierre Louis, we see you are driving the Hyundai R5 here in Corsica, your home event. Tell us about the car and your thoughts on it?
PLL:
It's a new car for me this year. Everything changes. It's got great potential. I did not test a lot before the rally, but we found a good set up. We hope to have a good rally.
 
Q:
How does the Hyundai compare to the Ford?
PLL:
Hyundai and Ford are completely opposite cars. The Ford is easier to drive, I don't know the Hyundai so well yet but the performance seems quite similar.
 
Q:
Route changes this year and we pass through some stages not used since the 1990s and early noughties. What do you think of the route?
PLL:
You cannot find these kinds of roads everywhere. A lot of parts are new in this rally. I think it's a little bit easier than in the nineties.
 
Q:
Yet again there is another strong line-up in WRC 2. What is your objective?
PLL:
Our hope is to have a good Championship. I hope to have a good rally here, maybe to be on the podium. I have to be more consistent than last year. To be in a good position for the Championship, you need to finish all the events.
FIA JUNIOR/WRC 3 CHAMPIONSHIP
 
Present:
Emilio Fernandez
Jean-Baptiste Franceschi
 
Q:
It's your debut in the FIA Junior WRC this year. We saw you compete in Sweden where you scored your first stage win. That rally was a good experience for you?
EF:
That was an amazing experience because I had never driven on snow.
 
Q:
Now we switch to your first time on tarmac, a big learning curve for you. What has been your preparation for this event?
EF:
I watched a lot of videos and played on PlayStation. That's all.
 
Q:
Are you nervous?
EF:
I'm very nervous but I will be happy if I score a good result.
 
Q:
You have quite a following back home in Chile. Does that give you confidence or help in any way during events?
EF: 
It's very important for us.
 
Q:
Jean-Baptiste, what was it like in Sweden for you, a new surface?
J-BF:
We put on an amazing performance. It was a good result for us. We were fourth in the Juniors. Good points for the future.
 
Q:
I believe you've been competing on tarmac ahead of this event. Good preparation? Is tarmac your favoured surface?
J-BF:
We trained for Corsica in France in Grasse. We tried different set ups and different kinds of tyres. I think we are ready for the Tour de Corse.
 
Q:
What did you think of your rivals in the Junior WRC?
J-BF:
The level is very high this year. Anybody can win, no matter what the surface. It's good for us because we can prove our value. We hope to be competitive.
 
Q:
You are backed by the FFSA, we have two French champions (Loeb and Ogier) who have made their way through Junior championships, is this your goal?
J-BF:
For sure, I want to score a good result but it's already a dream to be here. I want to thank the French Federation for this gift. I hope to be in the mix for victory.