This page contains archived information and may not display perfectly
WRC - T.Neuville: "We were again involved in a huge fight for the victory."
Transcript of the post event Press Conference organised by the FIA for the 2017 Rally Poland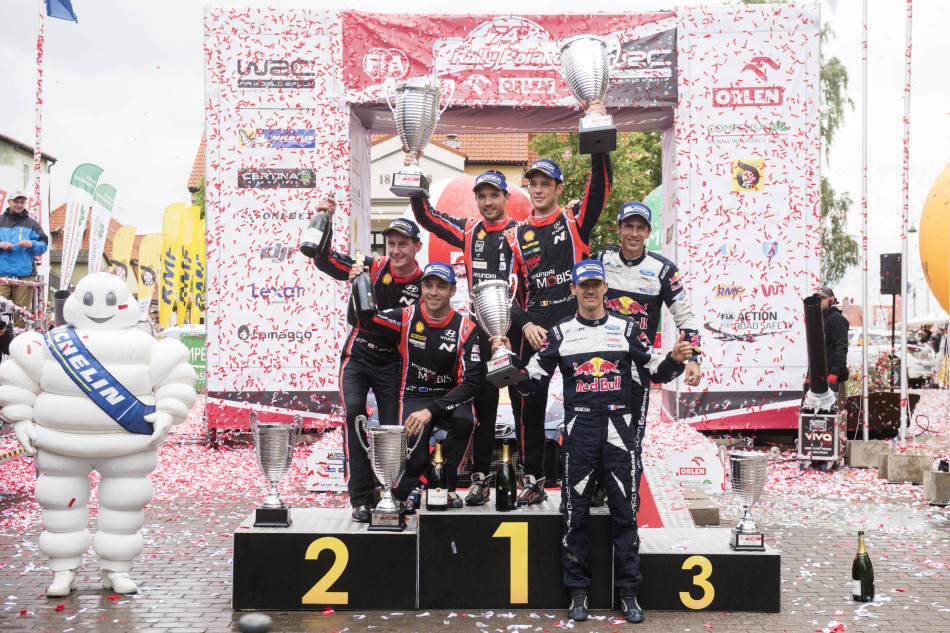 Present:
1st - Thierry Neuville, Hyundai Motorsport
1st - Nicolas Gilsoul, Hyundai Motorsport
2nd - Hayden Paddon, Hyundai Motorsport
2nd - Sebastian Marshall, Hyundai Motorsport
3rd - Sébastien Ogier, M-Sport World Rally Team
3rd - Julien Ingrassia, M-Sport World Rally Team
Michel Nandan, Hyundai Motorsport
Q:
Thierry, congratulations. A Hyundai one-two finish and a really strong performance. How are you feeling? You must be very happy?

TN:
I guess we have to be! It was an incredibly tough weekend again and the conditions were so difficult. We were again involved in a huge fight for the victory. It was very demanding. A lot of energy and concentration. This time, there were no mechanical issues and it gave us a great opportunity to score maximum points without taking too much risk. We also achieved the goal for this weekend of getting points back to Seb (Ogier).
Q:
What were your thoughts at the start of this morning?

TN:
It was horrible to be honest. We were able to read the comments of the first drivers before we started. I drove fast and always with a small margin and still I went wide a few times. I was surprised to see Ott 4.9 seconds faster than me in that first stage. I wasn't sure if he went crazy or the set-up on my car could have been better. I spoke to some people who saw him passing and they saw him passing like hell. I knew I had to react and I went faster on the next one. Then I found out what had happened to Ott. 
Q:
The Power Stage today, were you thinking about the five points? What were your thoughts before the start?

TN:
Always I think that. I wanted to go as fast as possible but we have to be clever. The fight is tough. Ogier is always close to or on the podium and, if we want to catch points, we have to be at the finish. Now, if I could go and do the stage again, I would go a little bit faster, but not more than this. 
Q:
What are your thoughts now for Finland?

TN:
The feeling is good at the moment. We have to see again now for Finland. We have seen on the last couple of races that we have been quite consistent. Portugal, it was impossible to win, but we were strong again here like Sardinia. I hope the car will be fast. It felt good here, I had no concerns. Finland is probably one of the most difficult rallies in terms of speed and precision. It is easy to do a mistake. It is a tough event and a good approach is needed 
Q:
Nicolas, what did you think when you saw Ott's time on the board this morning?
 
NG:
I saw it. I saw we were very quick. We made a few mistakes in the slippery part. The main target was to get to the finish. We were sure Ott was pushing, but we stayed focused on the target and that was to win here this weekend.
Q:
It's becoming a very close and exciting season isn't it? 

NG:
We decide to split the season, rally-by-rally, to try and catch some points rally-after-rally. The goal is to catch Ogier and Julien. 
Q:
Hayden, first first time for you on the podium this year. How are you feeling?

HP:
It's a big relief, especially after losing 40 seconds on Friday morning. After that we had a clean rally, but I guess we were fortunate with the issues for Jari-Matti and Ott.  
Q:
What has this result done for your confidence since Sardinia? Do you feel that you are back on the pace and the level you want to be at now? 

HP:
We still have things to work on and improve. This has been the hardest period in my life both professionally and personally. This result feels like I can lower the shoulders a little now and use this as a spring board to go forward. After the test we did last month, this was the perfect result to boost the confidence.
Q:
There are perhaps 10 drivers capable of taking the win in Finland. What do you think about that?

HP:
It certainly will make it exciting. They will be pushing all the time from the first stage. We will be the same from the start. We are looking forward to going all-out to continue to build towards a championship push in 2018.
Q:
Sebastian, welcome to the WRC podium for the first time. I assume that you have had the initiation celebration? 

SM:
Right now, I feel quite cold actually (champagne). I am delighted to be here. This is only my third WRC event with Hayden but we have made a strong start together. In Portugal and Sardinia we did not complete the job. It was frustrating to come to Poland and, given our position on Friday morning, no one knew what to expect and that we would make it onto the podium. It is a fantastic result for us and the team. We have done three WRC events and one small rally together now. It actually feels as though we have been together a lot longer than that. It is natural and feels comfortable. It's a good start to our partnership.
Q:
Third place Seb and good points for the Championship. How are you feeling about the weekend?  

SO:
It was not a smooth event for us but I must be pleased with the points, I expected to lose more ground. We did not have a super speed at all. But, I am finally lucky to be at the podium, even if it was because of the little mistake of Ott this morning. He deserved to be here on the podium after his pace all the weekend. But, first to be first, first you have to finish. We grabbed 19 points, so I am happy. 
Q:
Tell us about the engine issue you had yesterday…

SO:
It was not the engine it was more linked to the alternator. It was not working consistently and proving big stress for us to finish the loop. But I was lucky to finish. These things happen, plus the punctures on Saturday morning. Starting first on Friday in that weather was not so ideal. Like I say, we scored good points in the Power Stage. Now I am looking forward to enjoying a holiday.
Q:
Tell us your thoughts on Finland?

SO:
I'm sure Finland will be a good weekend for us again. Sometimes you have a bad moment in the championship. Of course I need to recharge the batteries to perform to the maximum. We have two day of testing before Finland to try and feel even better in the car. Finland is always interesting with a lot of Finns, I'm sure, trying to show some things there as well. 
 
Q:
Do you also need to recharge the batteries Julien? 

JI:
I feel really fresh…At the end we did not have too much time between the stages. We were worried with punctures and small issues. It was a long weekend for everyone. Now we are coming to the tarmac events. There is still a long way to go. It is exciting and I look forward to recharging the batteries. It is a long time since we had a championship like this. Nobody can bet on who can win and who can be on the podium. Rally after rally, it is getting very exciting. The level is really high. We never drove so fast in a rally car. 
Q:
Michel, congratulations, a Hyundai one-two here in Poland. You must be delighted?

MN:
Of course, it's a good weekend for us. We were able to catch up some points and the Manufacturers' Championship is also very important. We had no issues as well. 
 
Q:
Are you feeling any pressure now being in contention for both titles?

MN:
I think we have no more pressure than normal. Everybody has to do his job and we have development work in progress. When you are doing the championship you have to be careful not to do any mistakes. We will see, for sure, some nice battles again. Since the beginning of the season, everything has been quite close. I hope it continues to the end of the year. 

FIA WRC 2 CHAMPIONSHIP
Present:
1st - Ole Christian Veiby
1st - Stig Rune Skjærmoen  
Q:
Ole Christian, congratulations on a superb victory in WRC 2!

OCV:
We are delighted. It is a great feeling. I did not think too high for this rally. We were so strong this weekend and we showed some nice pace. To beat Pontus (Tidemand) is a great feeling.
Q:
Tell us about the conditions, the mud and the rain?

OCV:
For sure, it was very difficult conditions. The most difficult was to judge the level of grip. It was like slicks on ice in the corners. We had many moments as well as many others. We did really well. Not very big moments, but you have some places off the road in the fields a little…. 
Q:
Your performance level is improving. Is the Asia-Pacific Rally Championship programme also helping with that?
 
OCV:
It is helping me. I have a lot of rallies on the schedule this year. To drive as much as you can is important with Finland coming soon. We were confident before this rally as well. Our plan was to try and beat Pontus and show some speed, but we did not expect to beat him overall. 
Q:
Stig Rune, how did it go for you?

SRS:
I enjoyed the rally a lot. When it's gong fast, it is fun. Wet is okay as well. It was a great weekend. We did not think a win was possible. To win was fun to do. 

FIA JUNIOR WRC / WRC 3 CHAMPIONSHIP
Present:
1st - Nil Solans
1st - Miguel Ibáñez
Q:
Nil, yet another win for you in the Junior WRC category. You must be elated?

NS:
It is amazing. It is a great feeling. We have been here before, but the first time in these conditions. We competed here in 2014 and 2015 but not in conditions like this. In the ruts we did not know if we would roll or not. The car was jumping. We went flat out in all the stages and we enjoyed it a lot. 
Q:
How was the car fairing in these conditions?

NS:
Sometimes it was hitting too much. In the bumps, the ceiling (roof) was hitting your head. You begin to think the car will be destroyed, but M-sport makes an amazing car. It was very hard and gave me confidence to drive and we enjoy a lot.  
Q:
Four stages today, but you had a flat tyre didn't you?

NS:
Yes, a left corner at the beginning of the first stage today. It was a big stone inside the gravel. It was in the line, in a flat corner, like Terry Folb and some other drivers. The ruts did help us to go flat and we lost only 16 seconds - not too much.  
Q:
Finland next Miguel, you must be looking forward to that?

MI:
Yes, we have done three very different rallies. Corsica was on tarmac, Sardinia was gravel and Poland was quite flat. Finland is not sandy like here. We have the speed and we are confident for Finland. 
Q:
What are your thoughts on the win in Poland?

MI:
The feeling is great. On the first day, the rain was very difficult and Saturday was okay. The feeling changed today. It was very difficult for the rain. In Finland, it will be a different feeling.