WRC - Tänak extends Rally Sweden lead, Mikkelsen and Lappi tied for second
Rally Sweden - Saturday Afternoon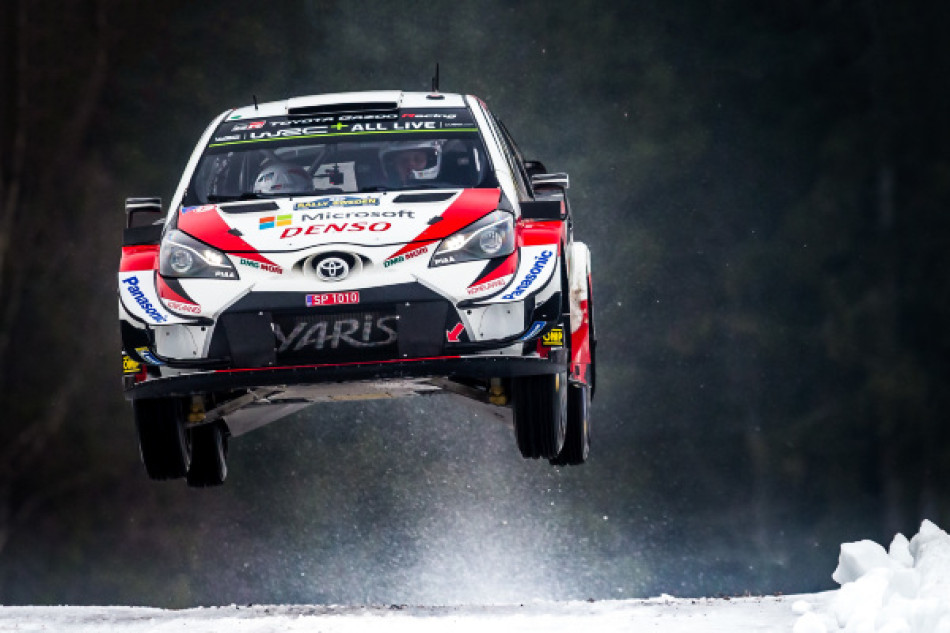 Ott Tänak has extended his Rally Sweden lead to nearly a minute, while Andreas Mikkelsen and Esapekka Lappi are tied in a battle for second place, with Thierry Neuville only 2.3s behind.
This afternoon's route was a repeat of the three morning stages, including a second pass through the iconic Colin's Crest jump, a repeat of Thursday evening's Karlstad super special stage and the 2.80km Torsby sprint to close the action.
As it was the case on Friday, roads had lost their hard, icy base by the afternoon pass and had turned into icy and slushy gravel stages. Those degraded conditions hampered those running first in the order as they had to sweep loose gravel away.
Running as one of the last cars in today's starting order, Toyota driver Tänak had no such issue and delivered a remarkable performance by taking three stage wins out of five on Saturday afternoon, increasing his overall lead to 54.5s.
Mikkelsen had initially been in a comfortable third position, which became second when Teemu Suninen went off into a snowbank in the morning. But a pair of drivers, including Mikkelsen's Hyundai team-mate Neuville, was charging him down quickly in the afternoon.
Lappi had started the afternoon loop in fifth after an unsatisfying morning for him. But the Finn seemed to find a much better pace in the second half of the day and immediately jumped past both Neuville and Elfyn Evans on Rämmen, setting the second fastest time behind Tänak. Overall, the Citroen driver gained 19 seconds across five stages to finish Saturday joint second with Mikkelsen.
Neuville's pace got stronger over the day too, going second quickest on both Hagfors and Vargåsen. However, a mistake on this third stage could have cost him dearly, as he hit a snowbank and spun over 360 degrees. But the Belgian reacted quickly and managed to drive out of the snowbank, losing only five seconds.
Further in the classification, Evans could not keep up with fourth-placed Neuville, finishing the day 11.9s behind him in fifth place. He however increased his advantage over sixth-placed Kris Meeke, as the Toyota driver struggled for grip with an earlier road position than his rivals.
With revised pace notes after the morning loop, nine-time FIA World Champion Sébastien Loeb closed the gap to 0.5s to Meeke after Vargåsen, although a poor time in the Karlstad super special brought him back to 1.6s by the day's end.
Teemu Suninen, the overnight leader at the end of Friday, lost his position in the morning and then got stuck in a snowbank. Later, while fighting Loeb for eighth place on Vargåsen, he went off the road and hit a tree, damaging the roll cage on his M-Sport run Ford Fiesta WRC. His team is attempting to repair it in time to compete in the final three stages on Sunday, subject to FIA approval.
That retirement handed Pontus Tidemand eighth place overall, well behind Loeb in seventh but far ahead of Ole Christian Veiby in ninth.
Rally restarter Sébastien Ogier had won two stages on Saturday morning and added one on the afternoon pass in Vargåsen. However, he deliberately checked in late at time control, taking a penalty, to improve his order position with the aim to get cleaner road conditions for himself and his teammate Lappi.
Ogier had a big moment at the landing of the iconic Colin's Crest jump, the rear-end kicking out under braking and throwing him to the side of the road. But luckily the Frenchman managed to continue without further drama.
Jari-Matti Latvala also got into trouble on Vargåsen, going nose-first into a snowbank and losing around four minutes.
FIA WRC 2 leader Ole Christian Veiby came under increased pressure from Printsport's Jari Huttunen during the afternoon loop, both battling for ninth overall. Veiby's team-mate Johan Kristoffersson had been running second in the category but the World Rallycross champion had a trip into a snowbank, which cost him nearly two minutes and sent him down to fifth place.
Huttunen showed great pace throughout the afternoon, taking four stage wins out of five. He was even among the top five cars overall on both the Karlstad and Torsby stages. That allowed him to close the gap for ninth overall and to the FIA WRC 2 lead from 28.4s to 12s at the end of the closing stage on Saturday.
Huttunen's team-mate Emil Lindholm is third in the FIA WRC 2, 1m32.2s behind Veiby, and FIA WRC 2 Pro leader Mads Østberg is only 1.2s further behind Lindholm.
Rally Sweden – Unofficial results after Section 6
| | | | | | | |
| --- | --- | --- | --- | --- | --- | --- |
| 1 |   |   |   | Ott Tänak / Martin Järveoja | Toyota Yaris WRC | 2hr19min31.7sec |
| 2 |   |   |   | Andreas Mikkelsen/Anders Jǽger | Hyundai i20 Coupe WRC | 2hr20min26.2sec |
| 3 |   |   |   | Esapekka Lappi / Janne Ferm | Citroen C3 WRC | 2hr20min26.2sec |
| 4 |   |   |   | Thierry Neuville / Nicolas Gilsoul | Hyundai i20 Coupe WRC | 2hr20min28.5sec |
| 5 |   |   |   | Elfyn Evans / Scott Martin | Ford Fiesta WRC | 2hr20min40.4sec |
| 6 |   |   |   | Kris Meeke / Sebastian Marshall | Toyota Yaris WRC | 2hr21min08.2sec |
| 7 |   |   |   | Sébastien Loeb / Daniel Elena | Hyundai i20 Coupe WRC | 2hr21min9.8sec |
| 8 |   |   |   | Pontus Tidemand / Ola Floene | Ford Fiesta WRC | 2hr22min39.7sec |
| 9 |   |   |   | Ole Christian Veiby / Jonas Andersson | Volkswagen Polo GTI R5 | 2hr24min51.1sec |
| 10 |   |   |   | Jari Huttunen / Antti Linnaketo | Škoda Fabia R5 | 1hr11min05.3sec |