WRC - T. Neuville: "We have been fighting all year. Ott and Martin have been very strong."
Transcript of the post-event press conference organised by the FIA for the 2019 Rally of Spain.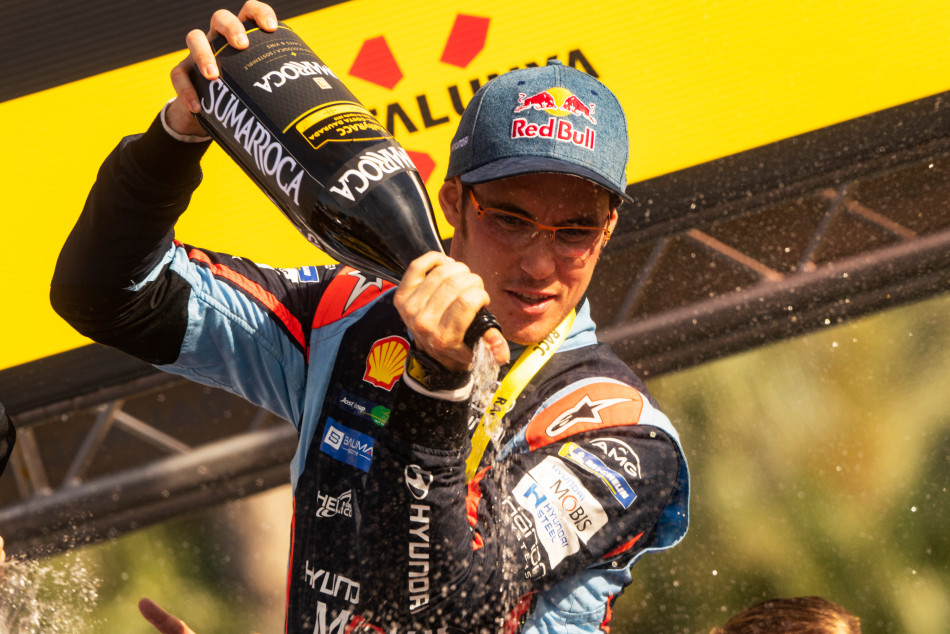 FIA WORLD RALLY CHAMPIONSHIP
Present:
1st – Thierry Neuville (BEL), Hyundai Shell Mobis WRT
1st – Nicolas Gilsoul (BEL), Hyundai Shell Mobis WRT
2nd - Ott Tänak (EST), Toyota Gazoo Racing WRT
2nd - Martin Järveoja (EST), Toyota Gazoo Racing WRT
3rd  - Dani Sordo (ESP), Hyundai Shell Mobis WRT
3rd  - Carlos Del Barrio (ESP), Hyundai Shell Mobis WRT
Andrea Adamo, Team Principal, Hyundai Shell Mobis WRT
Q:
Thierry, congratulations on winning here in Spain. You know that you had to win to try and keep the Drivers' title hopes alive. The Drivers' title has gone and the Manufacturers' title remains? How are you feeling?
TN:
Yes, first of all I would like to say congratulations to our two new World Champions. Obviously we have been fighting all year and Ott and Martin have been very strong, so congratulations to them on their first title. It will not be so easy for them next year…
Q:
Talk to us about the rally.  You have given it absolutely everything. It was practically a perfect day for you yesterday and that continued on today. What was the feeling going into that final Power Stage?
TN:
As I said before, I was looking more in my mirrors at the guys behind. We needed the times to go our way to remain in the fight. If Dani had come second, then the Power Stage would have been the decision. But, at the end, it is what it is. We did the maximum we could. We enjoyed the weekend and the feeling in the car was great. We look forward to the upcoming event and the fight for the Manufacturers' Championship.
Q:
Now that will go down to the final round in Australia. That will be one heck of a battle there as well?
TN:
Definitely. The target is to win this championship. Now the goal is to focus on that championship.
 
Q:
Nicolas, how are you feeling? There was not so much resting on this rally. How disappointed are you now or is that not the case?
NG:
For sure, there was the anticipation. The week we spent here was really nice from the recce, which was difficult with the weather conditions. It was very tight on the gravel, a very huge pace to be as quick as possible. Also, on tarmac we were more or less on our limit. We are missing the championship, I would say "again", so it's difficult.
Q:
Ott, World Champion for 2019: it is a dream that has come true for you here in Spain. Six wins so far this season. You have had a couple of hours to process the news in your head. How does it feel now? We know the pressure has been on you.
OT:
I believe not just the pressure but huge pressure. Since Thursday, every second person is asking about the pressure and how your head is and how the championship is. It is not easy to manage because of this. I would say that in my life, I have had many difficult problems, so for sure, it helps to cope with these kind of situations. Still, this pressure was something new. At the beginning, I did not know how I would perform and how I would manage the pressure like this. It was quite a new and interesting situation. I had no other choice other than to relax and try to get the feeling without taking any risks. We could do it. It was an interesting weekend. Now the relief is great.
Q:
When you look back at your career, your first event in FIA WRC was 10 years ago, in 2009. You have seen a lot in that time. It was been a roller coaster. A lot of people have played a big part in it. Markko Martin was in the service park today. What did he say and how did he react?
OT:
He was not so happy with me. We spoke last night and his advice was to take all the points and not to push and he obviously was not happy with the Power Stage. I think we have a meeting with him after. I have seen in life that nothing comes easy for me. Before the Power Stage, I had two options. Basically, to drive and hope that Thierry would not take too many points or I may have enough. I knew this was not going to happen. I said he will push and take the maximum points. So the choice for me was to push myself and make the difference.
Q:
Did you feel when you got to the stage end that this was going to be a fast time?
OT:
No. The feelings were quite mixed. At the beginning of the stage, in the first few kilometres.  I was not completely relaxed. I wanted to relax as quick as I could. Then the feeling was okay but we have seen all weekend that the Hyundais have been very fast. But I managed to push a little bit more. I knew it was going to be difficult. I knew that this could decide the championship before Australia. In the end, it was a job well done.
Q:
You don't often show emotion. Did you allow yourself any emotion, were there any tears?
OT:
I will say there were, yes, when I saw my wife crying, and my sister. You get some emotions. It's a big relief. With a pressure like this, when it drops, it can release a lot of emotions.
 
Q:
Martin, the pressure was there and it felt like the whole country of Estonia was here this weekend. I know a lot of them travel to events, but I think the last one turned the light off this weekend.  How does that add to the pressure?
MJ:
Yes, Ott and I are in the same car and we have the same pressure, for sure. Estonian fans are something really incredible. They are amazing. I will not say that they give us more pressure but they give us more support. Also, I want to say that the team was really strong this weekend. The car has been working all the time.
Q:
Dani, we can imagine a little bit of disappointment. We have seen a great performance from you this weekend. You missed out on second place on the final stage. How are you feeling about the result?
DS:
I would be second obviously. To lose by four-tenths is not nice. We pushed hard and enjoyed. We thought we had pushed hard in the last stage, but it was not enough. But we are on the podium and we have points for the Manufacturers', so it is not so bad.
Q:
You kept Ott behind this morning until that final stage. That is positive. You have to remember that?
DS:
We fought very hard in the morning and we did okay.  We did some nice stages. I was hoping to do a bit more, but I am happy to be on the stage and on the podium.
Q:
Will we see you at the next event?
DS:
I don't know. I have a flight ticket, that's all I know.
Q:
Carlos, talk to us about your weekend. You are on the podium and that is a great result.
CDB:
It has been positive, not only for us but also for the team, It is the first time that I come up onto the podium here, so it is important because I don't know if I will be in the championship in two years' time. It is important for me, because my target was to be on the podium.
Q:
Andrea, a victory here for Thierry in Spain. Are you happy with the way the weekend has gone?
AA:
Yes, yes and no. It could have been a little better, but it could also have been a little worse. 
Q:
Can you tell us your driver line-up for Australia?
AA:
We had Thierry and Nicolas and Dani and Carlos and we have Andreas and Ole down to do the rally. I firmly believe that we should support the team that has supported us all season. The goal is the Manufacturers' Championship.
 
QUESTION FROM THE FLOOR
Reiner Kuhn, Motorsport Aktuell (DEU)
Q:
Rally de España is not on the 2020 WRC calendar. Can you please share your feeling and thoughts about the event?
TN:
I was already thinking it before. It's a nice event. The only event in the calendar where we have to switch from gravel to tarmac. Honestly, we all enjoy this additional challenge. This round would definitely deserve its place in the calendar every year. That's my personal own opinion.
OT:
I agree with what Thierry said. It's a unique event in the championship. The people here are very passionate and they have been supporting motor sport for many years. I believe this round should have a spot in the calendar.
DS:
Really incredible event and it has been even more special this year, for the people, for the championship, for the weather. Everything. A lot of people on the stages, at the Service Park. There are people coming from Spain and from everywhere because it's so easy and so nice to come here. I think we need to have this rally in the next years.
FIA WRC 2 PRO CHAMPIONSHIP
Present:
1st - Mads Østberg (NOR), Citroën Total
1st - Torstein Eriksen (NOR), Citroën Total
Q:
Mads, congratulations on your win this weekend. It was a great event for you here in Spain on gravel and tarmac. There have been a few frustrations along the way. But it is a win at the end of the day?
MO:
Absolutely, I mean it was important for us on the gravel but we had some frustrating moments and some issues that cost us a lot of time. That was quite frustrating. I knew I needed the lead going on to the tarmac, but I didn't. To be honest, on tarmac it was quite good as well. We had a lead that we've been nursing all through the Saturday. Then we did some changes to the car as well and we were very happy with our performance. I guess we were up against some strong drivers. It was a great weekend and a really nice way to end the season in this category.
Q:
It has been a strong weekend and you had some strong rivals out there and a good fight with Eric (Camilli).
MO:
I enjoyed the fight with Eric. I know him very well from the past. We have been teammates before as well and this time, it was really enjoyable. I was quite happy that the lead was not bigger on Friday because I really had to push hard and had to be improving stage-by-stage. I enjoyed that a lot. A huge thanks to Benjamin and Eric.
Q:
From the start to where you are now, how much has the car progressed?
MO:
I think a lot. When we started to where we are now, we are getting quite comfortable and are able to fight at the top. I think we should all be happy with the development team at Citroën, We have gained a lot of experience during the year and made changes to the car before and during events. It is all paying off.
Q:
Torstein, a great result for you guys. How do you react in the car when Mister Østberg is a little "frustrated", let's say?
TE:
I do my job and I don't say a word. 
Q:
On a serious note, what are your thoughts on the weekend?
TE:
I feel that all our hard work has paid off. That means a lot because we can take this into next season.
Q:
We are hoping to see you guys next season. But in what is the question?
TE:
I don't know.

FIA WRC 2 CHAMPIONSHIP
Present:
1st – Eric Camilli (FRA)
1st – Benjamin Veillas (FRA)
Q:
Eric, congratulations on winning FIA WRC 2 today. What a strong field of drivers you had to battle against. Tell me about your weekend?
EC:
It was great to be able to fight today with Mads. After we discovered what we could do, we proved that the car is fast. I am very happy about this and I thank Citroën for us, because it is the first time that we have worked together. 
Q:
You have been in a number of R5 cars. How did you find this car in comparison? 
EC:
It is difficult to say because every car is quite different. You see times always very close. Some cars like more softer roads and some are harder. It's difficult to say. I was quite surprised. We had good times.
Q:
This was a mixed surface event. When you came into the FIA WRC, your strength was on tarmac. How do you feel you did on gravel on Friday?
EC:
I prefer tarmac. I did have trouble to discover the car on Friday. Particularly on one stage, the second stage was not tricky but it was not easy and we lost a lot of time. I did not have a very good set-up. Then we got some better times in the afternoon. Then we had to push on the tarmac. I must say Mads was quite fast today.
Q:
What about next year?
EC:
I am working on it. For the moment, I am like a new driver, a "spare" driver. Let's see.
Q:
Benjamin, how are you feeling after the weekend?
BV:
It was not a difficult weekend. I feel very good. I congratulate Mads and Torstein and I thank  Citroën Racing. They did a very good job this weekend.
Q:
No stresses, no problems out there?
BV:
For me, no, nothing.
* All results subject to the official publication by the FIA