This page contains archived information and may not display perfectly
WRC - T. Neuville: "That was important for both championships."
Transcript of the post-event press conference organised by the FIA for the 2021 Ypres Rally Belgium.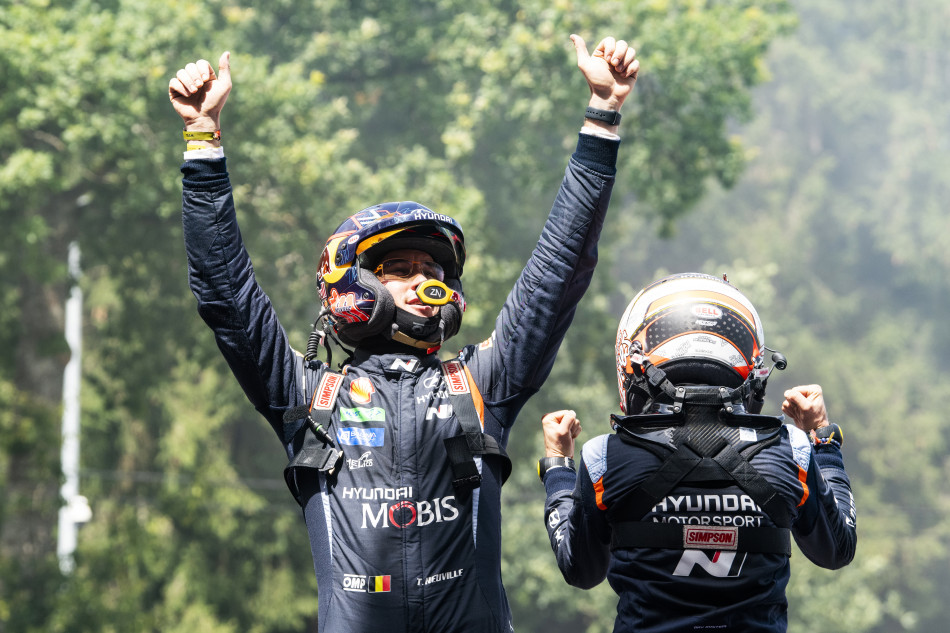 FIA WRC CHAMPIONSHIP
Present:
Thierry Neuville (BEL) - Hyundai Shell Mobis World Rally Team
Craig Breen (IRE) - Hyundai Shell Mobis World Rally Team
Kalle Rovenperä (FIN) - Toyota GAZOO Racing World Rally Team
Andrea Adamo, Team Principal, Hyundai Shell Mobis World Rally Team
Q
Thierry. you were favourite coming in, can you describe your feelings to win at home, in the first Belgian WRC rally?
TN:
The feeling is good! Everyone was expecting us to win or do well. The plan was to go to win. I was in control of the rally all the time and that made me feel quite comfortable from the beginning. I knew I didn't need to go faster. I could have if that was needed but I was really concerned about this weekend. Other people were struggling with that. Even more today, I was afraid to get hit by any trouble and not being able to secure the victory. That was really important for the team. To get the double podium and being very strong all weekend. That was important for both championships.
Q
You have competed here numerous times before. What do you think of the step up to WRC level and the stages used here?
TN
First of all, I would like to say a big congratulations to the organisers. They have had no experience with WRC before and they got the event and they have done a superb job. Good organisation, good stages and I really enjoyed driving the car on those stages. You are always fast, there are a lot of slippery places and when you are in sixth gear, a little bit sideways on narrow roads, it gives you the impression of speed and how fast those cars can be. That was really fun all weekend long. Coming here to today to Spa, the nicest circuit in the world, in a WRC car. That was fun as well. I really enjoyed the part on the race track as the grip was really high and you have to adapt your driving as our cars are very soft and high and groaning a little bit too much. It makes you slide at high speed. It was very fun.
Q
It is your first win with codriver Martijn Wydaeghe. It came together quite late and it is a big step for him into the WRC. Can you say a few words and describe your relationship together now?
TN
Everybody expected us to have a difficult season after the late codriver change at the beginning of the year. Martijn is super-motivated and doing a great job. From the beginning, it felt like it always did when we started driving together. We feel comfortable together in the car. He can sometimes give me a bit of a push in the preparations of the rally. That is good. I have been in the game for a long time and sometimes you have some habits and it is good to learn new things and new ways of thinking. I enjoy that and it makes me feel younger again. It seems to work.
Q
Craig, it is your fifth podium in the WRC but the first time you have had two in a row. Both second positions. How much have you enjoyed the weekend in Ypres?
CB
Its nice to have two podiums in the same year. I don't think I have done it before. Normally they are quite spread out. I have really enjoyed it. This rally has been something that I have experience here in the past doing it in the R5 car. I have always dreamed of how it would feel one day in a World Rally Car. To get the chance this season to drive here probably exceeded my expectations to drive on the roads. The narrow profile, as Thierry said, to drive on the narrow roads, doing 190-200km.h on these narrow roads with grip changing all the time, you get a big impression of speed. Then the opposite, when you arrive on the large track on Spa, you feel like you are stopped when you are on this big large road! It is part of the rally, I have really enjoyed it.
Q
Your pace started really well on Saturday morning with stage wins. Then you eased off a little. Was that under instruction?
CB
(Laughs).
Q
A little scare this morning. Can you tell us what happened there and did that set the tone for the rest of the day?
CB
Paul told me to brake even 10 metres later on the left corner. I tried to do it and the result of what happened…I am joking. I knew about the corner from recce and I saw it was tricky. I was warned about it before I started the stage as it looked from the WRC Live it was quite difficult. I braked early enough as I braked a bit later the second time. I just released the brake a bit too much at the top of the crest and when I went to brake a bit more it locked up and it started to even pick up speed rather than slowing down. Honestly, I have to thank the horrible Belgian summer that it rained so much. It made the bank quite soft as if it was a normal time of the year, for sure I would have stopped there. I saw somebody, I guess went slower than me on the second pass and he rolled because I think I carried enough speed in the corer I managed to skip over the drain and not go off. As we say back home, every so often you need a rub of the green. That was the rub of the green today.
Q
You have made no secret of the fact that you are hunting for a full time drive next year. You have looked much more relaxed in the previous events with the podiums. Can you tell us your plan for 2022?
CB
Podiums help regardless. They help in every sense. For sure, it helps our cause it puts us in a stronger position. Apart from anything, on the contract side, it gives myself and Paul confidence going forward. We definitely feel much more confident. We will see.
 
Q.
Kalle it is your first podium on tarmac. It must be pleasing to you as you are the best of the drivers that have never competed here before. You climbed up to that on the first stage this morning. Can you tell us about it?
KR
All weekend it was quite close battle with them. It was really enjoyable to have a proper fight even if we are not fighting for first or second place. Before the rally we knew that we could not match those guys so well as they have the experience here. They have the right pace there. Other than that, today was nice to fight with the teammates and be in front of them. It was quite a good weekend.
Q
You mentioned that it was a huge learning curve for all the drivers new here. What did you make of the stages and do you feel you better understand how to drive them now?
KR
For sure I know what I should do a bit more and what you need from the car and what we got from the test was really small. As it went on I feel a bit better and more confident and more enjoyable in the car.
Q
Moving to you Andrea and it is a good 1-2 after some heart-breaking rallies this season. What does this result mean for the team?
AA
It is important for all, I think. For the team, it is important and also for the people at home too. As you say, the last events have been complicated for us. When things like that happen, the worst thing that can happen is that people get scared. I was just trying to be the shelter of my team and protect everyone. Taking, if possible, the responsibility on my shoulder and let them work hard as they had done before. But just work hard, not be scared of anything and be worried to do something as you can be scared to do a mistake. It hasn't been the easiest time of my life.
Q
Belgium making its debut on the WRC calendar. What have you made of this event, the atmosphere and would you like to see it return to the calendar in the future?
AA
You see Seb [Marshall, the host], I know it doesn't look like it but I am the oldest here…I have been here in Ypres in 1990 and I always loved this rally. I have been here many times after and I think I was even more happy than Alain when Ypres Rally was confirmed as a WRC round. I really always loved to come here. We know, having spent time here and I have to say, and repeat, that being in the position where we are now. But I started to say it on Thursday, I think having the same Promoter for the ERC and WRC can be a good opportunity for the rally world. You can have nice rallies in Europe that can be part of the ERC and having a rotation between them. So you can have a nice order and have the drivers involved in the ERC as they can see stages that they can experience and use later. If not, it is difficult. Maybe you have young people that do WRC straight away and do WRC3 without experience. I really think you can make a real story and a real strategy behind these things. Let me say before this weekend I was already questioning why Ypres was not in the ERC. It is not my job but someone has to question it. We have to aim for the best. We are all managing companies and I am sure that this idea, is something that should be explored.
 
Questions from the floor
Tom Howard – Autosport UK (GBR)
Q
Thierry you have 14 wins in the WRC. Where does it rank in your wins and how does it feel to receive the winner's trophy from a Belgian legend Jacky Ickx?
TN
It feels great. It is a win we wanted so much. It is also important for the Championship. We were able to secure more points for the Championship, much more that Elfyn and Sébastien. It was a good weekend. Not only for the win but to close the gap in the Championship. Also as a team with the 1-2. There have been other victories where no one expected us to win that we went and won. We have had battles until the very last stage, so those ones were highlights in my career as well.
Jacky, I have known for more than 10 years now. He is one of the guys sending me messages regularly. I got one last night with a lot of emojis and a lot of flames and stuff. He was believing and I knew he was here to say so I said that 'I will see you tomorrow' and he knew what I meant.
Jose Luis Abreu - Autosport Portugal (PRT)
Q
What would this rally be like if it was raining and muddy?
TN
I just answered to some journalists before who asked if the rally should be in the calendar. I said "definitely but only if the weather is nice!". In the wet conditions, it is very tough. There are so many things you can't see and too many surprises. It could work but you would need a good anti-cut system because otherwise, it would be really muddy and it would look more like a gravel rally with tarmac tyres. I like the event and I really enjoy it in the summer but not in the winter.
FIA WRC2 CHAMPIONSHIP
Present:
Jari Huttunen (SWE) - Hyundai Motorsport N
Q
Jari, looking back to this week, how do you feel about this rally and your WRC2 win here?
JH
Not in every stage but in most stages I had some problems. I am so lucky that I am here.
Q
Your teammate experienced similar issues yesterday, were you able to affect any fixes or was it a case of muscling your way through?
JH
It is difficult to drive but the fault is not so big. It is a small fault. When you don't have any oil in the system, it is hard to drive.
Q
It is a brand new event in the Championship this year, what have you made of the stages and the event itself?
JH
I like this rally, this kind of rally. It is really nice. I like the Spa element too.
Questions from the floor
Jose Luis Abreu – Autosport Portugal (POR)
Q
Jari, how do you compare the new Hyundai Rally2 to the old Hyundai R5?
JH
I think it is a big step with everything working well. Particularly with the handling side. Now we are in the window. I think the gap is big.
FIA WRC3 CHAMPIONSHIP
Present:
Yohan Rossel (FRA)
Q
Yohan, winner in FIA WRC3. It is your third win in WRC3 this year and in the WRC top 10. An incredible result. How are you feeling now and how tough has this weekend been?
YR
It is an incredible week. A lot of people helped me to be here and it has been crazy to win this rally. It is so difficult. When I see the stages during the recce it is completely flat out and a lot of different grip levels. Honestly I am so, so happy.
Q
It was a huge battle between yourself and Sébastien Bedoret. How much were you on the limit this weekend? Any hot moments?
YR
No. I think I am sorry for Bedoret. Today the plan is to win because Kaijto is a good driver and to win the next rally for the Championship it is so difficult. The plan today was to win and the stages were perfect.
Q
There are not too many rounds left in the World Championship. How do you feel this result will affect your quest for the title?
YR
The feeling is great. Citroën Racing, the Federation is just perfect for me. To win this week was amazing and for the Championship to have a gap is great and we will see for Greece. It will be harder.
Questions from the floor
Jose Luis Abreu – Autosport Portugal (POR)
Q
Yohan, the cars are the same but why do you think the WRC3 drivers finish ahead of the works drivers so many times? Is it a different focus from the WRC2 guys or is it just the WRC3 guys are at the level?
YN
It is difficult as the plan is to win the WRC3, of course. But when you want to beat a driver in the WRC, you need to see the other drivers and the best drivers in the category. The plan is the Championship but if you don't perform, it is not perfect. In my situation it is not easy. I think next year, it will be a little bit more easy for the sponsor to see the category and I think it is a little bit better.
 
FIA Junior WRC CHAMPIONSHIP
Present:
Jon Armstrong (GBR)
Q:
Your second win of the season in the Junior category and just at the right time for your Championship battle. How do you feel after a tough weekend on the stages?
JA
Yeah it is amazing. We didn't know what to expect coming into this weekend. It is a new rally for the majority of the Juniors. I think Will is the only one to have done the rally before. We didn't know who was going to be fast. I certainly didn't know if I would have the speed to win. On Friday I was able to build up a lead and by the end of Friday, I was able to build up a lead. It was a matter of trying to keep that over the course of Saturday and Sunday. It is a very demanding event. Very fast stages and a lot of pollution where we were running down the field. It is amazing to win. It is great for the Championship and a big thanks to the sponsors for getting me here. Without them it is not possible. It has been tricky to get back into rallying and it is good to be performing and winning at this time.
Q
You built up a big lead on Friday after winning so many stages. The points are valuable for the Championship. With the final round of the Championship also on tarmac, does that give you extra confidence?
JA
Yeah, I think so. I have been to Spain three times. That doesn't necessarily mean that you will go there and be the fastest. I still need to go there and do good preparation before the event with the stage prep and my research. I think our tarmac is good and hopefully we have learnt things this weekend to Spain as well.