WRC - T Neuville: "I was not the only one who was driving flat out"
Transcript of the post event Press Conference organised by the FIA for the 2018 Rally Italia Sardegna.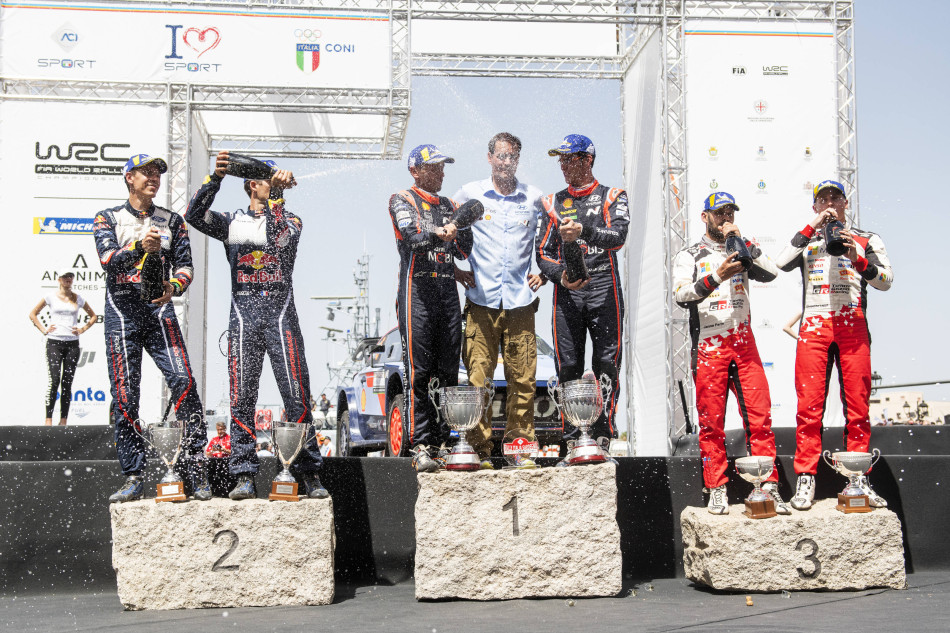 Present:
1st - Thierry Neuville, Hyundai Shell Mobis WRT
1st - Nicolas Gilsoul, Hyundai Shell Mobis WRT
2nd - Sébastien Ogier, M-Sport Ford World Rally Team
2nd - Julien Ingrassia, M-Sport Ford World Rally Team
3rd - Esapekka Lappi, Toyota GAZOO Racing WRT
3rd - Janne Ferm, Toyota GAZOO Racing WRT
Michel Nandan, Team Principal, Hyundai Shell Mobis WRT
Q:
Thierry, what an incredible win here in Sardinia. Not just a final stage thriller but across all three days you have battled! Firstly, what does it feel like to be at the top of the podium?
TN:
Great, of course. It was a really tough weekend because we were first on the road, we got a little bit of rain, a little too much on the second part on Friday, but it was the only hope to be able to fight for a podium position this weekend. We found ourselves in a good position to fight for victory, similar case as in Portugal, that was the moment we decided 'let's push hard and see if we get on the podium'. Then it was Saturday, the perfect stage, we increased the gap of five seconds to Seb and from then on the fight for victory was on again. It was a huge motivation for us to continue pushing, bring home another win, a great result for my team.
Q:
How does this rate on the wins scale?
TN:
It's great! I have to say I was not the only one who was driving flat out. Seb and Julien were doing a great job as well. In that situation it's a question of how perfect you are. Today I missed some lines, I was a little bit on the loose but at the end I always had a little advantage. Each time I was able to put a little bit more pressure, go closer. The final stage was 'giving all you can', try to avoid mistakes, I knew if I threw away the car I would lose important points for the championship and the championship lead. So we had to keep that in mind and we did very well.
Q:
Would you say you made some mistakes on that final Power Stage or was it perfect?
TN:
I made one mistake as well, as I had one moment where I entered in the rocks and the rocks put me on two wheels. I was really close to putting it on the side but then I continued pushing and towards the end I felt in the roughest section - where there are always problems as we can see in the past, yesterday as well, and confirmed today as well - the more you push in the rough the fastest we go. It is really enjoyable and this is where I think I get an advantage.
Q:
Did you feel any extra pressure than normal given that the gap was so small?
TN:
The only extra motivation was that I was fighting against a five-time world champion. This is the reason why you give even more than you would give for the win. This is why it makes it so great and special for us.
Q:
NIcolas, how are you feeling at the end of it?
NG:
I feel very, very happy. It has been an amazing weekend, a very big battle from the beginning to the end, a very close gap with Seb and Julien and we had to wait until the finish line of the last stage. I think we were able to push very hard this weekend, the confidence was in the car and we focused much more on doing our best instead of thinking absolutely to the victory. At the end avoiding any mistakes we got it.
Q:
A great battle and great for us all to be part of it?
NG:
Yes, for me too! I can tell you, sitting next to Thierry it has been one step higher than usual, we have done some adjustments on the car prior to Portugal, we are now able to push more and we feel very comfortable in the car or at least Thierry behind the steering wheel. All in all we are getting closer and we were able to fight in front to get the victory.
Q:
Seb, a brilliant fight between you and Thierry throughout the weekend. You both have given your absolute all out there, how are you feeling now that you lost out in that final stage?
SO:
It's never optimum to lose it in the last stage. It was intense for sure and like I said earlier, I cannot be unhappy with what I have done this weekend. I think I tried pretty hard, I could say I was not prepared to take as many risks as Thierry did this weekend. I've seen his lines all weekend, actually, starting behind him, I was seeing he was pushing out of the limits. He did incredible times, at the end we were still pretty close to make it, but we didn't. I'm still positive, honestly, it's good points for the championship, you cannot be unhappy when you score 22 points out of a weekend, that's OK. We are passing the half season, six rallies to go, for sure we know we have to be good and consistent in the second part. He has basically one joker [Neuville now having 27 points on him] ahead of us. I am happy because I know there are so many rallies coming where I won't open the road, it looks like this heavy weight I had on my shoulders made my life difficult. I have a nice challenge for the second part of the season and I will take it.
Q:
After the penultimate stage, you did not talk to the stage end reporter, you went off really quickly. First of all, was there an issue?
SO:
The reason was we had not enough time before the regroup of the Power Stage to work on the car. I did not see anything, Julien told me 'we go' and I went.
Q:
The time card was not obviously with you when you went: what happened?
SO:
I have never touched a time card in my life, it didn't happen today again, you are asking the wrong man.
Q:
Let's go back and talk about the performance of the car this weekend, were you happy with that or do you still feel there is more you can get out of the car, is there anything specific?
SO:
We knew that coming here it's not probably the best rally for the Fiesta at the moment, but we were not so bad all weekend. For sure it's quite obvious that there are some sections where we are not as performant as Thierry with his Hyundai, probably we have to work on this area and improve it. But I am not blaming, my boys have done a great job, the car being very strong, no issue. We need to keep working for sure, try to be stronger. The next rally will be completely different in Finland, I am pretty sure the Fiesta is going to work very well, and now I am also very happy to have a break, go on holiday. As I said I have a nice challenge for the second part of the season, I'll be back strong for it.
Q:
Julien, talk to me about the time card issue before we talk about the rally. What happened in the penultimate stage?
JI:
I did a mistake. You can do it one thousand times and in one time you destroy all what you accomplished. It is part of the rule, I did a mistake.
Q:
Talk to me about the rally, this is a great result for you guys, it's been a brilliant battle throughout the weekend, how have you felt through it?
JI:
It has been a surprising weekend. When we were on the stages on Friday we were not feeling we were in Sardinia, we can say we had two rallies in one. It was exciting also for the crews, it is really great to have battles like this, without saying the bad influences of regulations or something happening, in this case it was a pure battle. For sure we like it, when you start the stage and you have to just spit in your hands. It's nice.
Q:
Seb, are you concerned about any possible penalty because of the time card not being on board as you left?
SO:
I haven't heard anything, I think there is nothing special in the regulations, we just followed the instructions from the marshal. We didn't do anything wrong so I guess I would be very surprised, but, well, in the fight you can expect anything.
Q:
Esapekka, congratulations on your first podium this year. Brilliant result for you here and you were in your own battle with team mate Jari-Matti Latvala until Saturday night. You find yourself in podium position and must be a happy man at the end of it.
EL:
It's really nice to be sitting here. We had a chance earlier this season to be on the podium but I have been messing it up a few times, but now we are here, luckily.
Q:
You have only been in the championship just over a year, yet you are able to maintain consistent pace out there in a fight with drivers who have far more experience than you. We saw you win last year, but it seems you have taken another step up again this year.
EL:
We have been more or less around top five on the stage times, for sure not in every stage, I think that was the target for this season, to be around there, to be consistent. We are starting to reach that and now we need to make another target, I guess. Ok, we moved up to fourth on the overall standings, which is good as well, but I still need some practice to match the guys next to me.
Q:
You talked about making mistakes, we have seen that maybe on the final days of some events; were you a little cautious out there today, especially?
EL:
I saved the tyres for the Power Stage today. I was thinking 'maybe I should push to try to get some points', but I tried this in the past and it didn't pay off, so I did not give it such a big push. The I saw some big rocks and then I definitively backed off.
Q:
We head to your home event in Finland next and where you sealed the your first-ever WRC win. Big hopes for it this time?
EL:
To be honest, all the teams have improved a lot their cars and performance, I think it's not going to be such a dominant weekend for Toyota as last year was, it's going to be tough to be even on the podium, but I am ready for it.
Q
Janne, brilliant to see the battle again this weekend with Latvala, what was the atmosphere like when you were battling all together?
JF:
The atmosphere over there is always good fun. It was a big fight, it was unfortunately to see Jari-Matti on the road section; basically the feeling was exactly the same as what happened in Finland last year where we were having a good fight but they had to retire. Ups and downs, it's part of the game.
Q:
Quite an event from your perspective.
JF:
Yes, this was a good event. I'm very happy with what we achieved with all the team, it's good to be here.
Q:
Big preparations for Finland?
JF:
Hard to say, let's go to sauna first!
Q:
Michel, an incredible victory from Thierry and Nicolas. It was thrilling for us all to watch and great for the sport. What were your reactions like?
MN:
When the day started we knew it was a tough day. But it was good for the sport. The battle started yesterday and continued this morning. Seb and Thierry were not giving up. To have a fight like that it proves that this sport is really competitive, very interesting and for the fans a really really good thing. Ok, the best is to win but for me it was more interesting in a sporting way.
Q:
It was quite a dramatic weekend in parts for Thierry, also back in the service park the mechanics did a great job, a lot of pressure for them to get everything out in time, full team effort.
MN:
It's true. Our mechanics worked quite a lot repairing the car of Thierry, making it new yesterday as well, they did a really good job as they always do, especially here, it's a tough event. It was quite difficult, we had some issues. It's a difficult event and to go out with a win is a real pleasure.
Q:
This extends your advantage in the Manufacturers' Championship. A great way to end before the mid-point break?
MN:
Of course we are pleased with that, but there are still six events to come. We know the next one is a tough one, Finland is never so good for Hyundai. I don't know why, we are working on that, we know it is still a long way and difficult events to go, we are working on it.

FIA WRC 2 CHAMPIONSHIP
Present:
1st - Jan Kopecky, Škoda Motorsport
1st - Pavel Dresler, Škoda Motorsport
Q:
Jan, your third win of the season in the FIA WRC 2 Championship. An amazing event for you here in Sardinia, talk us through your weekend.
JK:
I am very happy. After stage two I think we were seventh or eighth overall, I said 'OK, something is wrong'. The conditions were not like Sardinia, it was just like in Wales so I had to get used to that. The driving felt quite ok, but the times were very bad. So we changed a little the setup in the middle of the race and I felt much more confident, especially on the Tula second pass where we had quite a good job and we came back for the battle for the first place.
Q:
It was highly unusual to see such conditions on that opening day, you struggled a little in the morning?
JK:
Yes, a lot. I was losing a lot of time. The stage was really a disaster for me, the second stage was not any better, so I was thinking about what to change, as I said we changed a little the setup. A different differential setup and it was much, much better.
Q:
When we got to the typical Sardinian stages and weather, those conditions seemed to favour you better.
JK:
For sure. I expected a great battle with Lefebvre but unfortunately he had some technical issue with the car. Seeing the time we had a quite big lead so it was difficult to focus, not to make any mistake, not to hit any rocks because in this rally we had quite many.
Q:
Where there any other problems throughout the weekend?
JK:
Yes, we had a small moment in the ruts, there were some stones or something and we almost rolled. I saw many drivers had the same problem.
Q:
The results keep coming for you and is that giving you confidence that you will get more events this season?
JK:
The team told me just now I have the chance to do the same amount of rallies as Pontus (Tidemand) and to have a chance to make a title this year. Very good news.
Q:
Positive news that we are going to see you guys in the battle for the FIA WRC 2 Championship because you have shown how competitive you are against your rivals this year, Pavel.
PD:
I think we are very strong this year. Last year also and the one before also. Last year we had some bad luck with punctures, I think we are very prepared for this season and I am looking forward for the next race.
Q:
Talk to me about this one from your prospective. How did it go?
PD:
It was quite tough. Friday was like Great Britain, Saturday morning like Portugal, in the afternoon like typical Sardinia. So, the afternoon I felt quite good in the car, so it was fine for us, no problems at all.
Questions from the Floor
Marco Giordo
Autosprint, Italy
Q:
Do you think you can fight for the championship Jan?
JK:
As I said, we will have a chance to fight for the title as Pontus (Tidemand). I don't know which our next rally would be, I expect that it won't be Finland. I would like to go there but I will be probably in Germany, I can't confirm anything now.
Colin Clark
www.wrc.com
Q:
Since Portugal there has been lots of talk about a potential return to the WRC for Skoda, what can you tell us about that?
JK:
I don't know, personally I wish a lot that Skoda is coming back to WRC cars because this team has a good potential, very good engineers, very good mechanics, so, why not? But it's not in my hands, you know.

FIA WRC 3 CHAMPIONSHIP
Present:
1st - Jean-Baptiste Franceschi
1st - Romain Courbon
Q:
Jean-Baptiste, a win in WRC 3 for you on gravel must be pretty special?
J-BF:
It was a long, long weekend. A hard weekend for the car, for the mechanics, for us too. We had to manage as we can, because you can imagine for a four-wheel car it is already difficult, imagine for two. It was terrible, two stages before the end the steering has broken, we managed to finish, we did it and so it is good.
Q:
Talk to me about changing conditions, how difficult they were on Friday?
J-BF:
Friday it was really hard for us. The set-up was not perfect, we lost a lot of time in front of the other guys. After that, on Saturday and Sunday the conditions were better but there were lots of rocks in the middle of the road. We tried to follow the line and it was not easy, to be honest.
Q:
You will be back in action in Finland with the Junior WRC, how much are you looking forward to that legendary event?
J-BF:
Two-hundred percent. A big challenge for me because I will discover this race, it's an amazing event.
Q:
Are you going to be doing events at home at all in between here and Finland?
J-BF:
Maybe the Autoglym (in Finland) to prepare.
Q:
Romain, it's been a tough event here for cars, drivers and co-drivers as well, having so much information to get out...
RC:
It is very very difficult… for the car, for the crew, for the crowd and we won and so I am very happy. It's a big operation for the championship after Portugal, that was very difficult for us.
Q:
You had some dramas on the final two stages: talk to us about that.
RC:
We had a problem this morning, it was very very difficult to finish the rally, but then, the last stage was cancelled and we were very, very happy!