WRC – Suninen leads WRC fixture for the first time
Rally Sweden - Friday afternoon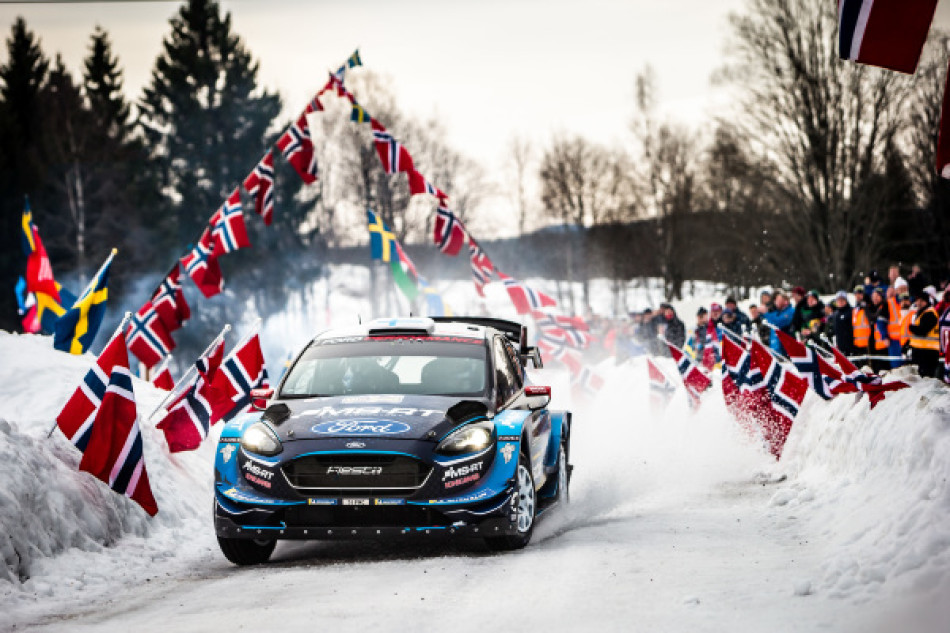 Teemu Suninen is the leader of an FIA World Rally Championship event for the first time on Rally Sweden, ending a dramatic day two seconds ahead of Estonia's Ott Tänak, in second. Jari-Matti Latvala has been battling for the top spots with them until going off and retiring on the last stage, handing Andreas Mikkelsen third place.
This afternoon the crews returned for a second loop of 64.24 competitive kilometres through the morning stages before coming back to Torsby for the first run of what will be Sunday's Power Stage: a short 8.93km stage located right next to the Service Park. With the high temperatures and the first morning pass, the crews faced quite different conditions on the roads: a set of gravel stages replacing the snow and ice, and slush in many part – although the infamous Scandinavian snowbanks still lined the stages.
Those snowbanks caught out several drivers, with returning Finnish star Marcus Gronhölm and reigning FIA World Champion Sébastien Ogier from France among them. First on the road, Ogier struggled for grip and touched a snowbank in the afternoon's second stage, sending his Citroën C3 WRC into it nose-first. With no spectator in close proximity of the incident site to help, it took the Frenchman a long time to extricate his car from the snow – a delay that eventually forced him to retire.
While the first crews in the running order struggled, those starting later had a slight advantage. Suninen snatched the lead on "Svullrya", getting in front of Latvala, who himself had displaced Tanäk one stage earlier. On the final test of the day, Latvala went wide at a crest and landed into a snowbank, getting stuck for nearly 24 minutes. The Finn managed to finish but the time loss was too big and Toyota elected to retire and prepare for a return tomorrow.
With Latvala's incident, Andreas Mikkelsen climbed to third place behind Suninen and Tanäk after a trouble-free afternoon.
Along with Suninen's impressive run up front, his M-Sport Ford team mate Elfyn Evans was on a charge. He had dropped time with a spin on the first morning stage but came back with a strong performance in the afternoon, winning two stages on a rapid ascent from 10th to 4th in only four stages.
Esapekka Lappi, in the remaining Citroen car, had a stunning run through the final "Torsby" stage to jump from ninth to fifth in one run. Sebastien Loeb struggled initially on his return on Sweden's snow and ice butc finally found his rhythm on Friday afternoon, moving up to sixth.
Thierry Neuville, the rally leader after Thursday's Karlstad superspecial, struggled on roads which had turned into gravel and spun twice on Hof-Finnskog. He finished Day 1 in seventh place, and moved ahead of Kris Meeke, eigth.
Pontus Tidemand is the last WRC factory car in ninth overall, claiming some encouraging stage times after facing a throttle issue in the morning. Ole Christian Veiby, the FIA WRC 2 category leader and an FIA WRC 2 podium finisher in Sweden for the last two years, completes the Top 10 overall. He ended Friday with a 24.5sec advantage over team-mate, fellow Polo driver and FIA World Rallycross champion, Johan Kristoffersson of Sweden.
In the FIA WRC 2 category, Mads Østberg took a 1m30sec lead on his home rally after a trouble-free run in mixed stage conditions.
In the FIA Junior Championship, home town hero Dennis Rådström proved unbeatable this afternoon and reeled off a string of five speed test wins to build a comfortable lead on Friday night.
Rally Sweden – Unofficial results after Section 2
| | | | | | | |
| --- | --- | --- | --- | --- | --- | --- |
| 1 |   |   |   | Teemu Suninen / Marko Salminen | Ford Fiesta WRC | 1hr11min05.3sec |
| 2 |   |   |   | Ott Tänak / Martin Järveoja | Toyota Yaris WRC | 1hr11min07.3sec |
| 3 |   |   |   | Andreas Mikkelsen/Anders Jǽger | Hyundai i20 Coupe WRC | 1hr11min23.1sec |
| 4 |   |   |   | Elfyn Evans / Scott Martin | Ford Fiesta WRC | 1hr11min33.9sec |
| 5 |   |   |   | Esapekka Lappi / Janne Ferm | Citroen C3 WRC | 1hr11min47.3sec |
| 6 |   |   |   | Sébastien Loeb / Daniel Elena | Hyundai i20 Coupe WRC | 1hr11min54.1sec |
| 7 |   |   |   | Thierry Neuville / Nicolas Gilsoul | Hyundai i20 Coupe WRC | 1hr11min58.0sec |
| 8 |   |   |   | Kris Meeke / Sebastian Marshall | Toyota Yaris WRC | 1hr11min58.4sec |
| 9 |   |   |   | Pontus Tidemand / Ola Floene | Ford Fiesta WRC | 1hr12min29.7sec |
| 10 |   |   |   | Ole Christian Veiby / Jonas Andersson | Volkswagen Polo GTI R5 | 1hr13min45.0sec |