This page contains archived information and may not display perfectly
WRC spectator safety campaign rolled out at Monte-Carlo and Sweden rallies
High profile messaging has been successfully deployed at the first two rounds of the FIA World Rally Championship to educate fans about staying safe while spectating at rally events. Event organisers around the world are encouraged to use the rally spectator safety assets, while the organisers of a WRC round should also activate the e-safety campaign, as the series entered an exciting new hybrid era.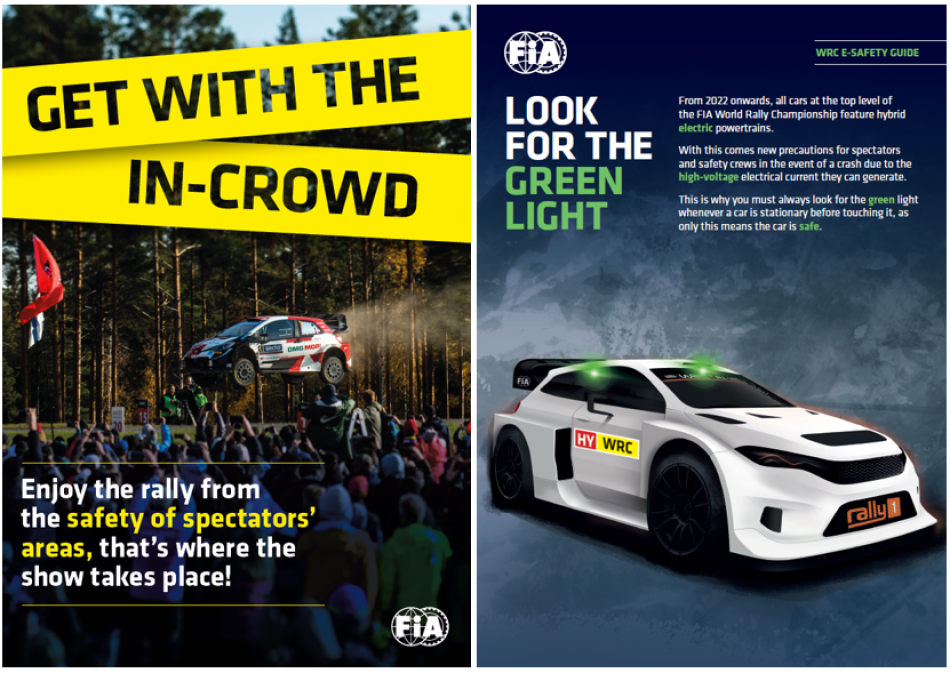 The 50th WRC season got underway in January 2022 amid great interest and excitement with the introduction of the new hybrid-powered Rally1 cars. While competitors and teams have benefited from e-safety training focused on the introduction of electric power, the spotlight has also been turned on educating stage-side fans at each of the 2022 championship's 13 rounds.
The FIA, WRC Promoter and organisers of the Monte-Carlo and Sweden rallies have joined forces to post safety messages on social media, on websites and push the story to the traditional media in the run-up to and during the series' first two events.
"The key message is for fans to look for the green light on the new Rally1 cars," said FIA safety director Tim Malyon about the WRC e-safety campaign.
"All Rally1 cars now feature hybrid electric powertrains. With this comes new precautions for fans in the event of a crash or another type of incident due to the high-voltage electric current the cars generate.
"Solid green lights on the windscreen and both side windows mean it is safe to touch a stationary vehicle. A flashing red light accompanied by an alarm, or if no light is visible at all, means fans must keep away."
A part of the e-safety assets, a sticker has been developed for the door panel of the zero car, which drives special stages in advance of competitors to confirm spectators are located in safe positions, to help spread the safety guidelines. The sticker features the message 'green light = safe to approach' in association with the white-on-red HY symbol, indicating a hybrid-powered car.
General spectator safety campaign advice has also been stepped up on social media and via posters at the entrance to major fan zones, urging spectators to 'get with the in-crowd'. These are meant to encourage fans to populate the designated areas during an event, with secondary messaging to reinforce the important safety reasons for doing so.
"We urge fans to enjoy the WRC from the safety of spectator areas – that's where the show takes place," added Malyon. "These designated zones are designed to provide great viewing in the safest locations. Get with the in-crowd and choose your place to watch wisely."
The rally spectator safety as well as WRC e-safety campaign assets are available in English and currently being adapted in different language versions. Please contact us to request the files: rally.safety@fia.com.