This page contains archived information and may not display perfectly
WRC - S. Loeb: "It's more than we expected."
2022 Rallye Monte-Carlo - Transcript of the post-event press conference organised by the FIA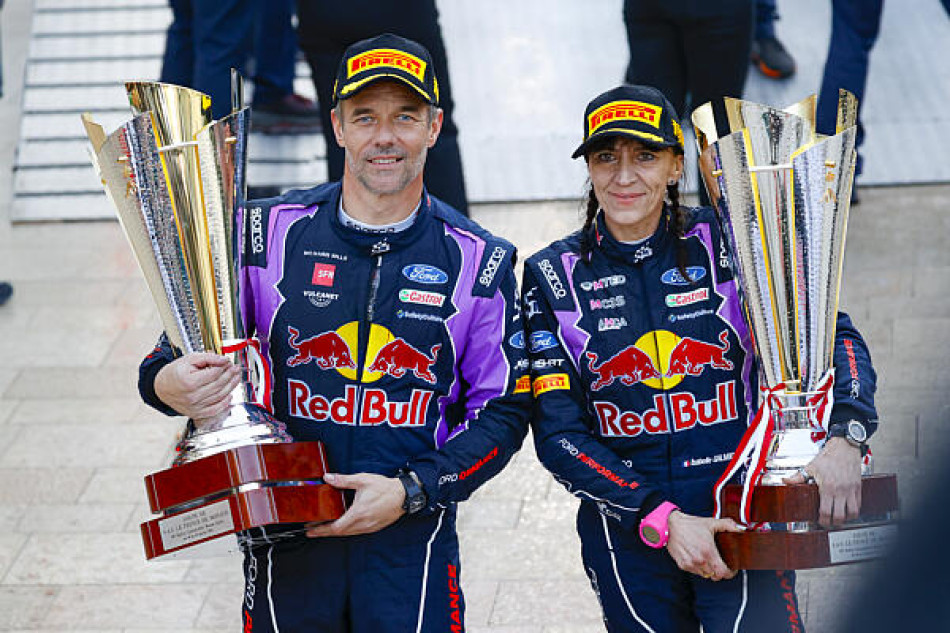 FIA WORLD RALLY CHAMPIONSHIP
Present:
M-Sport Ford World Rally Team – Sébastien Loeb (FRA), Ford Puma Rally1
Toyota Gazoo Racing World Rally Team – Sébastien Ogier (FRA), Toyota GR Yaris Rally1
M-Sport Ford World Rally Team – Craig Breen (IRL), Ford Puma Rally1
M-Sport Ford World Rally Team – Richard Millener, Team Principal
Q:
Seb how do you feel after this win?
SL:
Really happy for sure. I didn't know what to expect. I had a good feeling since the first test and this give me some confidence. But then to know which level will I be? I don't know. The level in WRC is sometimes really, really high but we decide to come here and the result is amazing. It's more than we expected, but the team, and with Isabelle [Galmiche] – everything has been really amazing with our first rally together. It's really great.
Q:
How did it go with Isabelle on your first event together?
SL:
She did it really well. It was just one or two times she went a little bit late, but then it was just a little bit. This car is really difficult for the co-driver, we are flying in the stages and she had a lot to say. She was in the perfect rhythm and she understands how to do it really well. There are a lot of things to check and she did it all really well. She has a lot of experience in French championship, but in the WRC you have a lot more to do around [the car]. She did a great job.
Q:
Was the boost difficult to manage?
SL:
It wasn't difficult to manage. It was a lot of power. You can really enjoy it in the exit of slow corner and when you don't have it, you understand how much it gives you an extra boost. Some drivers said these cars were a bit more heavy, it's true, but I wasn't used to drive in the WRC a lot [recently] and when I sit in a car like that, I enjoyed it a lot.
Q:
Were you on the limit on Friday?
SL:
I was a bit on my limit all the time. In some stages I felt better, but on some I struggle a bit more. There were some places where it was very slippery and maybe I struggle a bit more sometimes. On Friday it worked really well, the car balance was perfect, my gravel note crew was perfect and I was pushing hard, but feeling safe. The next day was a bit more a day for the other Séb, but I was still on the limit, but he was a bit faster. I enjoyed it a lot.
Q:
How did it feel in the final stage?
SL:
I was feeling OK. Then in the stage I felt I was losing the front tyres. Still the feeling was OK, then I saw his time and I was quite surprised how fast he has gone! It was a relief to win the rally.
Q:
What's the plan for the future?
SL:
I am leading thew world championship now!
Q:
So you go for the title now?
SL:
We don't have any plan for the future for now.
Q:
What a fight we've seen and what a great start to this new era. How do you feel?
SO:
First, you are completely right, we need to celebrate our teams. They have done a fantastic job building completely new cars that are completely different from the other ones. I was expecting more issues, there were some here and there, but we could fight like in the good old days and you would not think it was the first time for these cars. It was really enjoyable and a good show for the sport. I was targeting first place not second, so I can't say I am 100% satisfied. We can keep smiling, we gave everything out there, but fate decided differently today and we had to settle for second. But it's been fun in the car and now we have a reason to come back next year – I'm not sure my wife will enjoy that sentence!
Q:
How was Benjamin your new co-driver?
SO:
He did well, honestly. We need to admit it's never easy to jump in the car, they really fast. And when you have never done this job at this level, it's a huge pressure on your shoulders. In general I am very happy with what Benjamin has done at the weekend. Of course there is any details he can improve and it wasn't 100%, but nobody can jump in and do the perfect job. I'm pleased with what he has done and we made a good step together. Today was almost harder for him than me. I had the chance to enjoy many success already in my life, my career. It would have been amazing for him to win Monte Carlo, but it was still a great achievement and something special like for Isabelle. They have both done a great rally, but only one can win. Today luck was not on our side, but I'm sure we will win some rally together.
Q:
Did you feel that jump start on the final stage?
SO:
I feel it was on the limit. Surprisingly, the engine strategy started to sound different two seconds before it was time to go. I thought it was like it was dropping RPM or losing pressure or power. It disturbed me. I wanted to try to start sharp. I knew I had to start sharp when I had to make nine seconds, I knew it would be hard. To take this nine seconds to Séb, I think it was quite a performance. I had to give it everything. It was over the limit in a couple of times, but we managed to keep the car on the road. But in the end maybe it's better to have this jump start – without this, the gap would be only 0.5s and if it was like this then I would be even more frustrated!
Q:
What was your frame of mind coming to this event?
SO:
A little bit more relaxed, even if I think I'm a bit more relaxed for a while, like you notice. I wanted to enjoy the event, it's great. Somehow I didn't feel differently. I wanted to give my best and try to win this event. There were so many questions before the start with the car and reliability and who would be able to fight for the win – we were joking in the test that maybe we would be better to start in the R5! The team did a great job. The hybrid feels a little bit like the first time sex: very intense, then one second and gone. It's a good start! 
Q:
Craig, how are you feeling?
CB:
Good. It's been a good weekend. It still feels a bit surreal to be sitting here sharing a podium with these guys – I hope it'll not happen again! If they'd not been there I could have won the rally! It's really amazing, we share 17 world titles between the three of us…
SO:
And 16 Monte wins!
CB:
Ah yeah, it's a really high-level podium. I knew before the start it would be a difficult one for me. I've not done the event for four or five years and this in only my fourth time here. To come away from here with a podium on most difficult rally of the year, I'm delighted. This is mainly thanks to the team – they have done an amazing job, given us all the tools to perform. Myself and Paul have learned with every kilometre.
Q:
How quickly did you adapt to the car?
CB:
I probably adapted quite slowly, but that's my nature. I don't tend to stick my neck out. I take baby steps until I get there, by the end of the weekend I was much more confident. Probably not having the full test day, I made some set-up mistakes and it was only on Saturday morning that these were rectified. Then I could grow into the car and it worked out perfectly in the end.
Q:
What about the next round in Sweden?
CB:
It's going to be a different rally in Sweden. Having partial programmes in the past has been quite nice, I've landed in at the back, then had a great Friday and tried to hold on for rest of weekend. Kalle winning the Power Stage means I won't open the road, but I'll be near the front. I'm actually really looking forward to the event  and really keen get into the test and see what we can do to put as strong a case as possible forward for this event. For the first time in life, I'm doing a full championship and all these points are valuable now.
 
Q:
Richard, how proud are you of what M-Sport has achieved?
RM:
I can't put it into words. It's been difficult for the last couple of seasons we knew that we would put everything into this year and we had a very competitive package and the whole team has worked incredibly hard. This is at the forefront of what we want to do, we had the complications of competing last year, but we knew we could get these results. Everybody worked so hard up to and through Christmas to get cars ready. We've ended up with a fantastic team, great drivers and a result we could only dream of.
SO:
You just need a Séb in your team…
RM:
It's obviously very unfortunate to see what's happened to this Séb, but in terms of the rally we could not ask for a better start. And it's been so exciting to watch, I'm just glad this one went our way. It's a very nice feeling.
Q:
How was that final stage?
RM:
Pretty tense. We had the best guy we could hope for in the fight for that last stage. Having not worked with Séb before… he was somebody I'd idolised when I started, so it's a bit surreal working in the same team. There's nothing I can say to help him, he has enough experience. It's a pleasure to have him working with us and the whole team is very happy to give him the car to use to win the event. This is something that will forever live on in the history of M-Sport. I know Malcolm put everything on the line to get us prepared to do this and worked hard to make this happen. It's something we're very happy about. We can now relax for a couple of days before we get ready for Sweden.
Q:
The work goes on…
RM:
There's a small issue of a car with a few panels damaged to sort out. Now we change to gravel and it's not too far to Sweden. At this moment the whole team deserves to enjoy what we've achieved. It's great to show what we can achieve – we knew we could do it. This is a fantastic result.
Q:
How demanding has Séb been?
RM:
He wants an espresso machine. Quite simple. That's on the to-do list.
Q:
Is he going to be back?
RM:
If we get an espresso machine! I don't know. We've always been clear it's one event for now. We wanted to come here to confirm our thoughts on the car and team. Whatever happens, we know we only had one chance to do this and we've done it. Really nice to do this.
Questions from the floor:
Gregor Pavšič, Avto Fokus (SVN)
Q:
Question to Sébastien Loeb and Sébastien Ogier: Could you say how many options are there to see you both in April at Croatia Rally? What would it mean to you if you could have another fight in Croatia as in Monte?
SO:
I can say I won't be there. Don't know about him
SL:
Same answer.
Elias Makori, Safari Rally (KEN)
Q: It's great to have Safari Rally back in Kenya, what are your thoughts about Safari?
SL:
I have incredible memories from Safari when I did it 2002 – the last one. It was incredible. The design was completely different from the other rallies. The animals and everything – the place is amazing. You see things you never see anywhere else. It was good to be there and I think it's good for the championship.
SO:
For me it's a rally I consider in my small champ campaign of four or five rallies. I really enjoy the rally this year with the nature and the people and the welcome we got. There's such enthusiasm for the rally. I have nothing to confirm, but this is one I consider, definitely. 
FIA WRC2 CHAMPIONSHIP
Present:
Toksport WRT – Andreas Mikkelsen (NOR), Škoda Fabia Rally2
Q:
How did the event go?
AM:
It wasn't very straightforward. There were a lot of dramas in Rally2 in general. We tried to be very clever, we stayed out of trouble. The conditions, for me… it was a little bit opposite, even though there was not a lot of snow it was really difficult black ice. It's really difficult to drive on that, difficult to push. When you see the snow you know about the grip. I found it difficult. We had an approach to try to win but risk as least as possible we managed that. The Citroëns were fast, we knew they would be in dry conditions. [Yohan] Rossel and [Stéphane] Lefebvre were my main competitors and they fell off. They crashed, I had a puncture yesterday and thought I lost the win. We all had issues. Today Erik Cais was the closest one to the challenge – we put up a good pace on the first stage this morning and we managed to get quite a good gap. It was a good rally to know how much we should push.
Q:
Snow and ice, how difficult?
AM:
Very difficult. I opted to go with snow tyres without the studs, I think I was the only one to do that. It was very, very tricky after this section of snow, I thought I had done with it and I could enjoy. But then I got the puncture – I didn't hit anything, so it was a bit of a surprise. We managed a quick tyre change in 1m20s, that was very good and we managed to keep in first. The highlight of the weekend was that stage, it's a really cool stage, but the puncture spoiled it a little bit.
Q:
What did you think of Rally1?
AM:
It was a little bit like I expected– I thought the Toyota would be fast with all their [hybrid] category experience and I was interested to see the Puma. I was not surprised it was like a rocket – M-Sport are good at new cars. Hyundai struggle a bit and they can improve for Sweden.
Questions from the floor:
Bo Christer Bofeldt, Worlrally.se (SWE)
Q:
What is your programme, will you do ERC as well this year?
AM:
I will not do the ERC. It was so busy with rallies coming straight after after each other. We do this rally and Sweden, but we didn't decide after that. After this weekend we see there was a lot of issues with the fuel and engines and Marquito's [Bulacia] engine stopped working. I think we need to get to the bottom of that before we start another rally. We don't want to risk that.
FIA WRC3 CHAMPIONSHIP
Present:
Sami Pajari (FIN), Ford Fiesta Rally3
Q:
Did you think you could make this result on your first Rallye Monte-Carlo?
SP:
It was on my mind, but the main thing we wanted was to get experience of the rally. As it goes we got the win from the category and that was nice.
Q:
What was the biggest challenge?
SP:
It's quite clear, if you imagine about Monte Carlo, the ice and snow make it really special. As Andreas [Mikkelsen] mentioned it wasn't easy to see where the ice and snow was. For me it was a difficult to see – that made it a huge challenge. Maybe I was too cautious where I was expecting the ice, but we didn't do any crazy mistakes, so I need to be happy.
Questions from the floor:
Bo Christer Bofeldt, Worlrally.se (SWE)
Q:
What category will we see you in in Sweden?
SP:
The plan is to do Rally Sweden, for sure we will make some official press release about our plans and that will come out quite soon and that will answer quite many questions.
FIA RGT CUP
Present:
Raphael Astier (FRA), Alpine A110 RGT
Q:
How big a challenge has this event been?
RA:
It wasn't easy especially being here in a two-wheel drive car. There were a lot of tyre choices and a big Tarmac section. Globally I am very happy with the crew and with the team. It's been a fabulous event.
Q:
What are your plans for this season?
RA:
Nothing is decided yet. It's the decision of my partner.
Q:
How was the Sisteron stage?
RA:
It wasn't so funny, we tried to arrive at the top, but it was not easy and not funny. It was a tricky stage.