This page contains archived information and may not display perfectly
WRC - RallyRACC Catalunya - Pre-event press conference transcript
Transcript of the pre-event press conference organised by the FIA for the 2021 RallyRACC Catalunya - Rally de España.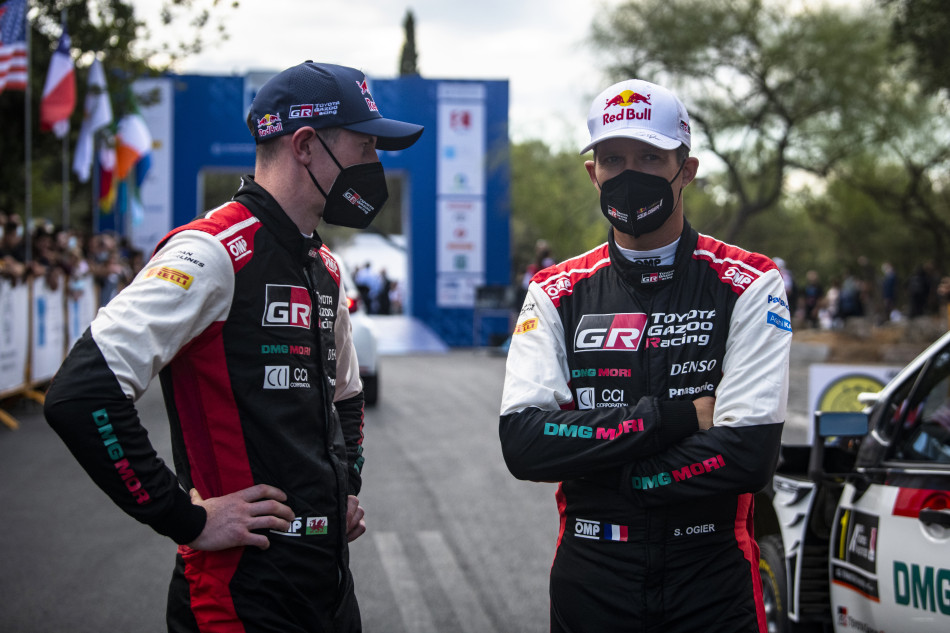 FIA WORLD RALLY CHAMPIONSHIP
Present:
Toyota Gazoo Racing WRT – Sébastien Ogier (FRA)
Toyota Gazoo Racing WRT – Elfyn Evans (GBR)
Hyundai Shell Mobis WRT – Dani Sordo (ESP)
M-Sport Ford WRT – Adrien Fourmaux (FRA)
Q:
Séb, potentially a huge weekend in prospect with the Drivers' title and Manufacturers' title at stake. You've been in this position many times before, but this could be the last time we see you battle for the title. Does it feel any different?
SO:
The truth is I am very excited ahead of this weekend. I did not enjoy that much the previous races managing a bit the gap in the championship and managing opening the road. It was not my best races. The mindset here is that this is the first real chance to clinch the championship but also with a big wish to win this rally. We are back on tarmac and that gives me a good chance to fight at the front. Our car is good on this surface. The rally looks beautiful. It was a nice rally in the past when it was mixed but being on full tarmac is good news for the championship leader. I am happy with that and looking forward to the battle.
Q:
Spain has been kind and not so kind to you over the years. One major change this time is that it's all tarmac. There is a lot of familiarity out there and also some new sectors. What are your thoughts on the route?
SO:
I think it's definitely the characteristics you can expect from this rally. A lot of sections we know but there are also new sections. Maybe the only different section is stage eight on Saturday, which has a little bit older tarmac that we don't see any more in Catalunya. The ingredients are here to have fun this weekend and enjoy driving those cars. One more time road conditions should stay pretty consistent. It is not raining. That is nice for the fight and I expect it to be pretty tight.
Q:
Let's turn to next season and the news that Julien (Ingrassia) will not be alongside you. What are you thoughts on that?
SO:
It is not good news for me in that Julien is the best co-driver out there. He has done an amazing job beside me in all these years. We started together from the very beginning. It was as much as important as I was improving as a driver than he was progressing as a co-driver. We never interfered with each other in our jobs. I trusted him and he trusted me as well and it worked perfectly like this. Of course, it will be a big miss for me. Now I will have to start with someone else. But I totally respect his decision. After so many years travelling the world I am the first one to say I want to slow down a little, especially as I am thinking more and more of switching a little to circuit racing. My programme is not clear at all concerning the future and I understand he doesn't want to be in this situation of not knowing how many rallies he is going to do. That's the way it is. It is an opportunity for now to try and enjoy the last two rallies together and finish on a high with victory on the last two rallies.
Q:
Elfyn, a dominant win in Finland and the door opened again on the championship title fight. How much is that in your mind going into the weekend or is it not something that's in the forefront? Seb said yesterday 'Elfyn has nothing to lose' - do you feel that energy?
EE:
I am looking forward to it. It is nice to come here on the back of a good result. But, at the same time, we are starting here with a clean sheet of paper and completely different circumstances altogether. We are here to enjoy the rally again and try to have a good feeling from the start. Try and be the same as Finland but in a completely different way. There's still a job to do for the team (Manufacturers' Championship) as well. But it would take something pretty bad on the last two rallies not to deliver that. There is still a job to do. We know also that there is a pretty big gap to Séb. That said, I am here to win the rally and think about not a lot else and worry about the rest as it unfolds.
Q:
Were you pleased with your set-up and a good pre-event test?
EE:
Actually the Finland test was not the best but we found something quite okay at the end. It was a bit frustrating like they are but, at the end, we end up with the car that is fast here. I believe it should be, even if we did not get to explore everything you wanted on the pre-event test. It's a pretty okay window but we won't know until we get going and experience all the conditions. It's very hard here to actually re-create the rally because a test road is often very clean and smooth, whereas the rally is a bit more mixed and you have these massive cuts some people like to take. Then we are forced into them for the second pass. That does change the dynamics a little bit. Like always, there are a few unknowns coming into the rally.
Q:
As title rivals are you still sharing things at this stage of the season?
EE:
Whether it's the first rally of the year or the last one, we have an open policy and the situation does not change any of that. Séb got all the info from my test and I got the information on what he did after. There are no secrets as such so we can fight it out on the stages...
Q:
Dani, a home event and you have the most podiums out of the current competing crews here in Spain. Eight times on the podium but not yet on the top step. Is that going to change this weekend?
DS:
I would like, of course, slightly different between the big guys and the normal ones because we cannot get the win. But, of course, I take all the time and I try hard and I will do the same  way this year as the other years. I will do all my effort to do it. As Séb says, everyone is more equal on tarmac and everyone start from the same position. It will even be a bit more difficult. But we have the cars a little bit the same everybody are we will have a nice fight.
Q:
Remember the last time this event was all-tarmac. The top-10 did not change for two and a half days. Is it going to be a closer competition now?
DS:
It will be really close. The stages, many of them we know and we can push hard. The cars now are all performance, really good and quite the same in performance and the battles are quite close on tarmac. You see the times in shakedown, we know the difference between the cars is some tenths. I think after, when you are driving in the stages, it will be very close.
Q:
Great news that we are going to see you for a partial season next year with Hyundai. How pleased are you that this is all confirmed now?
DS:
I am really happy to do some rallies next season. It was nothing new but I am really excited to do something.
Q:
Adrien, first time in a world rally car here in Spain. Your test was effectively at shakedown this morning… how is the set-up of the car?
AF:
I stall at the first roundabout this morning (on shakedown). It was really interesting on the shakedown. It will be a stage on the rally so I am here to gain the experience and reduce the gap to the top guys. They will push like hell so it is interesting to see the gap. It is a tarmac event and we know the Fiesta is strong on tarmac and I hope to do a good result on this event.
Q:
No testing for you at the moment so shakedown was the test this morning?
AF:
Yes the shakedown was the test. That is why I stall on the roundabout. There was something I should know before. It was the first time. That's why we did quite a lot of run on the shakedown. The team has a good knowledge of the car on tarmac and my set-up is not so far away from the one from 2018. It is not so bad. The relationship (new co-driver Alexandre Coria) is going up together and is getting better and better. We need to work together and have it like a habit. Definitely the rally will be easier for him here compared to Finland. Immediately on the shakedown it was good and after we need to work together inside and outside of the car. But I am confident.
Q:
When do we get to hear about your programme for next year?
AF:
The best thing is to ask Malcolm (Wilson) for that.
 
FIA WRC2 CHAMPIONSHIP
Present:
TRT World Rally Team – Mads Ostberg (NOR)
Hyundai Motorsport N – Teemu Suninen (FIN)
Q:
Mads, we are still watching the battle for the WRC2 crown with interest! You've come here to win - how did the car feel this morning? Do you feel confident with your years of experience that a win is possible?
MO:
I think Teemu can stop that (Suninen - spoil the party).  He did that in Finland but that was his home event and he was in a different car. You never know. It will be a huge fight I am sure. It is the same every year. If it's not Teemu it's someone else and we need to make sure that we are close to the top and hopefully on the top and having a good rally.
Q:
What was the feeling like at shakedown?
MO:
It did not feel good at all. We did not have a test before the rally and this was the first time in two years that I did this type of tarmac and driving. We had to experiment a bit today and we did. We had a small plan. I did not stick to it and made a new one during the shakedown. In the end it was not so bad. Quite some risk I would say with the setting but we had to do something and I felt more confident on the last run.
Q:
This is the first full tarmac event here since 2009. You were here. Are you excited about the fact?
MO:
I used to enjoy one gravel day and then the switch to tarmac. The format was brilliant. But it was the same three stages every year on the gravel. Maybe it was time to do some change. I think it was a nice story for everyone. If we do a full tarmac event then Rally Catalunya is one of the best tarmac events we can do so I am looking forward to it. It does not get easier. Every event I start I am trying to win. We are always close to doing so and normally something happens. I think we just have to start the event and fight from the first metre. We know that every second will count and we need to try and avoid any type of trouble.
Q:
Teemu, a great drive in Finland sealed the victory. But now it's a different challenge, you switch cars and surfaces for Spain. What's the plan? Is the top step realistic?
TS:
It has been working pretty well. It has been great to work with the team. They are doing a great job with the test. It has been nice to work with the engineers and the mechanics. Quite interesting tests, let's say. Just one day. I did not count (km). In Finland we did 200km for three days. That was quite good preparation. This time we are with one day. It is a different approach to Finland but if we get the chance for the win we will go for it. If we have some head-to-head fights, I want to win. This time it is a different approach for the rally.
Q:
What do you think of the new stages?
TS:
I am really happy with the roads we have seen. The new stages are a bit technical and challenging, not typical Spain but more narrow in places and the challenge is nice for the drivers.
Q:
Can you tell us anything new about next year?
TS:
Nothing more to say. I was happy for the results we were able to catch. Basically we catch everything that we could have done. This is a new rally now and a new challenge and I have to do something great again.
FIA WRC3 CHAMPIONSHIP
Present:
Kajetan Kajetanowicz (POL)
Jan Solans (ESP)
Q:
Kajto, second in the WRC3 standings and back at the event you have been competed at previously. How crucial is it to win here in Spain this weekend without your championship rival here?
KK:
It its always important. I would like to win here. At this moment, more important is to focus on my job and do my job as good as possible. I want to sit in my car and not in his car- you know what I mean. It will be difficult like hell. They know these stages and are very quick and not only the Spanish guys. The target is to have fun and try and be quick on every stage and not only on shakedown.
Q:
Is it a win it or bin it strategy?
KK:
This is pressure, yes. I want to focus on my job and I want to do my job. I have a great team and a good car. My feeling is good and it should be good. That is what I can do at this moment. Concentrate must be 100%. This is more important than points. I hope we can catch maximum points. It's going to be a long travel.
Q:
Full tarmac this time around, what do you think of the stages and route for this year?
KK:
It's my second tarmac rally this year. I won in Croatia but this is completely different. There is more grip and a lot of corners. In my opinion it is faster than two and three years ago. More sandy and, in some parts, more bumpy in places. The second stage is a new one for everyone. It is a new challenge. This is what we can say at this moment. I hope to be fast here
Q:
Jan, great to see you back within the WRC! Junior champion from 2019, you've been competing mainly at home this year. What are your expectations for this event?
JS:
Two years ago I did here my debut in an R5 car with a Ford Fiesta. Now I am with a Citroën. I think that I have got more experience and, hopefully, it will be better than two years ago. Shakedown was not good. We were not in the right direction with the set-up. I did the same time in the third pass as the first one. We did not have a good progression. Hopefully we will find the set-up for tomorrow. Friday stages will be new. The first one is reversed and the second one is new and the third one is more or less completely new. It will be interesting.
 
Q:
The Citroen C3 Rally2 is what you have used throughout the season, so you must feel at home in the car? How much testing have you done?
JS:
This year I have a lot of experience on tarmac in this car. I took part in the Spanish Championship. The roads that we were driving were not like these because we were not competing in Catalunya. We were competing on other roads. I have got experience with the car and I will try and get my speed here. We will see if it is enough. 
Q:
Is it a case of showing your pace here in the hope of getting a fuller season next year?
JS:
Yes, our target is to be back next year in a full season of WRC3. I would like to show speed here. We will try to do our best and see what happens.
FIA JUNIOR WRC CHAMPIONSHIP
Present:
Sami Pajari (FIN)
Jon Armstrong (GBR)
Martins Sesks (LVA)
Q:
Sami, the fight for the Junior WRC championship title will be played out here in Spain. It will be a huge fight to the finish with double points on offer this weekend. Excited? Nervous?
SP:
Of course a lot. It has been all year rallying again and now it is the time of the season at the end where we see all the work we have done all year. It is really exciting times. After the recce and what I have seen before I can say that I will really enjoy the rally here. I think the roads are really nice and not so much cutting like we used to have in Rally Ieper, for example. It is more like some track racing more than some other rallies we have. It is really nice.
Q:
Double points on offer this weekend but, for you and Martins. It is going to be the first time here. Jon has experience in Spain. Is that an advantage for him?
SP:
I think at least if you look on paper it looks like that. I think it is still something I should not think so much about and focus on my own thing. We did a good pre-event test for two days before the rally. The recce and the shakedown went so nicely for me. There is nothing I can doubt about at the moment. I will do my best. Of course we have some nerves. I think if you ask any of us the answer is quite clear. I try to think in a positive way and enjoy also. That is the key.
Q:
Jon, you've taken the two tarmac wins this year and you have competed here three times previously. Is this going to be to your advantage in the championship battle?
JA:
It's bound to be a benefit. There is no doubt about that. Friday is actually quite new to me. It is going to be quite demanding. Friday is normally where we see the biggest difference with the Juniors when everyone is trying to find their feet and getting up to speed. I am going to have to put in a big effort and try to get a nice rhythm with the pace notes and everything. I know some of the other stages that we are doing on Saturday and Sunday. But Sami and Martins have been more testing and more driving than me. That evens things up to be honest. They did two days testing. I did no testing since Belgium. I'm not not confident but I know I need to work hard. Cocky is not the right word. I need to really focus on a good performance.
Q:
Surely your success on tarmac this year should give you confidence?
JA:
On paper it has been good this year. But I have not always been the fastest on tarmac but maybe the most consistent. There is a nice flow to the stages on Friday. Spain is different to the other two tarmac rallies we have done this year. On shakedown I was trying to get a set-up and it is not so bad at the moment. We will try and keep improving that during the rally. People expect it of me and I will have to give my all at the end.
Q:
Martins, what are your thoughts heading into a weekend where you could seal the title?
MS:
Well I think I have done less rallies this year than Sami or Jon. It has not been much time in the car for me this year. I don't feel rusty. I think I have lost some momentum during the season and still something is missing inside of me this year. But I am trying to work on it and find where the thing is. Sometimes it is going better and sometimes not so good. We keep fighting. I think we are all quiet young to build up ourselves.
Q:
What did you think of the stages out on the recce?
MS:
The good thing is that on the stages there is not so much cutting. You can more focus on the driving and choosing the right line and the right speed. There are lots of places where you can make mistakes. The speed through the corners is really high and you need to focus all the time.
Q:
You have a great T-shirt on with all the winners of the JWRC. How dearly would you like to win this and add your name to that?
MS:
It would be a very good accomplishment for me. I am now third not so far from them but I still need to be fastest by a margin. Everything is possible and the rally ends on the finish of the last stage. There are 17 stages to go this year.