WRC - Rallye Monte-Carlo - Post-event press conference
Transcript of the post-event press conference organised by the FIA for the 2023 Rallye Monte-Carlo, January 22, 2023.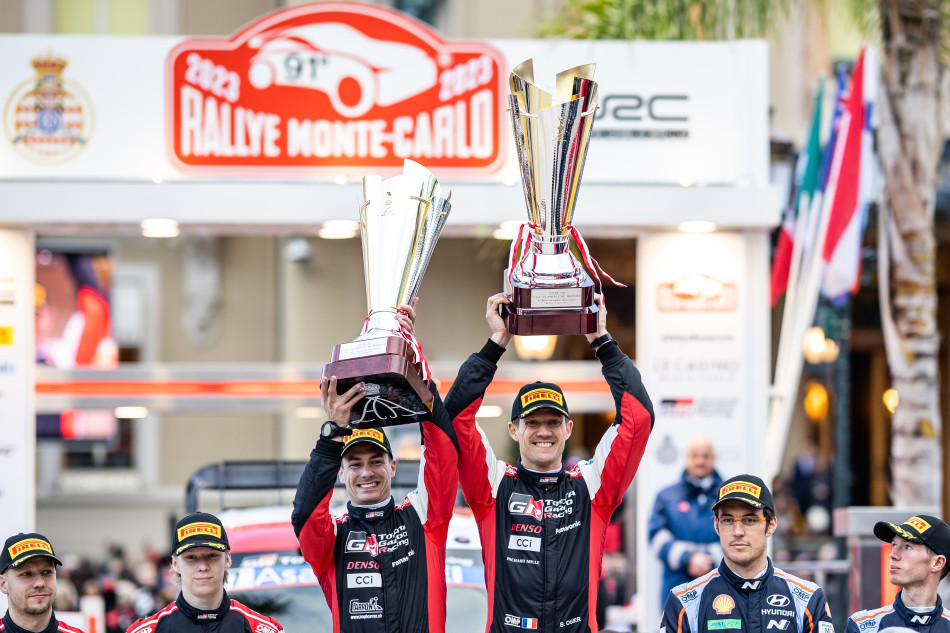 FIA WORLD RALLY CHAMPIONSHIP
Present:
1st driver - Toyota Gazoo Racing WRT – Sébastien Ogier (FRA), Yaris Rally1 Hybrid
1st co-driver - Toyota Gazoo Racing WRT – Vincent Landais (FRA), Yaris Rally1 Hybrid
2nd driver - Toyota Gazoo Racing WRT – Kalle Rovanperä (FIN), Yaris Rally1 Hybrid
3rd driver - Hyundai Shell Mobis WRT – Thierry Neuville (BEL), i20 Rally1 Hybrid
Rep. of the winning manufacturer – Jari-Matti Latvala (FIN), Team Principal TGR WRT
Q:
Seb, congratulations – you are now the most successful driver in Rallye Monte-Carlo history, the event that inspired you to become a rally driver…
SO:
Thank you! I think you got the exact word: inspired me to dream to become a driver. It becomes a little bit boring when I tell this story, but the emotions are the same. I'm very happy to share this with Vincent on only our second rally together. He gives me great confidence and many similarities with Julien, starting with the voice which can be confusing. I would be very happy to have him here with me now, but the co-drivers disappeared for COVID reasons. I guess they should come back – we're not doing anything without them - and they deserve this place and get some compliments for their achievements. I'm just launching this…
Q:
How challenging were conditions?
SO:
Last year was the same if you removed Sisteron which was unfortunately cancelled. If you do the rally mainly in the south like we did since last year it's a big chance this happens. Global warming is there and here you start low in the stages, you will always have Tarmac and maybe some snow on the top. I don't want to say because I'm from Gap, there are other places up there. I heard maybe there is a chance it's coming back there, I think it adds more to the event – it brings back the tyre choice and makes the race more interesting on beautiful stages. Here we had a nice Tarmac rally on beautiful roads. The first day I was pushing and trying to make some difference, the second day I was trying to secure my position with no risks from the cut – keeping in mind the misfortune I had with the tyres. I knew I could go faster but I didn't want to take the risk. Today was good control. That's it. I'm happy to share with Vincent.
Q:
Friday morning you had a full gearbox change, tell us about that…
SO:
I never saw anything like that before, it was so impressive to watch them work. Actually it was something linked to the clutch, probably going to Parc Fermé on Thursday night. The team saw something wrong on Friday morning, but they weren't sure what. Thirteen minutes before going somebody say: "OK, we change the gearbox" I thought: "Oh, no way they're going to do it in 13 minutes…" We were waiting two minutes before checking. I need to say a big thank you to the team and my guys. I promised them some champagne is going to be delivered to them soon at home – it's just incredible what they did. 
Q:
Re-match with Sébastien Loeb next year after he congratulated you on social media…
SO:
I hope so! It's no secret that I enjoy competition and when he's there, it's often nice competition and the crazier we are, the better the show is. I think it will be great to have him showing up next year and the guys we have on our side can make it a cool race.
Q:
Vincent, how does your first win feel?
VL:
To be honest, I don't realise so much at the moment. I expected this result, but now it's done I still don't realise so much. Only our second rally and Japan worked well and we could have won, but we did it here.
Q:
What was the emotion like in the last stage?
VL:
I didn't feel different to the previous days, maybe until the finish line. I was doing my job and I still had the job to do with more controls to come. It was a big emotion, but I couldn't show it because it was not done!
Q:
How much of a challenge from your seat?
VL:
There were not so many changes to the notes from the gravel note crew – it could have been much worse. It made it much easier for me. The dry rally made the pace high, this weekend has been a very big challenge – even bigger than Japan.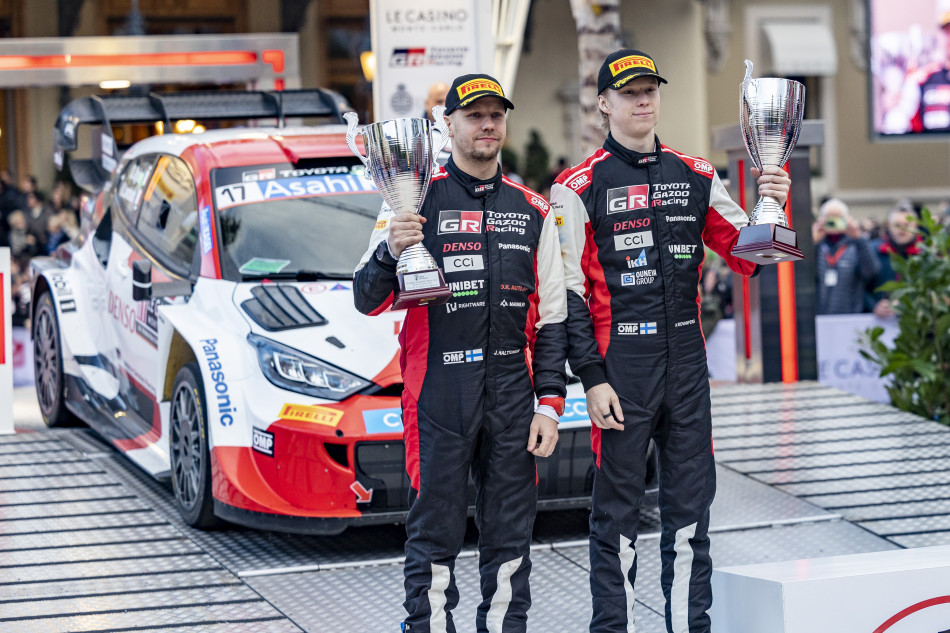 Q:
Kalle, first podium in Monte – happy?
KR:
Quite happy. We scored quite good points in the end and that's the most important thing. It was a bit different Monte, it was quite dry – but a full push. Losing too much time on Thursday night and Friday on the first pass, I could have done a bit better but with all the dust and salt it was not so easy to open the road. After that the pace was good and we had a good fight.
Q:
What don't you like about those stages in the dark?
KR:
I don't know, it's not the best for my driving style – I've never been so comfortable on these kind of stages.
Q:
First on the road in Sweden – seen any forecasts?
KR:
I have no idea, but hopefully good conditions and proper winter conditions to have a nice rally. I also hope it's not the weather when you clean a lot. There are many fast guys starting behind us.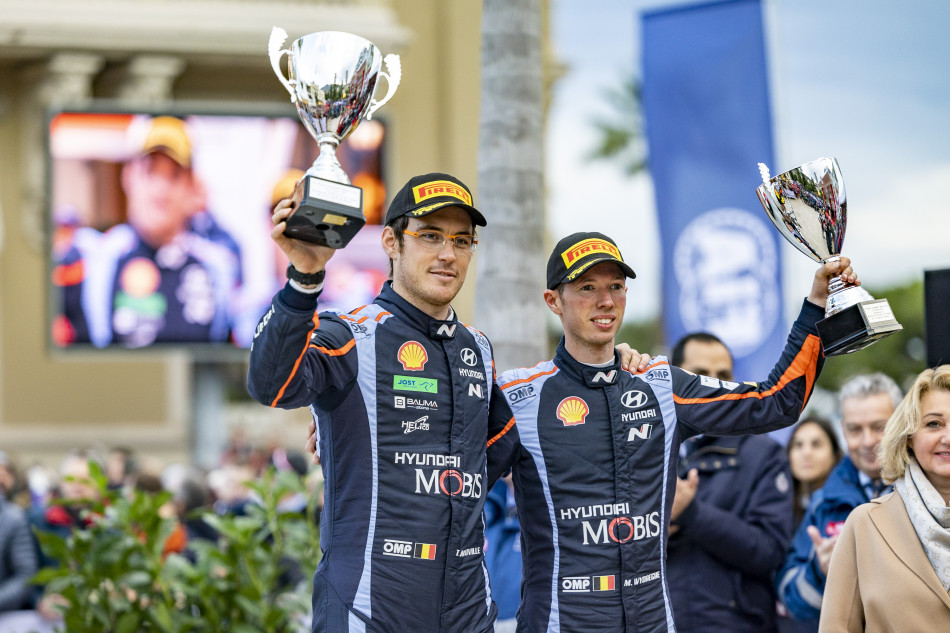 Q:
Thierry, how would you sum up the rally?
TN:
I don't know. Generally I think we must be satisfied with the [podium], with the end result, just because we have seen very early in the race that it seems like we couldn't really follow the pace of the other guys. And despite trying, we were never really able to set any good times. Just always a couple of seconds behind, constantly losing time. Even in Friday morning we knew that, yeah, different tyre strategy was making or going to make us this time. We hoped for better return on Saturday afternoon, but we started then to set fastest times due to better tyres. But it didn't last very long to be honest, and today we are all on similar conditions and, yeah, I felt a bit powerless sometimes. But at the end, it seems a bit our own fault, as a team together we probably didn't expect the conditions so dry and prepared more for Monte Carlo like usually where you go for bits of the car and softer settings, and at the end it didn't work out.
Q:
You had a little bit of a moment this morning – you were so lucky that there was nothing on the outer corner of the hairpin. It was impressive for us to watch it, but you must have had your heart in your mouth when that happened?
TN:
Yeah, a really strange moment. It was the first braking for after the startline, and I had done some set-up changes overnight, just to try to see if we could gain any performance. And it was like a close-to-flat corner just before the braking, and I was already understeering like hell. So I was getting a bit excited and angry on saying 'oh it will be like this all stage-long, I will be in the shit'. And I completely forgot my braking for the hairpin and I was just not concentrated enough, but luckily we got away with it. And yeah, from thereon I killed my tyres from the first stage and I had to manage all day long.
Q:
How are you feeling now heading into the next round?
TN:
Changing a result around is very difficult. I mean it's always a close competition, it's going to be a close competition on every single round. We have seen that the advantage was with Toyota this weekend. The gap wasn't that big, but big enough for them to pull away. I don't know what we are going to see in Sweden. I mean our clear target is to be on the pace, and if possible have a small advantage that would be nice. And try our best. As Kalle mentioned as well, road position is going to be important so hopefully we have some good conditions, equal conditions, that would be more fun. But I mean next one is in a couple of weeks, and until then we have to do a good job.
Q:
What a start to the season for the team, Jari-Matti. It is a Toyota one-two, and it was a Toyota dominance of stage wins up until yesterday afternoon. It's been a good weekend, team must be delighted?
J-ML:
Yeah it's been a really good weekend, we are very delighted. And I would say the result was even for us better than expected because we came to this weekend and I knew that Sébastien is very hungry and angry at the same time because of last year, and I knew that Kalle wants to have a good weekend but maybe just targeting for the podium. So at the end we know we have a one-two, plus when we have also four and six, so we have four cars in top six, winning most of the stages and then Kalle taking the Power Stage. So you can't really ask for more.
Q:
Things can change so quickly, and it's good to see that every team right now has more than one trusted rally winner within them. It's going to be a competitive season, it's got off to a good start right now, but the next round things could all change.
J-ML:
Yeah, as Thierry said it's basically always close competition, which is great now for the championship. It's when you have in every team a driver who can win the championship, that is best for the sport, so I'm sure it's going to be a very exciting season. And of course ideally we want to see the close, close fights, but hopefully Toyota drivers can turn it for the good.
FIA SUPPORT CHAMPIONSHIPS
FIA WRC2 & FIA WRC2 Challenger CHAMPIONSHIPS
Winning driver – Toksport WRT2, Nikolay Gryazin, Škoda Fabia RS Rally2
FIA WRC MASTERS CUP
François Delecour, Škoda Fabia RS Rally2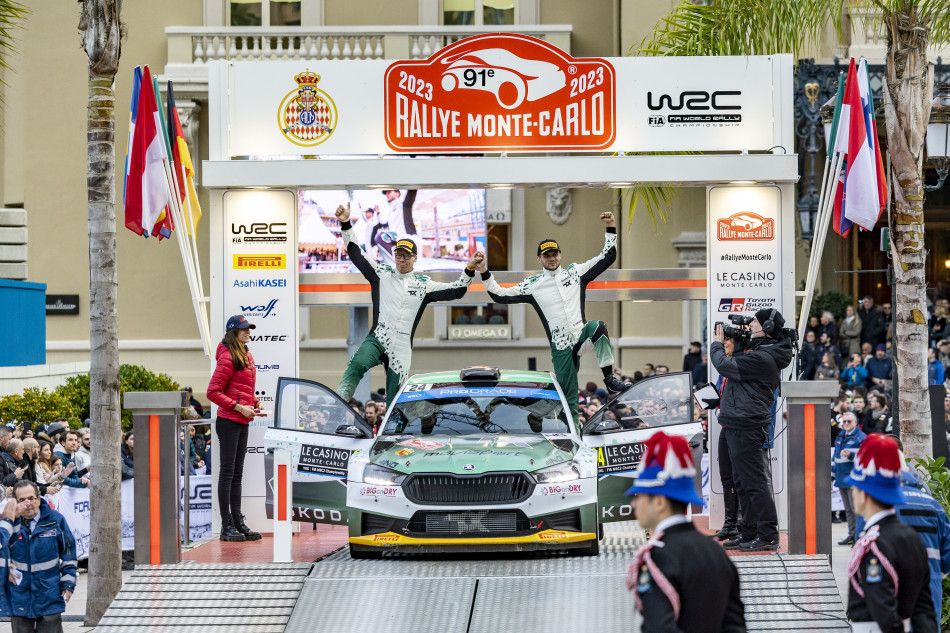 Q:
You've had an amazing rally. How are you feeling with your first victory at Rally Monte Carlo?
NG:
I think it's really nice. It was a lot of enjoyment to drive the new Škoda Fabia on this rally and, for sure, to win on this difficult rally is a big memory for me for the future. For sure, the conditions of the road was more easier than in the past. So we have no snow at all, no ice, but it was also difficult because we have the limitation of the quantity of the tyres. So we need to manage the 20 tyres for all race. It was not really easy despite sometimes on the Saturday and Friday we drive used tyres to keep the new ones for Sunday. So our team did a good job to make a good strategy for Sunday also to be in a good tyres. And we did a good job. No big issues. Just one nice slide in one stage and, yeah, small puncture on the night stage. We lose quite big time but I was really happy we also not lose so much. So I was able to keep the pace and finish on the first position. It was really nice and again I want to say thank you to everyone who was involved, especially the gravel crew, the family and the team, engineers especially and the co-driver. 
Q:
Lost a lot of time with the puncture yesterday. Did you think that's it, that's my rally lead gone?
NG:
Honestly it was quite a scary moment because I understand that I have seven kilometers to go to the end. I will not change the tyre, I will drive to the end. And I was still trying to go fast and it was scary because without tyre when you are trying to brake it's immediately locking the front and you are not able to turn. And when you have a stage where it's narrow and you don't have the place to go out, it will be immediately a retirement if you do the mistake. So it was difficult to adapt so quick and still trying to push even on the right corners. On the braking it was quite scary, but I was trying not to make a big mistake on this one. I was still trying to get the pace, even without the tyre.
Q:
A lot of pressure on your shoulders in the final stage? Did you think 10 seconds was enough?
NG:
No. For sure it was pressure because we go with the five tyres, so we could only have the fresh tyres on the Col de Turini. But OK, I thought that 10 seconds should be OK to get it, but still your heart was doing quite good pace! And it's nice when we have the pressure and finally I got the win when we fight until the end. When you are winning without the proper fight, you just carry the pace for example – it's not that big emotions like winning in the fight.
Q:
You've had a good weekend, François!
FD:
I would like to congratulate Nikolay because he was bloody fast. So fast. Incredible and when I was one second, one second behind him in the stage, I was so happy. Believe me it was already fast. I am 60 years old, but I still need to learn to improve, improve the car because it's the first time for me in WRC2 and it's not enough the speed. It was just unbelievable. Absolutely unbelievable. I didn't expect that at all because I know they know the stage very well maybe like me, maybe better, even if I've done 24 Monte Carlo. I know that they learn so much and it's nice. It's good. The young driver now they are just unbelievable because there's 10 people, 10 drivers very fast in front of me and he was so, so fast. Congratulations.
Q:
How did you find the car this weekend?
FD:
The car is unbelievable. Because the R5 and Škoda factory is so, so good, the chassis is so good. I have nothing to say about the car because I'm just… it's me at the moment. My driving style, I have to change many things to learn a little bit more like them. The video also – because I think it's a free choice, very important because there's only two passages of the stage. And it is the only way to drive flat-out like they drive. Yesterday night was just terrible: if you look at the time, the time was like double RC1. It's unbelievable because we have 200 horsepower less than the good (Rally1) car and the time was faster, faster sometime than [Dani] Sordo's time. Incredible. The level is so good and from my point of view this is the future. WRC2, it is the future because it is very interesting. The car is maybe not bad, but you can still have car like that for everybody, not everybody but many private driver can drive this type of car. This is very interesting. We were about 45 cars like that and fantastic fight, but I am happy. Very happy.
Q:
This means you are going to do a full WRC2 season now, right?
FD:
I am pushing hard to do some more mileage this year, maybe Corsica, Portugal, I would like to try this car on gravel. I hope we will do it.
Q:
More than two rallies?
FD:
Maybe more, maybe more. We try to do five or six, we'll see. But I think it is possible.
Q:
Contending for title this year?
FD:
No,no but in any case believe me I push hard for that and I think we will be in Corsica, Portugal, Acropolis at the moment. Also I can tell you one thing also. Monaco is in charge for that, pollution emission. You have to know that my car, OK, was not hybrid but because of my sponsor - my sponsor is Foreverk - we had absolutely zero as emission from Monte Carlo.