WRC - Rally Sweden - Pre-event Press Conference Transcript
Transcript of the pre-event press conference organised by the FIA for the 2020 Rally Sweden.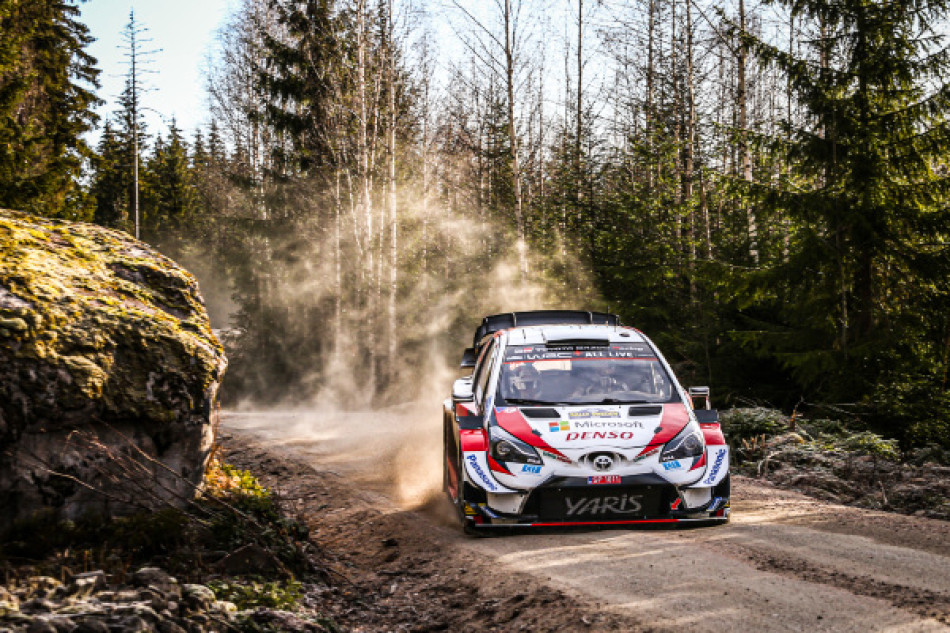 FIA WORLD RALLY CHAMPIONSHIP
Present:
Ott Tänak (EST), Hyundai Shell Mobis World Rally Team
Elfyn Evans (GBR), Toyota Gazoo Racing World Rally Team
Teemu Suninen (FIN), M-Sport Ford World Rally Team
Craig Breen (IRL), Hyundai Shell Mobis World Rally Team
Jari-Matti Latvala (FIN), Latvala Motorsport OY
Q:
Ott, I think it's fair to say that everyone knows what happened in Monte. No ill effects after that massive accident?
OT:
I'm alive, I'm here, I'm good. All ok.
Q:
What are you expecting to see out there this weekend?
OT:
I guess it's difficult to really expect anything for the moment. Today, the Shakedown was full gravel but the rally will be maybe in some ways a bit more complicated. Today it was consistent but the stages normally are quite mixed. On some stages, we have more gravel, on others a bit less, so it's always a bit changeable. It's really difficult to predict for the moment what is actually coming.
Q:
And if it's difficult to predict, I imagine it's difficult to have a strategy in your mind as to how you play it until you get to the stages tomorrow?
OT:
Yeah… Let's say, for sure it's a good plan to try to save the tires a bit, at least in the beginning to not have too big surprises. It will be quite important to read the road and try to understand what is going to happen. But it's all quite a bit unknown at the moment and I believe, after the first look, we will know a lot more.
Q:
We've heard a lots of different things from the drivers, it's going to be a flat-out attack or will it be more cautious? There're a need to be a bit of a sensible head on I guess?
OT:
Yes, it's smart to be sensible but on the other side, the event will be very short. I guess, you don't want to loose too much from the start so it will be difficult to catch back. So we will be… well… we'll have to be perfect from the very beginning.
Q:
Jari-Matti Latvala, welcome back! We missed you in Monte, did you miss us?
JL:
Yes, I did miss you. It was very difficult for me to follow the Monte-Carlo Rally. The first night, when I was watching the first stages, this was still fine, but I couldn't watch Friday or Saturday. It was too much in my mind, you know, you want to be a part of it. The nice WRC family and everything around… But after the rally, when the rally finished, then I felt more comfortable because I knew that I would be in Sweden.
Q:
And you're back in action as a privateer – it's a different experience now?
JL:
We started our career as privateers and we're now back as privateers. So I know, I remember how it was and for sure it's different [than being a factory driver]. There are things that you don't need to think about when you are a factory driver, you know, like supplying underwear, overalls, helmets, making plan for the delivery of the car, sending sponsor logos here and there. Different kind of things but every day you learn something new.
Q:
I know it's a selected amount of events you're planning on this year. Is it your time to shine now?
JL:
The fact is that, if you want to be back as a factory driver in 2021, you need also performance. You need to show results to get the place back. Indeed, it would be really good if we could make a good result. It's not only one rally, a one-off, which is good. It will be more difficult over the year when you do only few events because when you do a limited amount of testing and you're not so much in the car, you start loosing the feeling. This is why the football players, the ice hockey players, keep practicing: to keep the feeling on all the time. So I don't know how it's going to be but we're going to try and this is the target: we try to make good results and hopefully, that will also help us to bring more sponsors, to drive more.
Q:
You have four wins here, your first ever WRC win came in Sweden, in difficult conditions as well. Not quite as tough as the conditions this year, or similar?
JL:
Back then, in 2008, we had snow banks, the snow was there. Basically, then it was getting very warm and the roads were melting. There were gravely conditions but at least we had snow banks. So you had some support if you would make a little mistake. This year, the difference is that we don't have any snow banks, so there's no margin for error on that side – nothing helps you if you go wide. And also, as Ott was saying, the difficulty is that you have mixed conditions, gravel and snow. And yes, back then, in 2008, we had that situation but probably it was a little bit more consistent because it was so warm that the roads were really melting and the snow and ice was so thin that you would come through it quickly to the gravel. But now, if the ice stays frozen, it will keep the roads and the gravel hard, and the ice will be hard as well. So you know that on gravel, it's easy to lose the studs. Then you come to the ice and the car is not turning. That is the most difficult thing that you can experience.

Q:
Elfyn, let's turn to you now. Great performance in Monte Carlo, just a few weeks ago, leading the rally over night as well. Were you on a high after that rally, with your performance?
EV:
Not really, a bit frustrated after Sunday, to be honest. Obviously we were in the shot to win the event and let it slip away a little bit on Sunday for one reason or another. Things didn't just quite click so, yes, if anything I'm a little bit more determined. Obviously, you know when you're in that position, you always want to come out on top. We didn't manage to do that so, yeah, I'm still focused.
Q:
"Determined"… We like the word "determined". It means you're going to go out with a good fight this weekend. Do you think we could see a surprise winner, given that conditions aren't what they usually are?
EV:
Indeed, I think anything could happen. It's a competitive field with a lot of good cars so anything could happen. We know all the challenges we are going to face, and we know there's going to be quite a bit of unexpected challenges that come our way. But we have to try and adapt, and deal with them the best we can.
Q:
And that is a part of your job as a rally driver, adapting to the conditions I guess?
EV:
Exactly. It's part of rallying, it always has been, perhaps not quite to this level of how extreme it might become. If studs are really losing at a high rate, it will be difficult by the time we come to the end of some of the stages with the icy sections. But it will be the same or similar for everyone.
Q:
Let's turn to Teemu Suninen: first time you ever led a WRC event was here, last year. Talk to me about your plans this time around, I know that Monte didn't go the way you wanted it to, you gained in confidence by the end of the event, what about here?
TS:
I think this time the plan is a little bit different because, I would say the rally is fully different compared to last year. This year maybe 50% is probably on the gravel and 50% on ice, so we need to drive carefully to keep the tyres alive, and keep some studs for the icy sections. After tomorrow morning, we'll be more clever and we'll know better how it will be.
Q:
We've already seen a little bit of a moment from you on the first pass of Shakedown this morning, what exactly happened?
TS:
I lost the rear as there were ruts when we recced and now it was frosty or frozen. I got the front axle out on the rut and it got stuck in the rut. I lost the rear quite badly. But it's going to be the same in the rally so at least, we found out what can happen. I just need to be really forward thinking on the rally to avoid making this kind of mistakes.
Q:
Your co-driver has won this event in the past and has been on the podium many times, in Sweden. Has he been able to give you any insights, given you any good advice?
TS:
Maybe not for this rally because the conditions are so different now. But yes, it's always good to have a really experienced co-driver with me.
Q:
Mr. Breen, the call up for Rally Sweden came quite late in the pasy days I believe. Talk us through what happened when you got the call and how you felt at the time.
CB:
Yeah – last minute dot com. It was a Monday morning after Monte and a nice phone call to get as always. To get a chance to be back in a World Rally car again is always something that myself and Paul have been waiting for. Perhaps a lot earlier than what I expected. It's nice to be back here again and I love driving this car, I feel very special and unique to get the chance. There are not many seats in the FIA World Championship anymore to drive a rally car so I'm one of the very lucky few. I intend to make the most of it.
Q:
You've had great results here in the past, but second in 2018 was your best result here. I know conditions are completely different, what can you do this time around? Has the team given you a specific plan this weekend?
CB:
Yeah completely different than the last time I was here. Still, always great memories from the rally. I'm here to score points in the manufacturers' Championship and to be there to pick up if there are any unforeseen incidents in front of me so that's my main goal. If I can do a good job for the team, I just want to get back and get more chances in the car. It's difficult, when you don't have so much driving around in the car. I haven't been in the car since last year, I was in the Metro for the last couple of weeks, and then you're thrown back into the World Rally car again. It's difficult. These guys are in the cars so often and it's hard to just jump in in the Shakedown and just be flat out but I just want to enjoy this as best I can.
Q:
Do you know how many more events you could potentially do this year?
CB:
My intention is to leave the team with the option to take us all the time. I want to be here. I want to try have myself and Paul in the car as much as possible. I made it very clear that Andrea plays the team like a poker game and he wants to put the best cards forward every rally and it's up to myself and Paul to prove we are a good choice for the rallies the rest of the year. Ultimately, it's in Andrea's and the team's hands to do what they want to do. But he can rest assured that I'll be ready, he can call me on the Monday of the rally if he wants to and I'll be sitting there ready.

FIA WRC 2 CHAMPIONSHIP
Present:
Ole Christian Veiby (NOR), Hyundai Motorsport N
Pontus Tidemand (SWE), Toksport WRT
Q:
Ole Christian, you were the fastest R5 car here last year winning the FIA WRC 2 category. Good memories from last year, I'm sure you want to recapture that spirit this time around?
OCV:
Absolutely. Home event and, yeah, it feels great to be here. I think we have some positive learnings from Monte-Carlo. We see that the car is working well. We did some good test days ahead of this rally so I think we feel really, really prepared. And it feels good at the moment and for sure it's good to bring some good feelings from last year, even though it was a bit different from this year. It is going to be a different challenge this year compared to what we are used to but it's a bit fun as well, it's not like you know everything so it's going to be a big challenge.
Q:
It's no secret that conditions are vastly different from we've seen, but as a rally driver you have to adapt to those. And that's a big challenge in itself, isn't it?
OCV:
Yes it is and well, we saw already on the Shakedown today, this morning, that I think it was new for everybody, we haven't done this before. We don't really know how it's going to behave, how tyres are working and so on. So it's going to be a bit different but to be honest, I think the stages look good. It seems that the organisers have done a really good job to prepare the stages as well as possible. So yes, we're looking forward.
Q:
How difficult is it to go in with a strategy for the event when you need to play it by ear, I guess, with the conditions changing?
OCV:
It is a bit difficult, because usually you know everything, you know you can brake on this braking point, you know those kind of things. Especially on the stages, you know from before and it's going be a lot different, you don't have any snow banks to lean on so, you really need to keep it steady and in the middle of the road otherwise you're immediately out. You need to avoid the mistakes and I think also the big cuts and the big stones.
Q:
Sounds like brilliant advice there. Pontus, you've won this category before as well but it is going to be a different challenge this year – are you ready for it?
PT:
Yes, we had a good test and it's really fun to be here. For sure I think it will be very hard, I mean, when the rally is shorter and I'm quite sure it will be… I mean it's more like a sprint rally and I think this youngsters around me here, Mads and everyone, will push absolutely maximum from the first stage. So I think it will be quite intense and that can be interesting.
Q:
What was the feeling at Shakedown, was it a good indication of how it's going to feel for you?
PT:
The feeling was good, the car was feeling very good to drive so it's just to try and manage the tyres when you're on the gravel sections. And then, when you get onto the ice, this can be a bit tricky, but anyway we have more tyre fitting now. And I think we can expect some ice on the stages so I think it will not be any problem. We will just go out and try to push from the beginning.
Q:
How many events could we possibly see you at?
PT:
This, we don't know yet, it can be a complete championship or it can only be this rally. We take this rally and we will take an evaluation after this and see what we will try to go forward with.
FIA WRC 3 CHAMPIONSHIP
Present:
Oliver Solberg (SWE)
Filip Mares (CZE)
Q:
Oliver, you're very much at your home event here in Sweden, what is your thinking ahead of this event, how do you think it's going to be out there?
OS:
Well, it's going to be an interesting rally for sure. I think it's going to be Monte-Carlo 2.0 really - hit the gravel first and then you have no studs for the ice. It could be interesting. It's going to be a long weekend, still it's very short kilometres so it's not going to be easy.
Q:
Obviously, your father Petter Solberg, has won this event before. Has he been trying to give you advice, does he need to give you advice anymore?
OS:
Well, he doesn't have any experience of this kind of conditions so he doesn't really know what kind of advice he should give me for this! But for sure, there's always some advice for each event. He has so much experience with the car setup and this for different conditions. So we're just working together all the time and try to do our best.
Q:
What has been the biggest learning curve so far, stepping into the FIA WRC, would you say?
OS:
The rallies are much longer, so for sure, it's about trying to keep the consistency through the whole event. And okay, this rally is more like a sprint, but still you have to go flat out from the first meter. I think overall, it's just consistency though the long event.
Q:
A couple of drivers have mentioned this but going flat-out is going to be difficult if you're hitting ice with no studs.
OS:
Yes, for sure and also the cuts and big rocks and the gravel could be quite loose in the end of the day. So we will see. But we will just have to try and get the rhythm very fast and then not take any risks with big rocks and big cuts because it's very easy to get a puncture.
Q:
Finally, then, the same I asked to Pontus: what is your full schedule for this year, how many events are we going to see you on?
OS:
Well, at least six rallies with the Škoda, and we kicked off Monte-Carlo with the Polo. So we'll see how many events we'll do with the Polo but at least we do six with Škoda.
Q:
Filip, welcome to the WRC! Your first event as part of this championship and a huge challenge
ahead. How are you feeling?
FM:
Feelings are very nice. It's for me a pleasure to be in this competition and together with drivers like Pontus and Oliver. For me it's nice to be part of this family. And for sure, I'm looking forward to the stages because it looks very nice and it is going to be good experience for me.
Q:
What's the plan of attack then, this weekend from you?
FM:
It's hard to say at the moment because it's my first ever WRC rally and as well my first "snow" event. But for sure it will be tricky, it will be very fast probably, so let's see how we will keep this pace. To be honest I hope we will be on a good pace.
Q:
How many events are you going to be doing?
FM:
We will see after this rallu but we hope for six events in the WRC 3 championship.
FIA JUNIOR WRC CHAMPIONSHIP
Present:
Fabio Andolfi (ITA)
Tom Kristensson (SWE)
Q:
It's a different direction this year Fabio, tell me about the challenge ahead for you.
FA:
Hello everybody, this rally for me is new and my first time in Sweden. It will be very hard with these conditions. The stages are beautiful but very fast without or just with a little bit ice. It will be very difficult. And it's my first time with the Ford Fiesta R2 - whole new.
Q:
How are you finding the car, what are your thoughts after Shakedown with the car?
FA:
My impression after Shakedown is that the car is very competitive. Now I will see on the stages.
Q:
Tom, you did so well last year. It was almost the title, but not quite. Good to be back this year?
TK:
Yes for sure, and I'm really happy to be here. It's the second time I'm driving Rally Sweden. I think this is quite positive for me because I have less experience on snow and ice so I'm actually quite happy about this. And it's also getting faster which is really positive: I like it, and the car is really good, everything works well. So Im' really looking forward to a new season, the second time in the championship. And It's also my last so I will go for it.
Q:
What can you do differently this year to ensure that the title is yours?
TK:
As you said, it's a special championship with a different points system. My worst rally last year was a third place which I counted away, so at the end I had two second places and two wins. In the championship, I don't think I can do much better than that. But it's about the stage wins and that's what I'm working for.
Q:
Plan of attack - is it the same as everyone else is saying: flat-out attack, or does it require a sensible head?
TK:
The rally is shorter so we need to go a little bit faster in the beginning I think, otherwise there is not so many kilometers. We need to go for it from the beginning I think and that's the plan, to be honest. But no testing, not even one centimeter, no experience since Rally Sweden so it will be tricky to find the right setup. But I will work for it, for sure.