WRC - Rally Sweden - Pre-event Press Conference
Transcript of the pre-event press conference organised by the FIA for the 2023 Rally Sweden February 9, 2023.
FIA WORLD RALLY CHAMPIONSHIP
M-Sport Ford World Rally Team – Ott Tänak (EST), Ford Puma Rally1 Hybrid
Toyota Gazoo Racing WRT – Takamoto Katsuta (JAP), Toyota GR Yaris Rally1 Hybrid
Toyota Gazoo Racing WRT - Lorenzo Bertelli (ITA), Toyota GR Yaris Rally1 Hybrid
Hyundai Shell Mobis World Rally Team – Craig Breen (IRL), Hyundai i20 N Rally1 Hybrid 
Q:
In preparation for this event you were competing at home in Estonia, in Otepää. Were you able to get some good testing in there?
OT:
It was good to do. Obviously we had only one pre-event test planned and you only drive on one road and you don't get too many different conditions. But with a rally, OK, the weather was a bit tricky as well and we had maybe a bit too much snow and it was a bit challenging. But still, for sure like this you could learn a bit more.
Q:
So slightly different conditions to what we've got here or was there similarity?
OT:
For sure it was quite different, but still it was good to do some stages.
Q:
So you feel more confident coming into Rally Sweden than you did coming into Monte?
OT:
This is maybe a bit too much to say! It's still the first time driving the car on this surface, so let's see where we are.
Q:
Shakedown seemed tricky this morning, very narrow. How did it cut up out there?
OT:
The stage itself was actually quite nice, quite interesting characteristics and a bit challenging as well with some bumps and things, so it was actually a good stage. The first runs were a bit more fun and then there were basically big ruts
Q:
Talk then about the aim for the weekend. The times seemed good this morning. Is it possible to aim for a podium?
OT:
You would never want to take it out as a chance. At the moment everything is possible. We don't really know where we are or how competitive we can be. We would still like to do a couple of stages to see how it is feeling and how the times are going, and we'll see from there.
Q:
Reigning FIA Junior champion Robert Virves takes a step up to WRC2 this weekend and begins the first of his prize drives. You helped with his progress and funding last season, have you given him any advice for this year?
OT:
I guess he has a bit the same thing. He's not driven an R5 [Rally2] much, it's his first time basically doing WRC. So let him drive a bit and then we'll see what kind of advice he needs. But for the moment he just needs to drive a bit.
Q:
Craig, your first event back with the Hyundai team after re-joining them for this season. You did the recce in Monte but now back behind the wheel, firstly how hard was it to sit back and watch and how ready are you for the challenge this weekend?
CB:
Look, it was tough. The starts were nice. I didn't have to keep waking up at stupid-o'clock in the morning. But apart from that it was difficult to watch on. But honestly it gave us a bit more time to prepare for this rally. I'm definitely looking forward to it. It's been a long time since Japan. Obviously I've been eagerly awaiting getting back behind the wheel again. I'm just hoping for a good weekend here.
Q:
What's it like being back with Hyundai. It's the hybrid era now, so what have you thought?
CB:
For sure, it's different. It's of course different from the last i20 that I drove. The regulation change was quite huge. But honestly I feel confident, I feel comfortable with the car already from the early steps of the test. I felt at one with it. It's always, I won't say easy, but you never know for sure until you get to a rally and you are in a rally environment to know how competitive you are. Definitely eagerly awaiting getting my teeth into this weekend and see what we can do. For the moment it's all positive things.
Q:
Snow has been a good surface for you. For a long time your best result was actually on Sweden. You seem comfortable on this surface.
CB:
Yeah, I don't know why! It's definitely not what I was brought up on. But a bit like Estonia and Finland, the polar opposite of what I was brought up on. But I guess I've done these type of events pretty much every year of my career now. I've been lucky enough to do them and whenever I've done part-time programmes this has always been one of the rallies I do. For sure I feel comfortable with it. Winter rallies are always something different, a special challenge. No one winter rally is the same as another one. It always depends on the conditions and how the winter has been up to the rally. It's always a big challenge, but always one we enjoy. We try to make the most of it, it's only once a year we get to do it. For sure we'll have a lot of fun.
Q:
Talk to me about the year ahead. It's only a partial season, but you've excelled at partial seasons, especially with Hyundai. What's the target this year?
CB:
Honestly to get back to enjoying it again, get back to having fun. I'm a competitor and of course there are many goals I want to achieve. But I would say 50-50 one is for success but also enjoyment. This is why I do it. I love driving, I love everything about being in a rally car. And to be honest with you, I struggled to enjoy a lot of what went on last year. It was incredibly tough and it took me to go back and do a couple of historic rallies at the end of last year before I got a smile back on my face for driving in a rally car again. It shouldn't have to be like that. We're driving the best rally cars in the world and we should be able to enjoy every kilometre, every metre we do with them. I just want to get back to that feeling and enjoy this weekend, the testing process and everything up to this point. I've had a smile on my face pretty much all the way through and that's the most important thing for this weekend.
Q:
Taka, the step up into the main team begins now. You said in Meet the Crews this doesn't affect your approach to the weekend in any way. Feeling confident?
TK:
Yeah, feeling good with the car and everything. The team is working well of course, so I don't feel any extra pressure. Like I said, preparation is everything the same as any other race, so I don't feel any stupid pressure or anything.
Q:
Give us a sense of the route out there. Is there a good ice base on every stage?
TK:
Yeah, overall let's say the conditions are pretty OK. Only on a few stage are there a bit less of an ice base, I don't know, probably some ruts and loose snow. Maybe two stages I need to be a bit careful. But otherwise very, very high speed and let's say not so many corners. I like very high speed so anyway it's fine.
Q:
What's your aim for the whole season? In Japan you said you were looking for more consistency from 2023. What else are you looking for this year?
TK:
Consistency I try to keep it, but still like at many races I was lacking pace compared to team-mates. I was basically fifth or six lots of times, so my aim is to consistently increase a bit more pace, especially when it's tricky conditions. Maybe I should take a bit more risk to find where I can improve. But I'm confident, the car is working well and I'm getting to understand more and more about it. It's going to be an interesting year, but I will try to do my best.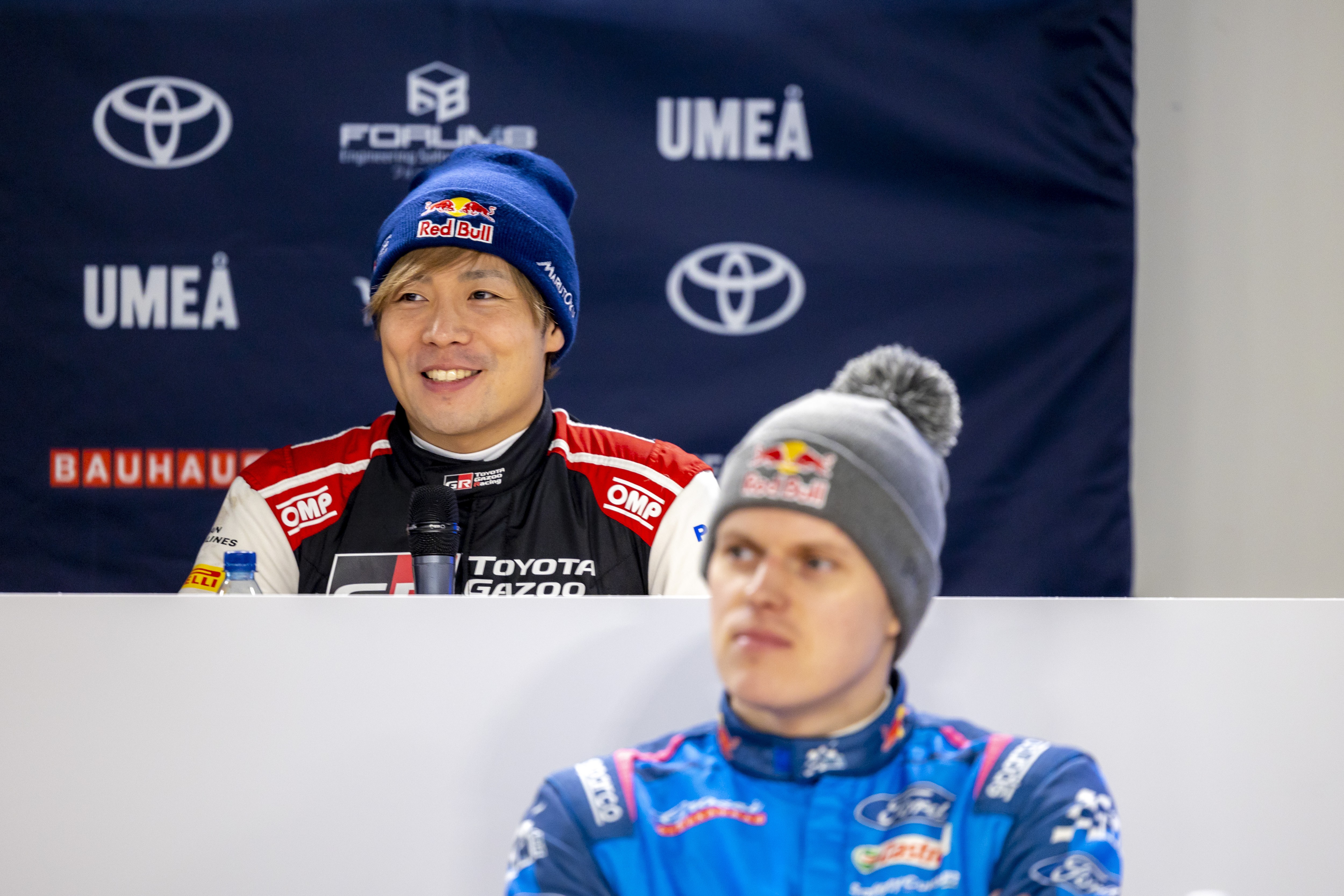 Q:
Lorenzo, welcome back to the WRC. Brand new car for you this season, as you've switched to Toyota and the GR Yaris. Firstly, why the change?
LB:
I always race with Ford and Ford has a specific mentality and approach in terms of engineering, so I was keen to understand how it would be drive a different engineering approach and philosophy. And for sure the possibility to drive for Toyota which is at the moment the world champion manufacturer. I just wanted to try and experience. In life if you can try new things you want to try. So I was curious and said let's do it and also Toyota gave me this opportunity, so I'm super happy.
Q:
And what is the car feeling like?
LB:
Actually the car, looking from outside, looks very agile and I was a bit scared it would be more nervous. The Ford car has always been recognised as very stable, controllable and easy to drive. And this is true. But I didn't expect it to be so easy to drive also, the Toyota, while being so agile. This is the biggest impression I had.
Q:
Last year we saw you competing on only one event, Rally New Zealand. Are we going to see you on more events this year? What's the plan? What do you like to do?
LB:
I would like to do at least one more. I don't know if I could so it's going to be not a last moment decision, but I have to see how busy I am with the business. So let's see. But I really would like to do one more event this year. But for sure Sweden in the snow is my favourite conditions, so I like to be here.
Q:
Question to all of you: on the basis of what you've seen so far, what's the sweet spot, what's the best position to be on the road?
OT:
It's generally quite easy if it's snowy. You want to be further behind and if it's icy you want to at the front. Stage by stage it's like we've seen. There are stages that are snowy, stages that are icy.
CB:
Pretty much the same. It's more this weekend than in previous years there's quite a difference between some of the stages. Tomorrow for example, the loop. There's one stage that is in perfect conditions with great ice and the next one is not in great shape at all, with deep ruts in the snow. It will change all the time, I think.
Q:
So Taka, what's the toughest stage out there in terms of conditions?
TK:
It's hard to say. For me it's stage two and five, conditions are quite tricky I would say. But stage 10 is also maybe quite tough on the tyre for the second pass. Otherwise I don't know. So many straights, I like it.
Q:
Anything that sticks in the mind, Lorenzo, as being most difficult, either stage, loop or day?
LB:
I would say on top of what the others say. I don't know whether they will fix the stages or not, this is something we will have to see. But for sure, the Power Stage if we have the same piece of road this year tomorrow evening, the day after and Sunday we are going to have a lot of passes on the Power Stage, especially on the last part. So it is going to be tricky. But let's see if they try to fix the road or not.
FIA SUPPORT CHAMPIONSHIPS
FIA WRC2 CHAMPIONSHIP
Oliver Solberg (SWE), Škoda Fabia RS Rally2
Toksport WRT – Emil Lindholm (FIN), Škoda Fabia RS Rally2
FIA WRC2 CHALLENGER CHAMPIONSHIP
Georg Linnamäe (EST), Hyundai i20 N Rally2
FIA WRC3 AND FIA JUNIOR WRC CHAMPIONSHIPS
M-Sport Ford WRT – Robert Virves (EST), Ford Fiesta Rally2
Laurent Pellier (FRA), Ford Fiesta Rally3
Motorsport Ireland Rally Academy – William Creighton (IRL), Ford Fiesta Rally3
Q:
Emil, the defence of your WRC2 title begins here in Sweden. It was a successful season in '22 with two outright WRC2 wins as well as success in the Junior category. However, Sweden didn't go to plan…back for revenge this year?!
EL:
I guess we are, yeah. It didn't start out really that well a year ago. OK, but from a poor start like that you can get up and do a good season after that. But OK, this weekend we'll keep the championship in mind, not to probably push on every stage. Let's see what we can do. We have some new faces to fight with as well. So it won't be easy.
Q:
It seems WRC2 is getting stronger year by year. I love that optimism about the championship. But I'm sure when you put a helmet on this evening that will all change, Emil…
EL:
It might! But I think it would still be good to keep it in the back of my head. But honestly it is also important that we try to enjoy ourselves in the car and have a good time, and I think the results will come.
Q:
Talk to me about the car. How was it feeling this morning on shakedown?
EL:
Quite OK. Obviously the plus degrees aren't really helping with the feeling. But the feeling was good. I mean, obviously it's a new car and there is still lots to be found out about it. I think we can improve even further, but already it's feeling good.
Q:
Looking back at 2022, what did you learn last year that you can bring in this year to help you defend that title? What would you say the key things were?
EL:
I hope and I know there has been a lot of learning last year! I don't think we have time to go through it all. Honestly, one difficult thing always for me is to drive in the ruts which is super-typical for WRC events but not for national events for where I am coming from. That's something we will have to work on here as well and try to read the road, read the conditions and focus on that.
Q:
Oliver, your first event as a registered entrant within WRC2. Monte must certainly have been a confidence builder in terms of performance?
OS:
Yeah, definitely. It was a great feeling in Monte Carlo and in testing already, and knowing into the race you don't do points so you can just enjoy yourself and push in a different way. For sure I had a great feeling to win so many stages, but here it's a bit different. So as Emil said we'll think a little bit about the championship.
Q:
Are the conditions a lot different to last year?
OS:
Yes, a little bit different. The road are a bit different too, much faster, much straighter. It's not maybe the best, but the stages are absolutely beautiful, great conditions, high snowbanks. As long as it keeps around zero, probably minus tomorrow, it can be better conditions. So yeah, the conditions should be OK.
Q:
There is an incredible line up again in WRC2, tough competition! How motivating is that for you as a driver?
OS:
It's going to be very tough, if you look at the entry list this weekend. You just have to drive fast all the time if you want to be in the top and for sure in WRC last year I realised how quick the top guys are there as well, so you really need to be on it. And it's the same in this class, to be honest. The level is crazy and there are so many cars, different cars, so it's a fun challenge.
Q:
Toughest stage of the event, because we do have some new ones this weekend?
OS:
I don't know, maybe some of the new long ones are very technical, at least narrow, quite fast which makes it difficult. The other stages from last year are fantastic. Fantastic flow and specially tomorrow morning when you start with Power Stage from last year, and all these stages are just amazing. It's going to be a big variation in speed, conditions and also character of roads, so it's going to be a very challenging weekend.
Q:
Georg, you competed at the Otepää rally in Estonia last weekend in preparation for Sweden. Do you take a lot of confidence away from the result there as the fastest Rally2 car?
GL:
Yeah, the conditions were quite different, but for sure it helps a lot to get any kilometres in the car. And it's also a new car for us, so we'll just take what we can.
Q:
Last year we saw you compete across different championships, what is the plan this year?
GL:
The main focus will still be WRC2, but for sure just to get a bit more seat time we'll find some other rallies to do. A few ERC events definitely, and we'll see about local rallies.
Q:
What's the hope this weekend?
GL:
Well, I'd love to get that first podium finally under the belt. But it's not so easy. My competitors are quite handy in a rally car! We'll try, we'll do what we can.
Q:
And the feeling this morning at shakedown, you were happy?
GL:
Yeah, we struggled a bit on the first passes over the bumps, but we made a few changes and it seemed to work.
Q:
Laurent, welcome to the Junior WRC. You are the FIA Junior ERC champion from 2022 and your prize was to take part in this year's FIA Junior WRC. Firstly, what has the experience been like so far?
LP:
It's completely amazing for me to be here and we are very close to start our first Rally Sweden. We will discover everything: the car, the teams. But OK, a big challenge ahead and we really want to fight for the title at the end of the season. Our main goal will be to score good points this weekend. Biut for sure there is lots of excitement and a little bit of stress also! But OK, we are so happy to be here.
Q:
A four-wheel drive Fiesta is now your new car for this season. How are finding it? How was shakedown this morning?
LP:
This morning for breakfast I had melon which was not so good for the energy to discover the car and to start the tick down. To be honest, the car was very easy. I discovered the car is like a normal car. So very good to be one more time in the four-wheel drive for sure, it's changed a lot. But OK, we will see. We just discovered the car this morning with only two runs on the shakedown. We have lots to learn this weekend.
Q:
You say you are looking at the title, so you have big hopes, yes?
LP:
Yeah, I will be 28 this year so it is my last opportunity to win. I think this weekend it will be very complicated for us to fight for the win because like I said before we will discover everything. But the next round will be Croatia and on gravel I think it will be better for us to fight. I have had some experiences on the ERC, so we need to use it for the WRC now and we will see.
Q:
Will, you're the only driver from last year's stable returning to the Junior WRC, this makes you the most experienced and hot favourite! Are you already feeling that pressure to perform?
WC:
I suppose there is always pressure, especially at this level of rallying. But if you don't have pressure there's no adrenaline it wouldn't be right. A bit of pressure is good and gets the adrenaline going before the start of these stages. It's brilliant to be back in Sweden. We don't get much snow in Ireland so we did a little warm-up, a round of the Swedish national championship last weekend and I said to the team it was as productive as it was enjoyable. It's just great to be back and we won't underestimate the competition. It's always crazy times in the Junior WRC and we have to do everything we can to fight for stage wins and rallies.
Q:
You are scoring points for every stage win out there, so to be at your maximum at all times is your key focus in the junior category.
WC:
Yeah, the last two years in the championship it's been fierce competition and everybody was not far away in terms of the pace. It's taught me a lot over the last two years and I hope we can bring that forward into this year and fight for more stage wins and fight for more rally wins. But as I said, it's great to be back here in Sweden, shakedown was pretty tricky with the ruts and quite narrow towards the end. This week with the build-up to the junior WRC has been exciting with a lot of new drivers. The catering has got a lot of nice pineapple juice which is giving us lots of energy! But it's been good.
Q:
In the junior category you are really taught what it takes to be a world-class driver.
WC:
Yeah, of course. All the drivers, we eat together and we do a lot of team building activities before the event. You're working a lot with your rivals as well so it's quite interesting. It's a good way to learn and speak with engineers and work with M-Sport who are a professional works team. From that side of things it's really good and from my own training with the Motorsport Ireland Academy it's been a busy winter and we've had a few sessions running up to the start of the year. Feeling prepared but we are going to have to keep working throughout the year to do our best.
Q:
Robert, we turn to you as our reigning FIA Junior WRC champion. You begin the first of your prize drives here in Sweden as part of WRC2. How has the Fiesta MK2 felt at shakedown? Excited?
RV:
Obviously excited, yeah. It's a big step for me which has been a part of my dream, so I'm really happy to be here.
Q:
You recently competed at Rally Elverum in Norway, was that a good chance to get acquainted with the car? Did it help in terms of preparations for this event?
RV:
Yeah, I hope so. The car is quite different from what we have here and what we had in Norway. Some small differences, but every kilometre you can drive fast it helps.
Q:
What is your aim?
RV:
No one wants to come to a rally and drive slow. But I have to be realistic in the beginning at least because I have done only one day of testing with the car and still there is quite a lot to discover. So my goal is to start with a clear head and just enjoy myself, and raise the speed as everything is feeling fine.
Q:
What would be your advice for the Junior drivers for this season? What is the key to success?
RV:
Drive fast.
Q:
Anything else other than that?!
RV:
I mean if you drive fast it's obviously good to stay on the road, then it makes more sense.