This page contains archived information and may not display perfectly
WRC - Rally Portugal - Press Conference
Transcript of the pre-event Press Conference organised by the FIA for the 2019 Rally Portugal.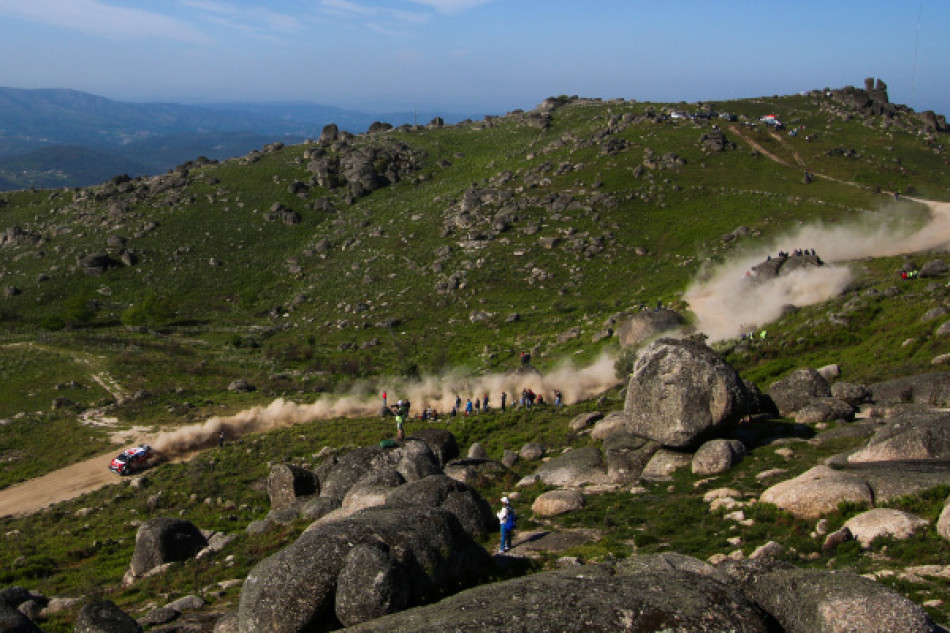 FIA WORLD RALLY CHAMPIONSHIP
Present:
Sébastien Ogier (FRA), Citroën Total World Rally Team
Ott Tänak (EST), Toyota Gazoo Rally Team
Sébastien Loeb (FRA), Hyundai Shell Mobis World Rally Team
Gus Greensmith (GBR), M-Sport Ford World Rally Team
Q:
Sébastien Ogier, you lead the championship as we head to Portugal. A new challenge presents itself here with new stages added that hark back to the history of the event. What do you think about Friday's stages?
Sébastien Ogier:
Like you mentioned, Friday is a short day but it is more a matter of sorting a good position tomorrow night. It is worse to open the road on Saturday. It is a difficult weekend ahead. The positive is that we are leading the championship and that is good news after six rounds. We need to carry on. It is becoming an open championship between Ott, Thierry and me. We have a target to be consistent and not aim too high. That is not realistically possible this weekend.
Q:
What was your feeling about the car at the Shakedown?
SO:
The times were not so good. We were last in shakedown. We tried what we shouldn't do. But we had a good test in Sardinia two weeks ago and I am happy with small steps we have done. I believe we have moved in the right direction and know what we need to do. We need to wait a bit longer for new parts I want on the car. We need to be consistent and stay in the title fight. It is almost impossible to score big points when you are leading the championship. You have to make the big difference on the last four rallies of the season.
Q:
What actually went wrong on the Shakedown?
SO:
I actually had a first pass set-up on the second pass and the first pass one on the second one. It was more rough than I expected. I did not push too hard on the tarmac. I wanted to save tyres. I am not worried by the Shakedown.
 
Q:
Gus Greensmith, the dream is about to become a reality this week, you make your debut in a WRC car with M-Sport. Firstly, how are you feeling ahead of this weekend?
Gus Greensmith:
It went well on Shakedown and it was just the pleasure of driving a WRC car. Apart form a couple of mistakes, it was better and better but I know I still have some time to find.
Q:
How was your pre-event test? What is the strategy for this weekend? Have you had specific instructions from the team?
GG:
It would be a waste to put in into the trees. For me, this chance to drive is important and I need to get the experience. I have the knowledge of the stages on Saturday and Sunday and I will try and progress my speed as the weekend goes on. The car is easier to drive and it's easier to find the limits, but a test is very different to a rally. The pace-notes need to be working.
Q:
Guys, what advise would you offer to Gus before the start?
Sébastien Ogier:
Well, he looked pretty good on the Shakedown for the first time this morning. I was not much good as a reference. I guess, when you are young and up and coming, you are very passionate and want to show what you can do. This is the normal process and you start to make mistakes. The best advice is to stay on the road as long as you can and enjoy.
Sébastien Loeb:
I agree with what Seb (Ogier) said. The most important thing when you start is to think that you will be in the fight. You don't want to go too fast and stay clear in the mind.
Ott Tänak:
I think all these words come from wise champions. I believe that, once you have your helmet on, you should enjoy and stay as long as possible on the road.
Q:
Ott Tänak, a brilliant result in Rally Chile puts you into second position in the championship. This event was short-lived for you last year, but with the changes made to the itinerary, do you feel you won't be at a disadvantage?
Ott Tänak:
I am a happy man and looking forward for tomorrow to have an advantage over these guys. I believe it looks like it's going to be a white hot pace and fast roads. The characteristics suit me and the car quite well. It has been dry for a long time. It is going to be a hot weekend and not easy from our position. But we need to fight hard for a position for Saturday to have any chance to fight for the podium. I am sure there will be some mixed tyre choices over the weekend. We have high temperatures and the roads are sandy in places. It is not straightforward to have one tyre or the other. Road position is a factor and there are many things to take into account.
Q:
Sébastien Loeb, this event is an added extra for you. When the team asked if it was possible for you to do it, did you have to consider it for a while or did you jump at the chance?
Sébastien Loeb:
I had to think about it a little, but not for long. After Chile, on Sunday evening, I went to speak to Andrea (Adamo). He asked me to come to see him and asked if I was free. I checked the calendar and thought that it was a good idea. I was supposed to be away until Rally Germany, means coming back three months later and that would have made it difficult to get into a rhythm. Now, I am doling two rallies in a row on the same surface. This is a better plan, that's why I decided to come.
Q:
Although you have competed in Portugal previously, you haven't rallied on the stages in the North. What are your thoughts on these stages?
SL:
It was okay. It was starting difficult on the Shakedown. I am not a champion of Shakedown. The feeling was quite good. The first day is new and we are all in the same situation, except Seb (Ogier) who is cleaning the road. No one knows the stages and that is good for me. For the second and third days, it will be difficult fore me to take notes on roads that the other drivers know well.
Q:
Do you continue with that good feeling that you had in Chile? How did the car feel at Shakedown today? What are your expectations here?
SL:
I have the confidence and it was nice to have the speed in Chile. For the rest, it is another rally. I've had rallies before when it was not working well but I will try, There are no plans for any more WRC rallies at the moment. I need some holidays. I should do one more and, for the rest of the season, nothing is planned.

QUESTIONS FROM THE FLOOR
Reiner Kuhn Motorsport Aktuell (DEU)
Q:
Hyundai have homologated a new front diff. Do you use it here?
SL:
Yes.

FIA WRC 2 PRO CHAMPIONSHIP
Present:
Jan Kopecký (CZE), Škoda Motorsport
Lukasz Pieniazek (POL), M-Sport Ford Rally Team
Q:
Jan Kopecký, it's the debut of the brand new Škoda Fabia R5 in the championship this week - tell us about the car? How more advanced than the previous version do you feel it is?
Jan Kopecký:
The feeling has been very good. The Shakedown is not the same as the special stages. It is easy to drive the car. A test is a test and rally is rally. Let's wait to see the rally pace. It is difficult to find the real improvements. It is small details and the suspension and the engine. Hopefully it is better. I did one rally in Czech Republic on tarmac and it was a good test.
 
Q:
The last time you competed here was in 2016, how confident are you of a good result this weekend?
JK:
I honestly have no expectations. The last time I drove in the FIA WRC was in Spain. On gravel, I will try to be as fast as possible and make no stupid mistake on the first stage.
Q:
Lukasz Pieniazek, you return to the championship after missing Argentina and Chile. You were second in the FIA WRC 2 last year, does that give you good confidence ahead of the weekend?
Lukas Pieniazek:
Of course. I like Portugal very much and the stages really suit me, I look forward to Saturday and Sunday. Friday is new for everyone and will be a big challenge. I will start cautiously and see how it goes. 
Q:
What are your thoughts on the new stages we see this year?
LP:
From the pace-notes side, it is a big challenge. Many parts are narrow and you have to be exact with the notes and the speed in the corners. I was expecting a bit more (pace) from my side and we are waiting for more. I like Portugal very much and these stages I have done it twice in the past. I know I can be strong.

FIA WRC 2 CHAMPIONSHIP
Present:
Ole-Christian Veiby (NOR)
Bruno Magalhães (PRT)
Q:
Ole-Christian Veiby, third in the championship right now as we head into Portugal. Two strong opening rounds from you - what can we see here?
Ole-Christian Veiby:
Absolutely, it's great to be here. I have not been here since 2016. I've done the recce in 2017 and 2018, I know the stages well and like this rally. I can't wait to get started and it's nice to be back in the FIA WRC 2. Hopefully we do a good rally and get on top of the championship. 
Q:
Last time you did this event was in a R3 - a different prospect to a R5. What have you been doing to prepare?
OCV:
It's been a good season so far. We have a new car this season, it feels really good and I feel at home in it. We have a good feeling here on gravel – this is the first proper one on gravel with the car. For me, the new stages is a positive thing. Many drivers have done this rally more than me and I am normally good on new stages. It is an advantage for us to see new stages in the itinerary.
Q:
Bruno Magalhães, welcome back to the FIA WRC 2 Championship, we have to look back to 2013 to see the last time you competed on your home event. Looking forward to it?
Bruno Magalhães:
I am very happy to be here in the Rally of Portugal, the main rally in our country. It is a big pleasure to take part to it. For the last years, I have been in the FIA European Rally Championship. I did not take part here since 2013. This is 90% new for me. I made some stages in Fafe and other stages were on the opposite side (Algarve). I also need to think about the Portuguese Championship. The last time we were in the Arganil area was 2001. Memories of that rally were not so good. It was a disaster for everybody. A lot of cars were blocked in the mud. There was so much mud that weekend.
Q:
Your recent rally career has mainly spent in the FIA ERC, how do you feel you will compare to the field in FIA WRC 2?
BM:
I don't know, to be honest. I never competed before with 80% of these drivers. I don't know what to expect. It will be difficult to see what position I have because I need to fight for the Portuguese Championship. That finishes in the middle of Saturday and then we can get more of an idea.