This page contains archived information and may not display perfectly
WRC - Rally New Zealand - Pre-event press conference transcript
Transcript of the pre-event press conference organised by the FIA for the 2022 Repco Rally New Zealand on September 29, 2022.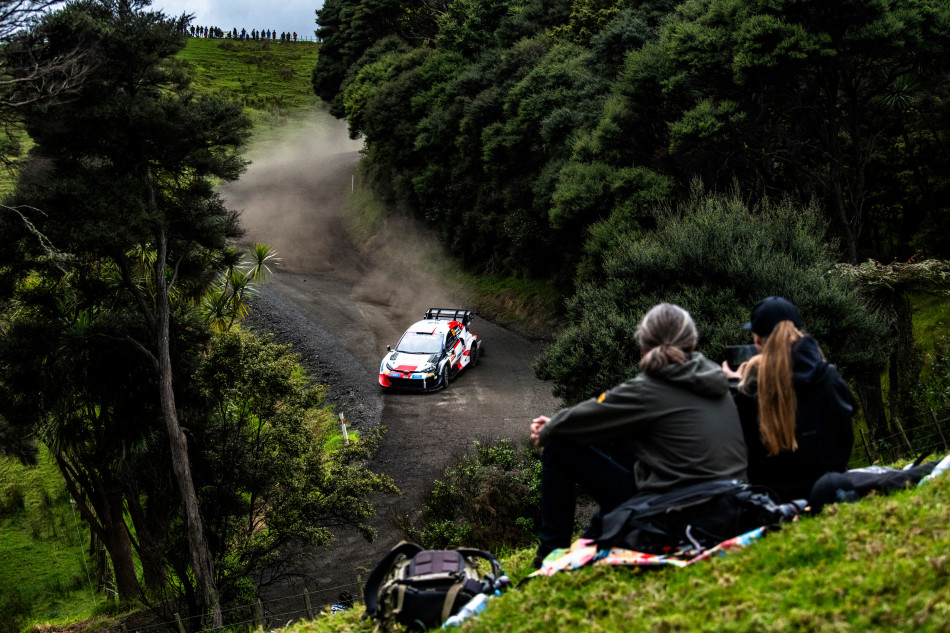 FIA WORLD RALLY CHAMPIONSHIP
Present:
Toyota Gazoo Racing WRT – Kalle Rovanperä (FIN), Toyota GR Yaris Rally1 Hybrid 
Toyota Gazoo Racing WRT – Sébastien Ogier (FRA), Toyota GR Yaris Rally1 Hybrid
Hyundai Shell Mobis WRT – Ott Tänak (EST), Hyundai i20 N Rally1 Hybrid
M-Sport Ford WRT – Craig Breen (IRL), Ford Puma Rally1 Hybrid
M-Sport Ford WRT – Lorenzo Bertelli (ITA), Ford Puma Rally1 Hybrid
Q:
Tell me what it feels like though to be back and when did you decide that absolutely you would do Rally New Zealand?
Sébastien Ogier (SO): 
It's great to be here to be honest. I had a nice summer but for sure I always had in mind the rally at the end of the year, especially New Zealand. Like you said, I've been here only once but I think when you compete here once, you definitely want to come back. It's beautiful roads to drive in world rally car so yeah, about the story, we can go through it again but it's still a good memory for me that I was fighting for a win, my first win back then with Jari-Matti, with Seb Loeb, and Petter even back then so it was not happening here for me. Luckily it happened short after that, but yeah, I'm happy to be back and looking forward to the weekend.
Q:
It was Jari-Matti of course who took the win then, he's team boss now. Has he been kind of winding you up about this weekend or not?
SO:
I think you know Jari, he like to tell story anyway but he's not the kind of guy who want to show off or anything, so I think of course we went through it a little bit and actually I always watched this moment like four corners from the end where I spun and lost it, but I never re-watched like a bit more than that, like the whole stage for example, and when I watched it, it felt that it should have happened actually earlier in the stage. I was pushing a bit too wide back then so, it's a story like this which make our sport as well and yeah, back then I think he deserved that win. I have an opportunity this weekend and it won't be easy I'm sure, three months out of the car and it's a fast rally where you need the confidence so I need to find it quickly because those guys are pushing very hard but maybe the road position can help us a bit. If it's dry definitely, so let's see.
 
Q:
Give me an idea what it felt like on the recce because it's 12 years since you've been here. That's a long time and you've been to so many different rallies, gravel events around the world. To go on the recce and see those stages again was it 'oh yeah, that's what it's all about'. 
SO: 
Yeah it was but still it, I felt it changed a little bit. Whaanga Coast remains the same beautiful flowing profile, I mean it's everywhere the same but globally I think it got a bit wider and faster compared to 12 years ago. I think for me now, it's even more closer to a Finland profile, a rally like this or even Estonia maybe. Different ground but for the profile, for me, a little bit different but it remain beautiful so I think the decision to come here is definitely a good one and now I want to enjoy the weekend.
Q: 
Do you agree with that, that it's more of a Finland or Estonia profile from what you've seen? First time, fresh eyes on this rally. 
Kalle Rovanperä (KR)
Yeah, it's mainly quite wide and fast for sure, it's a bit more technical in a way. We have a bit less straights, all the time corner to corner combinations but yeah, for sure, some sections are also quite fast. 
Q: 
Does it live up to expectations? Because you would have seen it on many YouTube videos, photographs, heard the stories from your Dad, does it live up to the hype when you get here? 
KR: 
Yeah of course, the stages are really nice. I think if you really get everything right,  you will enjoy them. But of course you need to have a good confidence like Seb said. A good flow through the stage but yeah I think then it's really enjoyable when everything goes right. 
Q: 
And how are the confidence levels feeling right now?
KR: 
Pretty good. For sure the last few rallies has not been the best for me but yeah, I think after Greece, we fixed some things on the car to make it faster, more enjoyable so for sure, everything should be better now and hopefully we can enjoy the weekend. 
Q: 
And obviously again the title is on the table. How much do you focus on that or do you try and ignore it and just try to enjoy this amazing event, or is it front and centre in your mind? 
KR: 
Of course, you think about it and especially after the first rallies has not been so good for me so you feel that you need more to get a good result and have the points but I think anywhere, you just try to focus on the event and try to make it a good event and that's the best way to have the best result also. 
Q: 
What do you think is going to be the toughest aspect of this rally this weekend? 
KR: 
I think for me it's clearly the Friday opening the road, really long day, lots of loose gravel on some stages on some parts, so for sure I think it's not going to be easy to be first car there and we need to try to focus on Friday to make a good job. 
Q:
Ott, you were here back in 2012 - good to be back It was a long time ago – how pleased are you to be back in New Zealand? 
Ott Tänak (OT): 
The roads are a great characteristic. For sure it is great to be back. Trying to think back 10 years is a bit tricky. I can remember being here, I remember the (Sky) Tower and generally it looks quite good. 
Q: 
You have been out to do recce. How abrasive is it and how hard will it be on tyres?
OT: 
The main thing here the road surface is hard. Today in shakedown we saw the first ground and starting the second group was day and night, so the hard surface is coming out quite quickly and the road should stay in a good shape. That is the best thing about New Zealand.
Q:
You have come off a good result on a fast rally and this is fast. How much confidence do you have coming in and how much are you still thinking about the title? Mathematically it is still possible.
OT: 
Of course we try to push. We do not have much to lose. We like to do a quick rally for a good result. I hope we have a good feeling in the car. Rally itself is quite unique. We have to do a couple of stages to see where the confidence-level is. Other than that with the world championship, it is not in our hands. It has not been in our hands for a long time. There has bene some mistakes from Kalle so given us some hope. Realistically there is nothing we can change much. We can only do our job and see. 
Q:
Friday is huge day with some iconic stages and without mid-point service. Toughest challenge of the weekend?
Craig Breen (CB): 
It's been nice. As everyone has said, the roads here are amazing. They are made to go out with rally cars and race. They have been great so far. Even the shakedown today, even though it was short and sweet and probably not the best of roads we have here, it was still extremely good compared with other events that we have been to this year. Regardless of what the weather does, it is going to be an enjoyable weekend.
Q:
It has been a tough few events for you, how is the confidence going into this one?
CB: 
It has been tough. It is hard to believe that a fifth in Greece was actually a positive. It was a step in the right direction. The speed was good. We have wiped the slate clean and give it a good go here. We have a good road position for Friday and about taking this one in. It has been 10 years since this championship has been here so I feel lucky to be part of it and try to take it all in and enjoy it. It is a big experience here.
Q: 
You've not been here before and it's not been in the championship before – how did you prepare for what is to come?
CB: 
We tested on a nice dry tarmac in Spain last weekend – that was useful. Apsrt from watching on-boards – I am glad Sev said his onboard from 20109 was a bit out of control – I watched it last week and there was 10 to 15 places that it was nearly already over before the last part - It was impressive.
Obviously all the on-boards are 10 years old – so they are not great quality – so we are not quite as prepared as we might be in more traditional rallies. Still I had a fair idea of what to expect but it was not until you get into the car and see with your own eyes that you can appreciate how good the roads are. It's really great.
Q:
Lorenzo, welcome back to New Zealand. In 2012 you were competing in the PWRC in a Subaru Impreza, this time its WRC with Puma Rally1. How much are you looking forward to it in a hybrid?
Lorenzo Bertelli (LB): 
I always say that I want to come back to New Zealand in a proper car and finally this year we can manage to do it. Also last time I was here Simone was not here – he had broken rib from Barum Rally so he could not make it for this rally so it is a nice coincidence that he is here this time. I have great memories from the roads and stages here to just enjoy because roads are so nice and I have great memories.
Q:
How did you prepare for this rally.
LB: it is the usual things we do before a rally if I am not fulltime in the WRC it is important to do always the same things and always approach the rally as though you are doing them properly.
This year there are no more rallies unfortunately but may be next year we will do more than one. 
Q:
What is your target for this weekend?
LB:
First of all to enjoy it. Try to have a serious pace and don't get slower in others. Enjoy first of all but it is going to be great, because the stages are amazing.
Questions from the floor
Gary Boyd, Repco Rally New Zealand media liaison.
Q: 
You are not allowed to answer Whaanga Coast – is there any other stage in RNZ that you like the look of?
SO: 
First of all I do not know the names of the stages other than Whaanga Coast. There is many nice sections – may be the Sunday is a little different and more artificial than the others, but we will enjoy many of them. The short stage which is the last one on Saturday (Te Akau North) it is short but very fast with nice crests to jump and I think it is going to be a nice one.
KR: 
The first one I do not really like – too much cleaning and I don't like too many twists and turns. I am not sure which one I like the most.
OT: 
They are all nice.
CB: 
The second one of our loop tomorrow (Te Akau South) is very nice.
LB:
They are all nice. I like the second one tomorrow and the short one that Seb mentioned. 
 
FIA WRC2 CHAMPIONSHIP
Present:
Hayden Paddon (NZL), Hyundai i20 N
Kajetan Kajetanowicz (POL), Škoda Fabia Evo
Ben Hunt (NZL), Škoda Fabia Evo
Shane van Gisbergen (NZL), Škoda Fabia 
Q:
Kajto, welcome to New Zealand! First time to compete for you here, what have you thought of the experience so far?
Kajetan Kajetanowicz (KK):
It is a beautiful island. There are amazing stages during the recce. I am in one piece after recce, but we will see after the stages. The stages are amazing, I have never seen stages like that. You can't write all the numbers for these cambers – they are very hard. It is not easy to be fast here if you have not been here before
Q:
You are currently fourth in the WRC2 Open standings, how much pressure are you feeling to score maximum points at your remaining events?
KK:
Of course, I will have pressures. I do not lie. I try to focus on my job, as good as possible. 
This is my plan for this rally. They are amazing stages and I am shaking thinking of these amazing stages and I am smiling every time.
Q:
Talk to me about the iconic stages with Whaanga Coast which is a tough start to the rally:
KK:
It is a long stages, and very famous. It is a long day and a big challenge. It is a big day but we will see, it is the same for everybody. 
Q:
Shane, four rallies under your belt and now its time to rally at your home WRC event here in NZ. Firstly, how does a super successful supercar driver decide to give rallying a go and how does it compare to what you're used to behind the wheel?
Shane van Gisbergen (SVG): 
It is pretty cool to be here and have the car on show. It is pretty special to be in the line-up with these guys and all the WRC1 cars as well. It is pretty surreal. I have to focus on the driving. I still have a lot to learn. The notes – you can't write enough. I don't know what I need to process. Whaanga Coast – I have never done it before and was just taking it in on the first pass. It is a pretty tough stage. I wish that was on Sunday, when I am up to speed because tomorrow is going to take me a long time to settle in and get the speed up. I am here to have some fun and make it to the end.
Q: 
It looked like you said you had so much fun today and that was just shakedown?:
SVG:
Rally is awesome. I love driving rally cars and so cool to be here. I am a bit nervous about tonight – I've never done a donut in a four-wheel drive car before and we have to do some donuts around barrels I hear – I will freestyle that or practice it in the recce. 
Q:
Tell us about the process of putting the notes together – that is probably the hardest thing stepping from the world you came from to rally?
SVG: 
I think I can drive the car pretty fast. At Jack's Ridge in the rally sprint I was quite quick but like you see today, I was six or seven seconds off the pace. I have all my notes written but I come up to the corner and back off and I should have been flat. The second run was five seconds. I do have a lot to learn. I am not trying to rush it, just learn as I go and learn from the mistakes.
Q: 
Has anyone given you some golden nuggets of advice?
SVG: 
Hayden has been very good and open but the  iggest thing is seat-time. The more I do, the more I learn and the better I go. My co-driver Glen is very experienced and very accomplished – he can fell when I make a mistake and give me a word or cheer me on. 
I think sometimes I swear a lot when I am driving – I talk to myself – he hears that and calms me down. I need to find the switch so you can't hear…
Q:
Hayden, finally the WRC has returned to your home country of New Zealand. Firstly, how does it feel to have the championship back here?
Hayden Paddon (HP):
Well, it's very Welsh weather, isn't it? It's awesome. We've obviously waited a long time for it to come back and to be honest things have been so busy over the past few months, the buildup to this has gone too quick. We haven't been able to enjoy actually being back here so I'm actually just looking forward to being back in the car tomorrow and actually just mallow out – put the helmet on, put the phone away and forget about everything else and just relax and enjoy some of these awesome stages.
Q: 
Can you relax though? Here at your home event.
HP:
Of course! You always perform best when you're relaxed so you know, you've just got to rely on the work and preparation that we've done. Obviously, we've got an awesome team, so I've got full trust and faith in what they've done, and I've just got to get in and relax. We've got good pace notes, obviously we've done these stages about three or four years ago, so have a little bit of knowledge so we've just got to get in the car and relax and just let things happen naturally. 
Q: 
It's a great line-up having WRC2 as well. It's not going to be easy to get onto the top step of the podium there.
HP:
Oh of course not and you can never take anything for granted. Particularly on a day like tomorrow with limited servicing. So not only do you have to be fast, you've got to be clean, you've got to be precise, you can't have any problems so yeah, these stages they can bite, you have to find that sort of happy middle ground if you like between pushing and under-driving like Ben was saying. So yeah, we're looking forward to a good challenge and we'll do the best job we can and for sure it's going to be close competition. 
Q: 
Like Kaito said, it's a long day tomorrow – there's no mid-point service. Is it the most challenging day out there tomorrow or do you pick something else?
HP:
We say long but I reckon we're going soft because 10 years ago in 2012 this same day was 200 kilometres as we had another 30-kilometre stage. Now it's 160 so it's actually a lot shorter than it used to be, so I think it's fine. The roads are smooth. As long as you keep it in the middle of the road, then you should be able to look after the car and it's just a matter of get in there and enjoy it. 
Q:
Ben, what a great season you've been having in the New Zealand championship, and now its all in tied in with WRC and WRC2 this weekend. Firstly, give us a bit of a flavour of how you're feeling to have the WRC back in NZ?
Ben Hunt (BH): 
Yeah it's so fantastic to have the event back. It's the first time I've actually done Rally New Zealand in a four-wheel drive car. The last two times was in a little two-wheel drive car so yeah can't wait to get out there and attack Whaanga Coast. I've never had a good run through there, I've always been hard on tyres and ended up popping six tyres the last few times but hopefully this little Škoda is a lot more nimble and we can get through clean. Big rally to go. 
Q:
There are many stages here at Rally New Zealand but Whaanga Coast is the one everyone seems to hone in on and focus on. Why? Why is it so special? 
BH:
It's got so much in it and you know, the road changes probably three or four times throughout the stage and yeah, like I said it's so gnarly and hard to actually get through. You know you can overdrive the car and be really hard on tyres or underdrive and get smoked by everyone else, so you know we just need to go through there nice and consistent. Try and get through and conserve everything. 
Q:
How was shakedown this morning for you? Are you happy with everything?  
BH:
Yeah I was actually probably pretty nervous. I don't really like having onboard cameras in my car but yeah to have that in there and probably thinking about everything too much but yeah it was awesome bit of road and good way to get into the rally. 
Q: 
What's the pressure like on your shoulders coming into this weekend? Everything I've just mentioned plus your home event as well, how is the pressure for you? 
BH: 
Yeah once I put the helmet on, I relax and all this sort of stuff it gets pretty full on but once you get the helmet on tonight, it'll all be under control. 
Q:
And what's this stage like tonight? It's in the heart of the domain – talk us through it.
BH:
Yeah that's going to be awesome for the spectators and there will be heaps of people out there and good to put on a show. Especially those WRC1 cars, they will be spectacular to watch and looking forward to just getting into the rally and getting out on the gravel in Raglan. 
Questions from the floor:
David Long, Sunday Star Times (NZ)
Shane – in Supercars, you're very successful and very experienced, but coming here do you feel like a rookie again coming into this? 
SVG:
Yeah – like she was saying, it's only my fourth rally or something so I'm going to be a sponge and keep learning and getting quicker and quicker, so I just know it's going to take time and I'll be patient and not force it. 
Q:
So, what about rally and how much more are you looking to do after this?
SVG:
I'd love to do more rally like it's my family background and seeing how stoked Dad is to be here and how involved he is in our little team, and he's got his Escort out there on Sunday at Jacks Ridge, yeah. Hope to do more next year and especially New Zealand. Like the New Zealand roads are epic so it would be cool to do a bit more of the New Zealand Championship next year. 
Q:
And Hayden – how much more improvements have you found in the car? 
HP:
We've certainly found more in the suspension side of the car so we found a bit more but until we can strip the car down and rebuild it our own way for next year, then we're only sort of just decorating things around the fringes a little bit at the moment.