WRC - Rally Italia Sardegna preview
The FIA World Rally Championship competitors get their second dose of dusty gravel action in a short time when Rally Italia Sardegna stages round five of the 2021 season on 3-6 June.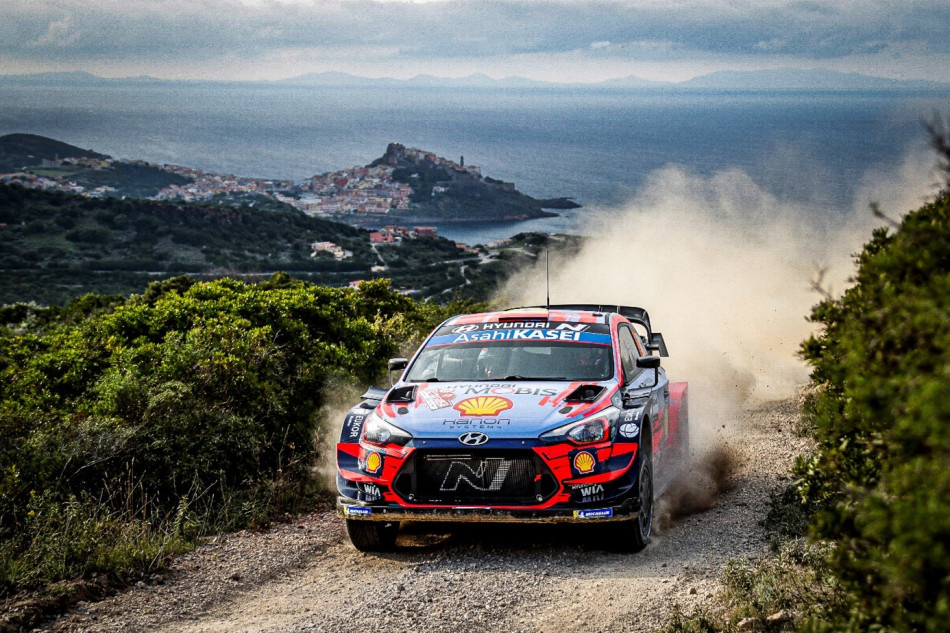 After last year's edition was moved to October, the popular Mediterranean island event returns to its traditional June date this year. There is also a change of host city, with the Service Park switching to Olbia following seven years in Alghero. The challenge remains similar as always, with fast but narrow stages lined with rocks and bushes. Temperatures should be among the highest of the whole season.
Toyota duo Sébastien Ogier and Elfyn Evans are separated by two points at the top of the championship after finishing third and first respectively last week in Portugal. On a rally that Hyundai has won in each of the last three years, the team's challengers Thierry Neuville and Ott Tänak won't be missing a chance to regain ground following disappointments in Portugal, which left them 22 and 34 points off the overall lead respectively. Their team-mate Dani Sordo, meanwhile, is chasing a personal hat-trick of wins in Sardinia.
While Kalle Rovanperä seeks a return to form, Toyota's Japanese protege Takamoto Katsuta heads to Sardinia with a freshly scored personal best result of fourth in Portugal. Teemu Suninen returns to M-Sport Ford's line-up in the top category alongside Gus Greensmith, while Pierre-Louis Loubet rounds out the World Rally Car entrants in his 2C Competition-run Hyundai.
Forced to miss Portugal, FIA WRC2 leader Andreas Mikkelsen will return to action in Sardinia at the wheel of his Toksport Škoda Fabia Evo. He is joined on the entry list by the likes of his team-mate Marco Bulacia and TRT Citroën C3 driver Mads Østberg as well as Adrien Fourmaux, who trades places with Suninen and returns to WRC2 after his first two outings in the M-Sport Ford Fiesta WRC.
Completing the FIA WRC2 line-up, Movisport drivers Nicolay Gryazin and Enrico Brazzoli – a well-known name in Italian rallying – will drive a Volkswagen Polo GTI and Škoda Fabia respectively. United States's Sean Johnston is back with a Saintéloc Junior Team Citroën C3, alongside former WRC driver Martin Prokop (M-Sport Ford Fiesta Mk II) from Czech Republic and Estonia's Georg Linnamäe (ALM Motorsport Volkswagen Polo GTI).
The top three in the FIA WRC3 standings –Yohan Rossel, Kajetan Kajetanowicz and Nicolas Ciamin – all make the trip to Sardinia as part of a 16-car field, with Kajetanowicz eyeing his third win following victories in Croatia and Portugal.
THE 2021 ROUTE
Following Shakedown on Thursday morning, the rally will get underway in Alghero with the ceremonial start in the evening, ahead of the first competitive stages on Friday over familiar roads across the north of the island. Filigosu – Sa Conchedda and Terranova will each be run twice in the morning before service in Olbia, which is then followed by two passes over Tempio Pausania and Erula – Tula. Saturday follows a similar format over more classic roads: The morning loop consists of Coiluna – Loelle and Lerno – Monti di Ala' each run twice, with Bortigiadas – Aggius – Viddalba (last run in 2005) and Sedini – Castelsardo taking centre stage in the afternoon. Sunday features a new look in the island's northernmost tip, with two runs over Arzachena – Braniatogghiu (last visited in 2009) and the entirely new Aglientu – Santa Teresa test, where the rally-ending Wolf Power Stage will be held.
MEDIA ACCREDITATION
Media accreditation and attendance is strictly managed with modified terms under COVID-19 regulations. All attendees are required to comply with the COVID protocol as defined by the event organisers (please refer to Bulletin 1 - see the Virtual Notice Board in the Competitors section on the event website).
Media accreditation must be collected personally by accredited Pass Holders at the Accreditation Desk, located at Rally HQ - Centro Commerciale Gallura – Zona Industriale – Olbia.
Google Maps link: https://goo.gl/maps/9kJ1qHjq8XuDE2MS9
The opening hours are:
Tuesday 1 June: 14h00 – 20h00
Wednesday 2 June: 08h00 – 20h00
Thursday 3 June: 07h00 – 18h00
Friday 4 June: 07h00 – 14h00
2021 WRC RALLY ITALIA SARDEGNA TIMETABLE AND MEDIA OPPORTUNITIES
| | |
| --- | --- |
| Wednesday, June 2  |   |
| Mandatory media safety briefing via video conference (details TBC) | 17:30 hrs |
| Family photo with P1 drivers, sea front behind the Archaeological Museum | 19:10 hrs |
|   |   |
| Thursday, June 3 |   |
| Shakedown for P1 drivers & invited competitors, Loiri Porto San Paolo | 09:00 – 10:30 hrs |
| Shakedown for P1, P2 and P3 drivers, Loiri Porto San Paolo | 10:30 – 12:30 hrs |
| Shakedown for non-priority drivers, Loiri Porto San Paolo | 12:30 – 14:00 hrs |
| FIA Press Conference, via video conference (details TBC) | 13:30 hrs |
| - FIA WRC3 | 13:30 hrs |
| - FIA WRC2 | 13:40 hrs |
| - FIA WRC1 | 13:50 hrs |
| Ceremonial start, Alghero podium | 19:00 hrs |
|   |   |
| Friday, June 4 |   |
| Start of Section 2, Alghero | 05:45 hrs |
| First car arrives for media zone, technical zone & service (TC4A), Olbia SP | 12:51 hrs |
| First car arrives for media zone, technical zone, & service (TC8A), Olbia SP | 20:21 hrs |
|   |   |
| Saturday, June 5 |   |
| Start of Section 6, Olbia Service Park | 06:45 hrs |
| First car arrives for MZ, regroup, tech. zone & service (TC12A), Olbia SP | 13:20 hrs |
| First car arrives for media zone, technical zone & service (TC16A), SP | 20:50 hrs |
|   |   |
| Sunday, June 6 |   |
| Start of Section 10, Olbia Service Park | 06:10 hrs |
| First car arrives for media zone after having checked in at TC20A, Olbia SP | 13:50 hrs |
| Podium Ceremony & Price Giving, Olbia Molo Bosazza | 15:00 hrs |
| FIA Press Conference, via video conference (details TBC) | 15:30 hrs |
FIA PRESS CONFERENCE ATTENDANCE
| | |
| --- | --- |
| Thursday, June 3 | FIA WRC3  |
|   | Yohan Rossel (FRA) |
|   | Emil Lindholm (FIN) |
|   | Alberto Battistolli (ITA) |
|   |   |
|   | FIA WRC2 |
|   | Toksport WRT - Andreas Mikkelsen (NOR) |
|   | Movisport – Nicolay Gryazin (RUS), Volkswagen Polo GTI |
|   | Saintéloc Junior Team – Sean Johnston (USA), Citroën C3 |
|   | M-Sport Ford WRT - Martin Prokop (CZE), Ford Fiesta Mk II |
|   |   |
|   | FIA WRC |
|   | Toyota Gazoo Racing WRT – Elfyn Evans (GBR) |
|   | Hyundai Shell Mobis WRT – Ott Tänak (EST) |
|   | M-Sport Ford WRT – Gus Greensmith (GBR) |
|   | Hyundai 2C Competition – Pierre-Louis Loubet (FRA) |
|   |   |
| Sunday, June 6 | Winning FIA WRC3 Championship driver |
|   | Winning FIA WRC2 Championship driver |
|   | Top three drivers in the overall classification |
|   | Representative of the winning manufacturer |
MANUFACTURER WRC ENTRIES, 2021 WRC RALLY ITALIA SARDEGNA
| | |
| --- | --- |
| Toyota Gazoo Racing WRT | Sébastien Ogier (FRA) / Julien Ingrassia (FRA) - #1 |
|   | Elfyn Evans (GBR) / Scott Martin (GBR) - #33 |
|   | Kalle Rovanperä (FIN) / Jonne Halttunen (FIN) - #69 |
| Hyundai Shell Mobis WRT | Thierry Neuville (BEL) / Martin Wydaeghe (BEL) - #11 |
|   | Ott Tänak (EST) / Martin Järveoja (EST) - #8 |
|   | Dani Sordo (ESP) / Borja Rozada (ESP) - #6 |
| M-Sport Ford WRT | Gus Greensmith (GBR) / Chris Patterson (IRL) - #44 |
|   | Teemu Suninen (FIN) / Mikko Markkula (FIN) - #3 |