WRC - Rally Italia Sardegna - Pre-event Press Conference Transcript
Transcript of the pre-event press conference organised by the FIA for the 2021 Rally Italia Sardegna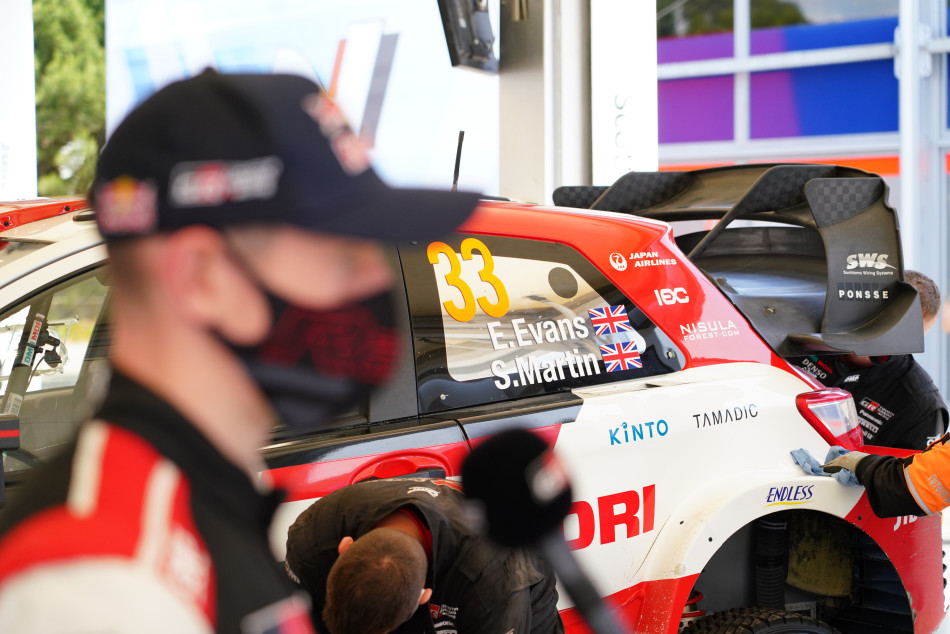 FIA WORLD RALLY CHAMPIONSHIP
Present:
Toyota Gazoo Racing WRT – Elfyn Evans (GBR)
Hyundai Shell Mobis WRT – Ott Tänak (EST)
M-Sport Ford WRT – Gus Greensmith (GBR)
Hyundai 2C Competition – Pierre-Louis Loubet (FRA)
Q:
Elfyn, was a win in Portugal which really feels like yesterday, we're very quickly into Sardinia. Didn't have time to celebrate?
EE:
It was quite a busy week. I didn't go home after Portugal, straight to the test and then home to change a bag and off again really. It's been busy between the two, as I'm sure it has been for everyone.
Q:
It's been Hyunda's island for the last four years, and it's a case of maybe you put it on yourselves because you and Ogier are first and second going into events normally. Is it going to be a tough event to try to come back from being second on the road?
EE:
It's no doubt that the road sweeping thing is an issue here, but it's also a long and tough weekend and anything can happen. we saw that all in Portugal to be honest, so we have to just get on with it and see what happens. Particularly this will be a  tough event for car and tyre, and drivers as well I guess, so let's wait and see.
Q:
First time this gravel tyre is seen in this extreme heat, and rougher stages than Portugal. how was the tyre working on the test?
EE:
Let's say in Portugal we had some difficulties. So we could see those difficulties being even more of an issue here, but we don't have so much experience with it so we have to wait and see what happens. But of course with the rougher ground, you would expect that perhaps it's going to give a tougher time for the tyres, especially with these temperatures as well.
Q:
How is it looking out there with the surface in terms of roughness?
EE:
Quite mixed as always with Sardinia, but I would say that we saw here back in October is quite different to what we're seeing here now this weeknd. It's quite a lot more loose, having had no real dampness on the road, so it's more back to a traditional Sardinia summer rally let's say, from that perspective. And in terms of roughness, of course there's some sections which are really nice and smooth, and there are other places which are really challenging for everything. It's typical Sardinia.
Q:
Ott, looks like you're in holiday mode with flip-flops, strong look. This island, you claimed your first podium here, first win as well. Hyundai has had incredible success here. Feel confident looking at the past that you can create a good result?
OT:
We got the first win, but also after we've been really close to win again. Obviously it was not happening, but for the moment it's definitely the target. We're a bit chasing from behind, and when you're chasing it's always important to catch back the points. Especially that three guys at the front, we need to make sure we score more than they do.
Q:
Good position road-wise for tomorrow. This really historically hasn't cleaned as quickly as a rally like Portugal, where would be ideal place on the road?
OT:
As far [back] as possible. Making time to clean, maybe. I don't know, let's see. In spaces, it looks like some roads have been resurfaced and in these places there is more cleaning, other places maybe a bit less. A Elfyn described, we have 10 different stages so every one of them is a bit different. So for sure they will be behaving different for everybody. Anyway, altogether it will be a big challenge for us if we want to fight for victory, then Friday is the critical day for us.
Q:
We change to the other side of the island after seven years. We have newer stages, stages you are familiar with, some reversed. What are you thoughts on the route?
OT:
The route generally is quite colorful. There are stages which are wide, flowing, smooth, very nice. And other roads small like maybe tracks, between huge stones, and really narrow and twisty. So a bit of everything.
Q:
Happy this morning with Shakedown?
OT:
Yeah, everything was working nice and smoothly. It was a good shakedown for the weekend coming ahead.
Q:
Gus, Stuart Loudon co-driving this event. Why has that happened?
GG:
So, for personal reasons Chris Patterson couldn't attend this event, happened very sudden in Portugal. So there was nothing we do about it but support his decision and if I was in his position I would do exactly the same thing as well. It's a shame, from the progress we've made over the last two events, but also Stuart is my gravel crew co-driver for Tarmac events so we already have a good relationship and so far this morning a few things to tweak but generally it's going pretty good.
Q:
And he's stepped in for you before?
GG:
Yeah, he's a good substitute co-driver, but his talents definitely mean he should be in a car.
Q:
I'm sure Chris Patterson will be keeping in touch this weekend keeping you on straight and narrow.
GG:
Too much. It's almost like having two co-drivers, I think I said that before. He's texted me plenty, so he's reminded me what I should and shouldn't be doing.
Q:
We saw a step up in performance in Portugal. Confidence and commitment. You put that in Chris's hands, but you're the one at the wheel. Did you notice a difference yourself?
GG:
I think the big step came through the way that Chris taught me to approach the pacenotes, so that was the big change that just seemed to click quite quickly. But then again we also we made some good steps on the car in the test. And this morning, obviously we didn't test for Sardinia here, so there was a few things to change, but on the last pass it felt a lot better so I'm hoping to have a similar performance to Portugal this weekend.
Q:
What's going to be the key thing here for a driver, in terms of strategy, this weekend?
GG:
I mean you look at the guys to the left of me, they're flat-out all the way even when it's rough. Obviously I'm sure they will be calculating in places where not to be cutting, but generally it's still pushing hard, but you definitely have to manage the tyres a little bit more.
Q:
Pierre-Louis, let's talk about Portugal where a small mistake led to retirement. How are you feeling after that, has your confidence been knocked or have you put it behind you?
P-LL:
For sure after Portugal, I was a bit disappointed because after a difficult start to the season, where sometimes it was not my fault, we had some issues at the start of the season. But this time it was completely mine, so yes I was a bit disappointed because you started to think and start to lose a bit of confidence. But we are now on a new race, so I will hope I will do a clean one this time.
Q:
You have a new co-driver alongside you. You didn't have very long for that relationship to start working. How has it been so far?
P-LL:
It's ok, but for sure we will need some time as it's the first time in WRC for him, so it's quite difficult at the beginning. But I'm sure we will do good job together.
Q:
You had your best WRC result here, and also won the FIA WRC2 class. So you have some good experience of this event
P-LL:
Yeah in the past it was always good for me here. In FIA WRC2 we won two years ago. But for sure now it's a bit different, so yes I will try to take this one, to take the confidence back, and to manage to do a very clean one.
Question from the floor
José Luis Abreu, Autosport Portugal (POR)
Q:
Pierre-Louis, being such a young driver, how have you coped mentally with the bad luck this year?
P-LL:
Managing. It's a sport, sometimes it's what happens. And in your career, you have some moments where it's a bit more difficult. But well, it's not the end of the world, I'm super lucky to be here and to do my passion, so sometimes when you see where I am I'm still happy. And sometimes, like I said, it's part of the sport and I'm sure after the rain we have the sun. It's a French expression. So I hope that it will be like this.
FIA WRC2 CHAMPIONSHIP
Present:
Toksport WRT - Andreas Mikkelsen (NOR), Škoda Fabia Evo
Movisport - Nicolay Gryazin (RUS), Volkswagen Polo GTI
Saintéloc Junior Team – Sean Johnston (USA), Citroën C3
M-Sport Ford WRT - Martin Prokop (CZE), Ford Fiesta Mk II
Q:
Start with Andreas, welcome back. Must have been difficult to sit out Portugal knowing how much experience you had there as a driver. Good to be back?
AM:
Yeah, feels great to be back. Obviously it was very difficult staying at home, and in the end I never really felt sick. Was just feeling terrible to just there and not do any driving. But anyway we're back in Sardinia, it feels good to be back in the rally car. Hopefully we can have a good result this weekend. Will be a tough challenge, the roads were quite tough for the cars and tyres, so I think you have to be a bit clever as well. But like I said, I enjoy this type of terrain, and this type of rally, so I'm very much looking forward.
Q:
Last year you did a lot of Pirelli testing here, does that give you any help going forward?
AM:
If I was in a WRC car, yes. But I have never tried these tyres before in WRC2, so it's the first time I've tried them now. So this doesn't give me any upper hand at all. I think other people here know the tyres better than I do, actually. I saw in Portugal that tyre choice was very important, it made a big difference. I don't know the tyres so well, so I just hope we get the correct choices
Q:
It's going to be difficult to make the right choices. We've seen it here in the past, sometimes it does catch drivers out
AM:
Yeah, exactly. And let's see how the weather forecast falls for Sunday, and maybe Saturday as well some rain. Because if we start to use them too much tomorrow then maybe we're in trouble when the rain comes, so it's a difficult choice.
Q:
Martin, we spoke to you at Portugal about your co-driver, who was your Dakar co-driver, Victor, and the relationship between you. But that changes for this event, you have a different co-driver alongside. Where's Victor?
MP:
It's a little bit different now, because I'm working and my co-driver is working as well. He's a lawyer, which is very good to know. So he's good at negotiating. He got some case and he had to stay in the office, so it was quick change for my friend, my co-driver from last Sardinia, so it was OK because we know each other and he has the pace notes from last year so it was OK.
Q:
You are one of the drivers who has maybe the most experience on both sides of island here. Does that give you an advantage this weekend?
MP:
Yeah, I have a lot of memories from this part of the island. I know the stages really well and I know all the junctions and all the changes that they did for this year. So I know this year we were going from this side [in], and this year from this side. But anyway, it's like a new rally because they repaved the stages, it's completely different to competing on them before. So you have to trust the pace notes anyway. I like this part of the island, difficult stages, hard for the cars, so will be not just about driving, it will be also about taking care of the cars and the tyres so it will be interesting driving it.
Q:
What do you make of your pace so far this year compared to your rivals?
MP:
I would have to say it's what I expected. Because I've had quite a long time out of the business, so to come back to the rally and try to make some result with these guys, because they're really doing an incredible job, they are trying to be the factory drivers. So we can see it it, you can feel it. So for me it's a little different because I'm coming from the office, and trying to get as fast as possible to a racing car, but it's not as easy as before. It's a little bit different story for me, but I'm trying to improve during the race and I hope during the season it will be a little bit better than it was in Portugal or Finland. But I don't expect to be at the front. I would like to be of course, but the level is too high, and really the job the other guys are doing is incredible. So I can see the level is really, really high.
Q:
You've famously named your cars. Are we on Fiona evolution 8 with your current car? Why do you give cars names?
MP:
Yeah, I have a name for every machine that I have. The racing cars as well. Fiona is the closest name to Fiesta, because Fiesta is not very nice, so we call it Fiona. And we have Shreck for the Dakar, so it's just names. Easier to call a car if it has its own name.
Q:
Nikolay, battling at the front recently. There's been some problems along the way. How do you think this weekend is going to go?
NG:
I hope there's not any issues. Because we started to improve. In Croatia we had the problem in the Saturday and then Sunday we were off the road. This [Portugal] race we had also issues on Saturdays, but on the Sunday I was on the road. So I hope for this rally we have no issues, and not off the road.
Q:
You said you were taking your time on shakedown, but you were one of the quickest WRC2 drivers through.
NK:
I think it's for everyone it was quite tough. New stage for shakedown, and maybe because of quite hard compound for this stage. Because there's no sense to use soft tyres with the shakedown, so everybody was using the same I guess. I didn't check, but I'd think everybody was using the same hard compound. And it's quite difficult on the first kilometres. This is why I felt like something wrong, just corners for sure it was feeling like a snowman. Since like everybody was getting a bit struggled, because there's no grip in the first corners, and then after it's more or less working.
Q:
Of the stages you've now seen on the recce and the new stages, are there are any you're going to pick out as being a key stage?
NG:
I would say that the Tempio Pausania stage should be [key]. It's a short one. Last year it was the key stage, because there was a big difference between drivers, but this year it seems like it's started to feel a little bit wider and less stones, so maybe there will be not a big difference. But still I think it's the key of the race. And the rest, all stages are quite demanding. Also it's quite difficult with the tyre choices because if you don't go everywhere with the safe choice, you wouldn't be at the finish. But it may not be the performance. So here you need to decide really to understand on which stages if the other tyre of tyre will help you, whether it's too damaged or not. It will be also a tricky one. But it's interesting this season that you are quite limited with the second tyre of choice. You need to work, and you never will have some proper stage where you will have four wheels of the same compounds and you feel like [you have a] constantly straight car. You will have for the time some playing around with the tyres, so it also makes the drivers be adaptive to the car, to the situation.
Q:
Sean, you rescued a tortoise on recce.
SJ:
I hope they get out of the way for when the time the rally car comes through because they don't have the time to stop.
Q:
How has the WRC2 step been?
SJ:
It's been an uphill battle, because Finland was a completely new event for me, and Monte I'd only done in the front-wheel drive equipment. So it'd been a lot of learning and adapting, sort of with my hair on fire these first two events. So I'm very, very grateful now to be here at Rally Sardinia where I have the two years' of experience, once in the Junior WRC and last year in the WRC3, and it's also for Alex [Kihurani, co-driver] and I, it's the first time in our career together that we actually get to bring a set of notes from the previous year forward to roll them forward into the next year. So that's been a new but fun process for us to work on replying the notes from last year. The recce went really, we're excited to have for the first time this new level of preparation coming into an event, so we're excited for it.
Q:
The level in WRC is so high, with drivers like Mikkelsen here. How much are you comparing your pace to that, how good is an indicator to have?
SJ:
I mean it's great. It's why we're here, to compare ourselves against these guys who are sitting here. Maybe it's not realistic to expect for Alex and I to be on their pace right now in this season, but that certainly is our objective, that's our aspiration to be just as fast as they guys. For us, the important thing is just to see that we're taking steps getting closer and closer to them, and at least from what we've seen on the shakedown this morning we took that step on an event and surface that we know a little bit better.
Question from the floor
Tom Howard, Autosport UK (GBR)
Q:
Andreas, M-Sport team principal Rich Millener has said you are a name on the list for potential 2022 drivers. Can you elaborate on that, has there been any contact, and your current 2022 plans?
AM:
Obviously already since last year I've been in contact with M-Sport, for this year as well. In the end I got a very good deal from Škoda and Toksport to do both the WRC2 and the ERC, which was really good in the end. But you know we're still in talks with M-Sport for the future, obviously it will be a very interesting place to be for the future. With the new regulations, I'm sure it will be very competitive. I can't say much more than that.
José Luis Abreu, Autosport Portugal (PRT)
Q:
Sean, can you give us an insight into how rallying is developing in the USA and if public interest is growing for WRC?
SJ:
So I feel unfortunately like I'm a little bit ill-equipped for this question because I have no connection whatsoever to the rallying scene in the US. But yeah I certainly think that Alex and I are doing our best to try to raise the profile of rallying in the US, and we're trying to find more partners to raise the awareness because we would really, really love to see an American round of the WRC in the coming years, which I know is also an objective for the promoter. We're doing our best to try to figure out how we can work together to raise the popularity of this incredible sport in the US, for sure.
Q:
Andreas, the fight for the championship lead is intensifying. Do you think you're at an advantage as your opponents have already done a gravel rally this year?
AM:
Of course I missed some mileage from not doing Portugal. I haven't done gravel with this car since 2017, in Portugal. So it's quite some time. Our test for this rally wasn't really perfect either, it was only half a day running because there was some issues. So I could have had more mileage, but I hope that my experience helps for that and we feel good enough to fight from the first stages tomorrow moring. Shakedown it felt quite OK, so i don't think it will hamper me that much. It's a long rally, and I feel I have time to build step-by-step till we really push. Should be OK.
FIA WRC3 CHAMPIONSHIP
Present:
Yohan Rossel (FRA)
Emil Lindholm (FIN)
Alberto Battistolli (ITA)
Q:
Yohan Rossel, as leader of WRC3, you've had a great season so far. What can we expect to see from you here? Challenging roads in Sardinia.
YR:
Yes. I think it's a good start for me, actually [against] so fast and so regular guys. It's so important to do a good race here. I think it's very challenging, but a lot of road, and it's hot. And yes, I am ready I think.
Q:
Good. Glad to see you're ready. We have some new stages in Sardinia. What have you thought of the route after recce?
YR:
I think I have a lot of stages similar to last year, but two stages new for leg one, and it's very challenging, but yes we will see. I think the level is very high with [Egon] Kaur, with [Nicolas] Ciamin, with Kajeto [Kajetanowicz]. And yes, I think I have the victory, but for the championship I need to have a lot of points and we will see. I think I am ready, but this week it's very challenging.
Q:
Emil, challenging really ahead. Difficult when you're coming to events that you've never seen before. How tough is it that for you knowing you're up against drivers who have experience?
EL:
You've got to start somewhere. Portugal was really my first sort of rough gravel event ever, we saw that. OK, lots of learning for this week. For sure this is even rougher. We need to take care for the wheels, for the tyres, for the car. And just sort of have an endurance mindset instead of trying to be on the limit and on the performance all the time. Obviously I'm comparing myself to the others, but maybe I also have to have some patience and just be sure that we finish this rally.
Q:
Is a bit of a change of strategy then here?
EL:
Yeah. Honestly, I thought I'd already changed strategy for Portugal but not enough. So now we really need to be completely on the other end of the spectrum. But as I said, Portugal was important learning. I hope now here we can really see the full benefit of that.
Q:
Have you experienced any stages before like we see in Sardinia?
EL:
Not in a rally, no. Portugal, like Saturday, some stages were fairly rough, but I think this will be on another level. I've done testing in the past in really rough conditions on some famous rough stages, but not in a rally so this is obviously needs talent.
Q:
Changing your strategy, but you are surrounded by another strong group of WRC3 drivers. What's the aim here, what do you think you can walk away with?
EL:
I really just hope to walk away with a bag full of some points, at least. Portugal was a disaster. Powerstage was fine, but everything except for that was off. Now we need to just take some points, then we have some rallies where we can maybe try to push and aim for victory. But right here, we need to just stay focused - for sure if you finish the rally, you get some points. And this is our target.
Q:
Alberto, it is a real challenge here in Saridnia. Newer stages now we're back on the east coast. What's the characteristic like, does it change from what we normally see, or not?
AB:
It will be, certainly for me, a rough race. This is my second edition here, and of course second WRC event of my life. So my strategy will be to get to the end without doing any damage whatsoever, because as Emil said, the stages are very rough. I have to be quite sure to manage to get to the end. So for me, not really a strategy, to just go.
Q:
Drivers will say they won't take risks in the press conference, but then they put the helmet on and something changes, Alberto.
AB:
Yeah, they put the helmet on and they go very fast. For me, it's like I'm an apprentice, so I will try to do my best without taking any risk. Because for me it's just the beginning of a learning curve, so I have to be sure that it is a good baggage of experience for me this year.
Q:
How was the car feeling in shakedown this morning?
AB:
This morning we have done just one lap, just to preserve the tyres. The feeling was very good, very slippery, and it was difficult to stay on the road. But overall it was okay, so I have a good feeling.
Questions from the floor
José Luis Abreu, Autosport Portugal (PRT)
Q:
Yohan, Rally Sardinia was the only gravel rally you did in 2020, do you think you can outwit your opponents in this rally more easily than Portugal?
YR: I think it's the same. Yes, same drivers, but only WRC2. I think in WRC3, there's more. But yes I think it's the same. All the events are hard at the correct level. But I think Portugal or Sardinia, it's the same.