This page contains archived information and may not display perfectly
WRC - Rally Italia Sardegna - Pre-event press conference transcript
Transcript of the pre-event press conference organised by the FIA for the 2020 Rally Italia Sardegna.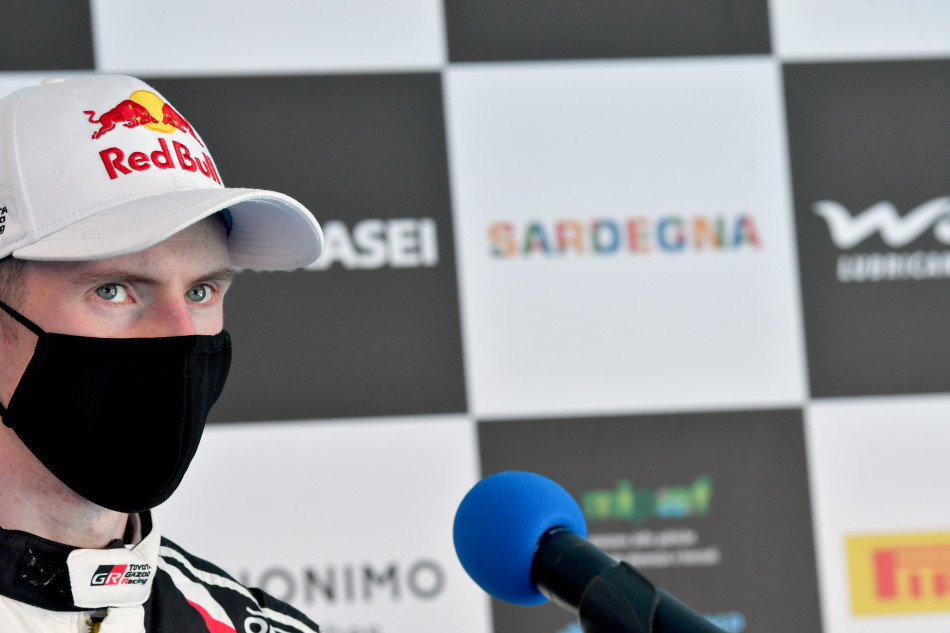 FIA WORLD RALLY CHAMPIONSHIP
Present:
Elfyn Evans (GBR), Toyota Gazoo Racing
Dani Sordo (ESP), Hyundai Shell Mobis
Esapekka Lappi (FIN), M-Sport Ford
Guests: Petter Solberg (NOR) and Andreas Mikkelsen (NOR), Sainteloc Junior Team
Q:
Elfyn, you're the Championship Leader heading into Rally Italia Sardegna. First of all, please tell me how you're feeling ahead of this event. It was a great win for you in Turkey but you're first on the road here. How does that feel?
EE:
In some ways it is good to be in the leading position. But we will see tomorrow how it goes…
Q:
Talk to me about tomorrow's first stage because everyone seems to say how difficult it is, how narrow it is. What sort of test is it going to be?
EE:
Yes, everyone can agree that it's, you know, the extreme side. Let's say, we've seen rough sections in the past in this rally but perhaps not a stage full of it, so it is quite unknown. It's rough in places, very narrow, rocks on the sides… So, you know, it's a tricky one to get us going.
Q:
How are you feeling mentally with, I'm sure, all the journalists asking you how you feel with regards to your Championship chances? Have you been batted by these questions or are you not letting them affect you?
EE:
I've been getting nasty a few times for sure. In reality, you know, it's a short season and anything can happen. For me, at the moment, it is a case of carrying on as normal. Again, like we saw in Turkey, things can turn around so quickly one way or the other and obviously that can happen here or in the next round. So there's no room for tactics, it's just the case of doing the best we can
Q:
Dani Sordo, is great to see you back in the championship, welcome back to competition. It has been a while since we've seen you behind the wheels of a FIA World Rally Car on a WRC event, are you feeling fresh, are you ready to go?
DS:
Honestly, it's been a long time since Mexico. It is nice to be back in a rally car, also on these stages. It will be difficult stages, especially the first stage of the rally to start Rally Italia Sardegna. Everybody has this stage in mind.
Q:
It was a win of course last year – a dramatic Power Stage but regardless of what happened on the Power Stage, it was a brilliant performance by you on nearly every single stage. Can you bring that kind of performance to the show this year?
DS:
Yes, of course, we will... Last year, it was so nice but I think, in general during the weekend, it was a nice performance. Ott (Tänak) was a bit on a different level, even if, it's true, he had problems. But ,yes, this year I think we are even a little bit more prepared and we will try to do the same.
Q:
Talk to me about the stages and the Support Championship drivers… It is an interesting configuration that we see here in Sardinia; both Friday and Saturday morning you've got two passes, a regroup and then another two passes of the same stages. How much of a compromise do you feel that it is going to be with tyre choice and with your set-up?
DS:
Yes, of course it will be quite difficult. Many kilometres, this kind of stages are very demanding and if you have only few tyres and you have a puncture, after you need to do a lot of these stages and it changes a lot from the first pass to the second. Especially here in this rally, you need to think also about this: it will be a challenge for everybody.
Q:
EP, how are you feeling after Shakedown this morning, because we know right now there's no huge amount of testing going on with M-Sport. How is the car feeling, are you happy with what you have got ahead of the weekend?
EP:
Yes, it felt pretty fine, to be honest. We carried the same settings where we finished the last time in Turkey and continue from that. We did some small changes for the third and fourth pass, so it is OK.
Q:
Oh well, you are sounding pretty confident. It is a good start. How tough of a challenge would you say is it to start the rally now that we have moved away from summer and the dryer, hottest conditions? Does it make it any easier or does it make it more challenging and tricky in terms of tyre choice and all the rest of it?
EP:
I think, yes, definitively we need to use more the medium compound which is really not obvious normally here. The mornings are going to be really cold so the hard tyre will not work at all, but then it is another story in the afternoon when we have the highest peak of temperatures in the day and we need to consider the other strategies for tyres, but definitively it makes it more interesting in terms of tyre choice.
Q:
In the past few years, M-Sport have been very happy to take podium positions here. Is that putting just a little pressure on your shoulders to have a good result?
EP:
Not really pressure, but it's kind of giving me confidence. The car has been good here so I really hope we can succeed as well this weekend. It kind of gives me a boost and we can really try to fight.
 
Q:
Give me your thoughts as well on that opening stage tomorrow morning, everyone is talking about how difficult it is. What's Esapekka's view going to be on it?
EP:
Definitively. I agree with all the comments, even I have not heard, but it is probably a stage where you can gamble. You can put all in or all out. Probably you can have a huge gap if you succeed, but on the other side of the coin, you might finish as well over there.
Q:
What's your feeling, are you taking a gamble tomorrow morning?
EP:
Yes!
Q:
Petter and Andreas: Pirelli duo… I like the fact that you sit in the exact same positions, that you are going to be in the car this weekend with Petter in the driving seat. Fantastic to see you both here! We see Pirelli coming in the WRC championship in 2021 as the main tyre supplier. Petter, tell me the reason why you are here this weekend.
PS:
First of all, it is a fantastic story. I want tell you this before. I was in Sardinia before and also with Pirelli and they mounted the story around this. I did not have anything to do anyway (he laughs). I think it's good fun and it's good for Pirelli to do something like this in terms of promotion. And also for the fans, it is great.
Q:
So we are going to see you drive the Power Stage: how did you decide between you who was actually going to be in the driving seat?
PS:
That was also very difficult because I have never had Andreas as a co-driver, but he obviously had some big... yeah... he did not have any problem at all to do it, but he was actually fantastic to write pace-notes and to read the pace-notes. I was impressed.
Q:
Petter, your pace-notes are famously difficult, technical, full of information, Chris Patterson hardly took a breath when he sat alongside you.
PS:
That is the reason why Andreas was not problem at all. He did not have any problems.
Q:
Have you made them less technical for Andreas?
PS:
No, even more.
Q:
Andreas, has he made the notes a little easier for you or is it a lot of work?
AM:
Of course I know about his pace-notes system from before, so already mentally I was starting to prepare myself. But when we started to do the recce, I was shocked on how much information, but, you know, I just have to read out everything as fast as I can to time it I can't even think to time it quickly, hopefully just to be there. But it's good fun, it's actually the first time in my life where I am not afraid being a passenger because normally, I like to follow what's happening outside and that makes me afraid, but now I am so busy, I don't have time to be afraid because I am so focused on what I am doing. We had fun on Shakedown this morning. Yes... I was a bit too late but I was getting better.
Q:
Andreas, I could see a little bit of fear in your eyes when Petter joked with you on some of the social media that he was going with you for the fastest time on the Power Stage.
AM:
Oh yes, the famous five points!
Q:
Tell me a little bit about your work with Pirelli because you are the developing driver for them, how has that being going and how much are you looking forward to seeing it all pan out in 2021?
AM:
It will be very interesting to see. Obviously, the main aim with Pirelli is to make the tyre consistent with no surprises also performing on a very, very high level. I am really confident that we managed to make this success. I am looking forward to hear the feedback from other drivers but we had some really good test days, both on tarmac and gravel and I feel really confident about the tyres, so I think we are in good position.
Q:
We know how your personality is like, you are quite stern with Petter, have you been telling him of at all?
AM:
No, I think we have just been two big smiles in the car. Obviously Petter has patience with me in the car as a co-driver. Well, in the recce it was nice and steady.
PS:
You should see how we writes the pace-notes.
AM:
Yes, that revolutionized the co-drivers and how they normally work.
Q:
Ah, ok: what did you do?
AM:
While driving, I don't write the pace-notes, obviously it's too difficult. So what we did is I recorded what he was saying, then we had a thirty minutes coffee break after the stage so I could write down all the information in peace. It took a long time but we managed. I am glad we are doing only one stage because they took forever!
Questions from the floor
Luca Santoro, MotorioOnline (ITA) to Elfyn Evans
Q:
It seemed that the Yaris WRC had grip problems on the first passes in Shakedown, could this be worrying approaching to the tomorrow's stages?
EE:
No major grip problems that I am aware of. For sure; I did not have the best first run in Shakedown but even when you compare with the guys that where fourth or fifth on the road, the time was not so terrible. I think it is important to remember that when the weather conditions are dry like that, the road can clean very, very quickly, so I think that there's no big concerns about that.
Q:
With Mäkinen's departure as Team Principal, what do you expect the next season will be?
EE:
Honestly, there's not a lot being discussed at the moment. Obviously it came as a news after Turkey. Of course for me being quite new in the team anyway, I've enjoyed working in a really nice atmosphere. My wishes are only that we can continue with this nice atmosphere in the team and everybody keeps working together. Tommi obviously did a great job of introducing Toyota into the World Championship and bringing all the success out so far, so hopefully we can continue on doing a good work even with him on the sidelight.
Bo Christer Bofeldt, Worldrally.se (SWE) to Elfyn Evans
Q:
You have got a new team boss after Tommi Makinen has decided to leave, did this change your preparation for this rally and Ypres?
EE:
No, because nothing will change until next year, so like I mentioned a bit earlier not too much has been discussed, so for now everything stays the same.
Ben Johnston, Paddockeye.ie (IRL) to Dani Sordo
Q:
Does the fact that you won here last year give you extra confidence going into the event or do you treat it like any other event? I understand that the event is been run in a different way compared to last year, does this change your approach when it comes to preparing for the event?"
DS:
Of course, when you win an event, you have more confidence. In general, I have a good confidence as the time last year in general was quite good. I am happy with the car, also our road position is nice when it is total dry, so we have a lot of confidence for the rally.
Reiner Kuhn, Motorsport Aktuell (GER) to Dani Sordo
Q:
Will you be in the Hyundai line-up for Monza?
DS: I don't know if Monza will be done. I did Monza many times, we need to wait until Monza will be in the championship or not.
Reiner Kuhn, Motorsport Aktuell (GER) to Andreas Mikkelsen
Q:
Will we see you in WRC or WRC2 next year? What's your plan?
AM:
I am working on next year as we speak. Obviously it is not easy at the moment with very few seats available, but I am trying to find my way back to the championship. This is not the first time that is has happened to me, so for me this is normal. Another bump on the road, but we will climb this mountain as well.

FIA WRC 2 CHAMPIONSHIP
Present:
WRC2 - Pontus Tidemand (SWE), Toksport WRT
WRC2 - Ole Christian Veiby (NOR), Hyundai Motorsport N
Q:
Ole Christian, you have been here quite a few times in your career, in many different cars. How much are you looking forward to this one to really get a good result on the board?
OCV:
Well, definitively I love this rally and the gravel stages really suit me well. So for sure, it is a good advantage on them. It's a new car here so I hope it suits for this rally.
Q:
When you look back - I know you did not have a huge number of events so far this season - but how would you assess your performance?
OCV:
Well I definitely think the performance has been bad. We just did not have luck on our side and I have done a couple of stupid mistakes on the Sunday in two rallies. But i think we need to take the positive things. It seems we have a good package, we just need to put everything to work together.
Q:
Pontus it is hard to believe, but you have never competed here before! I was surprised by this statistics, how come you have never been to Sardinia before?
PT:
I don't know, to be honest. We have planned it many times, but it did not happen. It has been on the team strategies earlier, but this is the fact, it's my first time here. I have been doing only the recce here.
Q:
And what have you thought about the stages in your first time here? What's your opinion?
PT:
For sure I really like this stages, for sure it is good to have some experience, it's really a mix between Portugal and Turkey, there are some differences but I really like this stages.
Q:
For you the championship is looking so interesting right now, what is your thought on the championship push right now?
PT:
For sure if you push you will fly here. We will try our best for sure and you just have to push from the first stage and see how it will go, it is a long rally to go.
Q: You have the championship lead of course, but it is only 5 points ahead of Østberg, how many rallies do you have remaining?
PT:
This is my fifth.
Q:
So it is all or nothing on this one then...
PT:
Yes it is. We will see, there's an older rule, you can do as many rallies as you want but it is the fifth that it counts.
Q:
So, there could be the potential for you to do more if there were the potential to do more.
PT:
If the motivation is there, yes.
Questions from the floor
Luca Santoro, MotorioOnline (ITA) to Ole-Christian Veiby
Q:
Andrea Adamo talked about disappointment regarding your season and Nikolay's. You still got some podiums this year in WRC2, but maybe something is still missing. What are the difficulties you have encountered this season? And in your opinion, was it really disappointing till now? "
OCV:
For sure I don't blame Andrea (Adamo). It's been tough, I must say, especially for me, with many mistakes I did on the two Sundays. Yes, I have to say that the performance has really not been there, we need to get the package all together, there's not much more to say about that.
Reiner Kuhn, Motorsport Aktuell (GER) to Ole-Christian Veiby
Q:
Which other rally will you enter this year, Ypres and Monza?
OCV:
This will be my fifth rally in WRC2, so for me it should be the last one. We need to get the maximum points as a team this weekend to be able to try and secure the team championship, that's our main goal this weekend, that both cars need good points.

FIA WRC 3 CHAMPIONSHIP
Present:
WRC3 – Marco Bulacia (BOL)
Q:
Marco, you are leading the WRC3 championship as we are heading here in Sardinia, how are you feeling confidence-wise heading into this event?
MB:
I think my confidence is really good, we have been working a lot for this event to defend the first position of the championship. I think the car and the set-up and also my driving and pace-notes are quite good. I think we need to keep on with the strategy, push from the first stage and see how it goes.
Q:
Talk to me about those stages; what kind of conditions were they like on the recce, because we are here at a different time of the year. Normally there's scorching heat, it's dusty and hot out there, but slightly different this time around.
MB:
My first time was last year. It was a little bit difficult because of the weather. It is very different. I think that we will face the same way the stages because they are very demanding. I think the big difference will be that we will use more soft tyres than last year.
Q:
How many rallies have you remaining, Marco?
MB:
This is my fourth.
Q:
So, what else are we going to see of you?
MB:
We will have to wait and see if Monza will appear on the calendar. I don't know, so I need to see if I can find some budget to do another rally.
FIA Junior WRC CHAMPIONSHIP
Present:
Ruairi Bell (GBR)
Enrico Oldrati (ITA)
Q:
Ruari, I literally just saw you jumping out your rally car and run here to the press conference. Has Skakedown been a little bit stressful this morning?
RB:
Good morning, you are a little far away aren't you?! Yes, it was for a good reason, we had some brakes problems, we did not have the brakes on both rounds on Skakedown. So hopefully, we will be back for tomorrow. That should be good to go… I do not want to experience that on stage.
Q:
No, that is not the kind of start you want to get things going with.This is a tough, challenging event that we see here in Sardinia every year but for you, every rally has been a massive learning process. What have you thought about the stages here?
RB:
I have to say, every rally is trouble where I have never been so it is really exiting. But this one probably is something I can relate a little bit more to as the rough, rocky roads are similar to the ones in Portugal where I've been a few times. But as you say, we just have to make some experience. Our goal is to try and perform well. The stages are really good, it looks really nice but very rocky and it is quite unpredictable what can happen.
Q:
Your first season within the Junior WRC Championship has been an interrupted year, lets say, with everything going on with COVID. But what have you thought about your experience?
RB:
It has been great. We haven't done a WRC event yet so that is going to be interesting. This is going to be the first proper Thursday to Sunday so it has been great fun so far, a different style from what we have done on small events with cars already more or less set up. We just have to go with it, so it has been amazing. I would recommend it to a lot of people but hopefully we can make the most of it with what we have got and see how we end up at the end.
Q:
You did not have Matt Edwards alongside with you, a two time British champion as a co-driver back in Estonia, now Darren Garrod is back with you; what was the experience like with Matt?
RB:
That was very interesting in Estonia. We tested together so he called notes to me before. But it has been normally about three kilometres of notes calling so it was quite funny. We started the first stage, we did the first three corners, then looked up to go and I remembered I've got actually 18 kilometres left, so I put my head back down. He did not say anything but it worked really well, he's a great man and I have to thank him a lot for jumping in the car with late notice after the accident the weekend before. Because of the brakes, it wasn't too good, but yes, I really enjoyed it. They are both trying to teach me Welsh, I am not going very far... Hopefully more at the end of the season.
Q:
Enrico, great to have you here, tell us about your Shakedown this morning. Has it been less stressfull than Ruairi?
EO:
Yes, because last year we were already here and we had a different set-up. We tried a few set-ups, for sure tomorrow there are new stages, but, ok, we will see because here it's not the fastest guy who wins but the smartest. Let's see after tomorrow how we do.
Q:
As you said, it is not the fastest driver, you've got to have a sensible head, haven't you? It is interesting as I mentioned to Ruairi with those stages to run twice tomorrow morning, it is going to be fascinating to see how you guys do especially running a little bit further back on the road.
EO:
For sure, as I said, it will be difficult for us also because it is my home event so I will have more demanding from all the fans and also, physically speaking, it will be a tough event, but we are here, I'll do my best as always.
Q:
We are running obviously in a different time of year, we are coming into Autumn, even you won't believe it, with the sunshine outside. But on the recce, did you notice a big difference from the summer because we are hearing it was muddy in some sections, a lot more humid and dump?
EO:
Yes, indeed. It was rough in June but now there could happen a lot of things, like if it is going to rain it will be very slippery. But for now let's see what the weather is going to be - very good, and for us, for sure it's a good sign, let's hope it will stay like this for all the weekend.
Q:
Do you think you could be the favourite out there this weekend?
EO:
Yes, I hope so!