This page contains archived information and may not display perfectly
WRC - Rally Italia Sardegna - Pre-event press conference
Transcript of the pre-event press conference organised by the FIA for the 2022 Rally Italia Sardegna on June 2, 2022.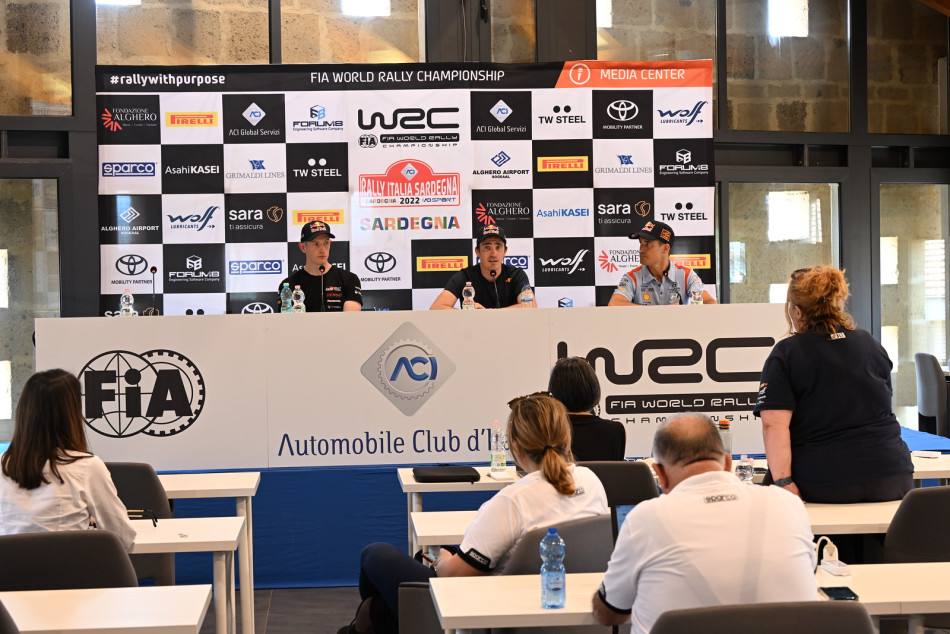 FIA WORLD RALLY CHAMPIONSHIP
Present:
Dani Sordo (ESP), Hyundai Shell Mobis World Rally Team
Craig Breen (IRL), M-Sport Ford World Rally Team
Elfyn Evans (GBR), Toyota Gazoo Racing World Rally Team
Q:
Dani, it was a great return to the WRC for you in Portugal with a podium finish. Are you feeling confident on gravel after that result to come here to Sardinia?
DS:
No. At the end in Portugal, the result was good but the speed was normal compared with all the other years in Portugal. So, let's see what happens here. We will try to do our best but we struggled a bit with the car and the balance. It's the same for everybody and how to drive the cars is a little bit different. Here it is narrow and tricky. You need to go fast but, at the same time, you need to survive punctures and all of this.
Q:
You know that the key to success is on this island. You have graced the top step of the podium. How do you win Rally Sardinia?
DS:
You need to there. Sometimes you don't need to be the fastest. I win two times. I don't know how. It is true. I cannot explain how I win. It is like this.
Q:
How challenging is it going to be out there this weekend? Inside the cars is going to be very hot. How are you going to compensate for that?
DS:
We don't know. It will be difficult to be comfortable in the car. It will be too hot. The temperatures in the previous years was a little bit more cold. Now there is no wind, really hot, much more warm inside. It will also be a big challenge.
Q:
Craig, the big talking point in the build-up to the event has been the heat inside the car. It's going to be a challenge, Are you ready for that?
CB:
I think so. Honestly, there is not so much that you can do to be fully ready. You can go in a sauna. That's as much as you can do. The guys have tried to do the best they can in the short time between Portugal to try and insulate the car from the heat a little bit better. This morning didn't feel too bad but the air is a little bit fresher closer to the sea. Obviously it was earlier in the morning and not as many kilometres. It will be interesting to see what the weekend will be.
Q:
How did the car perform on shakedown this morning? Are you happy with it?
CB:
Yes, honestly, I was reasonably happy. I felt good with the car early on. We didn't do a test for the rally, so the last time I drove the car was the last days in Portugal. That was only a little over a week ago. Everything feels good. I didn't make so many changes. It will be interesting to see how the stages develop as the weekend goes on. I haven't done the rally here for a number of years but, from what I can see, it is a big challenge but we have prepared the best we can.  I feel confident, so let's see.
Q:
Do you feel any disadvantage because you haven't competed here in the last few years? But you did the recce here last year, right?
CB:
Yes, I did the recce last year and the last time I competed here was in 2018. But, if you let that enter your head, it's something that holds you back. We see now with Mister Loeb that he can just land back and do things like magic. So, I think you have to leave the excuses behind now and do a good recce, commit to the pace notes and do the job.
Q:
The man next to you (Dani Sordo) seems to be able to do that as well. He comes back and gets on the podium?
CB:
Dani can drive with a bit more confidence because he's such a good-looking man that he can always fall back on the looks, the model looks! He drives with less pressure than us.
Q:
Talk about the stages themselves. You mentioned the narrow nature of them. Does Saturday stand out a bit more because there is no mid-point service?
CB:
Obviously, we saw that in Portugal as well. A day without a mid-point service always makes it a bit more tricky. To be honest, all the stages here are narrow and tricky and there are places to catch you out. Saturday will be a difficult day. Trying to manage it without the service and trying to manage the heat. The stages are not crazy long and we won't have anything like we had in Portugal but the average speeds will be a lot lower. That's a strain, not just for us inside the car, but for the components and everything. We have done as much as we can to prepare for it and we will suck it and see now."
Q:
Elfyn, you were back on the podium in Portugal and it was a great battle with you and Kalle. It feels like your season has got underway now. Do you have that same feeling?
EE:
I think it was a bit of a relief to be back competitive and back on the podium. It's not a secret that the start of the year wasn't the way we hoped. I think Portugal is something to build on. I was happy to finish. There were things we could have done better. People can always say that, but let's see.
Q:
The challenge of this weekend is the heat. How did it feel for you in the car this morning?
EE:
Pretty warm already to be honest, especially when you stop between runs to do some work and the heat builds quickly then. That was only three kilometres and not the end of the world. You can tell it is going to be hot.
Q:
How are you feeling about the championship? We are approaching the mid-point and there are many rallies left to make up the deficit. But Mister Rovanperä seems to be running away at the minute. Is the title still in your mind for this year?
EE:
We've not given up if that's what you mean. Of course, we've made life difficult for ourselves with the start of the year that we have had. He's performed very well. It's an uphill battle but, to be honest, we have to try and not think about it and focus on the rallies that are to come.  It's a benefit to run a bit further down on these gravel rallies but he still has a pretty big cushion. We have to just focus on the rallies and see what comes closer to the end of the year before we think about the championship.
Q:
Tyres this weekend. How challenging is the tyre choice going to be this weekend?
EE:
It's quite unique from the fact that we do the first and second pass all within the same loop. Normally we would have a midday service and go out for a second pass. It's going to be hard for the tyres with puncture resistance again. I think we don't have loads of tyres so it's going to be a point but I don't think it will be critical. Let's see.
CB:
Pretty much what he said to be fair. It's not even easy to fall back on what it has been in previous years. We won't have seen the temperatures quite as high as what we will have this weekend. Normally you can look at previous years and try and plan a bit more. No-one knows what to expect with the ground temperatures we are going to have here. We will just try and make the best decision we can tomorrow. That will feed into the rest of the weekend.
DS:
They explained very well. Normally in Sardinia, from the first to the second pass, the road is much more clean and more abrasive. It will be tough with the heat also. Let's see.
FIA WRC2 CHAMPIONSHIP
Present:
Yohan Rossel (FRA), PH Sport
Mauro Miele (ITA)
Sami Pajari (FIN)
Q:
Yohan, you proved last year that you are quick on any surface. This is a gravel challenge for a rally. How are you feeling about this one?
YR:
The feeling is good. I have confidence in the car and I worked very well with the team during the testing.  I think the car is a little bit better to Portugal. My driving maybe also. We will see honestly. It's a completely different rally, the same surface, but so long with 300km of gravel with rock. We will see.
Q:
It's very different to Portugal. What have you been doing to prepare for this event?
YR:
I think I know very well the Sardinia Rally. It's my fourth time here and Portugal, my third, I think. Honestly, I think for my driving it is more easy here. It is narrow and more technical roads and it is more easy to have a bit more speed for me on this event. We will see. The plan is to push for the podium and to get a lot of points at the end. The plan is to be leading after the rally.
Q:
It was a great rally for you in Portugal and a bit of a surprise win at the end. But you will take the points whenever they come, I guess?
YR:
The plan is to finish second (Portugal) after two days and that is perfect for the championship. But, when I see the Power Stage, I think okay I win, perfect. I was a little bit surprised but the plan is to fight for the victory on the gravel events. I don't know my next event on gravel, maybe Estonia or Greece. But the plan is to play for the win every rally.
Q:
Mauro, you've had some great results this year and you are leading the Masters' category. What's the plan for Rally Sardinia and where has all this sunshine come from?
MM:
Probably it will be too hot. We are here and we have to survive, not only for punctures, because it is a difficult rally for that. It will be a hard rally for me, very hot weather that is being expected. 
Q:
Some really challenging days. No mid-point service on Saturday. How much is that on your mind as a driver?
MM:
Should be, for sure. For me it is different. I don't have to think about winning the WRC2 class. It is important for me to have a good pass and try to do no mistakes and have less punctures as possible. Last year I had three, in Croatia also. I hope to have more lucky here.
Q:
The WRC drivers talked about some of the stages. Which stage would you pick out as being the most challenging on the island?
MM:
All of them. I think there is Tempio (Pausania) is really tricky and Castelsardo was really tricky. Now is the fourth time for me on gravel. I never drive on gravel in my life, except with motocross 40 years ago. With the car it is another story. I am learning, even at my age.
Q:
Sami, a busy year for you competing in the Junior WRC and your drives in WRC2 as well. What's the feeling right now? 
SP:
The feeling is really excited, for sure. It's like a dream come true for me. I also want to enjoy as much as I can. We are looking at rallies later in the year with Rally2 to get the experience, which is the most important thing for the moment. I'm not, let's say, looking at the result. I just want a clean run and to enjoy as much as I can.
Q:
Of course, you will look at the times? 
SP:
Yes, I will be looking. It is good to know where we are at on the results. The main thing is that we don't need to show anyone anything for the moment. We just try to improve ourselves.
Q:
This is such a contrast to what you are doing in the Junior Championship right now?  The pressure is on there and you are pushing and you come here and it's different?
SP:
Actually, it is. For me, so far, it is a really nice feeling to be here. Okay, it's quite hot. If you look in Finland, it is hot in sauna but the weather is nothing like this. I would prefer that. It's the same for everyone.
Q:
How did the car feel for you this morning at shakedown?
SP:
It felt really nice. We were testing on two days and I was really having a good time. I am really happy with the car. On shakedown, I was a bit careful on some places. For sure, it's exciting times. I will do my best.
FIA WRC3 OPEN CHAMPIONSHIP
Present:
Enrico Brazzoli (ITA)
Jan Černý (CZE)
Q:
Enrico, how much are you looking forward to this weekend? This could be one of the most challenging Rally Sardinia's that we have seen.
EB:
For us, this is a very important rally. It is my home race. It is very difficult and it is the first time that I drive the Ford Fiesta Rally3 in the gravel. I make the better feeling. It's a pleasure to be here. It is good. 
Q:
How much testing have you done with the Rally3?
EB:
The test is good. During the rally for us it is important to learn better. It is important not to make any mistakes. Sardinia Rally is very hard and very tricky. Some stones and some holes and it is very easy to make a mistake. It is important to keep the concentration. For us, it is not important to win. It's important to arrive at the finish in a better position in the championship.
Q:
It's going to be a tough rally on tyres. Is there a strategy that you have in mind? Are you easy on your tyres or aggressive?
EB:
Easy..it is important survival and it is important, the punctures. It is easy to get punctures. I see during the race, our position, and the position of my adversary and I choose the strategy step-by-step. 
Q:
Jan, we saw you competing in Rally Monte-Carlo. Now this is your first gravel event. Have your preparations gone well?
JC:
I hope so. After the first stage of the recce I told Tomáš (Střeska), wow, it's going to be difficult. Maybe 10 years ago I did a race like this. It's something new for me because I forget everything. The first proper kms were on the shakedown so it will be difficult to find the proper rhythm because the roads are sometimes quite rough. I don't know about the car, the Rally3. We need to find a good speed and try and pass the stages.
Q:
It is a good shakedown stage, I guess. How did the car feel this morning?
JC:
The car is great. There is not so much power but the suspension, everything is very good so we have a little bit more time that you do in the Rally 2 cars. It's good for me after 10 years to be in a car like this. 
Q:
We've talked to a lot of drivers about the toughest challenges here on the island. What would you say after your recce is the biggest talking point this weekend?
JC:
Maybe the first stage on Friday morning is really crazy, You need to be clever about the suspension. There are a lot of stones and rocks on the lines. It will be necessary to drive without mistakes and find a good speed and care about the tyres.