This page contains archived information and may not display perfectly
WRC - Rally de Portugal - Press Conference
Transcript of the pre-event press conference organised by the FIA for the 2018 Rally de Portugal.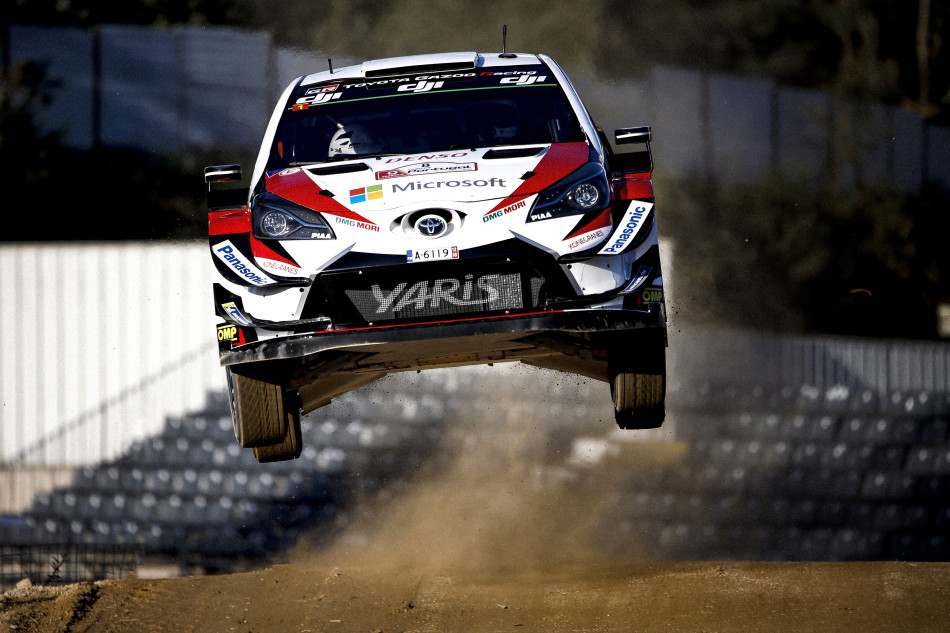 Present:
Ott Tänak, Toyota GAZOO Racing WRT
Kris Meeke, Citroën Total Abu Dhabi World Rally Team
Teemu Suninen, M-Sport Ford World Rally Team
Hayden Paddon, Hyundai Shell Mobis World Rally Team
Q:
Ott, a brilliant win for you in Argentina a few weeks ago. You said everything felt great straight from the test. Do you bring the same feeling here?
OT:
That is the plan. We had a good test and have been trying to find small details to get more improvements generally. The test went well. The car is similar to Argentina and we have not made big changes, just fine-tuning maybe.
Q:
With that win your championship challenge has come alive. Does that change your approach to events?
OT:
I have always been motivated since the start of the season. Since last year we were close and missing our first win at the start of last year. This year, the main target is the championship. We have a new team and we have a lot of new things to learn. Now it seems we are getting closer and improving. The atmosphere in the team is really nice and everyone is trying their best.
Q:
You switched from M-Sport to Toyota and now you have a new team manager in Tommi Mäkinen. How has it been so far?
OT:
Tommi is a proper driver. He is still the same guy he was years ago. I did now know him then but he likes to talk a lot about driving and he is a fan of set-up and technical discussion. That is nice and the atmosphere is great. It is nice to see everyone motivated to fight for the championship. The sport is the priority in the team.
Q:
Kris, you know what the secret of success is after a great win here in 2016. What's the key to getting it right?
KM:
Like taking any win, you have to be fast and clean on the stages. These stages are a different challenge from the stages in the south in the past. They are quite a bit softer. The organisers have spent a lot of time trying to repair the roads. Maybe they spent too much time. There is a layer of sand and that takes away some of the character of the rally. Saying that, I enjoy the stages and the profile. I always seem to have a good speed. Let's see how it goes.
Q:
Your last gravel test was in Sardinia prior to Argentina. How did the car feel this morning at the shakedown?
KM:
In Argentina, I felt good and we were in a battle with Thierry for second place until we had a puncture. Results have been taken away from us on the last couple of events. Points have gone missing. I feel good. We've changed a little from Argentina and we changed the set-up a bit. Shakedown was important this morning to confirm some things, I feel good in the car. Like everybody, you play with all the settings. I feel good. The last two events knocked a hole in the season. It's difficult. You cannot get angry for those things and Paul (Nagle) made a mistake in Corsica. It's frustrating because we were on for a strong podium in Argentina and then a rock in the middle of the road put paid to that. We could have been up there with Ott battling for third. Life does not always turn out the way you hope. We have been strong in every rally except Monte-Carlo, where we scored good points. We will keep going.
Q:
Teemu, in Argentina we saw you drive to finish the rally as it was an event you hadn't competed on before. You have more experience here. What is the strategy this time?
TS:
I will say the main thing here is a clean Friday and try to get a good result from there. Saturday is difficult and there will be a lot of loose gravel. It will be difficult for those running first on the road. It's important to have a good starting position.
Q:
We are seeing you in the WRC car on the majority of events, nine in total. How do you feel you are adapting to the car? Are you happy with the pace you've achieved so far?
TS:
I would not say perfect yet. On the fast rallies I am strong and, on the slower rallies, I have been improving. This is a long rally and I need to do a good job here. My way will be to push myself to the limit and to try and do everything perfectly. You cannot make mistakes. I want to be champion one day. I need to do a lot of hard work.
Q:
Welcome back to the WRC Hayden? It's been three events since we've seen you in action. You've been competing at home and have tested for this event. Are you feeling fresh and ready to go?
HP:
The batteries are recharged and ready to go again. It was nice to go to New Zealand but it's also good to be back in the car. We had a good test last week and shakedown went well. I am looking forward to tomorrow.  You know you follow the rally at home. It is not easy when you want to be there. We had a few things going on anyway and I had a few rallies to stay match fit. I also need to focus on what we want to do,
Q:
We've seen you on good pace here in previous years. Do you feel you can jump back in and be on the pace?
HP:
It's like riding a bike. Straight away I felt back near the same feeling. I found some things in the car different than last year and I have a bit more confidence. We had the speed last year and hope to be near the front this time. We have changed some character on the car. Maybe this had gone away and now it more suits my driving style. The target is, first and foremost, a good clean rally and no mistakes. I have a good road position and maybe we can fight for the podium. But we don't want to put too much pressure on ourselves.

FIA WRC 2 CHAMPIONSHIP
Present:
Gus Greensmith
Juuso Nordgren, Škoda Motorsport
Q:
Gus, it's the second year for you in WRC 2 and you are third in the championship right now. You were second in both Mexico and Argentina. Have you been happy with your season so far?
GG:
It was definitely a good result for us in Argentina. That's why we went there. After the bad results at the end of last year the points were perfect and we need to crack on now for some wins.
Q:
There is a strong field of WRC 2 entries here. What is your strategy this time around?
GG:
Flat out is the only strategy in Portugal. There are a lot of good drivers. If you let off for some seconds here you can drop five positions. We will go for it from the beginning. We had a good test before the rally and it felt good at the shakedown. I was second behind Pontus. He seems quick but I will do my best.
Q:
Gus can you confirm or deny that you have a photographic memory and can remember pace notes for every stage here?
GG:
I can, yes, it is true.
Q:
Okay, a test. Give us the first notes for the first stage?
GG:
First stage. 40 crest long, two right minus. It is called being really sad and having no life at home and no friends.!
Q:
Jusso, do you have a photographic memory as well?
JN:
Maybe I have too many friends…. I don't have that memory yet!
Q:
Jusso, this is the first time we see you compete within WRC 2 this year. What have you been doing to prepare for the event?
JN:
I hope to be the best Finland driver one day but this is my first WRC rally. I only made one race on tarmac. It will take a few stages to get the feeling on gravel. Almost every rally is new for me at this stage. I had a good test and I have made a lot of preparation with the videos. All the stages are the same as last year and I have watching a lot of WRC Plus to help us. It really helps.
Q:
And your hopes for the event?
JN:
I think we have a clean rally. I have no experience and I will be quite cautious and watch for punctures. But I think a top five finish is possible if we have a clean run. 

FIA JUNIOR/WRC 3 CHAMPIONSHIP
Present:
Luca Bottarelli
Terry Folb
Q:
After two specialised events in Sweden and Corsica, how are you feeling ahead of the first gravel round of the Junior WRC?
LB:
I think it is very difficult and not easy. I do not have much experience. I have only done four races on gravel in Italy and we want to improve stage-by-stage.
Q:
From what you've seen on the recce, how much of a different challenge is the event and how tough do you think it will be?
LB:
The stages are really good. They are tricky and I think they are very hard to read for me. Shakedown was good.
Q:
With reasonably limited experience on gravel, what are your hopes and what result would you be happy with?
LB:
I think to make experience and to improve stage-by-stage and to be as close as possible to the other Junior and WRC 3 drivers. It has been good experience for me so far and everyone is very friendly.
Q:
Terry, you lie in fourth position in the Junior category going into the event. We've seen some strong performances from you so far but not a win. This weekend, perhaps?
TF:
At the beginning of the season it was not very good and it was difficult for me. Corsica was better and I had a good fight with (Jean-Bapiste) Franceschi and finished second. It was a good result for us. I hope to fight for the first place this weekend, but it's the first event on gravel for all the (Junior) drivers. We will fight with six or seven guys this week. It will be a great atmosphere.
Q:
You also have a new co-driver this weekend?
TF:
The relationship is very good. I know Kevin (Bronner) very well. Christopher (Guieu) is with Max Vatanen in Portugal and I changed. It is not a problem for me. I know he will do a good job
Q:
You tested in Spain to before this event, was it successful?
TF:
It was very good. I did two days testing with Nil Solans. We find a very good set-up for this event and I hope that enables me to fight for the podium positions.