This page contains archived information and may not display perfectly
WRC - Rally de España - Press Conference
Transcript of the pre-event press conference organised by the FIA for the 2019 Rally de España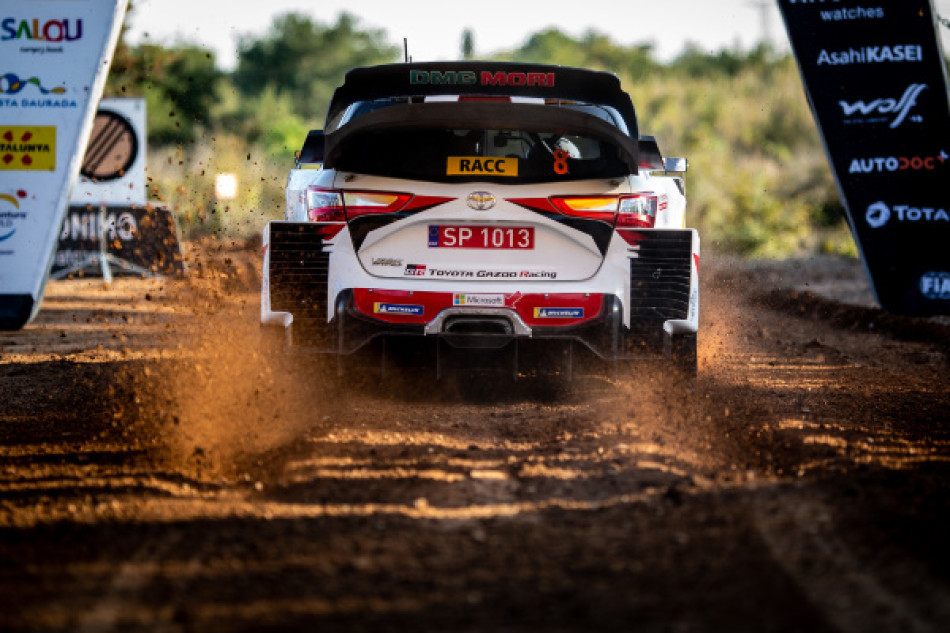 FIA WORLD RALLY CHAMPIONSHIP
Present:
Ott Tänak (EST), Toyota Gazoo Racing WRT
Sébastien Ogier (FRA), Citroën Total WRT
Dani Sordo (ESP), Hyundai Shell Mobis WRT
Elfyn Evans (GBR) M-Sport Ford World Rally Team
Q:
Ott, Spain marks the first opportunity for you to seal the championship title. Win the event and you become champion. That is easy for us to say it. Does this fact change anything in your approach? What is the mindset? Are there any nerves?
OT:
Of course, there are nerves. There will be in these kind of situations. This gives me extra motivation to do well. It is going to be an intense weekend. Seb and Thierry will definitely be pushing as hard as they can. We will respond. For sure, it is time to perform.
Q:
Any changes to your preparations? Any more watching of videos? Have you done anything differently? Or has it been exactly the same?
OT:
I don't think we need to do anything different. We have won six events this year already. We should keep doing the same as we have done so far. I am sure it will be a fight. We saw that in Wales. We were fighting with Meeke on every stage and we had to push hard. I don't see this being any different.
Q:
As you said, six wins this year. That is an incredible run. When you look back, have you been pleased with this season and the way that you have performed?
OT:
For sure, it has been better than last year. Only the second year in the new team and we have more experience. Last year was definitely more difficult. We keep improving but we keep having reliability issues. That is something that is keeping us back and has been the toughest for us. Otherwise, the performance and the speed has been there. The support has been good from the team, so I feel we have done a good job this year.
Q:
No signature on a contract yet… Is it just the focus on the Drivers' title that is causing the delay or are there other reasons?
OT:
Like in the summertime, I can say I was working a bit more on the future years. But now I try to put it a bit on the side and really focus on the championship. It is definitely the priority for me at the moment. I just want to get this job done and make sure that I am in perfect shape and the mindset is ready. The rest is not so important.
Q:
Seb, second position in the Championship and a huge weekend in prospect. You need big points on the board to keep the title fight alive heading to Australia. You never give up. An all-or-nothing approach?
SO:
Yes, pretty much. I think that is the way we need to approach the rally. I liked to hear that Ott has been feeling a bit because he never shows anything. I know that he is a normal person in normal life but sometimes, you are starting to worry if he has any feelings or if he is a machine (he laughs). It looks like he has. He is in a good position at the moment and I am sure he will do the best to manage his car. Anyway, this weekend we need to go for all-or-nothing.
Q:
Are you feeling the pressure for the Championship. What do you think?
SO:
I really don't know. I feel I have much more to lose. Now we cannot say that we have the situation in our hands. In rally, anything can happen. There are still 60 points in play. Even if our chances are small, they are still real. It means we need to do everything we possibly can to play.
Q:
Things were not going your way on the last tarmac event. Do you believe there has been progress with the performance of the Citroën C3 on tarmac?
SO:
Definitely. On tarmac we have been working hard. We were nowhere in Germany. That is clear. I am glad to say that we have progressed. I cannot say it is enough. The speed was much better in the test. I can finally play around with the car. That is definitely going to help me be faster. We will have to wait until Saturday to see that and, before that, we have a crucial day tomorrow where, normally, the biggest differences happen. We need to challenge for a top result. I don't know if it is possible but I have to find a way to making it possible.
Q:
When we were waiting to see where you were going next year, I was putting lots of pressure on you. Seeing as you know Ott personally, where is he going next year?
SO:
You really want me to tell you? I would never be able to answer this question. Like most of you, I am surprised that the decision is taking so long, but it must be for good reasons. At the end of the day, we will find out very soon. 2020 is coming soon.
Q:
Dani, great to hear that we will be seeing you compete with Hyundai again next season. A relief to have the deal done and to be coming back in 2020?
DS:
Yes, of course, I am happy to continue one year more rally with the championship and these guys. I really like it with this team. I am happy with the car. It has more performance all the time.
 
Q:
You seem to be able to jump back in the car and deliver impressive stage times?
DS:
This year, I feel we have delivered good performances from our road position. I am happy how it is working.
Q:
The Manufacturers' Championship is very exciting with just eight points separating leaders Hyundai from Toyota. Do you feel that extra pressure to be on top form this weekend?
DS:
I would like to say no, but yes! Everybody wants to do a good job to bring the Manufacturers' title. It is very important for us. I will try to do my best. I think we have a really strong team. At the moment we are in front.
Q:
Elfyn, a welcome return to competition in Wales and back on competitive form straight away. Firstly, were you surprised that there was no 'rust' on your driving and what do you feel you can achieve here?
EE:
There was a little bit. At the start of the Shakedown, let's say it wasn't the normal feeling. I was happy with the feeling in Wales but, unfortunately, we had a mistake that ended our challenge for the top result. But it was good to be back on the pace.
Q:
We saw a good result from you last year on a split surface event. You seemed to adapt quite quickly to the switch from gravel to tarmac. Are you hoping to be on the podium this time around?
EE:
That is always the aim. The car has been working well on both surfaces. I am looking forward to seeing what we can do.
Q:
You have had a good season, despite having to sit out some events. You were fourth in the Championship when that happened. Are you confident that we will see you next year back in action with M-Sport?
EE:
We will have to wait and see what happens. It is not fully decided yet. Let's wait and see. At the moment, I am focused on doing the best job we can.
Questions from the floor
Markus Stier, Sport Auto (DEU)
Q:
Ott, after the heavy rainfall on Tuesday, will that affect anything in any negative or positive way? Or is that too far back?
OT:
Let's say we just received some fresh information from our safety crew that went through the stages. It looks mainly dry. It would have been nice to see some humidity, but it is looking dry.
Marco Giordo, Autosprint (ITA)
Q:
Ott, I see you very relaxed. How is your feeling because this is a very important rally for you?
OT:
My feeling is good, thank you….What can I say? I've had a good time with my wife at home….so!
Spanish journalist (ESP)
Q:
This will be the last mixed surface rally in the FIA WRC. Do you like the format? Do you think a mixed surface event should be necessary in the championship?
OT:
I think it is nice. The rally is unique. The mixed surface idea, for me, with only one a year is not so bad. It is one of the best we have in the season.
SO:
I agree. I like the challenge very much. It's interesting to have one rally like this in the Championship. I hope it will come back. I believe Spain is a big market for everyone and it is a lot of fun to come here and see the rally.
DS:
I am sure there is a decision from the organization to come back to the championship, Next year is holidays for the rally and it will come back.
EE:
I always say it is reasonably similar to some of the other gravel events in the championship.  But the tarmac is quite unique For me, it could be an all-tarmac rally if that's the way it wanted to be. The format we have now is interesting.

FIA WRC 2 PRO CHAMPIONSHIP
Present:
Gus Greensmith (GBR), M-Sport Ford
Mads Østberg (NOR), Citroën Total
Q:
Gus, a good battle between you and Mads for the runner-up spot within FIA WRC 2 Pro. Are you confident that you are well prepared for this event?
GG:
Everything seems pretty good. I think we had one good time on the Shakedown and the car feels really good. Everything is looking good.
Q:
This season we have seen you claim your first victories, in style in Monte Carlo and in dramatic fashion in Turkey! When you look back across the season, are you pleased with what you have delivered?
GG:
I strongly believe that I can win here. I want to end the season on a high. Obviously, the competition in FIA WRC 2 Pro and WRC 2 is high. We will work as hard as we can. It's important to end the season cleanly. There have been some quite big highs and some lows as well, like every season. There has been consistency, with some small errors that were not ideal.
Q:
What about next year? Can you tell us anything?
GG:
I wish I could tell you something. It's looking okay. I am quite confident. Nothing is decided on yet.
 
Q:
Mads, it seems from your interview at the end of the Shakedown stage today that you are keen to see what happens in the FIA WRC title battle with Seb Ogier as you want to head to Australia for the team!
MO:
Definitely, I always hope for Seb, but I have really strong feelings for him this weekend. I will be following him very closely and informing him that my future is in his hands. It is the target to be in Australia, but it will be decided from Seb's result here.
Q:
Focusing on this event, what do you believe can be achieved? Mister Greensmith sounds fairly confident. What about you?
MO:
I will try to stay focused on my rally, but my priority is for Seb to do well. I feel quite confident that we can do well here as well. We have had lots of strong performances this year. Some things have taken the opportunity of many good results away. Hopefully we can work together and get things sorted in the service and in the stages.
Q:
The same question about next year. We know what you can do in a WRC car and we know what you can do in an R5 as well. Do you believe that you have done enough to warrant a WRC drive next year?
MO:
I think it is difficult to say. Team principals don't' want to hear explanations. They want to see delivery. It is so difficult when you retire from rallies to show. Our speed is good enough. It is not easy for a WRC driver to do the set-up for an R5 and to learn it and love the car at the same time and to fight for the win at the same time. It is probably one of the most challenging years that I have had in a long time. Saying that, I have enjoyed it. We can win every rally now. That is completely different to what it was at the beginning of the year. We are very busy as a team. We want strong results as well. Hopefully we can find our way back to a WRC car next year. I enjoyed this year. There have been some disappointments but also some strong rallies, nice speed and good fights. I don't want to stay too long in this category. Either I go up or I go home. Now we focus on going up.
FIA WRC 2 CHAMPIONSHIP
Present:
Pierre-Louis Loubet (FRA)
Jan Solans (ESP)
Q:
Pierre-Louis, you lead the FIA WRC 2 category and the championship is exciting with six possible contenders for the title. It could be a big weekend for you here in Spain. How are you feeling ahead of it?
P-LL:
I am very confident. I am in a good position. I just have to do my best like the other rounds and to be focused on each stage. At the end we will see.
Q:
Have you done anything differently in terms of your preparations for this event or have you kept it the same?
P-LL:
Maybe a bit more WRC Plus on the video.
 
Q:
Now we have seen some challenging weather this weekend. Very heavy rain on Tuesday. How much did that affect your recce?
P-LL:
Well, we were able to do the long stage this morning. I hope the race will not be like the recce on the tarmac. There were stones on the road. This morning the grip was quite okay. We will see.
Q:
How are you feeling knowing that this event and going down to Australia could be the biggest events of your career so far.
P-LL:
I just try to do each race. I don't want to make any mistakes. Maybe a little bit more pressure, but the rest is okay. I just need to be a little bit more focused.
Q:
Jan, you are our FIA Junior WRC champion. Has it all sunk in - the success of the season?
JS:
Yes, we finished Wales and then we start working on this new project. We only had two weeks to find our sponsors and to organise everything to finally be here for my debut in R5. I had no time for testing or anything. Shakedown was my first contact with R5.
Q:
Tell us what the feeling was like in the R5 after the R2?
JS:
Obviously it is very different. The most different thing is the suspension. The car is having a lot of roll and movements. I did not have this in R2. Obviously, the speed is higher. I need to get used to the car and have more experience for next year.
Q:
We are looking forward to seeing you compete next year. But what have you been doing to prepare for this rally?
JS:
The most important thing was to find the budget to be finally here. My budget for the season was covered in Wales, so we needed to start again with the sponsors to get more help from them. I had no time to make testing. Shakedown was my first impression of the car and it was very good. My competition have a lot of experience. I need to focus on my driving.