This page contains archived information and may not display perfectly
WRC - Rally de Espana - Press Conference
Summary of the pre-event press conference organised by the FIA for the 2018 Rally de Espana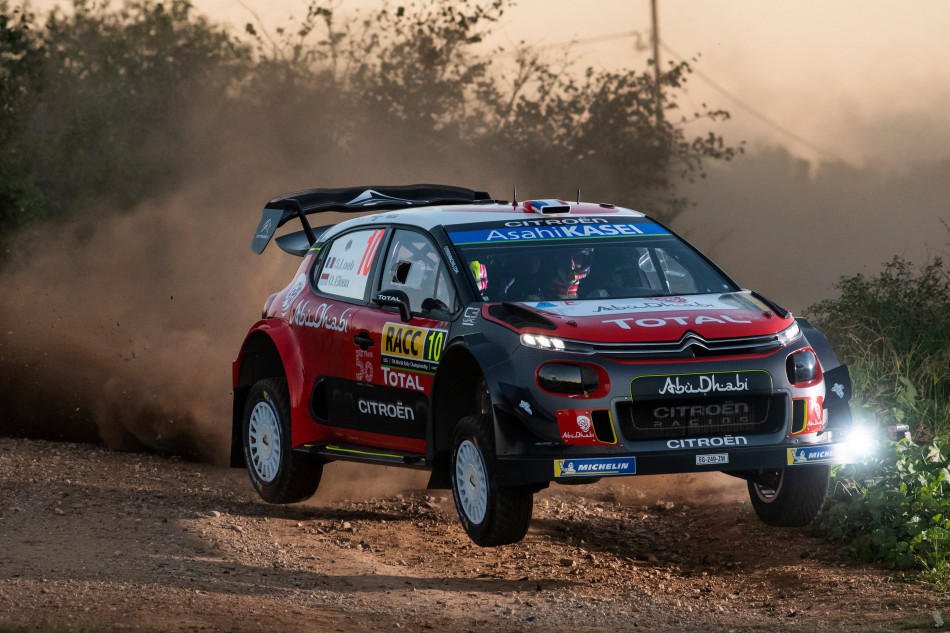 Present:
Thierry Neuville, Hyundai Shell Mobis World Rally Team
Sébastien Ogier, M-Sport Ford World Rally Team
Ott Tänak, Toyota Gazoo Racing World Rally Team
Sébastien Loeb, Citroën Total Abu Dhabi World Rally Team
Q:
Thierry, we have seen Sébastiens dominating the championship for a long time now. Are you about to change that?
TN:
We will find out. We have two more rallies to go. This weekend will be an interesting fight out there in tough conditions.
Q:
You lead the championship as we head into the penultimate round - shakedown got off to a difficult start this morning for you, tell us what happened? Any concerns with damage to the car? You have crashed at shakedown and won the rally before, is this a good sign?!
TN:
The car went onto two wheels. I thought I got it, I didn't and we went onto the roof. We brought the car back to check there was nothing wrong. It was just a small roll. This can happen [in shakedown]. For sure, we saw Ott in Rally GB, it can happen – it's our job. It's better to happen now in shakedown than on the rally.
Q:
You have the advantage in the championship, but after Ogier's win in Wales he is closer to you, trailing by just seven points. Are you feeling more pressure now?
TN:
Nah… You only feel the pressure from yourself. I'm quite relaxed. I know it's going to be a big fight like it has been since the start of the year. There have been some tough rallies and some easier ones. More or less it's the same guys fighting for the championship. We will keep concentrated and enjoy the fight.
Q:
You could become FIA World Rally Champion here, are you thinking about that?
TN:
Since yesterday evening I never thought about it. It will not be easy, there can be a lot of incidents. I have the advantage and I can manage the gap and that's all I need to do.
Q:
Seb, after a much needed win in Wales you edge closer to the lead of the championship. You've won three times here in the past, do you feel you have the complete package to win again?
SO:
It was a needed win, we were a bit too far away. In Wales it changed a bit: in the beginning it was not so good, but I never gave up. I kept fighting and then finally we got the win because of the trouble for Ott. It's nice to be back in the game, but the strategy is the same. It's an intense fight, we can't relax and can't afford to observe what our opponent is doing. You have to push. The gravel is challenging and the weather seems complicated at the weekend. We know about smooth, dry tarmac, but if we get heavy rain it can change everything. It's a tricky situation again, but this brings opportunity… and an opportunity to make mistakes! I'm looking forward to it.
Q:
Feeling the pressure?
SO:
I see it more as excitement than pressure. Pressure is always there as part of the job and I need this pressure to perform the best. It was highest early in my career when I was fighting to show that I deserve to be here and to secure my future. The first title came with higher pressure, but after some time you become more relaxed. The pressure is still there though.
Q:
The 38 kilometre stage, formerly known as Terra Alta, is now run in reverse with some new sections added. How does this change affect the flow of the stage? How critical is Friday?
SO:
On the other way around we have done it a lot of times. We expected everything. Now it's a lot of new corners and we forget how tricky this road is. It's pretty narrow with a lot of ditches, compressions and rocks. The tarmac is probably the easiest place; this is the section I liked in the past and probably I will need it. On the paper this is the most challenging stage of the rally.
Q:
Ott, Wales dealt a devastating blow to your points haul for the championship, but you are still in the fight. From third, 21 points behind the lead, is it now a case of risk everything to try and achieve your goal? Is your current feeling one of pressure or the opposite?
OT:
Let's say we are in a position where we have a shot, but not in the easiest position. I would say we have the worst position of the three, but still we have everything what we need to do that. We have to see how it turns out. Now it's just the last two events, we need to be perfect. We can't have any mishaps, we need to do our job.
Q:
Do you take big risks?
OT:
Definitely not. If we want to be in the fight in Australia we can't risk everything tomorrow morning. We have to play a sensible game, but our first priority is to be ahead of Seb and Thierry, but to have a better chance we need to fight for the win. This is not an easy event, especially not the first day on gravel, we have to be ready for that.
Q:
How challenging is the mixed format?
OT:
It's two different events in one. The first is quite rough, but fast gravel then the smoothest tarmac in the championship. Yes, it's different but we have done it quite many years and we are well prepared and the teams know what to expect.
Q:
Sebastien, Welcome back. With the pace we have seen you deliver in Mexico and Corsica, and your dominance of this rally in the past, how confident are you heading into this event?
SL:
I don't know. It's difficult for me to know what will happen. Before Mexico it was even harder. The first time to come back it was tricky and then the same on the Tarmac in Corsica. I hope to fight with these guys, but on the other side it's difficult to arrive six years later, to take new notes, discover some stages. I will do my best. I try to get the feeling with the car and then I will drive like I feel.
Q:
How was the test?
SL:
It was good. The settings work on tarmac and gravel. If it's wet on Saturday, it's a long time since I drove in these conditions and on this tyre. The first day is gravel and hopefully I will have a good road position for that. I need to use that to be in a good place for the weekend. I will see what we can do.
Q:
We recently heard that Peugeot will pull out of the World Rallycross Championship. Could we see you back in WRC for a limited programme? Would you welcome that?
SL:
I didn't know this was happening. One or two weeks ago I was sure I would do a full season in WRX and now I have nothing. I didn't think about the future before now. I had the test before this rally and there wasn't time [to think about anything]. I will have time to look next week what is my future.
Q:
Would you come back to the WRC full-time?
SL:
No.
Q:
What about a limited programme?
SL:
Maybe.
Q:
Finally, we see an incredible battle for the championship with three drivers still capable of claiming the crown. What have been your thoughts on their performances and this year's championship?
SL:
For sure it's very exciting. For a long time we see in the past one driver ahead of the other one with me or Séb [Ogier]. But now it's really a hard battle. It's really difficult to predict in the last rallies. Everything stays open and it's exciting to follow.
Q:
Will you follow it to the last stage in Australia?
SL:
Yes, as long as it's not in the middle of the night!

FIA WRC 2 CHAMPIONSHIP
Present:
Petter Solberg, Volkswagen Motorsport
Jan Kopecký, Škoda Motorsport, provisional FIA WRC 2 Champion*
Pavel Dresler, Škoda Motorsport, provisional FIA WRC 2 Champion*
Q:
Petter, you return to the WRC after an absence of six years. We see you debut the VW Polo GTI R5, firstly how does it feel to be back?
PS:
I must say I am very happy. It's really good fun. When you do a different sport you feel locked in a cage with all the other drivers around you. Here I unlocked those feelings. I come here to have fun and to play. I really appreciate to be here. I was quite sick earlier in the season and I thought I would not drive at all. I almost retired from rallycross in the middle of the season and this event was planned for a while, but I could not take a decision to do this until I knew if I would be fit. To come through that I am grateful to be here. I love rallying and the passion is huge. The WRC 2 class with the R5 cars is very close, this is a fantastic opportunity for me.
Q:
What can you tell me about the car and the objective for the weekend?
PS:
I've been working with them for a couple of years and working closely with the RX car. I like things to go a bit quicker forward and the guys we have there are really passionate about it. I did one day testing on snow, gravel and tarmac, so I checked a little bit of everything. It's all about fine-tuning. The power and torque is very good. When I drove the launch system, when I tried it on tarmac I thought I should turn around and go straight back again. I thought something must be wrong, but I am used to a launch on tarmac with 600bhp and the full-bar boost from the rallycross car! I thought: "This must be improved!" That's a little bit embarrassing. This is a big weekend for Volkswagen and for [Eric] Camilli, he can push hard. But I drive to have fun, to smile and take care of the fans. Hopefully I make no mistakes and get the brain to work with notes. I have a woman in the car. We usually listen to the women…
Q:
Feeling nostalgic here with Sebastien Loeb, Ken Block and, of course, your brother… what about that fight, will it be a big competition with Henning?
PS:
It was a little bit when I was 14! I'm sorry, he did very well in Turkey. I was very impressed with that. He has a big party after that! Henning loves driving and he loves food. He is enjoying the driving. To come back here and fight with him and with those guys is really nice – it seems like nobody retires anymore! I respect these guys like Seb and Ken, you can have the fame and the money, but still they come back here to the family. It's to great see everybody again. They don't just hide away, they come back and enjoy it and I like that. I have a lot of respect for that.
Q:
What's the future holding for you, you are talking a lot about your son Oliver.
PS:
He is working his own way with the phone calls or emails. He's the same as any other young guy finding his own way with sponsors and everything, There's no shortcut in rallying. You have to go through the gravel, snow, the mud and everything. Oliver has a plan. He wants to do Rally GB next year in an R5 car. He did some testing with Loeb, he was very helpful to give Oliver two days testing on tarmac… Loeb's not too bad on tarmac! He's a good teacher. We will see, there's a lot going on on Oliver's side.
Q:
Jan, you arrive in Spain as the provisional FIA WRC 2 Champion*, congratulations. You currently lead the Championship, and as Škoda has decided not to enter either yourself or team-mate Pontus Tidemand in Rally Australia, you have taken the title. What does this title mean to you?
JK:
For sure the timing is not coming perfect for us, we still have one rally to do – but we're very happy to celebrate.
Q:
You have had an incredible season in the Czech Championship, as well as WRC 2 where you have won all five events you have contested. Would you say this is one of your best seasons ever?
JK:
This has been one of the best: we won here and in Czech, I would say the best so far.
Q:
What's your approach here now the pressure's off…
JK:
The competition is very strong on this rally. You see the names on the start list, it's great to be here and I'm very happy Skoda gave me the chance again. I will try to do what I can to show my pace.
Q:
Any news about next year?
JK:
I don't know. Nothing new. We talk with Skoda, let's see what programme we can do.
Q:
Pavel, many congratulations on taking the WRC 2 Co-drivers' title; it's been a remarkable season for you and Jan, how are you feeling?
PD:
Very nice. The season started with a win in Monte Carlo, one of the hardest in the championship with the conditions and then we win all the five races. We use our experience to go with the speed and this is enough to be at the finish in the first place – it's brilliant to be champion.
Q:
What's been the most satisfying win?
PD:
Corsica and Sardinia. I like these two rallies so much. And then Turkey, when we survived!

FIA WRC 3 CHAMPIONSHIP
Present:
Taisko Lario
Enrico Brazolli
Q:
Taisko, you come to Spain lying in second position in the FIA WRC 3 Championship. Your target is getting closer! Looking forward to the weekend ahead?
TL:
I am confident. I know I am very fast on gravel and I like tarmac stages. I plan to push to the maximum and take the win. After that, Enrico goes to Australia, he has one round left. We can only take the win here.
Q:
How much testing on tarmac/gravel have you done prior to the event?
TL:
I have done the recce here in the last few years. I know the stages a bit and I have driven in France through this rough gravel. I think we have a good set-up and the car feels good. We had a good time at shakedown. Let's see. Maximum attack tomorrow and we'll see where we are.
Q:
How important is that long stage on Friday?
TL:
It's the most critical. On the long stage it's quite rocky and you can easily get a puncture. If you don't get a puncture and you can make the stage flat out then you can take a good time. It's important to make a clean day tomorrow then the tarmac is quite wide on Saturday, so I don't think there will be such big gaps.
Q:
Happy with your year?
TL:
I am quite satisfied. It's my first season in WRC and there have been many new rallies. I had some mechanical issues and some punctures, without them the situation would be very different. It's rallying.
Q:
Any plans for next year?
TL:
No. It depends how this season finishes, we hope to win the title and move up next year.
Q:
Enrico, the only split surface event of the year here at Rally Spain. How challenging is this event for a driver?
EB:
On this rally, the tarmac is important for me – the gravel is very difficult. It's very important to take the maximum attack from the tarmac.
Q:
Looking back across your season, which started with a win in Monte Carlo, are you happy with what you've achieved?
EB:
Yes, very, very satisfied for my season. I have 53 years and I win Monte Carlo and fought in Sardinia; second position in Germany and this is a very good year for us. It's important to do very well this rally and then Australia for us is a new experience – but it's very popular. My season is very great for now.
Q:
Plans for next year?
EB:
I don't know. Perhaps I have five or three or four rallies in WRC if it is possible.
Q:
You have the chance of the WRC 3 title?
EB:
This rally is very important to finish because I have one race in Australia and it's important to finish there. I need maximum concentration and to see the finish.

* Subject to the official publication of the results by the FIA