This page contains archived information and may not display perfectly
WRC - Rally Australia - Preview
The Championship decider!
   
2018 RALLY AUSTRALIA
  
The ultimate battle for the coveted 2018 FIA World Rally Championship trophies will reach a thrilling climax on Rally Australia (15-18 November). Going into the final round, the three-way fight for the drivers', co-drivers' and manufacturers' titles will be decided on the gravel roads around Coffs Harbour, the intriguing contest for outright honours in this year's championship having been the most intense and dramatic in years.
The twists and turns of the championship continued on the previous round in Spain and Sébastien Ogier regained the lead for the first time since Rally Argentina in April. The reigning and five-time FIA World Rally Champion has a three-point advantage over Thierry Neuville, but the Frenchman now also has the potentially unenviable task of running first on the road as a consequence. Should he win down under, Ogier will claim the title regardless of his rivals' positions. Beyond that, there are numerous permutations for overall classification and Power Stage points. Ott Tänak suffered another devastating blow to his title hopes in Spain, after leading both there and in Wales. The Estonian's only real option is maximum points, but even this will not be enough if Ogier and Neuville score well. The all-important Manufacturers' Championship also continues to be fought out between Toyota Gazoo Racing, the Hyundai Shell Mobis World Rally Team and M-Sport Ford World Rally Team. The Japanese marque currently holds a 12-point advantage over Hyundai, with M-Sport Ford a further 13 points adrift. With three world titles to play for, the stakes are high at Rally Australia and even the smallest slip-up could decide the outcome of what has been the most remarkable year-long battle.
This will be Australia's 26th appearance on the FIA World Rally Championship calendar, the event formerly on the west coast in Perth before moving east to New South Wales in 2009. It provides yet another different challenge for the crews with a mix of tight and twisty, as well as fast and flowing shire roads. Many stages also head into rainforests and the low angle of the sun in the mornings and evenings can create a strobe effect as the rays flicker through the trees making visibility tricky. With the support championships provisionally settled, a smaller field of FIA WRC 2 and WRC 3 contenders will join the WRC crews.
Four stages will be broadcast live on television; SS9/13 (Argents Hill Reverse) on Saturday and both runs through Wedding Bells on Sunday (SS21/24), the latter being the all-important Power Stage. All stages are however available live on WRC All Live on the WRC+ platform.
ROUTE GRAPHICS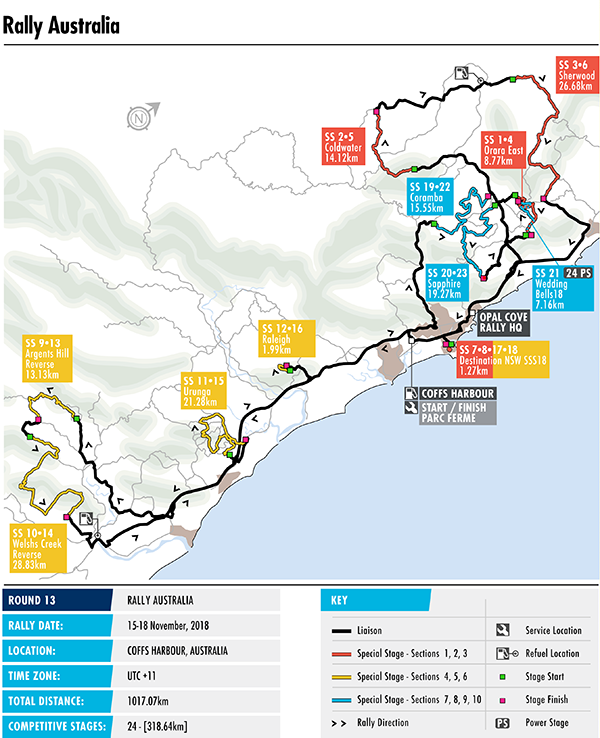 THE 2018 ROUTE
This year's route has changed and eight of the 11 different stages are either new, using different sections of previous stages or running in the opposite direction. Two loops of three stages lie in wait on Friday's opening day of competition before crews head back for the popular super special stage in Coffs Harbour. Sherwood (SS3/6) is the only stage of the day unchanged from last year. Saturday's route is the longest with two runs through four stages, again climaxing with the super special, which features just small changes this year. Sunday, while the shortest leg, will be no cruise to the finish with 83.96 competitive kilometres over three stages, all repeated. The podium ceremony has also moved from Coffs Harbour city centre to the end of the Wedding Bells Power Stage where the victors of Rally Australia and the 2018 FIA World Rally Championship can finally celebrate conquering the opposition. 
RALLY DATA
Total distance:
Stage distance:
Number of stages:

1,017.07 km
318.64 km (31.33%)
24
MEDIA ACCREDITATION

The Accreditation Centre is located at the Media Centre, Coffs Harbour Education Campus, Cnr Hogbin & Stadium Drive, Coffs Harbour. The opening hours are:
Tuesday 13 November
Wednesday 14 November
Thursday 15 November

14:00 - 18:00 hrs
08:00 - 18:00 hrs
08:00 - 20:00 hrs
RALLY AUSTRALIA TIMETABLE AND MEDIA OPPORTUNITIES ORGANISED BY THE FIA
Wednesday 14 November
Mandatory media safety briefing, Photographers' room

Thursday 15 November
Shakedown (P1 drivers)
Shakedown (all Priority drivers)
'Meet the Crews', Service Park
FIA Press Conference, Press Room
Official photo-shoot, Coffs Harbour Jetty Foreshores
Rally Show/Ceremonial Start, Coffs Harbour Jetty Foreshores

Friday 16 November
First car arrives for regroup, service and Media Zone
Regroup, Service Park
First car arrives for final service and Media Zone
'Meet the Crews', Service Park

Saturday 17 November
First car arrives for regroup, service and Media Zone
Regroup, Service Park
First car arrives for final service and Media Zone
'Meet the Crews', Service Park

Sunday 18 November
Regroup, Wedding Bells
First car arrives for regroup, service and Media Zone
Regroup, Wedding Bells
Prize-Giving and podium ceremony, Wedding Bells
FIA Press Conference, Press Room 


17:00 hrs


08:00 - 09:30 hrs
09:30 - 11:30 hrs
12:00 hrs
13:00 hrs
15:10 hrs
16:00 hrs


10:56 hrs
15:25 hrs
17:07 hrs
During the 45' service


10:22 hrs
15:33 hrs
17:07 hrs  
During the 45' service


08:11 hrs
09:33 hrs
12:19 hrs
14:20 hrs
16:00 hrs
FIA PRESS CONFERENCE ATTENDANCE
Thursday 15 November






Sunday 18 November

Armin Kremer, FIA WRC 2 Championship
Pedro Heller, FIA WRC 2 Championship
Craig Breen, Citroën Total Abu Dhabi World Rally Team
Thierry Neuville, Hyundai Shell Mobis World Rally Team
Sébastien Ogier, M-Sport Ford World Rally Team
Ott Tänak, Toyota GAZOO Racing World Rally Team

Winning FIA WRC 3 Championship crew
Winning FIA WRC 2 Championship crew
Top three crews in the overall classification
Representative of the winning competitor
2018 FIA World Rally Champions (if not already included)
MANUFACTURER ENTRIES, RALLY AUSTRALIA
M-Sport Ford WRT



Hyundai Shell Mobis WRT



Toyota GAZOO 
Racing WRT


Citroën Total Abu Dhabi
WRT 

Sébastien Ogier / Julien Ingrassia (#1)
Elfyn Evans / Daniel Barritt (#2)
Teemu Suninen / Mikko Markkula (#3)

Andreas Mikkelsen / Anders Jæger (#4)
Thierry Neuville / Nicolas Gilsoul (#5)
Hayden Paddon / Sebastian Marshall (#6)

Jari-Matti Latvala / Miikka Anttila (#7)
Ott Tänak / Martin Järveoja (#8)
Esapekka Lappi / Janne Ferm (#9)

Mads Østberg / Torstein Eriksen (#10)
Craig Breen / Scott Martin (#11)
ADDITIONAL MEDIA OPPORTUNITIES 

Autograph Signing Session: On Friday and Saturday selected crews will be available for a 15 minute autograph session. This will take place in the service park during the end of day service at the teams' service areas. 

FIA WORLD RALLY CHAMPIONSHIP CLASSIFICATIONS
The provisional classifications for all the WRC Championships can be found on the following link:
www.fia.com/events/world-rally-championship/season-2018/standings

STAGE CHART
Shortly after the finish of the event, a downloadable stage chart showing the progressive positions of the leading crews during the rally will be available. This is copyright free for editorial purposes and available at the following link:
www.fia.com/events/world-rally-championship/season-2018/stage-chart-11
| | |
| --- | --- |
| | 09.11.2018 |

L'ultime bataille pour les trophées tant convoités du Championnat du Monde des Rallyes de la FIA 2018 atteindra son paroxysme lors du Rallye d'Australie (15-18 novembre). Pour cette dernière manche de la saison, les titres de pilotes, copilotes et constructeurs se joueront sur les routes en terre autour de Coffs Harbour, la lutte n'ayant jamais été aussi serrée et spectaculaire depuis des années.
Des rebondissements ont émaillé la manche précédente en Espagne et Sébastien Ogier a repris la tête pour la première fois depuis le Rallye d'Argentine en avril. Le quintuple Champion du Monde des Rallyes de la FIA et tenant du titre a trois points d'avance sur Thierry Neuville, mais il a aussi la tâche peu enviable de s'élancer en premier. En cas de victoire, Ogier remportera le titre, quelle que soit la position de ses adversaires. Nombreuses sont par ailleurs les permutations pour le classement général et les points de la Power Stage. Ott Tänak a subi un autre coup dur en Espagne, où il dominait tout comme au Pays de Galles. L'Estonien n'a pas d'autre choix que de gagner et encore cela ne suffira pas si Ogier et Neuville obtiennent de bons résultats. Dans le Championnat pour Constructeurs, Toyota Gazoo Racing, Hyundai Shell Mobis World Rally Team et M-Sport Ford World Rally Team continuent de s'affronter. La marque japonaise possède actuellement 12 points d'avance sur Hyundai, suivi par M-Sport Ford à 13 points d'écart. Avec trois titres mondiaux à la clé, l'enjeu est de taille au Rallye d'Australie et la moindre erreur pourrait décider de l'issue de la bataille la plus intense de l'année.
Il s'agira de la 26ème inscription de l'Australie au calendrier du Championnat du Monde des Rallyes de la FIA. L'épreuve se déroulait auparavant sur la côte ouest à Perth et a été déplacée en 2009 vers l'est en Nouvelle-Galles du Sud. Les équipages seront confrontés à un nouveau défi, les routes étroites et sinueuses se mêlant aux routes du comté rapides et fluides. De nombreuses spéciales seront également disputées dans des forêts tropicales où les rayons obliques du soleil à l'aube et au crépuscule peuvent créer un effet stroboscopique à travers les branches. Les différents titres des championnats annexes ayant été provisoirement remportés, un plateau plus restreint de concurrents WRC 2 et WRC 3 FIA viendra rejoindre les concurrents WRC.
Quatre spéciales seront diffusées en direct à la télévision : l'ES 9/13 (Argents Hill Reverse) le samedi et les deux passages sur Wedding Bells le dimanche (ES 21/24), le dernier faisant office de Power Stage. Toutes les spéciales seront toutefois diffusées en direct sur WRC All Live sur la plateforme WRC+.
ITINERAIRE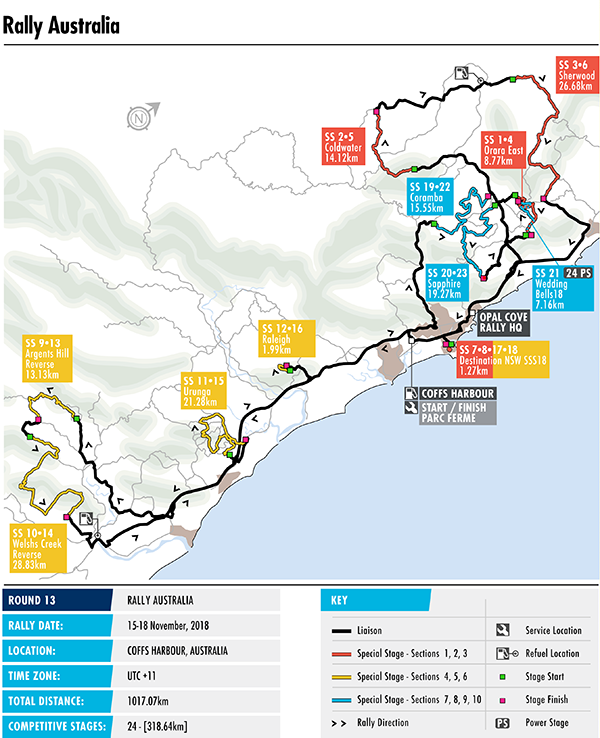 LE PARCOURS 2018
Cette année, le parcours a été largement revisité et huit des onze spéciales repensées sont soit nouvelles, utilisant des sections non empruntées lors des spéciales précédentes, soit courues en sens inverse. Vendredi, premier jour de compétition, deux boucles de trois spéciales sont au programme, avant que les équipages ne reviennent à Coffs Harbour pour la populaire super spéciale. Sherwood (ES 3/6) est la seule spéciale de la journée à être inchangée par rapport à l'an dernier. Le parcours du samedi est le plus long avec deux passages sur quatre spéciales, et encore une fois comme point d'orgue la super spéciale qui, cette édition, n'a été que peu modifiée. La journée de dimanche, bien que la plus courte, ne sera pas de tout repos, avec ses 83,96 kilomètres de compétition répartis sur trois spéciales, toutes répétées. La cérémonie de podium a été déplacée du centre-ville de Coffs Harbour à la fin de la Wedding Bells Power Stage où les vainqueurs du Rallye d'Australie et du Championnat du Monde des Rallyes de la FIA 2018 pourront enfin célébrer leur victoire.
DONNEES CONCERNANT LE RALLYE
Distance totale :
Kilométrage de spéciales :
Nombre de spéciales :

1017,07 km
318,64 km (31,33 %)
24
ACCREDITATION MEDIAS

Le Centre d'accréditation est situé dans le Centre Médias sur le Coffs Harbour Education Campus, Cnr Hogbin & Stadium Drive, Coffs Harbour. Les heures d'ouverture sont les suivantes : 
Mardi 13 novembre
Mercredi 14 novembre
Jeudi 15 novembre

14h00 – 18h00
08h00 – 18h00
08h00 – 20h00
PROGRAMME DU RALLYE D'AUSTRALIE ET OPPORTUNITES POUR LES MEDIAS ORGANISEES PAR LA FIA
Mercredi 14 novembre
Briefing obligatoire sécurité médias, Salle des photographes

Jeudi 15 novembre
Shakedown (pilotes P1)
Shakedown (tous les pilotes prioritaires)
'Meet the Crews', Parc d'Assistance
Conférence de press FIA, Salle de presse
Séance photos officielle, Coffs Harbour Jetty Foreshores
Rally Show/Cérémonie de départ, Coffs Harbour Jetty Foreshores

Vendredi 16 novembre
Arrivée de la première voiture pour le regroupement,
assistance et Zone Médias
Regroupement, Parc d'assistance
Arrivée de la première voiture pour l'assistance finale
et Zone Médias
'Meet the Crews', Parc d'Assistance


Samedi 17 novembre
Arrivée de la première voiture pour le regroupement,
assistance et Zone Médias
Regroupement, Parc d'assistance
Arrivée de la première voiture pour l'assistance finale
et Zone Médias
'Meet the Crews', Parc d'Assistance


Dimanche 18 novembre
Regroupement, Wedding Bells
Arrivée de la première voiture pour le regroupement,
assistance et Zone Médias
Regroupement, Wedding Bells
Cérémonie de podium et de remise des prix, Wedding Bells
Conférence de presse FIA, Salle de presse


17h00


08h00 - 09h30
09h30 - 11h30
12h00 
13h00
15h10
16h00


10h56

15h25
17h07

Pendant l'assistance
de 45'


10h22

15h33
17h07

Pendant l'assistance
de 45'


08h11
09h33

12h19
14h20
16h00
PARTICIPANTS AUX CONFERENCES DE PRESSE DE LA FIA
Jeudi 15 novembre






Dimanche 18 novembre

Armin Kremer, Championnat WRC 2 de la FIA
Pedro Heller, Championnat WRC 2 de la FIA
Craig Breen, Citroën Total Abu Dhabi WRT
Thierry Neuville, Hyundai Shell Mobis WRT
Sébastien Ogier, M-Sport Ford World Rally Team
Ott Tänak, Toyota GAZOO Racing WRT

Equipage vainqueur du Championnat WRC 3 de la FIA
Equipage vainqueur du Championnat WRC 2 de la FIA
Trois premiers équipages du classement général
Représentant du concurrent vainqueur
ENGAGEMENTS CONSTRUCTEURS, RALLY D'AUSTRALIE
M-Sport Ford WRT



Hyundai Shell Mobis WRT



Toyota GAZOO 
Racing WRT


Citroën Total Abu Dhabi
WRT 

Sébastien Ogier / Julien Ingrassia (#1)
Elfyn Evans / Daniel Barritt (#2)
Teemu Suninen / Mikko Markkula (#3)

Andreas Mikkelsen / Anders Jæger (#4)
Thierry Neuville / Nicolas Gilsoul (#5)
Hayden Paddon / Sebastian Marshall (#6)

Jari-Matti Latvala / Miikka Anttila (#7)
Ott Tänak / Martin Järveoja  (#8)
Esapekka Lappi / Janne Ferm (#9)

Mads Østberg / Torstein Eriksen (#10)
Craig Breen / Scott Martin (#11)
OPPORTUNITES SUPPLEMENTAIRES POUR LES MEDIAS 

Séance d'autographes : le vendredi et le samedi, les équipages sélectionnés se rendront disponibles pour une séance d'autographes de 15 minutes. Celle-ci aura lieu dans le parc d'assistance durant l'assistance de fin de jour dans les zones d'assistance des équipes. 

CLASSEMENTS DU CHAMPIONNAT DU MONDE DES RALLYES DE LA FIA
Les classements provisoires du Championnat WRC sont accessibles en cliquant sur le lien suivant :
www.fia.com/events/world-rally-championship/season-2018/standings
GRAPHIQUE DES SPECIALES
Peu après la conclusion du rallye, un graphique des spéciales téléchargeable montrant les positions progressives des équipages de tête pendant le rallye sera disponible. Celui-ci est libre de droits d'auteur à des fins éditoriales et est accessible en cliquant sur le lien ci-après :
www.fia.com/events/world-rally-championship/season-2018/stage-chart-11