This page contains archived information and may not display perfectly
WRC - Rally Australia - Press Conference
Transcript of the pre-event Press Conference organised by the FIA for the 2018 Rally Australia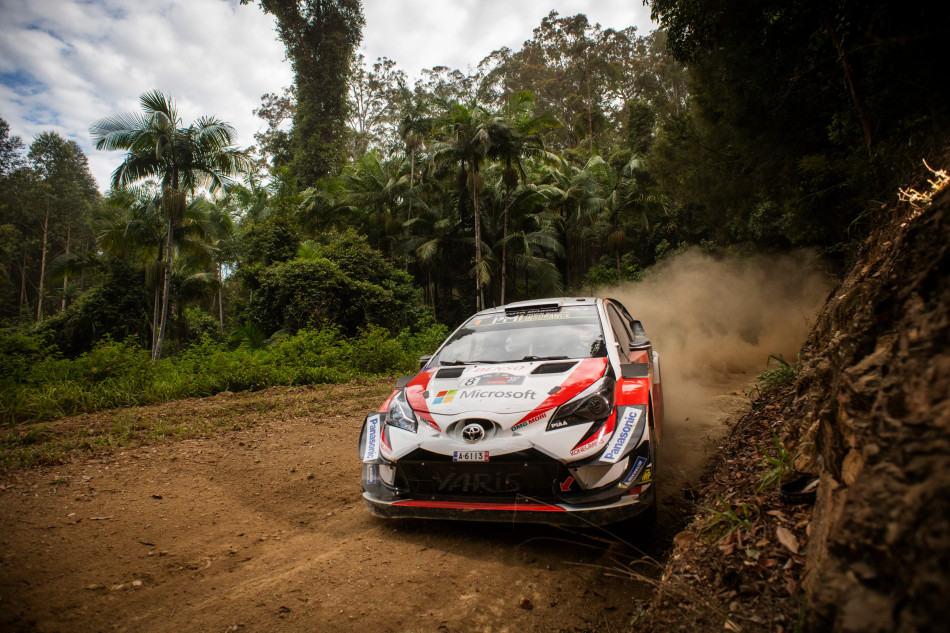 Present:
Sébastien Ogier, M-Sport Ford World Rally Team
Thierry Neuville, Hyundai Shell Mobis World Rally Team
Ott Tänak, Toyota Gazoo Racing World Rally Team
Craig Breen, Citroën Total Abu Dhabi World Rally Team
Q:
Seb, we've been talking about this event for a long time, but it's here now - what's the feeling?
SO:
We mentioned this a couple of times already, the main word is excitement. It's definitely a very nice way to finish the season. As a racing driver you want wins and titles and you enjoy all of them, but if you have the chance to fight with such intensity, it's nice. Two rallies ago I was 23 points behind and it looked not so easy and now we are back in the lead. OK, it's a small lead, but it's a lead with only one event to go. It's better to be in this position, I believe, even if it can be difficult to open the road. The guy one place behind me won't have a big benefit. The feeling was good this morning and we have to be flat out from the first metre tomorrow.
Q:
There might be some rain coming, that would suit you?
SO:
If it's really [a lot of] rain then it's super tricky with a lot of changes in grip and a lot of challenge. I remember in 2011 there was a lot of rain and it was very, very tricky. But still, I think it's better this way, it's better for everybody – if it's dry then the leader struggles. But you know, with the weather, I don't want to think too much about it, I know how much the weather can change here so, until I see it, I don't want to believe in it. Tomorrow will be a crucial day though; Saturday is much worse with much more loose on top of the road. It'll be important to be quick tomorrow to help pick up a better place on the road for Saturday.
Q:
What advantage do you have professionally over your rivals?
SO:
Professionally, I don't know. We all have experience now, maybe I have a little bit more than them. But the only thing that I really have is the titles and that gives me the chance to be a little bit more relaxed. Of course, if I get a sixth one it will be nice, but it won't change my life so much – it's not like winning the first one. I have a small advantage for that, but the pressure is on. I don't see anything else other than winning this title this weekend and I will give it everything I've got.
Q:
Thierry, you've gone from hunted to hunter, how does it feel for you coming here in second place?
TN:
Obviously, like Seb said, he has the title, that's true and we are missing that. But for the rest, we are equal with the teams, the cars and the rallies. We know it's up to us to do the job. Depending on the weather, which can change for us or Seb in better or worse way – but it won't be too different for us all. We will give 100 per cent and hope we all have a clean rally and a proper fight. And then on Sunday somehow, one of us will be happy and two will not.
Q:
Is there anything different for you with this event?
TN:
I will do my job to the maximum. The last couple of rallies have been challenging and this one will be as well. We won't give up so close to our main goal. In this situation it's already something positive to know that I secured my future already, so if it (the championship) won't be this year – and hopefully it will – I know I have more chances to come if it doesn't happen this time. That relaxes me a little bit.
Q:
How tough is this rally?
TN:
The question comes very often, but every rally this year has been unique in characteristic and strategy and with more tyre choices on gravel things have changed again. It's quite a complex event and with the weather it can be [more complex]. It's definitely not an easy event, but it's one I like. Let's go out on the stages and fight for it.
Q:
Ott, what's your plan?
OT:
For us it's quite simple, we have no strategy – even if we are ahead of these two it won't change anything. The only aim is to win the rally and power stage and then see if these guys hand us something. There is nothing in our hands, we target our own event, like every other event: we target victory and then see what happens.
Q:
Has this been the most enjoyable season in your career?
OT:
It's hard to say if it's been the most enjoyable, but definitely I can say we have been working really hard. I changed into a new team and a lot was new and there were many things I didn't know what to expect – it was a big job to get used to the new team and new job. It was not easy, but luckily we made quite many stapes and we have been going forward and improving all the time. I'm very happy with the job we've been doing. We never underestimate our rivals, we need to keep pushing.
Q:
How much of a motivation has it been to be part of the championship fight?
OT:
It's been amazing, I must say. In some point of the season we were quite some distance [behind], after Sardinia we were already 80 or 90 points behind and that was a big margin. It felt like we had no chance even with a fast car and a strong team, but then we came back in and now we have dropped away again. Maybe these highs and lows make [me] more emotional than I should be, but I really enjoy to fight for this top position on every stage and every rally. I'm enjoying this and the thing I enjoy the most, like all of us is to win.
Q:
Craig, this is your second time in Australia – glad to be back?
CB:
Yeah it's nice. It's only my second time here, but I like coming it here – my sister lives here and there's a lot of Irish people around, so strangely it feels a little bit like home. The stages are beautiful, but the weather could turn things upside down a little bit. 
Q:
Happy with shakedown?
CB:
I was quite surprised, we made some changes after the first two runs, but it felt good so we came back and played with the tyres a bit. We're ready to give it a good shot.
Q:
What about the tyres? Will you have to save the mediums if we get a bit of rain?
CB:
We only have 16 medium tyres for the weekend, so if it's full dry it probably won't be enough. We need to be careful to plan the tyres – it looks like the majority of the rain will fall tonight so tomorrow morning could be quite straightforward, but after that we don't know so much.
Q:
We saw you on the podium in Sweden, what are the chances of seeing you back there again and how much would a top result help for next season?
CB:
OK, it's been a long time since we were on the podium in Sweden, we've been in a place to step on it since then, but it's been a difficult year with a lot of bad luck. To get a podium here would be one of the best of the year as these guys will be going at it hammer and tongs. It's not a hugely important event for next year, we've done as much as can – but that's not to say winning this rally would do a lot to fight our case!
Q:
Can you tell us anything about next year?
CB:
Nope. We need to get this rally out of the way and then the powers that be will get things sorted for next year.

FIA WRC 2 CHAMPIONSHIP
Present:
Pedro Heller
Armin Kremer, Motorsport Italia
Q:
Pedro, final event of the season and as we look back across yours we see that you have been on the WRC 2 podium twice in Mexico and Argentina. Are you satisfied with your season and your performance?
PH:
Yes, for sure. First of all I'm really pleased to be here in Australia – this is my fifth round of this year. This is my second year and my job was to be in the top 10 and we are ninth – and we still have this opportunity to score some good points. I hope we can be in the top five [in WRC 2]. The season has been perfect. I hope to be back in the next year and hope to fight for a better position.
Q:
Next year includes Rally Chile for the first time, how excited are you about that ?
PH:
It's my home, so I am really excited about this. And now I'm sort of an ambassador for the national championship. They worked really hard to get the event there and now we have it for three years. As a rally it will be similar like Wales, in the mountains. It'll be a really nice rally. We hope it will be good for the fans.
Q:
How was the recce for you?
PH:
After Turkey, this is really smooth! It's a long rally with some rough sections, there's not too much twisty, it's generally fast. Sunday will be a bit more difficult, but we have nice pace notes and we will try to push and get some experience.
Q:
What about next year, is that a big target?
PH:
It's a big target. It'll be nice, we want to go to compete.
Q:
And your brother – Alberto – will be competing as well here?
PH:
It's nice to have him here. He's young. We both started rallying in 2015, this is new for us. We are both pushing and trying to get the results. I'm happy for him, he's getting quicker – but you need four or five years to be at the top in WRC. He is 24 and I think in the next years he's going to give us a lot to talk about.
Q:
And what do you think of Australia?
PH:
It's good, I'm a fan!
Q:
Armin, it's been 15 months since we saw you as part of the WRC 2 category - what made you decide to come back for the final round this year?
AK:
Yes, it's fantastic to be here. Our last race in R5 was two years ago in Catalunya and for us it's really important we can find the speed on this new ground for me. Last year it was a really good experience with the WRC car in Germany, we found a good speed. For me and for our team we look at what we can do with the race, the roads are really fantastic and we are happy at the moment
Q:
What makes Australia difficult?
AK:
It's so difficult to find the grip on the road, the ground is very hard – for our tyres it is not so easy. It's like driving in bubblegum. This is my position right now.
Q:
And the weather could make it difficult…
AK:
Yes, tomorrow or Saturday there may be rain – I cannot find the decision if it's raining or not. For the race, it's tricky. The roads are so muddy, it won't be so easy to drive, but it's the same for everybody
Q:
What can you tell us about next year?
AK:
We talk about a lot of things with the young drivers in Germany and we push this a little bit. We have a young driver in Marijan Griebel and we push a lot with him, maybe in ERC or WRC 2. We push with him.