This page contains archived information and may not display perfectly
WRC - Ogier: "I expected a much tougher competition"
Transcript of the Post-Event Press Conference organised by the FIA for the 2018 Tour de Corse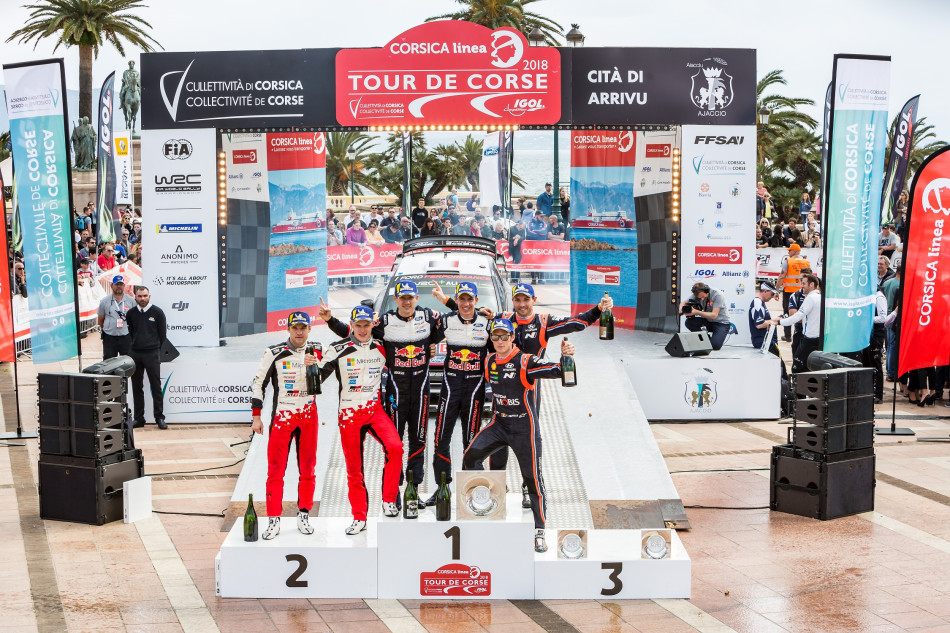 Present:
1st - Sebastien Ogier, M-Sport Ford World Rally Team
1st - Julien Ingrassia, M-Sport Ford World Rally Team
2nd - Ott Tänak, Toyota GAZOO Racing WRT
2nd - Martin Järveoja, Toyota GAZOO Racing WRT
3rd - Thierry Neuville, Hyundai Shell Mobis WRT
3rd - Nicolas Gilsoul, Hyundai Shell Mobis WRT
Malcolm Wilson, Team Principal, M-Sport Ford World Rally Team
Q:
Seb, congratulations, how does this win feel?
SO:
I'm very very pleased. It was a good performance. I expected a much tougher competition. The gaps are usually very close and making such a big difference from the start was a nice surprise. The rest of the weekend was not as easy, because managing the gaps is always challenging since you don't want to make any mistake.
Q:
It seemed like no one could come close to you. It's probably very satisfying, isn't it?
SO:
For sure. We also have the car to thank for that. It seems it's now going in the right direction and that we progressed more than the others. However, it's not because we just lived two great events that it's over. We have to keep pushing.
Q:
The car that you now have is more conformed to your 2018 standards. Is the development effective?
SO:
Indeed, we are now up-to-date. I'm sure the support we get now from Ford will pay off later because that kind of thing always takes time. The development was a key factor for me to stay at M-Sport so I'm very pleased to see that the efforts are paying off.
Q:
Julien, what a tough event it is for a co-driver. Is talking 30 minutes non-stop a real challenge?
JI:
Well I guess, but to process everything what I'm telling is also a challenge. The whole weekend was very demanding. The Tour de Corse is always a demanding rally. I have to congratulate the others as well because it is indeed a challenge.
Q:
Did you have a good experience out there?
JI:
Yes, we did. We discovered some new stages, some new areas. I took some pictures that are beautiful. It's also one of the perks of our job, to be able to take pictures from all those places we're visiting.
Q:
Ott, it seems like you've improved all weekend long. You had a strong finish from yesterday to today, didn't you?
OT:
I'm quite happy to be here. I'm aware that the Tour de Corse is one of my weakest rallies. I've never felt too strong here. The approach this year was to be consistent. We started on a good pace. We improved yesterday     and we went closer to the limits today. This morning, we even found ourselves in a big fight. Everything paid off. I'm happy.
Q:
We were watching the splits in the first stage this morning and thinking you were really going for it?
OT:
I tried to stay on the limit. It was a long and tricky stage this morning so I had to keep cautious. But it really paid off when you see the time.
Q:
What's the plan now for the next event in Argentina?
OT:
It's always nice to go over there. We are going to Sardinia before for development work. The team is working really hard to make everything happen. I keep pushing them and I think we are going in the right direction.
Q:
Martin, how did it work out for you in the car?
MJ:
My body is quite tired. It's like I just spent three days in a washing machine! However it was a great rally, especially with this consistent weather that we were lucky to have. I'm quite happy about our result.
Q:
"Quite happy"? Is it typically Estonian to be understating?
MJ:
Yes, when you don't win you're only quite happy.
Q:
Is there a particular stage that you found the toughest?
MJ:
Not really, you have to concentrate for every stage. It's hard to pick one.
Q:
You now have a family member running in the Championship. Your cousin is a co-driver in the Junior WRC. Did you give him any advice?
MJ:
Well, no in fact. Mainly because they were too far behind. But congrats to them because I heard they finished!
Q:
Thierry, what happened on that final stage? Your car did not seem very performant?
TN:
No, it was not. I thought the engine was gone, but we were able to continue. I was not sure about the gap between me and Dani (Sordo), so we must be pleased with the final result. But we can't be pleased with how we got it because we were not competitive. There were too many big gaps and we just could not resist. It's frustrating.
Q:
What was not working correctly?
TN:
The balance was not completely right. I pushed as much as I could though. Nicolas was doing a good job as well. After the first day we were almost never in the top five. I did the maximum but we need to see where we can improve. I'm sure we're going to work on this with the team.
Q:
And now Argentina is coming next?
TN:
I'm looking forward to it. I like to focus on the next event. We're probably going to do some good testing. Hopefully, we will be able to fight for the podium and even higher.
Q:
Tough challenge Nicolas on that final stage?
NG:
Well yes but it was not the most challenging stage for me this weekend. In fact I was impressed by Thierry's skills. It was fantastic to watch from my seat. But the time wasn't great. We need to work on that.
Q:
Did you have to make lot of changes on your notes this weekend?
NG:
Sometimes it takes one or even two stages to be in the right mood during the recce. What's difficult is to make the right notes at a slow pace and then to apply them during the rally at full speed.
Q:
Malcolm you were happy after Mexico, and now another brilliant weekend?
MW:
It's been a fantastic weekend. When we saw the splits coming in on Friday, we were all amazed by Julien and Sébastien's performance. But then it's a lot of pressure for the next two days since you have to manage the gaps. Mexico is one of the best drives I've seen, and now they've managed to score another impressive performance.
Q:
Were you always confident that once Sébastien took the lead, he was going to keep it?
MW:
The fact that he's a five-time world champion gives you that confidence, yes. It takes away a lot of pressure from the team.
Q:
You have one of the tightest budgets in WRC so it's probably very satisfying to see your car is in such a good shape?
MW:
Yeah, we worked a lot to get here and things are coming. Now we have more resources from Ford for development. I think that if we can keep pushing, we can still improve.
Q:
A word about Elfyn who had to enter the rally with a new co-driver after Dan Barritt's injury. What did you think of his performance, and his co-driver Phil Mills who hasn't been in the sport since 2010?
MW:
It was certainly the right decision to replace Daniel. Phil was the obvious choice because he's been doing the gravel notes. But his introduction was very late, for the shakedown. It was quite a tough mission. I'm just really thankful Phil could step in. Hopefully Daniel should be able to come back for Argentina to help Elfyn give support to Sébastien Ogier.

FIA WRC 2 CHAMPIONSHIP
Present:
1st - Jan Kopecky, Škoda Motorsport II
1st - Pavel Dresler, Škoda Motorsport II
Q:
Congratulations on a brilliant Tour de Corse Jan. Are you a happy man?
JK:
For sure. We're trying to enjoy every moment. Hopefully it will bring us some more rallies.
Q:
What are your plans for the rest of the season?
JK:
I can now confirm that we are going to Sardinia.
Q:
We saw you pushing hard yesterday afternoon?
JK:
Yes, I did. The Citroëns were really fast so we had to push a little more.
Q:
What about you Pavel, are you happy with the result? It must be so difficult talking through the 10,000 corners of the rally?
PD:
Yes, I'm very happy. We both are. 10,000 corners, it is a challenge but I'm used to speaking all day long. I'm a teacher so I have some practice! Preparation is very important in this rally. If you are too slow or too fast you always have to keep adjusting.

FIA JUNIOR WRC / WRC 3 CHAMPIONSHIP
Present:
1st - Jean-Baptiste Franceschi
1st - Romain Courbon
Q:
Jean-Baptiste, it was a great French battle this weekend. How are you feeling?
J-BF:
Winning here is amazing. It's a beautiful rally. We found the perfect set-up. Thanks to that, we passed Terry (Folb) and scored eight fastest times. 
Q:
How hard were you pushing?
J-BF:
Not too much. Sometimes we were at a 100%, sometimes just at a normal pace because it's very tricky here. And that's why it is so important to find the perfect set-up.
Q:
Were you nervous this morning before the last two stages?
J-BF:
Yes I was. For me the first stage was much longer than the 55 kilometres!
Q:
Romain it must be a very special feeling today?
RC:
Yes it is very special. It's a huge satisfaction because we work very hard with Jean-Baptiste on pace notes, physical preparation…
Q:
Tell us about your role?
RC:
In Corsica, the role of the co-driver is very important. It is really really difficult. You can't afford any mistake, otherwise you're off. You have to be very accurate.