This page contains archived information and may not display perfectly
WRC - Ogier grabs second place as Sordo remains on top
2020 Rally Italia Sardegna - Saturday afternoon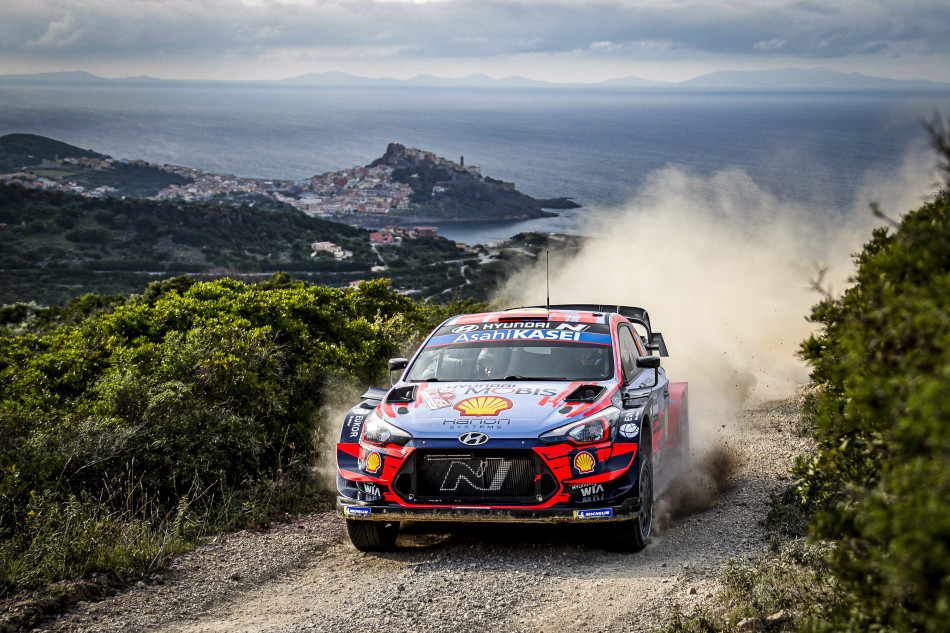 Hyundai's Dani Sordo will take a lead of 27.4 seconds into the final day of Rally Italia Sardegna over Toyota's Sébastien Ogier, who snatched second place from Sordo's team-mate Thierry Neuville on Saturday's final stage.
Sordo was 6.2s slower than Ogier in the first of the two afternoon stages but was only one second down in the finale, meaning he holds a comfortable lead with four stages remaining on Sunday.
Ogier set two fastest stage times in the afternoon loop to win four of the day's six stages in total for Toyota. He moved 1.5s ahead of Thierry Neuville in the overall standings after the Hyundai driver ran wide on a bridge in SS12.
Championship leader Elfyn Evans saw his advantage over M-Sport Ford's Teemu Suninen reduced to 3.9s in SS11 but responded with a faster time in SS12 with his Yaris to end the day 8.5s ahead in the battle for fourth.
Ott Tänak remains over a minute further back in sixth, with private Hyundai 2C Competition driver Pierre-Louis Loubet in seventh.
Pontus Tidemand remains just over a minute ahead of fellow Toksport WRT Škoda Fabiadriver Eyvind Brynildsen at the front of FIA WRC2 and has now moved up into the top 10 overall.
After a puncture cost him the FIA WRC3 lead in the final stage of the morning loop, Oliver Solberg claimed first place back in SS11, only to then crash near the end of SS12. Jari Huttunen now holds the category lead by 10.5s over Kajetan Kajetanowicz, respectively in eighth and ninth overall.
There's no change in the overall standings in the FIA Junior WRC Championship with Sweden's Tom Kristensson at the top of the leaderboard, ahead of Paraguay's Fabrizio Zaldivar and Latvia's Martin Sesks.
2020 Rally Italia Sardinia – Unofficial results after Section 6:
| | | |
| --- | --- | --- |
| 1. Dani Sordo (ESP) / Carlos Del Barrio (ESP) | Hyundai i20 Coupe WRC | 2 hr 14min 35.5sec |
| 2. Sébastien Ogier (FRA) / Julien Ingrassia (FRA)  | Toyota Yaris WRC | 2 hr 15min 02.9sec |
| 3. Thierry Neuville (BEL) / Nicolas Gilsoul (BEL)  | Hyundai i20 Coupe WRC | 2 hr 15min 04.4sec |
| 4. Elfyn Evans (GBR) / Scott Martin (GBR) | Toyota Yaris WRC | 2 hr 15min 33.9sec |
| 5. Teemu Suninen (FIN) / Jarmo Lehtinen (FIN) |  Ford Fiesta WRC | 1 hr 15min 42.4sec |
| 6. Ott Tänak (EST) / Martin Järveoja (EST) | Hyundai i20 Coupe WRC | 2 hr 17min 00.8sec |
| 7. Pierre-Louis Loubet (FRA) / Vincent Landais (FRA) | Hyundai i20 Coupe WRC | 2 hr 18min 12.5sec |
| 8. Jari Huttunen (FIN) / Mikko Lukka (FIN) FIA WRC3 | Hyundai NG i20 | 2 hr 21min 34.2sec |
| 9. K. Kajetanowicz (POL) / M. Szczepaniak (POL) FIA WRC3 | Škoda Fabia Evo | 2 hr 21min 44.7sec |
| 10. P. Tidemand (SWE) / P. Barth (SWE) FIA WRC2 | Škoda Fabia Evo | 2 hr 22min 23.6sec |