This page contains archived information and may not display perfectly
WRC - O. Tänak: "We survived with no incident & no mistake!"
Transcript of the post-event press conference organised by the FIA for the 2019 Rally Sweden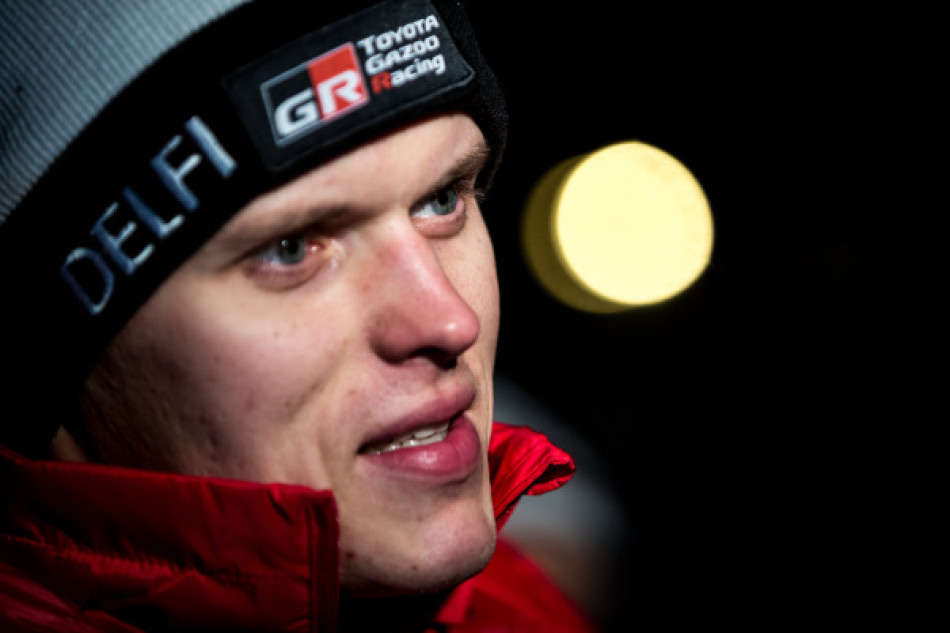 FIA World Rally Championship
Present:
1st – Ott Tänak, Toyota Gazoo Racing WRT
1st – Martin Järveoja, Toyota Gazoo Racing WRT
2nd – Esapekka Lappi, Citroën Total WRT
2nd – Janne Ferm, Citroën Total WRT
3rd – Thierry Neuville, Hyundai Shell Mobis WRT
3rd – Nicolas Gilsoul, Hyundai Shell Mobis WRT
Tommi Mäkinen, Team Principal, Toyota Gazoo Racing WRT
Q:
Ott Tänak, that's win seven of your WRC career and your first win here in Sweden! You now lead the FIA World Rally Championship. A satisfying weekend for you?
OT:
To be honest, it started well. For me the best loop was Friday morning when we had some extremely good conditions and it was really enjoyable to drive. We built a small gap then, because we knew we would loose on the second loop - this was the toughest part of the rally. But we survived with no incident and no mistake. And still we did quite an OK loop and we were only a couple of seconds behind Teemu [Suninen]. Since Saturday morning, we tried to do our best and take the win with minimum risk. We had a good flow in the car. It was working from there. Maybe in some places, it was even a bit boring because we didn't have to fight. The car was great, everything was working. In such conditions, it was enjoyable to drive.
Q:
How much did you risk in the Power Stage?
OT:
I would not say I took any risk. I tried to drive well. We did nearly a perfect stage in a good line and the rhythm was good. It worked great. I don't know how it was in the beginning, but I think we had a good road position. We tried to do our best, so I'm happy with the result.
Q:
Were you on the limit?
OT:
I don't think we pushed to the maximum, maybe the most on the limit in the Power Stage. There we tried to drive well but we were, more or less, on the limit. Normally you have to fight for the last tenth of seconds, but we were in the best situation. We saw yesterday the conditions were so tricky, I would not like to push on these conditions – maybe this was the fastest way. If you are fighting, you want to be on the limit all the time.
Q:
Martin Järveoja, we saw the numbers three, one, five on your pace-notes – what were those numbers?
MJ:
That's the target we need to collect so many points… It's a very important number for my father. He supports me, so I support him.
Q:
How does this feel?
OT:
It was a really good weekend. Jari-Matti [Latvala] showed in 2017 that this car is very good on Sweden's icy roads. Last year we had no chance to fight for the win but this year, it was really good. Everything was perfect.
Q:
Esapekka Lappi, a huge battle for second position, which you have sealed here in Sweden to mark your fifth podium in WRC and your first podium for Citroën. When you look back to the mid-point of Friday, it's a massive turn around for you to achieve this result!
EP:
Yeah, you need be satisfied with the podium - at least this is in my case. There was quite a difference from Friday to Sunday: glasses on, glasses off from Friday to Sunday! If we were very unlucky sometimes, now maybe we were really lucky [after the Friday moment] – we are equal now.
Q:
That was quite a moment, tell us about it…
EP:
Yeah, for sure when we started you are just a passenger and I felt: "OK, this is over now…". You cannot understand what is happening, you just wait. When the car stopped, I put the first gear and we started to drive again, everything was working. Janne was saying "Something must be broken" but nothing was broken, we just continued.
Q:
Did that dent your confidence?
EL:
I don't really think it did. We struggled a bit, we lost the front splitter so the front aero was not working at all – this was interesting when the front of the car was coming really high in fifth and sixth gears. It was a big battle on the right hand corners, so this was not so enjoyable. Before the moment I felt good with the car, the car was better on the ruts than in the first pass.
Q:
Were you on the limit this morning?
EL:
Yeah, here and there for sure. For sure I could push harder, but then you start to make mistakes. I think the pace was perfect for the situation. I wanted to come to the finish. We wanted to fight for second and we managed it – I'm happy for that.
Q:
Janne Ferm, happy with the first podium for Citroën?
JF:
Of course, when you are in this room [press conference room], you have done something right. I'm happy for the team. Esapekka drove well and we only had this small moment on Friday… It was only small – I was overreacting!
Q:
And have you enjoyed the battle today?
JF:
Yeah, it was a good battle with the Hyundai boys and Elfyn [Evans] was not so far behind. This was probably the best Sunday I can remember. We had the same kind of Sunday last year in Sweden, but then we were catching people – this time we were holding position.

Q:
Thierry Neuville, third place for you and a good place on the road for the next round in Mexico…
TN:
You are very good at looking at what is positive. It was a difficult weekend for us. I struggled a lot from Saturday afternoon to drive the car and today was tricky. There were a lot of small mistakes even though we were not able to push to the maximum. It felt difficult to catch Lappi, but in the end, we caught Andreas and it was important to be on the podium this weekend. We look forward to next event.
Q:
There were a few moments, including a 360 for you yesterday…
TN:
Like I said before, my spin was talent – Esapekka's was luck – but still I give him a 10, it was stylish too!
EL:
You know what I said to him, I said the talent is to stay away from the banks…
TN:
I felt very good in the car on Friday, then I struggled a bit more. I knew I had to finish on the podium but I also knew it would be difficult to go for the five Power Stage points. We knew it would be difficult with Ott and Toyota. I'm satisfied with third place, but we always want more.
Q:
And what about Mexico?
TN:
It's a challenge for the first cars on the road. For Ott, it will be the most difficult, for me and Seb [Ogier] behind, it also won't be easy. But the target is to take points. The fast guys behind will benefit from it, but we also have Dani Sordo coming back, so hopefully we can make a good weekend for the team.
Q:
Nicolas Gilsoul, it's been a tough weekend, but it's still been good…
NG:
I am very happy, even with the third position. It was quite tough, especially from my side on Friday when the snow started to melt. We were quite early on the road and it was very slippery for us. On Saturday, being a little bit behind, it was a bit more easy, but still it was a good weekend for us.
Q:
You were straight back on the notes after that 360°…
NG:
Luckily! We felt immediately that it was OK, we just slightly touched the bank and lost only a few seconds.
Q:
There's always something with you boys – Colin's Crest last year…
NG:
We have always something to tell.
Q:
Tommi Mäkinen, Ott and Toyota lead the championships, does that feel good?
TM:
Yeah, absolutely brilliant weekend. We could see how well Ott controlled the weekend. If we look at the guy behind the wheel, I can see myself 20 years ago when we talk about the title.

Q:
Tommi, were you concerned at the risk in the Power Stage for Ott?
TM:
If you follow the stage, he was so brilliant – nice smooth lines and no risk at all…
Q:
It was a great performance…
TM:
I would say this weekend was… in the unexpected conditions. The preparations were done in normal winter conditions and suddenly everything melted. It was like Monte Carlo conditions, with so many little offs. It was a very, very hard weekend for everybody. That's rallying and we can't do anything. Mexico will be more consistent for everybody.

FIA WRC 2 PRO CHAMPIONSHIP
Present:
1st – Mads Østberg, Citroën Total
1st – Torstein Eriksen; Citroën Total
Q:
Mads Østberg, it's a win for you in the FIA WRC 2 Pro category here in Sweden. A good result but it sounds like you have had a few issues along the way?
MO:
It's been – also from the weather – quite a difficult Rally Sweden. It was a challenging event for us and, like I mentioned before the event, it was a bigger step than I thought to go from the FIA World Rally Cars to the R5. It was a big, big challenge and to run on the first event as a snow event with the C3 R5, it was a huge challenge. So we didn't come that well prepared and we really struggled throughout the rally. On the other hand side, we have achieved a strong result. We did everything we could on every stage. I was outside of myself on every stage and every time I tried to up my pace, it was not possible. To be honest, this was quite stressful. But we ran steadily for a rally with no dramas, in the end the result is really strong. It's positive for Citroën and for us to achieve this result even with the difficulties. For sure we need go home and work to come back fighting stronger next time.
Q:
What was the hardest part of the switch?
MO:
It's hard to answer because the switch was such a huge step. Also in terms of balance and how you drive the car. The car was not working so well on this event, this is not a secret – and the C3 WRC car is working. I struggled on the high-speed. I think I was also used to the downforce [from the FIA World Rally Cars] – that's the weakest point of that car.
Q:
Your experience shone through, you kept it clean and came home with the win…
MO:
I was trying. I tried to push on Friday. Like I said, I was outside of myself and over the limit of what's possible with the car and still we had no chance. I understand we would be in the snowbank if it went like that on whole rally. I had to use the brain and slow down – but I can tell you we had some pretty big moments. My arms are a bit sore now.
Q:
When do we see you next?
Argentina.

Q:
Torstein Eriksen, how big was this challenge for you?
TE:
When the driver struggles for rhythm, it's difficult for the pace-notes. But we managed quite well and we can be happy with the rest, it's been a good start to the season.
Q:
What do you do now?
TE:
We work hard on the video from last year. We will use the experience and get ready.

FIA WRC 2 CHAMPIONSHIP
Present:
1st – Ole Christian Veiby
1st – Jonas Anders Andersson
Q:
Ole Christian Veiby, congratulations on a pretty amazing result…
OCV:
Yeah, we're really, really pleased. To sit here as winner of the R5 class is brilliant. It's been brilliant from the start. Already from Friday on, we were really quick and we could build up a good lead. On Saturday, the difficult conditions came and we had a fight with Huttunen today. Sadly he went off, we kept it, so we could be a bit more steady in the final stage. But there was only 12s between us [at the start of the day], but we really stepped on it on the first two and we really showed we went faster today. This feels fantastic.
Q:
The competition has kept you on your toes?
OCV:
Yeah, I think we almost went all we could except here on the last one, where it was difficult for the rhythm. It's nice to go through a rally and push on every stage.
Q:
Any moments?
OCV:
For sure, there were some, but this is the same for everybody. You have to push here and we did that from the beginning. Still, you need to know where to keep it steady. I think we did that pretty well.
Q:
Jonas Anders Andersson, good result?
JA:
I would say it's a brilliant result. I really enjoyed this one. Ole Christian drove a very mature rally. He pushed hard, but he has been clever and stayed in the ruts most of the time – there are always a few moments. But I'm very, very happy. It's great having Johan [Kristoffersson] and Stig Rune [Skjaermoen] in the team.

FIA JUNIOR WRC CHAMPIONSHIP
Present:
1st – Tom Kristensson
1st - Henrik Appelskog

Q:
Tom Kristensson, we saw you in the pre-event press conference, were you confident of being back in here today?
TK:
I hoped so, but I didn't expect it – or I wasn't sure. I'm really, really happy – this feels extremely good. We had a plan and we stuck to it and it worked. It's hard to find words for this. We're extremely happy.
Q:
Were you happy with the pace?
TK:
Yeah, this was the plan: when I have the feeling, I will push. But the first time I sat in the car was just before shakedown, there was nothing special to expect. It was just to find the rhythm directly and then it was tougher on Saturday. I was going more safe side and trying to make no mistake. I was working with the car to make it faster. I handled it well and waited out. It's a long, tough rally and it was extremely tough in the ruts and gravel in an R2 car. But I went with the brain and could go extremely fast. I knew I could do it, so I backed off and it worked at the end.
Q:
Were there some nerves in the final stage?
TK:
Yeah that's for sure. I know I can handle a car drive to the finish and stick to the plan. There's no words when I go over the line, so much work goes into this and I'm so happy for my sponsors for the win.
Q:
Henrik ppelskog, this was a tough weekend?
HA:
It was, but it was a special weekend. It was good in the beginning, but then it was tougher, Tom and I don't have much experience of winter roads – this is only Tom's second winter rally. Maybe we tried to save the tyres too much, but this was a good weekend and today's just about taking it home.
Q:
And it was a good atmosphere in the FIA Junior WRC?
HA:
It's really nice with the whole team and all the competitors: really, really nice – we can just enjoy it.