This page contains archived information and may not display perfectly
WRC - Neuville: "It was a very important weekend for us."
Transcript of the post event Press Conference organised by the FIA for the 2018 Rally Sweden.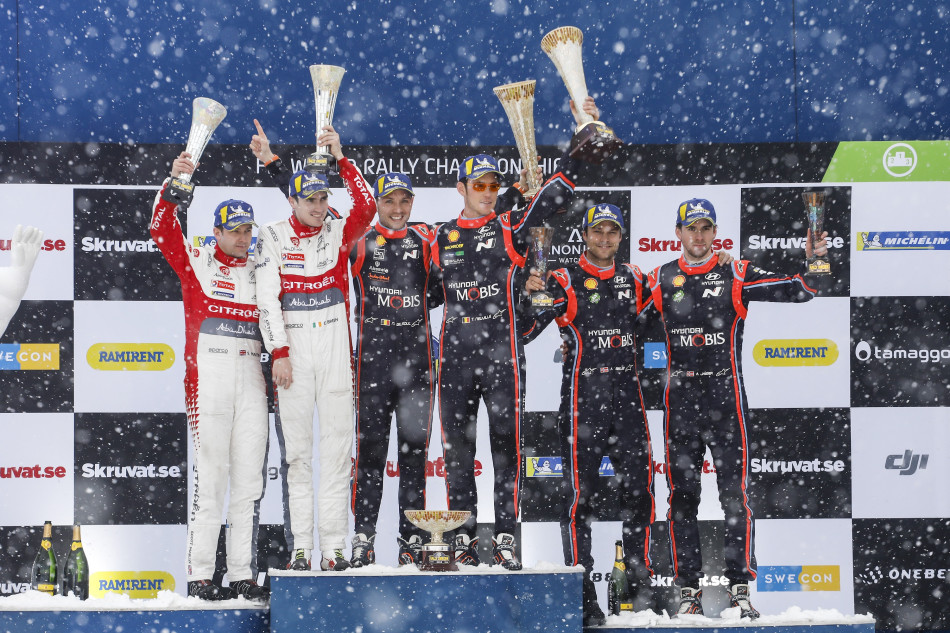 Present:
1st - Thierry Neuville, Hyundai Shell Mobis WRT
1st - Nicolas Gilsoul, Hyundai Shell Mobis WRT
2nd - Craig Breen, Citroën Total Abu Dhabi WRT
2nd - Scott Martin, Citroën Total Abu Dhabi WRT
3rd - Andreas Mikkelsen, Hyundai Shell Mobis WRT
3rd - Anders Jæger, Hyundai Shell Mobis WRT
Michel Nandan, Team Principal, Hyundai Shell Mobis WRT
Q:
Thierry, congratulations, a great weekend – does this help to make up for last year?
TN:
I don't think about last year. This year is different, this year we took revenge at this event, but as well as this we took some really important manufacturer points with two cars on the podium. This is the first time I lead the drivers [championship] with more than 10 points (now 10 points following a penalty to Evans), of course I led before but not like this. It was a very important weekend for us.
Q:
Leading the Championship is something special, but it does make Mexico more complicated…
TN:
It is something special and something we are not so much used to yet. We were second most of the time last year – but being the leader is different. Mexico will be a tough event, that's the game and these are the rules. I am really looking forward to it even if I know a podium will be difficult. If I get away from Mexico in the lead of the championship then Corsica will be special!
Q:
You looked very confident when you pulled ahead yesterday afternoon…
TN:
The confidence was high, of course. The car worked well and the team supported us like they do for a long time. I was sure we could hope for a good result, but the win was tough. The first day with the conditions and the snow made it difficult for the first cars on the road. In fifth I was able to push hard and make a difference – especially in the long one where I really pushed. From there the game was on to push very hard. I was in a tough fight with the guys on my left and right.
Q:
You lost a bit of time on the first stage this morning, did that worry you?
TN: 
I was not so concerned, if I'm in the lead on Sunday morning then I am normally losing a bit of time; I take it too carefully, but then I react quite quickly. We had a good controlled lead and we were even able to take some Power Stage points.
Q:
Nicolas, every point counts – it's great to get the season off to a good start?
NG:
It's the perfect start here. This has been a great weekend, I enjoyed a lot in the car. You talk about the attack and pushing, but it was also much more sensible to target the regulation [driving]: we were always in the top three and there were no mistakes. This must have been the good choice because we won!
Q:
Colin's Crest, tell us about it, was it a moment?
NG:
In fact I have to say I know in advance I have three notes to tell Thierry. According to the timing of the first two, I have to say these before the jump and then I have one to read when we start to jump. When I read this note then I looked up and I couldn't believe my eyes so much, we were completely on my side. I didn't expect that. For one second I was surprised, one second after it was okay.
Q:
Craig, this is a career-best second overall for you here, it looked like it came very naturally.
CB: 
It was one of those weekends where it all clicked. In one of the first few corners on Friday, I went in a bit hot, but it stuck and so I tried in the next one and the next one and I was able to carry that rhythm – it happened a bit by default. The car worked well and we started to find our feet. The guys worked so hard in the last few months on gravel and worked on snow, this is a complete turnaround from 12 months ago – it's been an absolute pleasure to drive the car and I've enjoyed every moment.
Q:
Have you used your pleasure in the car to deflect the pressure?
CB:
I tried, but sometimes you come outside of that bubble and think: "Oh god…" but then we go and fire the car up and I get the emotions from the car. That helped me put the pressure to one side and just enjoy it. Somebody's paying me a wage to drive a car between trees at 200 kph with my best friend at my side – what comes after is bloody good fun. And this rally was good fun, we may never get these conditions again, or it could be in 10 years, who knows? We had to make the most of it.
Q:
There's a bit of a gap before we see you again now, how will you keep yourself busy when you're not in Mexico?
CB:
Since I was eight years old, every year I've been doing some form of motor sport, so to have two months out – this is the longest I've ever been out. I don't know what to do with myself. It's going to be a strange couple of months, all I can do is get myself in the best possible position.
AM:
Try one year out!
Q:
Scott how were the conditions today?
SM:
We were really looking forward to the Likenäs stage, we remembered that one – they were the best conditions we could get. Early in the stage we wanted to see the rhythm from the previous two days and Craig found that from the first corners and we were able to set a good time. Craig said he was nervous going into the second run, but I was the other way around, but we kept it together to the end of the day.
Q:
Did you feel the pressure from Andreas?
SM:
Craig was unbelievable all day. In the whole rally, I think there were only one or two really small mistakes that I can think of. It's been a great performance from him. If you make a small mistake in these conditions you can pay heavily in time, so I'm really happy we have a very clean rally. And it was good to put pressure on Thierry and Nicolas in the middle of the day yesterday.
TN:
What pressure? It must have gone the other way – I didn't see it!
SM: 
It's coming this year!
Q:
Andreas, your first podium for Hyundai is a special one?
AM:
It's good to get that box ticked, it's a nice feeling. It's nice to be back in the championship after very few points in Monte Carlo. But I am a bit disappointed. I wanted a bit more from the weekend. Thierry and Craig did a great performance; it was a fantastic drive from both crews. To be honest, we never got that perfect feeling to go flat out. But we know what to look for in the next tests and we will bounce back when it comes to Mexico.
Q:
What needs improving?
AM: 
My test had different conditions and I set the car up with a very aggressive rear – I was not comfortable 100 per cent and when it's like this, it's hard to attack the stages. Myself and Anders did a sensible job, we did one mistake but other than that it's been a pretty faultless drive.
Q:
You will have a good position on the road in Mexico…
AM:
And points-wise it's not bad. We are close to the guys ahead and we have a good road position for Mexico. I hope we find a good set-up at the test next week.
Q:
Anders, this has been a good one for you?
AJ:
Very good. To see the roads like this in Sweden, it was amazing – even if it was not always equal. But putting the times aside we have had some really good fun. This is a fast rally where you have to be really determined and sometimes quite crazy, Andreas has done a good job. We're happy to get away with the podium after the disappointment in Monte Carlo – the championship is looking better. Sixth is good for a road position in Mexico, but points-wise we are also close to the podium. We have to work on that, we're back on track and heading to Mexico.
Q:
Will we see that first victory for Hyundai soon?
AJ:
Maybe mexico, we'll see…
Q:
Michel you have gone from bottom of the list of manufacturers to the top in one rally; that must feel very good?
MN:
The championship is a still a long way away, but to go from fourth to first is great. All the crews did a really good job; they had a good road position, but even when you have that, you still have to stay on the road. Thierry did well and Andreas was able to keep his position for a double podium and that's very good for us after Monte Carlo – and this is only the second event of the year.
Q:
Did you say anything to Hayden Paddon this morning? He was in a big fight for fourth place…
MN:
Well, he had Esapekka [Lappi] and Mads [Østberg] close and the only way to keep the position was to go for it – we allowed him to do this. Esapekka was really fast and in the last stage there was a mistake for Hayden – that meant he couldn't fulfil [the position], but he set some good times, two best times, in the rally and he was comfortable in the car, that's important for us.
Q:
And, of course, Sordo's back for Mexico?
MN:
Yes of course. Thierry will be first on the road, but this is the game of the championship. Andreas will be in sixth position and we have Dani back – he will be in a very good road position. For Hyundai it looks not bad. 

FIA WRC 2 CHAMPIONSHIP
Present:
1st - Takamoto Katsuta, Tommi Mäkinen Racing
1st - Marko Salminen, Tommi Mäkinen Racing 
Q: 
Takamoto, what an incredible result, how does it feel?
TK:
It has not been an easy weekend, Pontus [Tidemand] and Ole-Christian [Veiby] are very fast drivers and they have many experience of these conditions on this rally. We needed to make a big push, but to stay on the road. It was very difficult for us, but this is amazing – I didn't expect this!
Q:
This is a great start to the year…
TK:
Yes, very well.
Q:
Where else can you be strong this year?
TK:
Finland: I live in Jyväskylä. We have many training around Jyväskylä and on the Finnish roads, I did some Finnish Championship rounds, so I have quite a lot of experience of the Finnish road – they're quite similar. My main target is Rally Finland this year.
Q:
Marko, this is a special victory against some giant local competition?
MS:
As Taka said, it's incredible – I was thinking we could maybe finish third after the Škoda factory drivers, but Taka was driving so well. He has taken a lot of progress in the last year – we have a lot of people behind us. And we can just be proud of him.
Q:
From 12 months what's made the difference?
MS:
The training is the main key…
TK:
The biggest thing is English, three years ago I don't speak it and now it's much much better!
Q:
What was the feeling like at the finish, Marko?
MS:
Incredible, I will remember this for a very long time. 

FIA JUNIOR / WRC 3 CHAMPIONSHIP
Present:
1st - Dennis Rådström
1st - Johan Johansson
Q: 
Dennis how does this JWRC win feel?
DR:
It's the best day of my life. We were aiming for this and we've done it. 
Q:
How tough was the event?
DR:
In the beginning, we only did our pace – but today I got really nervous, but we close it out on Torsby.
Q:
Was there a bit of pressure today – there was only six seconds between you and Bergkvist before the last stage…
DR:
Maybe not pressure, but I was nervous in some way. In Torsby I enjoyed the stage and it was a great time.
Q:
It must be a special feeling to get the first win?
DR:
I hope we have shown the teams in the WRC our development and a step in our performance. We made a great victory.
Q:
Johan, how does this first win feel?
JJ:
Crazy, we worked so hard for this. This is a very difficult rally and I could feel the pressure, but we have showed we are able to catch Emil [Bergkvist] and now we take the win.
Q:
It's very good moving forward…
JJ:
Yeah, I think so. We have one year [in JWRC] and we take this good feeling to Corsica, but we don't have such confidence on Tarmac.
Q:
Dennis will you test for Tarmac?
DR:
We have scheduled for more tarmac – every kilometre is important.