WRC – Neuville heads Hyundai 1-2 in Argentina, Tänak forced to stop
2019 Rally Argentina - Saturday afternoon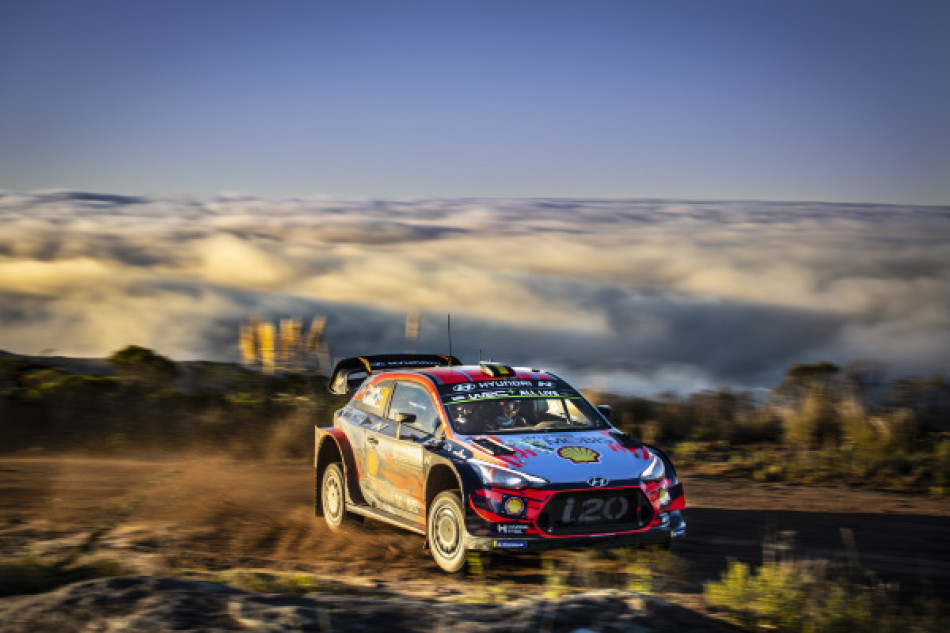 Thierry Neuville leads a 1-2 for Hyundai in the FIA World Rally Championship on Rally Argentina, as Toyota rival Ott Tänak was halted by an electrical problem. Andreas Mikkelsen is second, with Kris Meeke in third firmly battling to keep Sebastien Ogier away from him.
Saturday afternoon was a repeat of the morning loop, minus the Fernet Branca head-to-head super special stage. This meant 70.24 kilometres of competitive action for the surviving WRC crews across three stages but this time with better conditions. Throughout the day, the sun has dried up the road surface, providing drivers with a much better grip than in the morning pass.
Neuville immediately took the advantage of it by gaining 4.6s on Tänak on Tanti–Mataderos to extend his lead. But the battle at the top of the leaderboard ended shortly afterwards. Already losing electrical charge on his Yaris WRC before SS14, Tänak was forced to stop halfway through Mataderos-Cuchilla Nevada due to the electrical issue, ending his rally & giving Mikkelsen way to second place. The Norwegian Hyundai driver then claimed the stage win in SS15 but he is still 45.7s off the lead.
With Tänak's misfortune, Meeke finished Saturday in third place but the Brit is still 17.5s adrift of his Norwegian rival, while he only holds a thin 2.8s advantage over Ogier.
Dani Sordo placed the third Hyundai in the top five by finishing six seconds adrift of Ogier, although he was losing time to Jari-Matti Latvala behind him for most of the afternoon. Latvala's performance was hindered by a minor engine misfire on SS15 and the Finn ends Day Two with a 16.3s gap behind the Spaniard.
A broken intercom slowed M-Sport's Teemu Suninen who finished Saturday in seventh place as the last WRC car in the classification. His team-mate Elfyn Evans retired earlier in the morning after hitting a rock which heavily damaged his Ford Fiesta. Citroën's Esapekka Lappi was unable to restart today due to roll cage damage sustained by his C3 in Friday's final stage.
FIA WRC 2 Pro class leader Mads Ostberg also experienced an intercom problem that slowed him but the Norwegian holds a secure eighth place overall, ahead of Pedro Heller who continues to head the FIA WRC 2 category. Heller is in ninth place for now but will be demoted to 10th, should Tänak return tomorrow, as a 14-minute penalty would still put him ahead of the Chilean driver overall.
2019 Rally Argentina - Unofficial results after Section 8 (end of Day Two):
| | | |
| --- | --- | --- |
| 1. Thierry Neuville (BEL) / Nicolas Gilsoul (BEL) | Hyundai i20 Coupe WRC | 2hr 37min 23.6sec |
| 2. Andreas Mikkelsen (NOR) / Anders Jaeger (NOR) | Hyundai i20 Coupe WRC | 2hr 38min 09.3sec |
| 3. Kris Meeke (GBR) / Sebastian Marshall (GBR) | Toyota Yaris WRC | 2hr 38min 26.8sec |
| 4. Sébastien Ogier (FRA) / Julien Ingrassia (FRA) | Citroën C3 WRC | 2hr 38min 29.6sec |
| 5. Dani Sordo (ESP) / Carlos Del Barrio (ESP) | Hyundai i20 Coupe WRC | 2hr 38min 35.6sec |
| 6. Jari-Matti Latvala (FIN) / Mikka Anttila (FIN) | Toyota Yaris WRC | 2hr38min 51.9sec |
| 7. Teemu Suninen (FIN) / Marko Salminen (FIN) | Ford Fiesta WRC | 2hr41min 12.0sec |
| 8. Mads Ostberg (NOR) / Torstein Eriksen (NOR) | Citroën C3 R5 | 2hr49min 28.1sec |
| 9. Ott Tänak (EST) / Martin Järveoja (EST)        | Toyota Yaris WRC | 2hr51min 27.9sec |
| 10. Pedro Heller (CHL) / Marc Martin (ESP) | Ford Fiesta R5 | 2hr53min 41.8sec |