This page contains archived information and may not display perfectly
WRC - Junior WRC heads to Estonia with unrivalled prize package
With rallying action resuming around the world and the confirmation of an updated calendar 2020 FIA World Rally Championship, the FIA Junior WRC Championship will also continue in 2020 with an amended calendar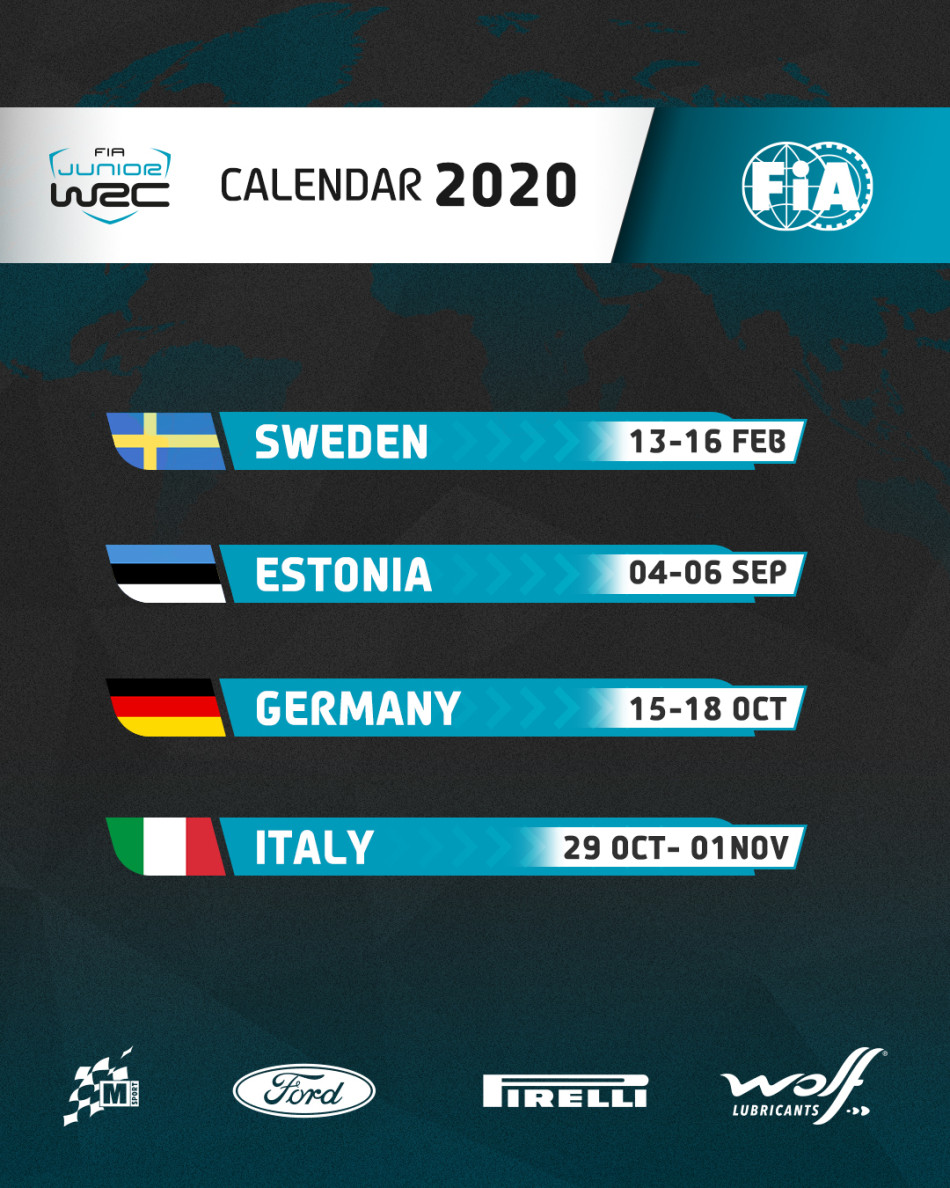 The championship will contest a total of four rounds in 2020, all on WRC events with each round representing a different set of challenges and surface types for the future stars of WRC.
FIA Junior WRC will return in September with WRC for Rally Estonia while Germany retains its original dates and Italy's have been amended on the calendar.
The biggest prize package in rallying remains with the 2020 FIA Junior WRC Champion taking home an Ecoboost-powered M-Sport Ford Fiesta R5 MkII with 200 Pirelli tyres as well as free registration for and opportunities to score points in the 2021 WRC3 Championship.
Should the 2020 Champion seize their career-boosting reward and go on to win the 2021 WRC3 Championship they will have the opportunity to compete in two WRC outings in an M-Sport run car in 2022.
Due to the calendar being reduced from five rounds to four, the championship standings will count a driver's best three classified points finishes together with stage win points which are available on every stage of the championship. As the total amount of rounds counting towards the championship has reduced from four to three, it is being proposed that the traditional final-round double points bonus be reduced to one and a half times. This would mean that drivers who have started on at least two rounds of the championship going into the final round, Rally d'Italia Sardinia, will qualify for 1.5 times points for their classified position.
Round 1: Sweden 13 – 16 February
Tom Kristensson did the double at this year's championship opener – securing victory on the opening round of the FIA Junior WRC Championship for the second year after winning in 2019. His victory saw Swedish drivers continue to dominate their home event in the FIA Junior WRC Championship – with previous winners including Dennis Rådström in 2018 and Per-Gunnar Andersson in 2006. Latvia's Martin Sesks got his season off to a strong start with second place with FIA Junior WRC veteran Ken Torn recovering from an excursion into a ditch to secure the third step of the podium.
Round 2: Estonia 3 – 6 September
Rally Estonia has recently served as an unofficial preparation event for Rally Finland thanks to its smooth gravel roads, some of which were built specifically for the rally. The event is the most high-profile event on the Estonian sporting calendar, and this time around has been given additional gravitas by becoming a round of WRC. The rally will be spread over three days with shakedown and the ceremonial start on Friday with two legs of stages on Saturday and Sunday. The event is set to become a fan and driver favourite thanks to its packed gravel roads with blind crests and jumps, plus flowing fourth and fifth gear corners that entices each driver to keep their foot planted on the throttle.
Round 3: Germany 15 – 18 October
The Junior WRC's only tarmac event will present crews with with different variations of sealed surfaces from rough concrete to carpet-like asphalt. A lot of care will be needed to stay inch-perfect to navigate most corners thanks treacherous tank-stopping 'hinkelsteins', unforgiving hay bales and mud strewn cuts. Regarded as the toughest tarmac challenge of the season, it already promises to be a thriller and that's before considering the rain clouds that could appear on the German rally due to its later than normal date.
Round 4: Italy 29 October – 1 November
Rally d'Italia Sardinia remains on the 2020 FIA Junior WRC calendar after a nail-biting thriller in 2019 that saw eventual champion Jan Solans go head to head with Dennis Radstrom, trading stage wins and the lead several times. Crews will face fast but narrow stages with loose gravel, which become more rutted as each car passes through. Those at the thick end of the championship fight will have to think long and hard about their strategy when it comes to tackling the unforgiving and brutally rough Italian stages.
Maciej Woda, FIA Junior WRC Team Director, said:
"This is the news that we have all been hoping for and working very hard towards in recent months. Members from all corners of the FIA Junior WRC team have been affected by the global pandemic and I feel it is safe to say that life has changed for all of us. I think this announcement will be very, very welcome to our crews and the team. I cannot express enough my relief and excitement that we have been able to make it possible to maintain the prize package for the 2020 champion despite reducing the length of the calendar by one round. I must take this time to thank our partners, team and crews for their support and commitment to this very important championship, it is greatly appreciated.
"We are proposing to amend the double points on offer for the final round to one and half points to reflect our points counting rounds reducing by 25 percent from four to three.
"Starting back in Estonia is going to be incredible and I cannot wait. Since starting the championship as a one-make series, I have had the pleasure of working with a range of talented up and coming young Estonian drivers. From Egon Kaur in 2011 to our most recent Estonian event-winner, Ken Torn, and more recently a two-time podium finisher, Roland Poom, the support our Estonian drivers have received on the various rallies we have visited has been tremendous and it is about time Junior WRC pays a visit to this rally-mad country!"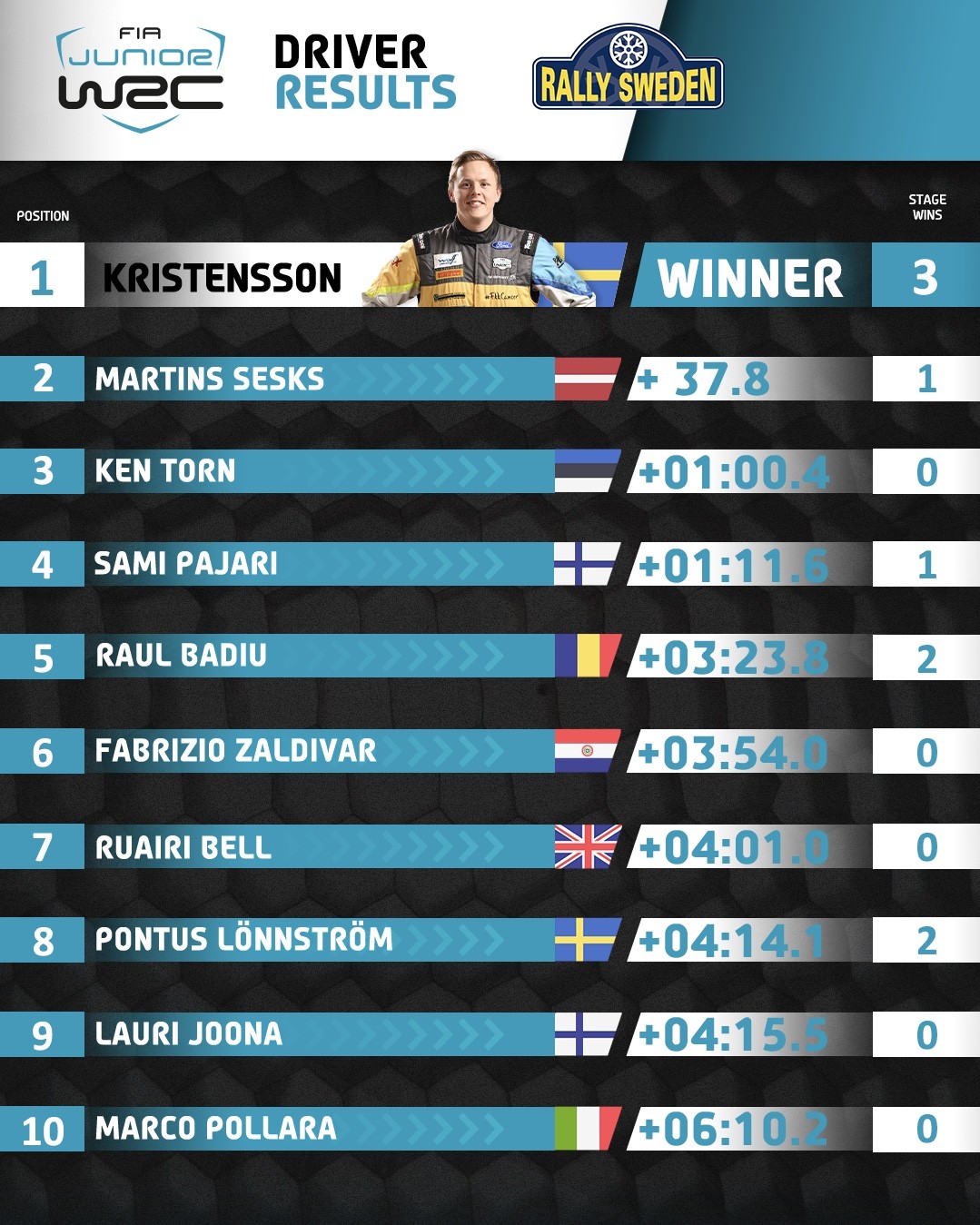 RALLY SWEDEN CLASSIFICATION
1. Tom Kristensson / Joakim Sjoberg 1:22:51.3
2. Martins Sesks / Renars Francis +37.8
3. Ken Torn / Kauri Pannas +1:00.4
4. Sami Pajari / Marko Salminen +1:11.6
5. Raul Badiu / Gabriel Lazar +3:23.8
6. Fabrizio Zaldivar / Fernando Mussano +3:54.0
7. Ruairi Bell / Darren Garrod +04:01.0
8. Pontus Lönnström / Stefan Gustavsson +4:14.1
9. Lauri Joona / Ari Koponen +4:15.5
10. Marco Pollara / Maurizio Messina +6:10.2
11. Enrico Oldrati / Elia de Guio +6:14.4
12. Tommaso Ciuffi / Nicolo Gonella +10:11.4
13. Oscar Solberg / Jim Hjerpe +11:05.1
14. Catie Munnings / Ida Lidebjer-Granberg +11:16.2
Retired: Fabio Andolfi / Stefano Savoia
Retired: Jon Armstrong / Noel O'Sullivan
2020 STAGE WINS
Tom Kristensson 3
Raul Badiu 2
Pontus Lönnström 2
Martins Sesks 1
Sami Pajari 1
DRIVERS' CHAMPIONSHIP STANDINGS
1. Tom Kristensson 28
2. Martins Sesks 19
3. Ken Torn 15
4. Sami Pajari 13
5. Raul Badiu 12
6. Fabrizio Zaldivar 8
7. Ruairi Bell 6
8. Pontus Lönnström 6
9. Lauri Joona 2
10. Marco Pollara 1