This page contains archived information and may not display perfectly
WRC Junior - 2019 Rally of Wales GB - Preview
Wales Rally GB plays host to the final round of the wide-open 2019 FIA Junior WRC Championship after a hotly contested season with three different winners across four rounds so far.
72 points are available thanks to double classification points and 22 stage win points.
One of the closest races in FIA Junior WRC Championship history
Top nine have a mathematical chance of winning the championship.
Four out of five best classified results and all stage win points count towards the championship.
Discounting worst classification points, just 21 points separate the top three.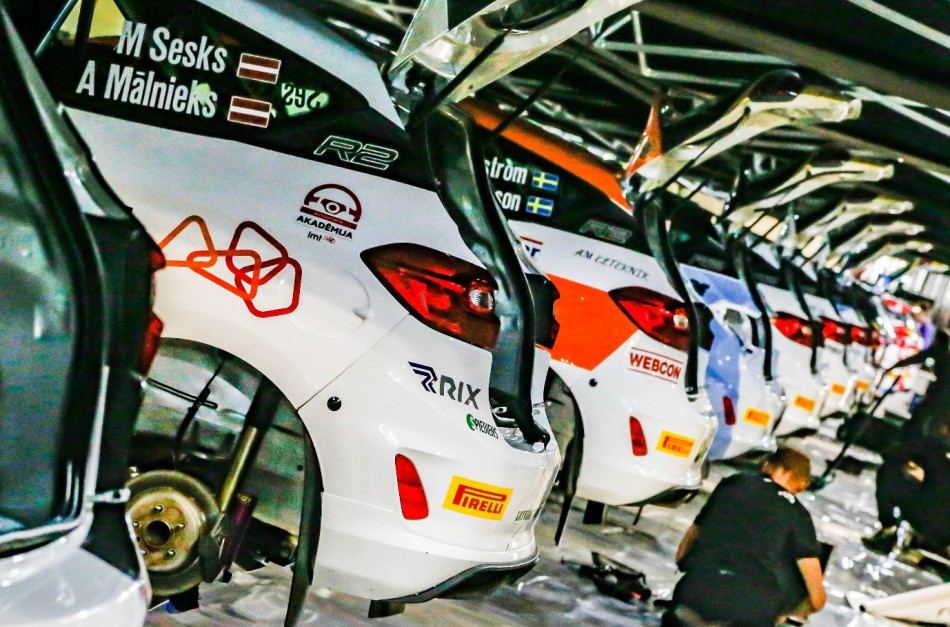 In pursuit of glory
The future stars of the FIA World Rally Championship will negotiate 22 gruelling stages on Wales Rally GB, in search of championship glory to win the biggest prize package in rallying.
Previous winners of this coveted championship include WRC stars Sébastien Loeb, Dani Sordo, Sébastien Ogier, Craig Breen, Elfyn Evans and Pontus Tidemand.
The Prize
The 2019 FIA Junior WRC Champion will receive the keys to a brand new R5 car, 200 tyres for use in the 2020 FIA WRC2 Championship, free registration and five free entries for the 2020 FIA WRC 2 Championship.
The Rookie Award will be decided too, awarding the winner €15,000 towards their 2020 FIA Junior WRC campaign.
Who's in contention?
Jan Solans could make FIA Junior WRC history by joining his brother Nil Solans as a Junior WRC champion. Solans sits second overall, one point behind double rally winner Tom Kristensson. Discounting worst classified results, the Spaniard leads Kristensson by two points thanks in part to his huge haul of 24 stage win points compared to Kristensson's 12. Three-year FIA Junior WRC veteran Dennis Rådström sits third in the points, with a healthy chance of winning the championship as he is 21 points down from Solans discounting worst classified results.
Kristensson leads the Rookie Award with a strong 39-point advantage over Estonian Roland Poom. Should Kristensson win the FIA Junior WRC Championship, Poom's closest competition for the Rookie Award scholarship comes by way of Fabrizio Zaldivar who is currently eleventh in the championship.
The Rally
Wales Rally GB is a classic rally that features fast and flowing stages. Many drivers look forward to the event thanks to the relatively consistent surface that doesn't rip up to the same level as most gravel rallies. It is due to the well-made roads that make up the majority of Wales Rally GB's speed tests, however the Welsh forests are by no means a walk in the park. Unpredictable weather makes, grip and stage conditions tricky which almost always throws up a surprise and keeps both drivers and co-driver on their toes. Changeable weather means that tyre choice will be of paramount importance, the crews will be able to choose from 22 soft and six hard tyres, but can only use a maximum of 22 tyres on Wales Rally GB including Shakedown.
Crews will need to pay extra attention to the detail of their pace-notes, especially for the morning loops as the surrounding forests can hold onto the morning fog with massively reducing visibility. It's a similar scenario for the last stages of Friday and Saturday: the final round sees exceptionally early starts and late finishes leading to crews running on the stages in the dark. These back-to-back early and late finishes mean late night pace-note studies will come at the price of sleep deprivation, as many crews will be lucky to get four hours of sleep in on Friday night.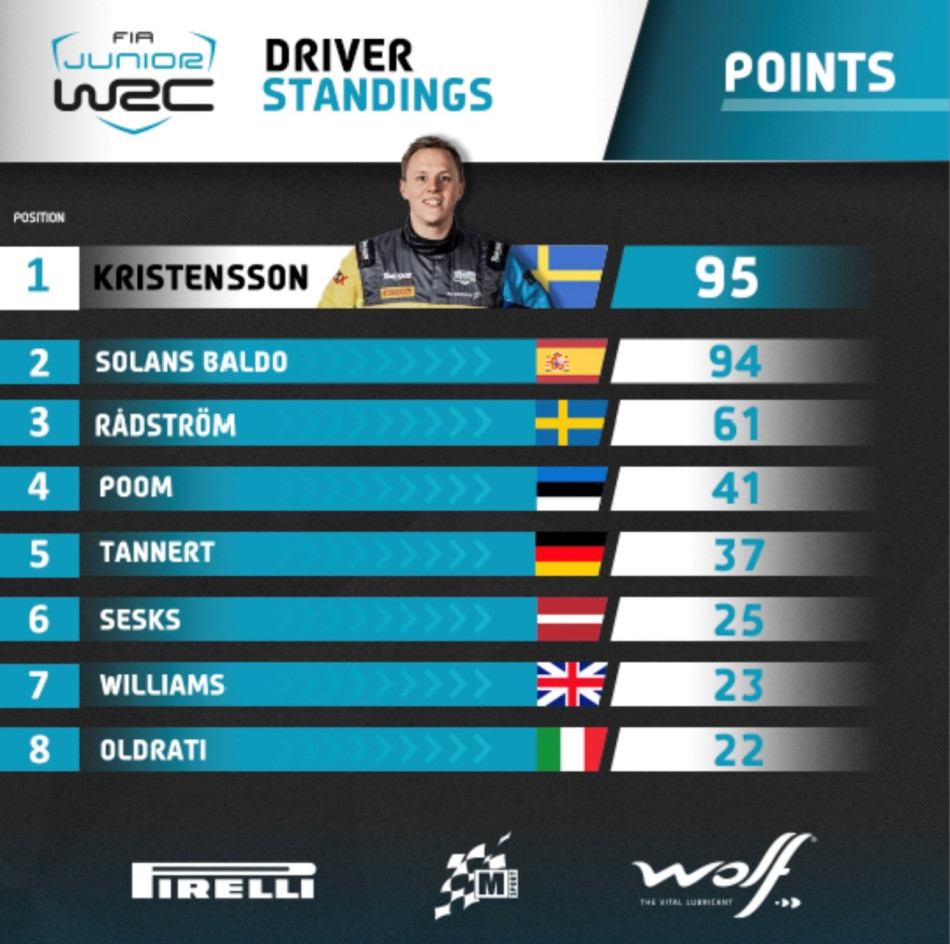 Rally Finland Results:
1.Tom Kristensson / Henrik Appelskog 02:55:17.2
2. Jan Solans / Mauro Barreiro + 01:28.0
3. Roland Poom / Ken Jarveoja + 11:54.8
4. Aleksi Royhkio / Ville Mannisenmaki + 13:25.2
5. Sean Johnston / Alex Kihurani + 13:42.3
6. Enrico Oldrati / Elia de Guio + 19:38.4
7. Nico Knacker / Michael Wenzel + 38:33.4
8. Fabrizio Zaldivar / Fernando Mussano + 53:39.3
9. Martins Sesks / Andris Malnieks + 56:31.7
10. Tom Williams / Phil Hall + 1:20:02.7
Retired:
Dennis Rådström / Johan Johansson
Sami Pajari / Antti Haapala
Julius Tannert / Jürgen Heigl
Raul Badiu / Gabriel Lazar
Rally d'Italia Sardegna Results:
1. Jan Solans / Mauro Barreiro 4h02m36.2s
2. Dennis Rådström / Johan Johansson + 00:14.9
3. Tom Kristensson / Henrik Appelskog + 03:27.2
4. Raul Badiu / Gabriel Lazar + 04:37.5
5. Martins Sesks / Krisjanis Caune + 05:34.9
6. Julius Tannert / Jurgen Heigl + 06:41.8
7. Fabrizio Zaldivar / Fernando Mussano + 08:58.9
8. Enrico Oldrati / Elia de Guio + 17:44.6
9. Nico Knacker / Michael Wenzel +19:53.9
Retired:
Tom Williams / Phil Hall
Sean Johnston / Alex Kihurani
Tour de Corse Results:
1. Julius Tannert / Jürgen Heigl 3h51m50.0s
2. Tom Kristensson / Henrik Appelskog + 00:01.9
3. Dennis Rådström / Johan Johansson + 00:25.8
4. Jan Solans / Mauro Barreiro + 05:48.8
5. Tom Williams / Phil Hall + 06:36.7
6. Roland Poom / Ken Jarveoja + 07:35.3
7. Raul Badiu / Gabriel Lazar + 08:00.3
8. Enrico Oldrati / Elia de Guio + 08:30.5
9. Nico Knacker / Michael Wenzel + 09:36.9
10. Fabrizio Zaldivar / Fernando Mussano + 11:42.8
Retired:
Ken Torn / Kauri Pannas
Martins Sesks / Krisjanis Caune
Sean Johnston / Alex Kihurani
Rally Sweden Results:
1. Tom Kristensson / Henrik Appelskog 3:14:48.9
2. Roland Poom / Ken Jarveoja +1:31.2
3. Jan Solans / Mauro Barreiro +4:09.2
4. Tom Williams / Phil Hall +6:53.4
5. Sean Johnston / Alex Kihurani +11:43.1
6. Martins Sesks / Krisjanis Caune +13:20.9
7. Enrico Oldrati / Elia de Guio +16:23.8
8. Dennis Rådström / Johan Johansson +23:31.1
9. Fabrizio Zaldivar / Fernando Mussano +23:47.0
10. Ken Torn / Kuldar Sikk +24:00.0
11. Julius Tannert / Helmar Hinneberg +41:24.8
12. Nico Knacker / Tobias Braun +49:09.3
13. Raul Badiu / Gabriel Lazar +53:38.8