This page contains archived information and may not display perfectly
WRC - "To get the lead, I had to push really to the limit."
Transcript of the post-event press conference organised by the FIA for the 2019 Rally Finland.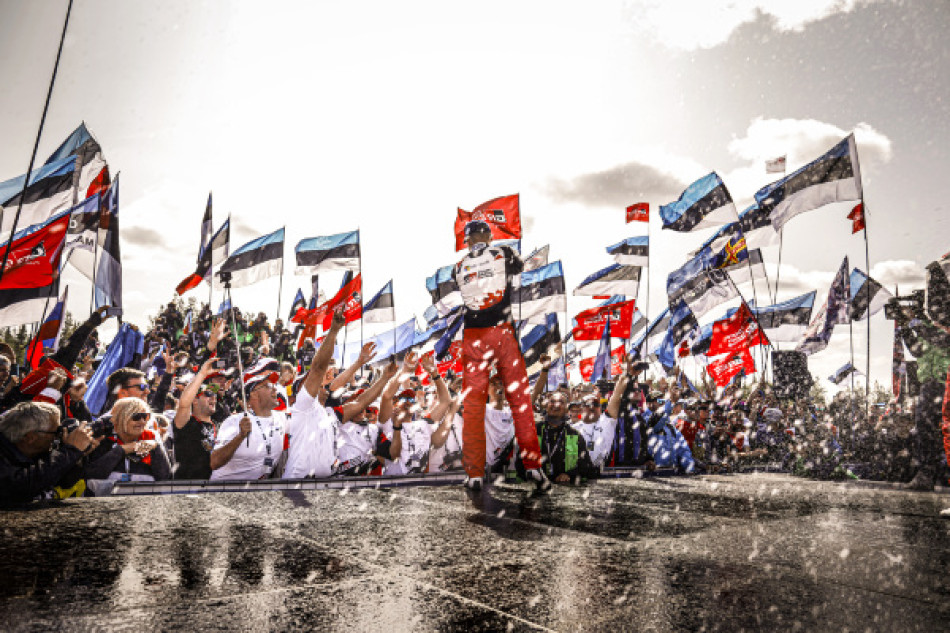 FIA WORLD RALLY CHAMPIONSHIP
Present:
1st Ott Tänak (EST), Toyota Gazoo Racing World Rally Team
1st Martin Järveoja (EST), Toyota Gazoo Racing World Rally Team
2nd Esapekka Lappi (FIN), Citroën Total World Rally Team
2nd Janne Ferm (FIN), Citroën Total World Rally Team
3rd Jari-Matti Latvala (FIN), Toyota Gazoo Racing World Rally Team
3rd Miikka Anttila (FIN), Toyota Gazoo Racing World Rally Team
Tommi Mäkinen, Toyota Gazoo Racing World Rally Team
Q:
Ott, it has been pretty perfect for you out there. Last year, you took the win in Finland and you kick off the second half of the season with another win in Finland - so two wins for you here. You continue to extend the lead in the drivers' championship. It's been a pretty perfect weekend for you, yes?
OT:
Yes and with thirty points, it's a perfect weekend. I must say, this year it came a lot harder than last year. First of all, Friday was a big, big job. During the recce, the conditions didn't look to favour us much but I was really driving on the edge all day on Friday. Then, I must say, maybe I was out of energy and I was very frustrated that I couldn't be in the top three. Still I was in touch of the three guys in the front. Since Saturday morning, we had a massive fight with my team-mates. Stage by stage, the pace was increasing and there was quite a lot of pressure. I must say, to get the lead I had to push really to the limit. When unfortunately Jari and Kris hit trouble, I managed to get away. Maybe thanks to this big push, we managed to grow a bit our gap to Esapekka. Since lunchtime, we had some breathing space and, I must say, since Saturday midday, Esapekka was doing a really good job. He was going on a high pace but luckily, we had a package to match his speed. I enjoyed it as well but it was quite intense all the weekend.
Q:
We can certainly see that. As you mentioned, it was tenths of seconds and it was only Saturday afternoon where we saw it start to move into double figures for you. Did you feel it was Saturday afternoon that you felt you could maybe ease back a little?
OT:
I believe it was actually the Kakaristo stage (SS14), the first time when Jari had the puncture and Kris had the problem, so after that we had some gap. Since Friday morning, it was less than seconds - I think the gap was never bigger than one second - so it was always very, very tight. If you suddenly have fourteen seconds, then it's like day and night, it's a massive difference. Of course, this changed our approach immediately. Still, if you have been pushing for a long time one and a half day already, then you still are in a high speed rhythm. Even if you're back off a bit, still the rhythm stays. Yes, we were definitely going safer from there.
Q:
You extend the lead in the drivers' championship to a 22-point advantage over Sébastien Ogier. What is your feeling with regard to the drivers' championship, knowing that you are going into another two more events where you had massive success last year?
OT:
Of course, we are looking forward. We have seen this weekend that our opponents have upgraded their pace. I would say especially Hyundai was very strong this weekend. Normally they would be struggling here but the pace they did was impressive, so we need to keep pushing as well. At the moment, I believe we still have a bit of an upper hand so we should have the pace to match, but you know, we still have five races to go. For sure, it won't be easy to beat these guys. Thierry and Séb, I know them well enough to know that they will push to the limit. The closer it gets to them, the more they start to push, so we need to keep working. We know what was the feeling after Sardinia but I believe this moment here and now gives some extra motivation for the team. I hope everybody will push really hard and so do I. We really try to have this job done.
Q:
Martin, to win in Finland last year was special but you had over a minute advantage last year at the end of the rally. This time it's been a much closer battle. How does this year's win rates against last year's?
MJ:
Winning is always a good feeling but it was a pretty awesome weekend. No mistakes, a perfect weekend.
Q:
It definitely seems to be a perfect weekend for you guys. Looking back to 12 months ago and the situation you were in  in the championship coming into Finland, when you were 17 points adrift of the leader, and looking at it now, it's a complete contrast. Does that give you more of a hope that this year, that title could be yours?
MJ:
We don't think about it when we start the rally. We just try to drive with our own rhythm and see what the pace is. I also wanted to point that Kakaristo stage that Ott mentioned on Saturday. It was really enjoyable to sit in the car. At the end of the stage, I said that this is how we have to drive the stage. That was a good feeling.
Q:
Esapekka, congratulations on second place overall. I know it's been a tough season out there but you seem transformed here at home in Finland. Some brilliant times coming through from you. It felt like the old Esapekka was back. You were feisty at stage ends, smiling and happy. How are you feeling about the result?
EL:
Clearly, I feel good and satisfied. A little bit relieved as well. This is the rally where, of course, as a Finn I want to perform at and I am really happy that we managed to do that. But this is thanks to the parts that we have got for this rally. I am quite sure that I could not have been this competitive with the previous settings so it was good to get the parts now.
Q:
It obviously gave you a much better feeling. You talked about feeling in control of the car. It was responding to what you wanted to do this weekend?
EL:
Exactly. I didn't need to concentrate on driving at all. I could just listen to pace-notes and enjoy the ride because I could do exactly what I wanted and I really didn't need to think about it, which had been the case before. Everything came very naturally and that's the way it should be.
Q:
We've talked before about pressure and you told me that, when you are part of a manufacturer team, there is always a certain kind of pressure on your shoulders. But coming and competing at home, knowing it hasn't gone so well so far this season, was there an extra pressure there?
EL:
I guess somehow yes but it's not actually coming from the spectators or media or whatever. It's actually an extra boost when you come for your home rally. It has been a bad season so far nobody expected me to actually be on the pace. So it was good to give some surprise.
Q:
It's not a surprise. I think we all know what you can do out there because we have seen you win the event before. We've seen you very much on pace before. Can you keep this momentum going? This is not a one-off, is it? Are we going to see this for the rest of the season?
EL:
I believe so, I really believe. Maybe I will be a bit lower on the pace on other rallies but it should be much better than before. For sure, Rally Finland is the place where I can perform at my best level. The car should work now as I want in Wales, in Spain, on gravel, in Australia. It should be a better pace compared to Sardinia or whatever at the beginning of the season.
Q:
Janne, tell me about the weekend from your perspective. It has been a weekend of two halves. Clouds were on the first half of the season and now the sunshine it seems.
JF:
I said to Esapekka when we left Ruuhimäki, the final time that this was the Esapekka that I know. That was the Esapekka I know when we came to the finish of Oittila, the first stage on Friday. It was good, that's why I laughed.
Q:
What's the feeling at the end of it, to get a result like this in Finland, we know how much of a challenge it's been, how much of a fight it's been. To see you all separated by tenths of a second has been quite incredible but pretty intense for you guys I imagine.
JF:
In a way it was. Still we were focussing on our own job and just to keep the rhythm. The Toyota boys, all three of them, went pretty deep, fast. Just to keep up with them was a big effort.
Q:
Jari-Matti, tell me about your weekend as we've not seen you here this season.
JML:
I've not been on the podium for nine months, which is the longest period since I became a WRC driver. It's been a tough time. You start to doubt your skills. So I knew that this rally was going to be the one where we really need to perform. We need to get the result. There was quite a lot of pressure at the start and I think we were both in the same situation as Esapekka. We are really lucky, the car has been amazing in the test. I'm really confident with the car. The speed was there. It was a very, very big fight through to Saturday lunchtime.
Q:
We saw the big fight. It was great to see but a bit of drama for you on Saturday. Luckily, you got away with that. Sadly, your team mate Kris Meeke didn't. A relief for you, in a way, that you made it to the end of the stage and still stayed in a podium position.
JML:
I made a mistake in the recce as I marked a note a bit faster as there was not the concrete block that was there last year. I thought that I could go faster but obviously not. Actually, I broke the wheel, which is why it punctured. With 10km to go, I was quite sure that we could lose 30 seconds. At the end, we were amazed that we lost only 14 seconds. After that I realised that if you have had two broken wheels in a rally, you know that the third time should happen. I had to back off a bit. I couldn't do it well enough, I struggled to find the rhythm and speed. Esapekka was pushing at the same time and catching me, passed me. I tried to come back this morning a little. We managed to add a little bit of pressure but he handled it very well.
Q:
You talked about backing off there. I'm sure Tommi asked you to back off. Did he ask you in a nice way to back off or was it more of a stern way to back off?
JML:
It was more that we calculated the situation. Tommi asked me to drive faster today, he asked me to keep the pressure on Esapekka. We calculated the points situation but I slowed down too much.
Q:
How happy are you to be back on the podium, Mikka?

MA:
For sure it's a big relief. Last year, when we won Australia, the last rally of the season, if someone had told me that the next podium would be in Finland, I would have been laughing. But now, I feel more like crying. That's part of the game and that's what we have to face now. It seems that probably in the Citroën, they made the right decision when they took Jarne and Esapekka over there because last year, the Citroën was less than 3 seconds faster than we were. Now it's like 8 seconds. So now they are 5 seconds faster than last year.
Q:
It's not going to be as long to get back on the podium, let's hope not another nine months, no?
MA:
No, I don't think so. I think it's going to be a key turning point to the rest of the season. I hope so and I truly believe so. At least, the speed and the work inside the car is something that we have been used to in the past - not what we have seen in the past few rallies but what we have seen in the last couple of years. So I think we are back in the game.
Q:
Tommi Mäkinen, tell me your thoughts on the weekend, because it's been intense to watch your guys compete out there. You walk away with a win to extend Ott's lead in the drivers' championship. Jari-Matti is on the podium again. Happy man?
TM:
Sure! I'm very happy and I have to thank all the team. Everybody. It's been a massive effort from all of them. It is all working well. I can't be happier.
Q:
There has been some drama along the way. The same rock as well. What were you thinking at that point?
TM:
Of course, I was just thinking to make some special caps for Jari-Matti and Kris. Today I decided to make only one cap, on which it is written "Stupid 2019" (he laughs).
Q:
Tell me what you thought when Kris Meeke did what he did yesterday.
TM:
That can happen, everything can happen in rallying. We know that it happens so quickly as Rally Finland is such a high-speed event. If you miss one thing and something is coming up in your mind, it can be over immediately.

FIA WRC 2 PRO CHAMPIONSHIP
Present:
1st Kalle Rovanperä (FIN), Škoda Motorsport
1st Jonne Halttunen (FIN), Škoda Motorsport
Q:
Congratulations on the win at home, Rally Finland. It's been a good weekend for you out there, far less dramatic than what we saw last year. How are you feeling winning at home?

KR:
It was a perfect weekend, I would say. Last year, it was not so good, there were some issues. This weekend we didn't have any issues, everything was fine. I really enjoyed it.
Q:
It was a really dominant win and you won by such an incredible margin as well. Talk me through the event as on day one, it wasn't going quite as you wanted it to. Even though you were setting a great pace out there, you were not feeling quite at home in the car.
KR:
The pace was good all the time. On the first loop, it was a bit like Sardinia as it was a low grip situation. Our car is lacking some grip, so it's good to know the car is very fast now and we can make it even faster. We just have to find a solution for how to get the grip and get the car better.
Q:
Is there anyone out there in the R5 class who can beat you right now, do you think?
KR:
I don't know. There are fast guys for sure and we will see in Germany, it will again be a very big fight and it's not easy for me on tarmac so we will see, it's not so easy.
Q:
You do make it look easy out there. How much are you looking forward to Germany?
KR:
I'm looking forward to it a lot as it has been gravel rallies all the time. It's great to be back on tarmac for a WRC event. We will see.
Q:
Jonne, a win at home is always special and a win in Finland for any driver and co-driver is one to always cherish. How does it make you feel?
JH:
It makes me feel very happy. We are also both from Jyväskylä, so it makes it extra special for us.
Q:
Were there any dramas or hot moments at all for you this weekend?
JH:
In stage two, we had one hot moment because Kalle misheard one note. He thought that it was almost flat but it was very tight. We almost rolled but he managed it very well.
Q:
Heading to tarmac next, how much of a challenge do you think that will be?
JH:
I think it's a big challenge but tarmac is very exciting as we are learning it all the time. The competition is always very high so I think we are looking forward to it. We did a rally in Bohemia, Czech Republic, a few weeks ago and it was very good for us. So I think we are waiting for it and it will be very tight.  

FIA WRC 2 CHAMPIONSHIP
Present:
1st Nikolay Gryazin (RUS)
1st Yaroslav Federov (RUS)
Q:
Nicolay, we've chatted in FIA press conferences this year and you said it was going to be a learning curve this year, you were going to gain more experience, gain more knowledge and you walk away with a win. How happy are you feeling right now?
NG:
We are really happy. For us it was really a rally to gain experience and we've been learning. So it was a real surprise to win this rally. In the first loops, it was difficult for us every time. It's not easy to go flat out everywhere for the first time. In the second loop, we were getting better and better and felt more comfortable just making some little changes to the setup. I'm really happy with the car and really happy with the result, which was a lot of luck for us. Some fast drivers have fallen down and I feel sorry for them but it's rally, it's WRC. Like in endurance racing, you need to be consistent. We are really happy, thanks to all the team and spectators. It was really great to see all our Russian fans on all the stages as it's near. We were really glad to see all of them.
Q:
We saw you compete on Rally Estonia a few weeks ago. How important do you think your experience there was in getting you ready for the high-speed roads of Finland?
NG:
The stages in Estonia are a little bit different to Finland so you can go more aggressive in some places. That's why we felt more comfortable in Estonia but here it's a harder surface. You need to understand at first the type of roads and then you can start to push more flat out without thinking more.
Q:
What's the next event we're going to see you at?
NG:
The next event is Barum and after that, WRC Rally Germany. 
Q:
So Barum will be good training for Rally Germany then?
NG:
Yes, we are planning to try different things for Germany.
Q:
Yaroslav, how was it from your seat this weekend? A win in Finland, which I'm sure is putting a big smile on your face right now. How are you feeling?
YF:
Oh it's great, we've survived and that's great. I can say it's one of the most difficult, fastest and great rallies. This result is the result of the huge work of our team and in this moment, we still do not believe that on our first start here, we can win. The Finnish guys are so fast here on these roads, it's so hard to fight with them here. They know these roads and we also showed good speed which is great.
Q:
Going into the final stage today, knowing that you got to the end where you could take a win, were there any nerves from you at all?
YF:
No, it's part of our strategy going into the last day. We were planning to have a gap to drive the Power Stage in a safe mode but we like to jump very much and that's maybe a problem but it's OK for this.    
FIA JUNIOR WRC CHAMPIONSHIP
Present:
1st Tom Kristensson (SWE)
1st Henrik Appelskog (SWE)
Q:
FIA Junior winner here in Finland. We spoke on the official Junior WRC podcast just a few weeks ago and you said it gave you goosebumps just thinking about competing here for a win. You've come here and it seemed no problems all weekend to take the win and lead of the championship. You must be a happy man at the end of it.
TK:
Yes, it's really hard to describe this feeling. The rally has been so good from the first meter and we have been so consistent and so fast, but still safe. No moments and no troubles. I really like this surface, this kind of fast roads and the jumps. When you need to have these perfect lines for every kind of corner, you need to think so long in front of you. We have done it so well and I'm extremely happy and really proud of ourselves and the whole team. The car is working so well. I am really happy for that.
Q:
You regain that lead in the championship, there's only one more round to go in Wales and that's a double-point scoring round. It's so critical you get a good result there but this must be a confidence builder ahead of that I guess.
TK:
For sure, but that's not making any difference for me. We always come to the rally and the only goal I have is to do the best I can. No matter what. We always try to do our best and I think we showed that today with two stage wins, even if we had quite a confident lead. We just try to find the feeling and go for it. It's looking really good and feels really good. I am looking forward to Wales Rally GB, it will be great.
Q:
Do you feel this is the best result in your career to date?
TK:
Yes, I think I have to say so. It's really good.
Q:
Henrik, it's great to see you guys back on the top step of the podium and in the lead of the championship as well. What does it mean to you win here in Finland? 
HA:
It's amazing just to come to this rally. I've been here as a spectator eight or nine times and it's such an iconic rally. To be able to finish a rally and be on the top spot is just goosebumps and it feels really, really good.
Q:
There has been a lot of drama in the FIA Junior championship this weekend. You guys have been unscathed and no mistakes, what do you put that down to?
HA:
Good preparations and a good driver of course. When Tom gets the feeling, nothing is impossible.