WRC drivers gearing up to go on Safari
FIA World Rally Championship teams face another tough gravel test next week (June 22-26) when Safari Rally Kenya hosts the sixth event of the hybrid-based Rally1 era.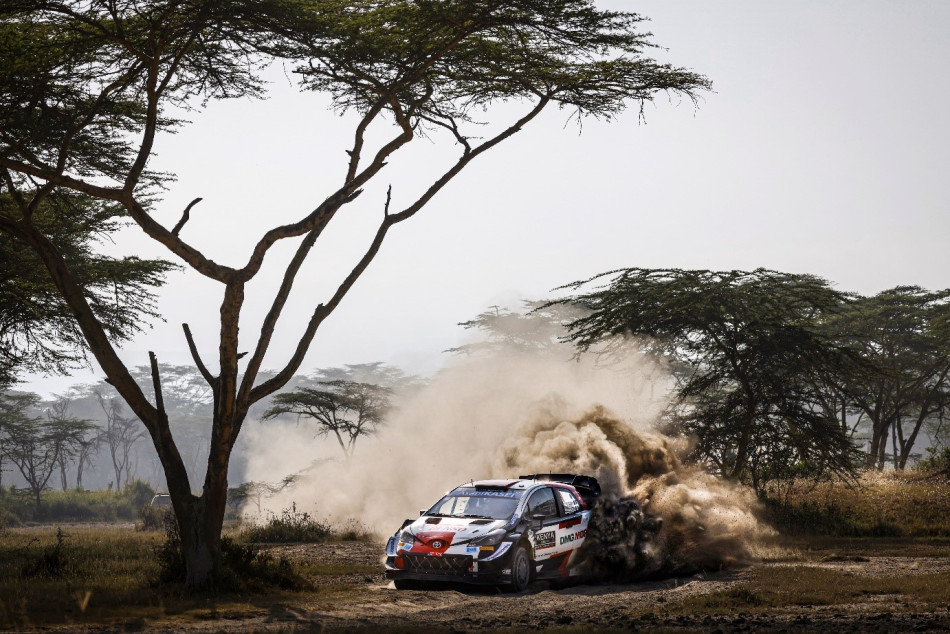 The third of five loose-surface rounds in succession, Safari Rally Kenya made its eagerly anticipated return to the WRC in June 2021 having last appeared on the global schedule 19 years previously, when Colin McRae took his third win in East Africa.

But while a more compact route awaits the WRC crews and their teams compared to two decades ago – the 19 stages total 363.44 kilometres – the event's challenging and spectacular nature remains intact, with the stunning scenery and extraordinary wildlife continuing to form the backdrop to this iconic rally. 

As with all gravel events, car and tyre management are key to success and Safari Rally Kenya is no exception. Indeed, even more caution is required in certain rock-strewn sections, while river crossings and extremely slippery mud, resulting from intermittent heavy rainfall, add to the challenge in store in the Great Rift Valley.

Although the modern-era Safari is much more of a sprint compared to the endurance format of old, it's vital for drivers to blend flat-out speed with a degree of caution, particularly with punishing ambient and ground temperatures also a factor. 

Official WRC tyre supplier Pirelli provides its Scorpion KX soft and hard tyres for Safari Rally Kenya. Designed for cool and damp conditions, the soft compound is the first choice, while the hard compound, made for warm and dry weather, is the second choice. P1 drivers can use a maximum of 32 tyres for the event including four for Shakedown.

THE 2022 ROUTE

Organisers have made several changes to the route of the 69th Safari Rally Kenya to the extent that almost one third of the itinerary from 2021 has been altered. Friday's Geothermal test and the Narasha stage on the deciding day are all new, with Elmenteita, which runs twice on Saturday, routed in the opposite direction compared to 12 months ago. In addition, forest-based Loldia has been extended by seven kilometres, while Soysambu is nine kilometres longer than before. 

Following shakedown on the morning of Wednesday June 22, crews leave the event hub at the Kenya Wildlife Training Institute on the shores of Lake Naivasha for a trip 100 kilometres south to the capital Nairobi on Thursday for the event-opening two-by-two superspecial in Kasarani just outside Nairobi's city limits. 

Friday's action is made up of three repeated stages on the northern and southern shores of Lake Naivasha with Kedong the rally's longest stage at 31.25 kilometres. 

Two loops of three stages around Lake Elmenteita to the north of Lake Naivasha are covered during Saturday's 150.88-kilometre leg with Sleeping Warrior 31.04-kilometres in length. 

As on Friday and Saturday, Sunday's final leg consists of three stages run twice, albeit over a shorter 83.52 timed kilometres. Notably, the day-opening 17.93-kilometre Oserian test lies in the Oserengoni Wildlife Conservancy Estate, home to antelope, buffalo, giraffes, leopards and lions. Meanwhile, the 10.53-kilometre Hell's Gate forms the points-paying Wolf Power Stage from 14:18 hrs local time.

RALLY DATA
| | |
| --- | --- |
| Total distance: | 1223.77 km |
| Stage distance: | 363.44 km |
| Number of stages: | 19 |

RALLY1 CONTENDERS

While young Finnish pairing Kalle Rovanperä/Jonne Halttunen have been grabbing the headlines by winning three events in a row and opening up a 55-point championship lead, two legends from the recent past will be aiming to take their share of the limelight.
 
Sébastien Loeb and Sébastien Ogier are set for action as part of their selected programme of events with M-Sport Ford World Rally Team and Toyota Gazoo Racing respectively.
 
Loeb's one and only Safari appearance dates back to 2002 when he finished fifth overall, while Ogier made his Safari debut last season and promptly took victory. Loeb will be partnered by new-for-2022 co-driver Isabelle Galmiche with Benjamin Veillas navigating Ogier for the third time at WRC level.   
 
Thierry Neuville/Martijn Wydaeghe are the highest-seeded Hyundai Shell Mobis World Rally Team crew and are joined on the Safari entry by Ott Tänak/Martin Järveoja, who won Rally Italia Sardegna earlier this month and completed the Safari podium last season. Oliver Solberg, who made his Safari debut as a teenager in 2021, is back behind the wheel of the third Hyundai i20 N Rally1 alongside co-driver Elliott Edmondson.
 
Takamoto Katsuta, who scored a career-high second in Kenya 12 months ago and is co-driven by Aaron Johnston, joins Ogier and Rovanperä in the Toyota line-up, which also counts on Elfyn Evans/Scott Martin.
 
Craig Breen/Paul Nagle, Gus Greensmith/Jonas Andersson and Adrien Fourmax/Alexandre Coria join Loeb in carrying M-Sport's hopes of success in Kenya with Breen boosted by a podium finish in Sardinia. Privateers Jourdain Serderidis/Frédéric Miclotte compete in a fifth Ford Puma Rally1.

THE SUPPORTING CATEGORIES

Safari Rally Kenya provides an opportunity for several African crews to showcase their ability at world level and demonstrate the competitive nature of the FIA African Rally Championship in which the majority are seasoned campaigners. Among the local talents chasing WRC2 points are Kenyans Karan Patel, Amaanraj Singh Raj and Aakif Virani, while Zambia's Leroy Gomes will also be one to watch alongside his co-driving wife Urshlla. Jeremiah Wahome, Hamza Anwar, FIA Junior WRC regular McRae Kimathi and Maxine Wahome are preparing to fly the Kenyan flag in FIA WRC3. Born in 1995 and a competitor of the Kenyan championship, Maxine will be the only female driver competing on the Safari.

Multiple FIA Asia-Pacific champion Gaurav Gill from India and Poland's three-time FIA European title winner Kajetan Kajetanowicz are among the top FIA WRC2 contenders in Škoda Fabia Rally2s along with Martin Prokop (Ford Fiesta Rally2) and American Sean Johnston, who competes in a Citroën C3 Rally2 run by Saintéloc Junior Team.

Following his participation in 2021, paraplegic driver Nikhil Sachania from Kenya is entered this year again in the national class and determined to finish within the Top 20 in a Mitsubishi Lancer Evo X which has obtained the FIA Certificate of Adaptations (COA). Watch his portrait here.

MEDIA ACCREDITATION

Media accreditation must be collected in person by accredited pass holders from the Accreditation Centre, located in the Media Center, Safari Rally Service Park in Naivasha.

The opening hours are:

Sunday 19 June: 12:00 - 18:00 (for recce only)
Monday 20 June: 14:00 – 19:00
Tuesday 21 June: 08:00 – 19:00
Wednesday 22 June: 08:00 – 20:00
Thursday 23 June:  08:00 – 20:00
Friday 24 June: 08:00 – 14:00

The Media Centre is open as follows:

Monday 20 June: 14:00 – 19:00
Tuesday 21 June: 08:00 – 19:00
Wednesday 22 June: 08:00 – 20:00
Thursday 23 June:  08:00 – 20:00
Friday 24 June: 08:00 – 20:00
Saturday 25 June:  08:00 – 20:00
Sunday 26 June: 08:00 – 20:00
2022 SAFARI RALLY KENYA TIMETABLE & MEDIA OPPORTUNITIES
| | |
| --- | --- |
| Tuesday June 21 |   |
| FIA Tabard Media Safety Briefing, Photographers' Room, Media Centre | 17:00 hrs |
| Team media functions (contact teams directly for information) | From 17:30 hrs |
| Hyundai Shell Mobis WRT | 17:30 hrs |
| Toyota Gazoo Racing WRT | 18:00 hrs |
| M-Sport Ford WRT | 18:30 hrs |
| Welcome cocktail, SP Pavilion (driver attendance as per Bulletin 2) | 19:30 hrs |
|   |   |
| Wednesday June 22 |   |
| Shakedown for P1 and invited drivers, Loldia, 5.40km  | 10:01-11:30 hrs |
| Shakedown for P1, P2 and P3 drivers, Loldia, 5.40km | 11:30-12:30 hrs |
| Shakedown for non-priority drivers, Loldia, 5.40km | 12:31-14:00 hrs |
| Meet the Crews (top 3 drivers from Shakedown), Naivasha Service Park | 13:00 hrs |
| Pre-event FIA press conference, Media Centre** | 13:30 hrs |
| Tree planting (driver's attendance as per Bulletin 2), Service Park | 14:15 hrs |
|   |   |
| Thursday June 23 |   |
| Media interviews (all P1 drivers) | From 10:15 hrs |
| WRC family photo sessions | From 11:15 hrs |
| His Excellency President Kenyatta meets the drivers | 11:30 hrs |
| Welcome to Safari Rally Kenya speeches | 11:45 hrs |
| Start of Section 1 | 12:46 hrs |
| (All Thursday activities above take place at the Nairobi, Kenyatta International Convention Centre, Nairobi)  |   |
|   |   |
| Friday June 24 |   |
| Start of Section 2 | 07:00 hrs |
| Meet the Crews (top 3 drivers), Naivasha Service Park | Around 17:00 hrs |
|   |   |
| Saturday June 25 |   |
| Start of Section 4 | 06:35 hrs |
| Meet the Crews (top 3 drivers), Naivasha Service Park | Around 18:00 hrs |
|   |   |
| Sunday June 26 |   |
| Start of Section 6 | 06:00 hrs |
| Podium Ceremony, Service Park | 15:00 hrs |
| Post-event FIA press conference, Media Centre** | 16:30 hrs |
**Press Conferences will be available to accredited media attending onsite and no longer streamed via Zoom. However, a written transcript will be available afterwards.


MEDIA ZONES 

All priority drivers will be available for media interviews at the following times in the Media Zone (next to the Media Center, Safari Rally Service Park): TC4A, TC7A, TC10A, TC13A, TC19A 


FIA PRESS CONFERENCE ATTENDANCE

WEDNESDAY JUNE 22
 
13:30 - FIA WRC3
McRae Kimathi (KEN), Ford Fiesta Rally3
Maxine Wahome (KEN), Ford Fiesta Rally3
 
13:40 - FIA WRC2
Kajetan Kajetanowicz (POL), Škoda Fabia Rally2 Evo
Karan Patel (KEN), Ford Fiesta Rally2
Leroy Gomes (ZMB), Ford Fiesta Rally2
Alex Kihurani (USA), Saintéloc Junior Team Citroën C3 Rally2 (co-driver to Sean Johnston)
 
13:50 - FIA WRC
Toyota Gazoo Racing WRT – Sébastien Ogier (FRA), Toyota GR Yaris Rally1
Hyundai Shell Mobis WRT – Thierry Neuville (BEL), Hyundai i20 N Rally1
M-Sport Ford WRT – Sébastien Loeb (FRA) and Isabelle Galmiche (FRA), Ford Puma Rally1
 
SUNDAY JUNE 26

Winning FIA WRC3 Championship driver
Winning FIA WRC2 Championship driver
Top three drivers in the overall classification
Representative of the winning manufacturer

2022 SAFARI RALLY KENYA MANUFACTURER ENTRIES
| | |
| --- | --- |
| Toyota Gazoo Racing WRT |  Kalle Rovanperä (FIN) / Jonne Halttunen (FIN) - #69 |
|   | Sébastien Ogier (FRA) / Benjamin Veillas (FRA) - #1 |
|   | Elfyn Evans (GBR) / Scott Martin (GBR) - #33 |
| Hyundai Shell Mobis WRT | Thierry Neuville (BEL) / Martin Wydaeghe (BEL) - #11 |
|   | Ott Tänak (EST) / Martin Järveoja (EST) - #8 |
|   | Oliver Solberg (SWE) / Elliott Edmondson (GBR) - #2 |
| M-Sport Ford WRT | Craig Breen (IRL) / Paul Nagle (IRL) - #42 |
|   | Sébastien Loeb (FRA) / Isabelle Galmiche (FRA) - #19 |
|   | Adrien Fourmaux (FRA) / Alexandre Coria (FRA) - #16 |
2022 FIA WORLD RALLY CHAMPIONSHIP CLASSIFICATIONS 
The provisional classification following round five of the 2022 FIA World Rally Championship season is available at this link: https://www.fia.com/events/world-rally-championship/season-2022/standings
2021 SAFARI RALLY KENYA RESULTS
| | | |
| --- | --- | --- |
| 1 Sébastien Ogier/Julien Ingrassia | Toyota Yaris WRC | 3h18m11.3s |
| 2 Takamoto Katsuta/Daniel Barritt | Toyota Yaris WRC | +21.8s |
| 3 Ott Tänak/Martin Järveoja | Hyundai i20 Coupe WRC | +1m09.5s |
RECENT WINNERS
| | |
| --- | --- |
| 2021 Sébastien Ogier/Julien Ingrassia | Toyota Yaris WRC |
| *2019 Baldev Chager/Ravi Soni | Mitsubishi Lancer Evo X R4 |
| *2018 Carl Tundo/Tim Jessop | Mitsubishi Lancer Evo X R4 |
| *2017 Tapio Laukkanen/Gavin Laurence | Subaru Impreza WRX STi |
| *2016 Jaspreet Singh Catthe/Gurdeep Panesar | Mitsubishi Lancer Evo X R4 |
| *=Non-WRC event |   |