This page contains archived information and may not display perfectly
WRC - D. Sordo: "You could see that the others were pushing really hard."
Transcript of the post-event press conference organised by the FIA for the 2020 Rally Italia Sardegna.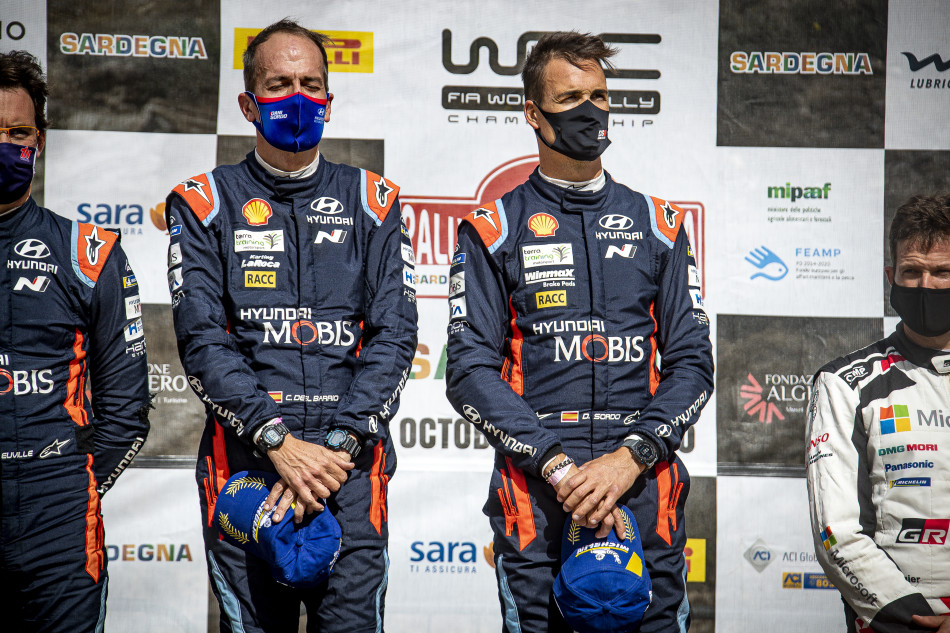 FIA WORLD RALLY CHAMPIONSHIP
Present:
1st Dani Sordo (ESP), Hyundai Shell Mobis World Rally Team
2nd Thierry Neuville (BEL), Hyundai Shell Mobis World Rally Team
3rd Sébastien Ogier (FRA), Toyota Gazoo Racing World Rally Team
Andrea Adamo (ITA), Hyundai Shell Mobis World Rally Team
Q:
Dani, it's the second time we see you on the top step on the podium. What a weekend it has been for you and how are you feeling at the end of it?
DS:
That feeling you can imagine: I am very, very happy, to take the victory in the rally. At the end, it was a little bit tight but we managed ok to take a little bit of advantage. Today, it was a little more difficult to follow these guys but at the end, we managed to win so we were really good.
Q:
A little of a scare really this morning since you lost some time on that opening test. Was it just a case that you were not that awake this morning or just these guys that were pushing so hard behind?
DS:
I was awake because it was later that yesterday, which was really early in the morning! But they were pushing really hard and I was thinking during the stages that they had a good speed. The grip was quite nice, you could see that the others were pushing really hard. But at the end, we managed to get the victory.
Q:
How much pressure were you feeling on your shoulders going into that final stage under 10 seconds in your advantage?
DS:
It was not easy because I did not want to do any mistakes. I did not want to lose this victory at all, I did not think about it and I just made it.
Q:
Are we going to see you on any rallies at the end of the year – maybe on the final round? Any news on when will see Dani Sordo next?
 
D.S.:
I don't know. Now that Monza is happening, I don't know if I will be there or not. Anyway, I would be happy to be there.
Q:
Any news on 2021 for us?
D.S.:
At the moment nothing new. I would like to be in more rallies.
Q:
Thierry, second position, a thrilling final day yet again between you and Sébastien Ogier. It's been a brilliant fight today, how intense was it for you?
TN:
It was intense all weekend, to be honest. I lost quite a lot of time on the first two stages on Friday morning and suddenly, we were able to catch back a little bit of time toward the leader. And since yesterday, I found myself back in a tight fight, especially with Sébastien because we were fighting for P2 and also closing on Dani, obviously not as much as we would have liked and expected. But we were still able to close a bit and keep the lead ahead of Sébastien. Knowing Sébastien and from the car experience, we knew this morning at service that a very intense battle was waiting for us until somebody would do a mistake. And it was luckily the positive way for us, we were able to set again an incredible time in the last stage despite an issue in the last 1.5km and we were able to secure second place.
Q:
How critical is this result, do you feel, for bouncing back in the championship with another rally added during the weekend? What's your thinking in regards to your title fight right now?
T.N.:
It is obviously a strong result here. I was unfortunately fighting with some technical issues on the first day as well and I lost from 10 to 12 seconds when the engine shut down twice in a slow corner. It maybe cost the lead and life would have been a little bit easier with this gap on the last two days as well, but at the end; it is how it is. We have done the maximum we could. I regret a little bit not to have chosen this last dumper version we had available after the test before coming here to use it since the beginning of the rally and this is where I lost time.
Q:
Talk to me about Ypres. We head to your home country next. You competed there before, you know what it is like, how difficult and tricky the weather can be. It's going to be interesting, I am sure. What are your thoughts?
TN:
Obviously I've never participated there in November, so it is going to be something new, definitively. But I was also never here in October and it worked well, so let's say that the rally might be different from what I am used to, but still, I mean, it's always good to have some knowledge of the stages year after year and I know the Belgian weather well.
Q: Seb, third position at the end of the event. Still good points in the bag for the title fight that is getting more and more interesting. How are you feeling after the battle today, it didn't quite go your way? How are you feeling after that?
 
SO:
First of all, I would like to say and give some credit to Dani because he is such a nice and honest guy. You almost feel bad that he had to use this advantage being first but the truth is he shouldn't mentioned it too much and just remember that he has been strong this weekend and that you used the rules as it is. Everybody had the chance to do it in the back and he was the only one, so well done, Dani, enjoy your victory and don't try to minimize your victory. For me, the weekend has been a strong one. I did everything I could starting P2 on Friday, I knew it was never going to be easy, 40% of the rally to do cleaning and that cost us a lot of time, obviously. But, after that, we were the fastest ones, we won a lot of stages and that's the positive I want to remember. The last two rallies were pretty fast and I started to feel better and better in the Yaris. In Turkey, it was the same after five stages in the rally and then I had some issues. I feel at the moment that a little luck would be nice, but that's part of the game, part of the sport. But I know every champion would like luck with him, I certainly had some at some point in my career, right now it's a bit harder but I am taking it in a cool way and remember the positive about this weekend. Performance is there, we lost very close to Thierry, again in this section like two years ago, but once again, I will sleep well tonight, I have no regrets. We tried everything, I was driving pretty much in the limits all morning, but this stages are always strong ones and it's hard for us to do any difference. So that's the way it is, still some positive about the points, because we would have loved to catch more points for my win, but still four is better than nothing and if these two rallies scheduled are happening, which I hope, there are still plenty of chances.
Q:
That's a very comprehensive answer on Sardinia, so I won't ask you any more questions on this rally, but I would like to know your opinion on Ypres and you are going to be second on the road. Who knows, you might be cleaning the motorway, depending on the weather (she laughs). What are your thoughts heading into a tarmac round next?
SO:
Not much. I have no clue about this event at all. For sure I think I will need to do some preparation, watch some videos, try to learn a little bit what to expect, we'll have some tests. The cleaning effect shouldn't be there, hopefully. I mean, if we start to clean the road on tarmac, then it starts to be very difficult. We expect Thierry to be strong there, but I am looking forward to the challenge. I will do everything I can to win this event anyway, even if it's my first time. That's the way it is, I am confident for the future - not happy with the last two rallies but happy with my speed on these two events. Now we switch to tarmac and the pleasure is there, it's good to enjoy what you do.
Q:
Regarding your plans and preparations for Ypres, you talked about, obviously, testing, but are there any other preparations you can make now in terms of getting yourself familiar with the stages and what you are going to come up against?
SO:
With the stages not really. Sorry I interrupted you but I mean… On the stages, we are obviously not allowed to go there. I hope it was the same for everybody, by the way...
Q:
What are you trying to say, Seb?
SO:
Well, I don't know, just that the (Hyundai) Team Manager is the organizer of the rally, it's a bit weird. Anyway, I don't want to start this debate. We are going to prepare as much as we can with the tools we have in hand and see what we can do.
Q:
Andrea, it's a 1-2 for Hyundai this weekend, the second win for Dani Sordo in Sardinia, points in the bag on the Power Stage also for Ott Tänak as well… How do you sum up this weekend on the island?
AA:
I permit to say that it is a 1-2 and I have been proud of my Hyundai Motorsport team. That is not mine but I treat it a little bit as if it was mine. There are five Hyundais in the first eight positions and it is impressive for me to see something like this because I remember where all of this came from. We started long ago in customer racing and all this kind of things. Today is one of those days that you can keep in memory and you say "ok, we did something". It's for Hyundai in rally, especially, a milestone, I think it's a result that has never been before, so quite impressive for me and impressive for Hyundai, it's good to keep the mood high for the future and that's it, for sure. And coming back to your question, to have five in eight and 1-2, it has been a nice fight, some heart attack moments, but it's part of rallying, it's part of the enjoyment.
Q:
Hyundai is going into the lead in the Manufacturer Championship as well. I know both of the titles are so important, talk to me about your thoughts on both those championships starting with the drivers' and the possibilities there.
AD:
Next year I will be fifty, I've been in motorsport for thirty years and I've seen championships won by people when few races before they were considered lost and vice-versa. I think our job is to be focused 100% until it's not over and this has always been our approach. Always fight for it and nothing is over. We will do all that we can to help in this case, it's only Thierry the real one in Hyundai Motorsport that can win it, consider the priorities that you have just mentioned.
Questions from the floor
Ben Johnston, Paddockeye.ie (IRL) to Dani Sordo:
Q:
is there anything you can pinpoint as to what makes this event such a strong one for you, is down to your preparation for the event in terms of pace notes, car set up and performance or all of the above? What makes the event so successful for you?
D.S.
To be honest and clear, I like this rally and I feel very good. We knew that when you are starting in the back on the first day, you have an advantage in the championship. If you are starting in the front the road, it is different. We managed to take a little bit of advantage on the second day, we did a really good day. Honestly, nothing more. This rally is special for this on gravel, it is always like this. On this one, Portugal and many rallies of this kind, I can fight for the victory.
Reiner Kuhn, Motorsport Aktuell (GER) to Sébastien Ogier:
Q:
It's clear now that there are still two tarmac rounds to go, are there any test rallies planned for you and your teammates?
SO:
Nothing really at the moment. The schedules are all last minute even though we have spent six months without so much action. Now it's really packed all together, so I think the team is looking for a real opportunity to be prepared, but right now there is no such plan that I can confirm. Like I just said, every opportunity possible to drive the car and to prepare the rally would be good.

Marco Giordo, Autosprint (ITA) to Sébastien Ogier:
Q:
What do you think about the inclusion of Monza?
SO:
It's great news. We had a short season so every event coming is welcome, rallying in Italy is always a pleasure too. There's a lot of passion for the sport in there. Monza is an iconic place for motorsport and I've never been there to participate to the Rally Show. I am happy it's not really a show anymore, because it would be a little too light for a WRC event, but with some of the stages planned in the Como area, I've heard, that sounds good for me even if I have no idea about what to expect. This area is beautiful and I love this part of the world, so I imagine these stages beautiful. I hope my imagination is right and I am looking forward to be there.

FIA WRC2 CHAMPIONSHIP
Present:
1st Pontus Tidemand (SWE), Toksport World Rally Team
Q:
Pontus, congratulations on the win! It's your first time on the island here in Sardinia, critical points for your championship hopes… How are you feeling at the end of the rally?
P.T:
For sure the feeling is good. Maximum points for sure, it's really good for the championship . It wasn't so easy to be here for the first time and also to be the first R5 (Rally2) car on the road in all the rally but we had a good and safe strategy and it paid off at the end. For sure, we are very happy.
Q:
That is key in some events, isn't it? Some events are flat-out, for some you have to have a more sensible strategy… Any dramas this weekend, Pontus?
P.T.
No, I would not say that. The team has done a fantastic job with the car so no problem and a good co-driver. The tyres have been working well, no puncture, so we just do our things. Nothing special so that has paid off at the end.
Q:
Sometimes it is easy to get distracted when you are not absolutely on a flat-out pace because you had some big gaps of time around. Did you find that?
P.T.
Yes, always like this I have been in this situation before but we just keep on with our stragety that really has to work out.
Questions from the floor
Reiner Kuhn, Motorsport Aktuell (GER) to Pontus Tidemand
Q:
What other rallies are you going to be doing?
P.T.:
Yes, the regulations say that you can do as many rounds you want and count the five best. We will see what will be in the next two rallies and what will happen.
Q.
Do you think there is a possibility you are actually doing the two events?
P.T:
I can't say so much now, we will see.
Q:
Do you know if we got a clarification on how the FIA WRC2 points scoring will be for this season? Is it the first five or the best of all five starts, and does that change the approach after the weekend of the Turkey win?
PT:
As I understood, you can do all the events but the best five count and yes, for sure that changes the strategy a little bit. It's still a long way to go for the championship if you are thinking about this.

FIA WRC3 CHAMPIONSHIP
Present:
1st Jari Huttunen (FIN)
Q:
What a weekend it has been for you on the island of Sardinia. It's a WRC3 win, fantastic battles throughout the weekend in your category. How do you feel with your fantastic result this weekend?
JH:
The feeling is really good, of course. Not any big mistakes, we had a puncture and we lost maybe 10 seconds, so I can be really happy. We didn't really push in this weekend but it went quite well.
Q:
It's an important result for you in the championship challenge, yes?
JH:
Yeah, it was a good battle but I don't know if I am going to do next championship rallies anymore.
Q:
So you are unsure about Ypres and about Monza? When will you know?
JH:
Good question, I don't know.
Q:
Are you hoping to get some more budget?
JH:
Yes, of course. Let's see what we can do.
Q:
Jari, I know you are waiting for budget for these next two events, but is there any planning for next year yet?
JH:
No, I don't have it at all. Hopefully someone knows, but I don't know anything.
Q:
If you had to sum up your experience here, how would you describe it?
JH:
First time here as Pontus, it was really difficult but like I said, it's going well, when you don't really push and the times are not that good, but at the end everything is good.
 
FIA JUNIOR WRC CHAMPIONSHIP
Present:
1st Tom Kristensson (SWE)
Q:
Tom, WRC Junior winner here in Sardinia, great result for you, we've seen lots of drama here in the Junior championship over the weekend. We wondered if there would be any cars left at the end of the rally. It's a success for you, tell me about your weekend!
TK:
The experiences from last year have been very important, for sure, and the experience of driving with the Pirelly tyres has also been very important too. We were able to get a good tyre strategy and that paid off directly from the first stage, actually, so really confident with that one. There is also a really special feeling in front of this weekend because everybody knows the Island, that is very tricky, there a lot of stones, very tricky and narrow places, but there are also really nice parts on the stages where you can push hard and just go for a great feeling. So, well, we started very well and we just continued driving and we've been safe during the rally. At the end, we found out that the car was struggling and there were also technical issues and also some crashes. Also today, we wanted to reach the end of every stage and just try to make it to the end to grab the victory. I don't think I will win a Junior WRC event with eleven minutes anymore.
Q:
I was just going to say that's such a huge margin of time, isn't it? Such an important win at this point for you: the stage wins as well obviously counts points for the Junior championship. With one more round remaining, how critical was this win?
TK:
I think it was very, very important for sure. I mean, victory on the stages are also very important, we had those as well. Now we just have to focus and do a very good preparation for next event to do this kind of tarmac. There could be snow, gravel or muddy places, so we will just see what will happen there. For sure, I will do my best and push for the victory in Junior WRC. That's my goal.