This page contains archived information and may not display perfectly
WRC - Chase for runner-up spot and WRC2 title take centre stage in Japan
Almost 11 months after it got underway, the 2022 FIA World Rally Championship is heading to Japan for a final round full of excitement and intrigue over the titles to be decided.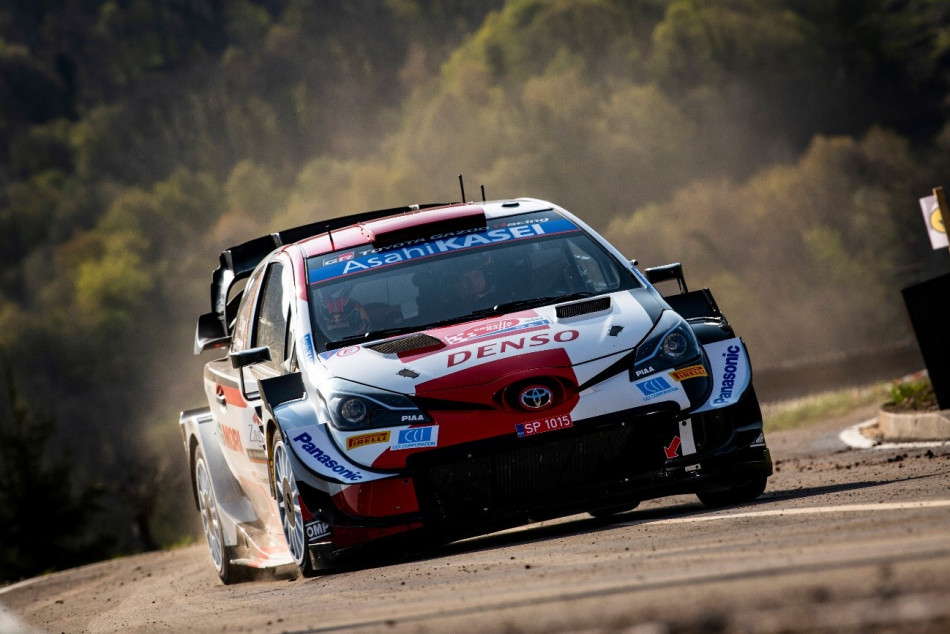 Not only is the runner-up spot in the overall Drivers' championship up for grabs, the winner of the coveted FIA WRC2 title for Rally2 cars will also become known when the curtain comes down on the WRC's 50th season and the first of the hybrid powered Rally1 era.

Once a regular on the world stage, Rally Japan's WRC hiatus extends 12 years and its return after two delayed attempts due to the global pandemic is eagerly awaited.

As well as the enthusiastic welcome from the fans, who will witness the WRC's stars and their cars being put through their paces on an all-new event, with the gravel roads of Hokkaido Island to the north replaced by Tarmac twists and turns on Honshu, Japan's main island and home to some 104 million people. 

Based in Toyota City, approximately 40 kilometres southeast of Nagoya, this year's Rally Japan is set to provide a tough test with narrow and technical stages never previously used in the WRC.  With mountainous terrain increasing the prospect of cold temperatures and changeable weather conditions, tyre strategy will be a major talking point. Early starts will also be a factor when the event runs from November 10-13. 

Rally Japan will also round out a year of celebration as the WRC's 50th anniversary. However, the WRC's sustainable present and future will very much be the focus on the 13th round of the season.

As well as running on 100 per cent fossil-free fuel, Rally1 cars are also designed to switch to electric mode only, which they are required to do in designated Hybrid Electric Vehicle zones close to event service parks.

With the overall Drivers' and Co-drivers' titles secured by Toyota Gazoo Racing WRT's Kalle Rovanperä and Jonne Halttunen respectively, Hyundai Shell Mobis World Rally Team pair Ott Tänak and Thierry Neuville will face off for the runner-up spot in Japan, although Tänak is in the ascendency with an advantage of 21 points over his team-mate.

The WRC2 title chase is far from certain. Toksport WRT Škoda driver Andreas Mikkelsen tops the order by five points ahead of team-mate Emil Lindholm and three-time FIA European champion Kajetan Kajetanowicz. But with Rally Japan not on Mikkelsen's schedule, the championship battle is set to be between Lindholm and Kajetanowicz. But if both drivers falter, Mikkelsen could still be crowned champion from afar.

Rally Japan coincides with Sustainability Forum hosted by the Mayor of Toyota City, Toshihiko Ota. The event will allow key members of the local government to meet with industry experts and discuss how innovations developed through motor sport can be utilised to benefit the environment.

THE 2022 ROUTE

Rally Japan 2022 begins with a 2.75-kilometre superspecial scheduled from 17:38 hrs local time on Thursday evening. Friday morning service starts at 05:34 hrs ahead of a demanding day of rallying east of Toyota City featuring three repeated stages over a competitive distance of 130.22 kilometres. The day-opening Isegami's Tunnel is the rally's longest at 23.29 kilometres. Double runs through the Nukata Forest and Lake Mikawako stages are scheduled either side of the single-use Shinshiro City stage on Saturday's 80.48-kilometre leg, which concludes with the 1.40-kilometre Okazaki City superspecial, run twice in quick succession from 15:36 hrs. Twin visits to the Asahi Kougen and Ena City stages northeast of Toyota City either side of the Nenoue Plateau test form the final leg of the 2022 season over a competitive distance of 69.82 kilometres. The second run of the 7.52-kilometre Asahi Kougen test counts as the points-paying Power Stage from 14:18 hrs.

RALLY DATA
| | |
| --- | --- |
| Stage distance: | 283.27 km |
| Total distance:  | 965.25 km |
| Number of stages: | 19 |
RALLY1 CONTENDERS

The spotlight among the Rally1 contenders will be on the Hyundai Shell Mobis World Rally Team pairings of Ott Tänak/Martin Järveoja and Thierry Neuville/Martijn Wydaeghe, who are locked in battle to finish runner-up to Kalle Rovanperä/Jonne Halttunen in the final FIA World Rally Championship standings.

With Toyota Gazoo Racing WRT wrapping up the Manufacturers' championship on the previous round in Spain, Rovanperä/Halttunen will be joined on what is essentially a high-speed lap of honour on Toyota's home event by Elfyn Evans/Scott Martin and eight-time champion Sébastien Ogier, who will be co-driven by Vincent Landais for the first time. 
Local hero Takamoto Katsuta, with Irishman Aaron Johnson co-driving, is entered in a fourth Toyota GR Yaris Rally1 under the Toyota Gazoo Racing WRT NG banner.
 
Dani Sordo/Cándido Carrera complete the Hyundai challenge, while Craig Breen/James Fulton and Gus Greensmith/Jonas Andersson are preparing to fly the M-Sport Ford World Rally Team flag. Fulton replaces Paul Nagle, who retired from full-time competition following his 102nd WRC start in Spain last month. Planned Ford Puma Rally1 entries for Adrien Fourmaux/Alexandre Coria and Jourdan Serderidis/Frédéric Miclotte have been withdrawn.

THE SUPPORTING CATEGORIES

The FIA WRC2 category has attracted a high-level 17-car entry for the season decider when Kajetan Kajetanowicz (Škoda Fabia Rally2) and Emil Lindholm (Toksport WRT Škoda Fabia Rally2) will fight for the support championship crown. Teemu Suninen leads the Hyundai Motorsport N charge in his i20 N Rally2 with Australian Luke Anear the leading Ford Fiesta Rally2 contender. American Sean Johnston and Japanese legend Toshi Arai, a double Production world champion, are Citroën C3 Rally2-powered. Ex-Formula One driver Heikki Kovalainen has been a regular winner in the Japanese championship this season and makes his WRC debut aged 41. Mauro Miele will aim to overhaul Armin Kremer, who isn't competing in Japan, and win the WRC2 Masters Cup. As always, the FIA World Rally Championship provides an opportunity for national drivers to showcase their talents and gain experience at world level. For Rally Japan they include Osamu Fukunaga, Norihiko Katsuta – father of Toyota Rally1 star Takamoto – and Hiroki Arai, Toshi Arai's son.

MEDIA ACCREDITATION

Media accreditation must be collected in person by accredited pass holders from the Accreditation Desk located on B1 Floor of the Toyota Stadium, the Rally Japan Service Park, 7-2 Sengoku-cho, Toyota, Aichi 471-0016. GPS Coordinates: N35 05 04.4 E137 10 15.4. 

The following opening hours apply:
Tuesday November 8: 14:00-18:00 hrs
Wednesday November 9: 08:00-18:00 hrs
Thursday November 10: 08:00-18:00 hrs 

The Media Centre is located on the B1 Floor of the Toyota Stadium, 7-2 Sengoku-cho, Toyota, Aichi 471-0016. GPS Coordinates: N35 05 04.4 E137 10 15.4. 

The following opening hours apply:
Tuesday November 8: 08:00-18:00 hrs
Wednesday November 9: 08:00-20:00 hrs
Thursday November 10: 08:00-22:00 hrs 
Friday November 11: 05:30-22:00 hrs
Saturday November 12: 05:30-22:00 hrs
Sunday November 13: 06:30-21:00 hrs

2022 RALLY JAPAN TIMETABLE & MEDIA OPPORTUNITIES
| | |
| --- | --- |
| Wednesday November 9 |   |
| FIA Tabard Media Safety Briefing, Media Centre, Toyota Stadium | 16:00 hrs |
| Team media functions (contact teams directly for information) | From 16:45 hrs |
|   |   |
| Thursday November 10 |   |
| Shakedown for P1 and invited drivers, Kuragaike Park Reverse, 2.80kms | 09:01-10:30 hrs |
| Shakedown for all priority drivers, Kuragaike Park Reverse, 2.80kms | 10:30-11:30 hrs |
| Shakedown for non-priority drivers, Kuragaike Park Reverse, 2.80kms | 11:30-13:00 hrs |
| Meet the Crews, Toyota Stadium | 13:30 hrs |
| Pre-event FIA press conference, Media Centre, Toyota Stadium* | 14:00 hrs |
| Autograph session, Toyota Stadium | 15:20 hrs |
| Rally Show and ceremonial start, Toyota Stadium | 15:45 hrs |
| Start of Section 1, Toyota Stadium | 17:00 hrs |
|   |   |
| Friday November 11  |   |
| Start of Section 2, Toyota Stadium | 05:30 hrs |
| Meet the Crews, Toyota Stadium | 18:30 hrs (approx.)  |
|   |   |
| Saturday November 12 |   |
| Start of Section 4, Toyota Stadium | 05:50 hrs |
| Meet the Crews, Toyota Stadium | 17:30 hrs (approx.) |
|   |   |
| Sunday November 13 |   |
| Start of Section 7, Toyota Stadium | 06:40 hrs |
| Podium Ceremony, Toyota Stadium | 17:00 hrs |
| Post-event FIA press conference, Media Centre, Toyota Stadium* | 17:30 hrs |

*Press Conferences will be available to accredited media attending onsite and no longer streamed via Zoom. However, a written transcript will be available afterwards. 

MEDIA ZONES
All priority drivers (and co-drivers upon request) will be available for media interviews during the following Media Zones: TC4A, TC7A, TC10A, TC14A, TC19A

FIA PRESS CONFERENCE ATTENDANCE

Thursday November 10

14:00 - FIA WRC2 CHAMPIONSHIP 
Kajetan Kajetanowicz (POL), Škoda Fabia Rally2 Evo
Toksport WRT – Emil Lindholm (FIN), Škoda Fabia Rally2 Evo
Heikki Kovalainen (FIN), Škoda Fabia 
Osamu Fukunaga (JPN), Škoda Fabia
Toshi Arai (JPN), Citroën C3 Rally2
 
14:15 - FIA WRC CHAMPIONSHIP
Toyota Gazoo Racing WRT – Takamoto Katsuta (JPN) and Vincent Landais (FRA), Toyota GR Yaris Rally1 Hybrid
Hyundai Shell Mobis WRT – Ott Tänak (EST), Hyundai i20 N Rally1 Hybrid
M-Sport Ford WRT – Gus Greensmith (GBR), Ford Puma Rally1 Hybrid
Pirelli – Terenzio Testoni (ITA), Rally Activity Manager

Sunday November 13 (from 17:30)

Top three drivers in the overall classification
Representative of the winning manufacturer
Winning FIA WRC2 Championship drivers (Open, Junior and Masters Cup)

2022 RALLY JAPAN MANUFACTURER ENTRIES
| | |
| --- | --- |
| Toyota Gazoo Racing WRT | Kalle Rovanperä (FIN) / Jonne Halttunen (FIN) - #69 |
|   | Elfyn Evans (GBR) / Scott Martin (GBR) - #33 |
|   | Sébastien Ogier (FRA) / Vincent Landais (FRA) - #1 |
| Hyundai Shell Mobis WRT | Ott Tänak (EST) / Martin Järveoja (EST) - #8 |
|   | Thierry Neuville (BEL) / Martijn Wydaeghe (BEL) - #11 |
|   | Dani Sordo (ESP) / Cándido Carrera - #6 |
| M-Sport Ford WRT | Craig Breen (IRL) / James Fulton (IRL) - #42 |
|   | Gus Greensmith (GBR) / Jonas Andersson (SWE) - #44 |

2022 FIA WORLD RALLY CHAMPIONSHIP CLASSIFICATIONS 
The provisional classification following round 12 of the 2022 FIA World Rally Championship season is available at this link: https://www.fia.com/events/world-rally-championship/season-2022/standings

2010 RALLY JAPAN RESULTS
 
| | | |
| --- | --- | --- |
| 1 Sébastien Ogier/Julien Ingrassia | Citroën C4 WRC | 3h10m26.4s |
| 2 Petter Solberg/Chris Patterson | Citroën C4 WRC | +15.7s |
| 3 Jari-Matti Latvala/Miikka Anttila | Ford Focus RS WRC '09 | +26.0s |

RECENT WINNERS
| | | |
| --- | --- | --- |
| 2010 | Sébastien Ogier/Julien Ingrassia | Citroën C4 WRC |
| 2008 | Mikko Hirvonen/Jarmo Lehtinen | Ford Focus RS WRC '08 |
| 2007 | Mikko Hirvonen/Jarmo Lehtinen | Ford Focus RS WRC '07 |
| 2006 | Sébastien Loeb/Daniel Elena | Citroën Xsara WRC |
| 2005 | Marcus Grönholm/Timo Rautiainen | Peugeot 307 WRC |