This page contains archived information and may not display perfectly
WRC – Ardeca Ypres Rally Belgium – FIA Preview
Back on asphalt as WRC returns to Ypres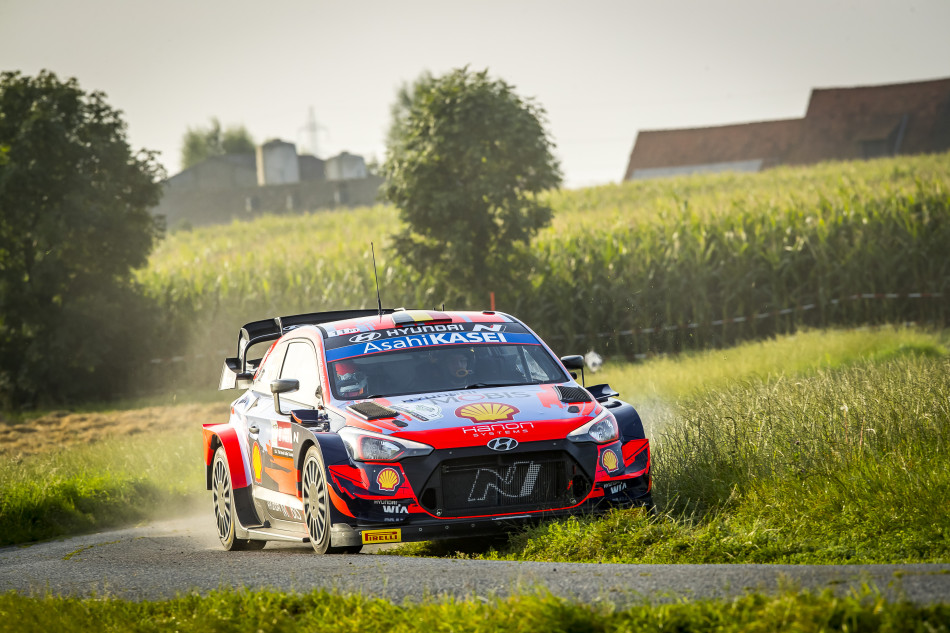 Sealed-surface stages are back in the FIA World Rally Championship from August 18-21 with the second running of Ypres Rally Belgium as a round of the WRC.
Once a long-term fixture on the FIA European Rally Championship calendar, the event was elevated to the sport's top level for the first time in 2021 with a route that showcased two of Belgian motor sport's most significant attractions, the Ypres Rally and Circuit de Spa-Francorchamps.
But while the rally's awayday to Spa hasn't been included on this year's itinerary to enable final preparations to be made for the upcoming Formula 1 Belgian Grand Prix (August 26-28), the famous stages in the Flanders region in the northwest of the country remain central to the event, round nine of the 13-rally WRC season.
Not since April's Croatia Rally has asphalt tested the WRC stars and their cars. However, the stages used for Belgium's world championship counter differ considerably to what was in store on the Zagreb-based event, with Ypres featuring narrow, technical farmland roads, lined by drainage ditches. Tight junctions are also plentiful, while corner 'cutting' – the process of drivers taking the optimal line through corners – is commonplace. It means debris being dragged onto the road is a constant challenge, which is multiplied when it rains.
With all stages located close to the historic market town of Ypres, where the main square is transformed into the service park and event hub during rally week, there's little respite due to the short liaison sections. It means plenty of intense action is expected and ensures the thousands of fans that flock to the event each year can savour non-stop entertainment from the WRC competitors and the crews contesting the supporting Belgian Rally Championship.
Even though he hails from Belgium's southeast, Thierry Neuville can count on a huge fan following as the country's most successful rally driver. However, with 11 Ypres victories, FIA WRC2 Masters' Cup contender Freddy Loix tops the list of all-time winners. Patrick Snijers, who has won in Ypres four times, will also be in action in a new-generation Ford Fiesta Rally3, albeit as a non-priority driver. Jos Verstappen, father of Formula One world champion Max, who made 106 grands prix starts, makes his WRC debut in a Rally2-specification Citroën as part of a packed 88-car entry.
The entry list is headed by FIA World Rally Championship leaders Kalle Rovanperä/Jonne Halttunen, who could claim the provisional WRC title in Ypres by taking 26 points and hoping Neuville/Martijn Wydaeghe and Ott Tänak/Martin Järveoja fail to score.
For this year's Ardeca Ypres Rally Belgium, Pirelli, the WRC's official tyre supplier, will provide its PZero RA WRC hard- and soft-compound tyres, in addition to the Cinturato RWB wet tyre in the event of rain. The hard compound is the first choice and is designed for warm and dry conditions, while the soft compound is for cool and damp weather. Teams can use a maximum of 28 tyres for the event including four for Shakedown.
 
 
THE 2022 ROUTE
A hugely demanding and compact route awaits with all the action taking place close to Ypres. In a change to the usual WRC event format, shakedown follows the ceremonial start on Thursday afternoon in Nieuwkerke, 25 kilometres from Ypres. Running into the evening, a memorable atmosphere is often created. 
Friday's route features eight stages, split into two loops, over a competitive distance of 97.02 kilometres and begins with the new Vleteren stage. The following Westouter-Boeschepe test finishes across the border in France, while Mesen-Middelhoek starts in the cobblestone square of Belgium's smallest city. After running as the shakedown test in 2021, Langemark returns as a fully-fledged special stage.
 
Another two loops of four stages make up Saturday's itinerary. Although the day-opening Reninge test is unchanged, Dikkebus runs in reverse direction, while the opening part of Wijtschate has undergone extensive modification. Hollebeke, the rally's longest stage at 22.32 kilometres, mainly runs in reverse compared to 2021. Of the day's total route of 269.05 kilometres, 133.22 are timed, such is the compact nature of the Ypres Rally.
 
The famous Kemmelberg test, which comes complete with a cobblestone climb popular in cycle racing, will form the bonus points-paying Wolf Power Stage when it's run for the second time on the final day. The Warande Castle is the setting for the Power Stage podium.
Meanwhile, the double-use Watou stage, which is also included on the 51.34-kilometre third leg, is known for its bumpy surface.
RALLY DATA
Stage distance: 281.58 km
Total distance: 687.24 km
Number of stages: 20
RALLY1 CONTENDERS
While FIA World Rally Championship Kalle Rovanperä/Jonne Halttunen head the 10-strong hybrid-powered Rally1 line-up for Toyota Gazoo Racing WRT, the fan focus will be on home heroes Thierry Neuville/Martijn Wydaeghe, particularly after their Hyundai Shell Mobis World Rally Team team-mates Ott Tänak/Martin Järveoja won Secto Rally Finland earlier this month.
The Toyota line-up also features Elfyn Evans/Scott Martin, fourth in Ypres last season, and Esapekka Lappi/Janne Ferm, whose one and only Ypres start was back in 2014 and was curtailed by an accident. Takamoto Katsuta/Aaron Johnston compete in a fourth Toyota GR Yaris Rally1 entered by Toyota Gazoo Racing WRT NG.
Oliver Solberg, who is co-driven by Elliott Edmondson, dominated the WRC2 category on his Ypres debut in 2021 until an electrical issue intervened, is the third Hyundai i20 N Rally1 driver in action.
Last year's Ypres Rally runners-up, Craig Breen/Paul Nagle, head the M-Sport Ford World Rally Team effort, with Adrien Fourmax/Alexandre Coria and Gus Greensmith/Jonas Andersson also competing in Ford Puma Rally1s. Frenchman Fourmaux grew up 40 kilometres from Ypres but was a rookie when he took part on the event last season.
THE SUPPORTING CATEGORIES
The appeal of the FIA WRC2 for Rally2 cars is underlined with 22 registrations across the Open, Junior and Masters sections. Andreas Mikkelsen, who leads the provisional standings by three points, is the top seed in his Toksport WRT Škoda Fabia Rally2 Evo, but can count on strong opposition from France's Belgian championship leader Stéphane Lefebvre (Citroën C3 Rally2), 2021 FIA WRC3 champion Yohan Rossel (PH Sport Citroën), M-Sport Ford World Rally Team's Jari Huttunen (Ford Fiesta Rally2) and his Toksport team-mates Marco Bulacia, Nikolay Gryazin and Chris Ingram. Belgian drivers Grégoire Munster (Hyundai i20 N Rally2) and Freddy Loix (Škoda Fabia Rally2 Evo) will chase WRC2 Junior and WRC2 Masters' Cup points respectively. Italian Enrico Brazzoli, Czech Jan Černý and Hungarian Zoltán László are in contention for FIA WRC3 honours with the category using Rally3 cars only from 2022.
 
 
MEDIA ACCREDITATION
Media accreditation must be collected in person by accredited pass holders from the Accreditation Desk, located at the Novotel Ieper Centrum, Sint Jacobsstraat 15, 8900 Ypres, Belgium. The following opening hours apply:
Tuesday August 16: 14:00 – 18:00 hrs
Wednesday August 17: 10:00 – 20:00 hrs
Thursday August 18: 10:00 – 20:00 hrs
The Media Centre is located at the Novotel Ieper Centrum, Sint Jacobsstraat 15, 8900 Ypres, Belgium. The following opening hours apply, although the Media Centre will remain open for longer once the event is underway upon request:
Tuesday August 16: 14:00 – 18:00 hrs
Wednesday August 17: 10:00 – 20:00 hrs
Thursday August 18: 10:00 – 20:00 hrs
Friday August 19: 09:00 – 20:00 hrs
Saturday August 20: 09:00 – 20:00 hrs
Sunday August 21: 08:00 – 19:00 hrs
2022 ARDECA YPRES RALLY BELGIUM TIMETABLE AND MEDIA OPPORTUNITIES
| | |
| --- | --- |
| Wednesday August 17 |   |
| FIA Tabard Media Safety Briefing, Photographers' Room, Rally HQ | 17:00 hrs |
| Team media functions (contact teams directly for information) | From 17:30 hrs |
| Photo with all P1 drivers and co-drivers, Menin Gate, Ypres | From 19:30 hrs |
| Last Post Ceremony, Menin Gate, Ypres (Breen, Katsuta, Neuville) | From 19:45 hrs |
|   |   |
| Thursday August 18 |   |
| Pre-event FIA press conference, Media Centre* | 12:30-13:30 hrs |
| Autograph session, Service Park, Ypres | 13:00 hrs |
| Meet the Crews, Service Park, Ypres | 14:00 hrs |
| Ceremonial Start, Service Park, Ypres | 15:10 hrs |
| Shakedown for P1 and invited drivers, Nieuwkerke | 16:00-18:00 hrs |
| Shakedown for P1, P2 and P3 drivers, Nieuwkerke | 18:01-19:30 hrs |
| Shakedown for non-priority, plus P2 and P3 drivers Nieuwkerke | 19:31-23:00 hrs |
|   |   |
| Friday August 19 |   |
| Start of Section 1 | 09:35 hrs |
| Meet the Crews, Service Park | Flexi-Service B |
|   |   |
| Saturday August 20 |   |
| Start of Section 3 | 09:05 hrs |
| Meet the Crews, Service Park | Flexi-Service E |
|   |   |
| Sunday August 21 |   |
| Start of Section 5 | 07:35 hrs |
| Podium Ceremony, Service Park | 15:00 hrs |
| Post-event FIA press conference, Media Centre* | 15:45 hrs |
*Press Conferences will be available to accredited media attending onsite and no longer streamed via Zoom. However, a written transcript will be available afterwards.
MEDIA ZONES
All priority drivers are required to be available for media interviews at the following times:
TC4A, TC8A, TC12A, TC16A, TC18A, TC20A
FIA PRESS CONFERENCE ATTENDANCE
Thursday August 18
12:30 - FIA WRC3 CHAMPIONSHIP AND NON-PRIORITY
Jan Černý (CZE), Ford Fiesta Rally3
Patrick Snijers (BEL), Ford Fiesta Rally3 – non-priority
Jos Verstappen (NLD), Citroën C3 – non-priority
 
12:40 - FIA WRC2 CHAMPIONSHIP
Toksport WRT – Andreas Mikkelsen (NOR), Škoda Fabia Rally2 Evo
Stéphane Lefebvre (FRA), Citroën C3 Rally2
Freddy Loix (BEL), Škoda Fabia Rally2 Evo
 
12:50 - FIA WRC CHAMPIONSHIP
Hyundai Shell Mobis WRT – Thierry Neuville (BEL), Hyundai i20 N Rally1
M-Sport Ford WRT – Adrien Fourmaux (FRA) and Gus Greensmith (GBR), Ford Puma Rally1
Toyota Gazoo Racing WRT – Elfyn Evans (GBR), Toyota GR Yaris Rally1
Sunday August 21 (from 15:45)
Winning FIA WRC2 Championship driver in the Open, Junior and Masters Cup classes
Winning FIA WRC3 Championship driver
Top three drivers in the overall classification
Representative of the winning manufacturer
2022 ARDECA YPRES RALLY BELGIUM MANUFACTURER ENTRIES
| | |
| --- | --- |
| Toyota Gazoo Racing WRT | Kalle Rovanperä (FIN) / Jonne Halttunen (FIN) - #69 |
|   | Elfyn Evans (GBR) / Scott Martin (GBR) - #33 |
|   | Esapekka Lappi (FIN) / Janne Ferm (FIN) - #4 |
|   |   |
| Hyundai Shell Mobis WRT | Thierry Neuville (BEL) / Martijn Wydaeghe (BEL) - #11 |
|   | Ott Tänak (EST) / Martin Järveoja (EST) - #8 |
|   | Oliver Solberg (SWE) / Elliott Edmondson (GBR) - #2 |
|   |   |
| M-Sport Ford WRT | Craig Breen (IRL) / Paul Nagle (IRL) - #42 |
|   | Gus Greensmith (GBR) / Jonas Andersson (SWE) - #44 |
|   | Adrien Fourmaux (FRA) / Alexandre Coria (FRA) - #16 |
2022 FIA WORLD RALLY CHAMPIONSHIP CLASSIFICATIONS
The provisional classification following round eight of the 2022 FIA World Rally Championship season is available at this link: https://www.fia.com/events/world-rally-championship/season-2022/standings
2021 YPRES RALLY BELGIUM RESULTS
 
| | | |
| --- | --- | --- |
| 1. Thierry Neuville/Martijn Wydaeghe | Hyundai i20 Coupe WRC | 2h30m24.2s |
| 2. Craig Breen/Paul Nagle | Hyundai i20 Coupe WRC | +30.7s |
| 3. Kalle Rovanperä/Jonne Halttunen | Toyota Yaris WRC | +43.1s  |
RECENT WINNERS
| | | |
| --- | --- | --- |
| 2021 | Thierry Neuville/Martijn Wydaeghe | Hyundai i20 Coupe WRC |
| 2019* | Craig Breen/Paul Nagle | Volkswagen Polo GTI R5 |
| 2018* | Thierry Neuville/Nicolas Gilsoul | Hyundai i20 R5 |
| 2017* | Kevin Abbring/Pieter Tsjoen | Peugeot 208 T16 |
| 2016* | Freddy Loix/Johan Gitsels | Škoda Fabia R5 |
| *Non-WRC event |   |   |