This page contains archived information and may not display perfectly
WRC - ACI Rally Monza - Pre-event Press Conference Transcript
Transcript of the pre-event press conference organised by the FIA for the 2021 ACI Rally Monza.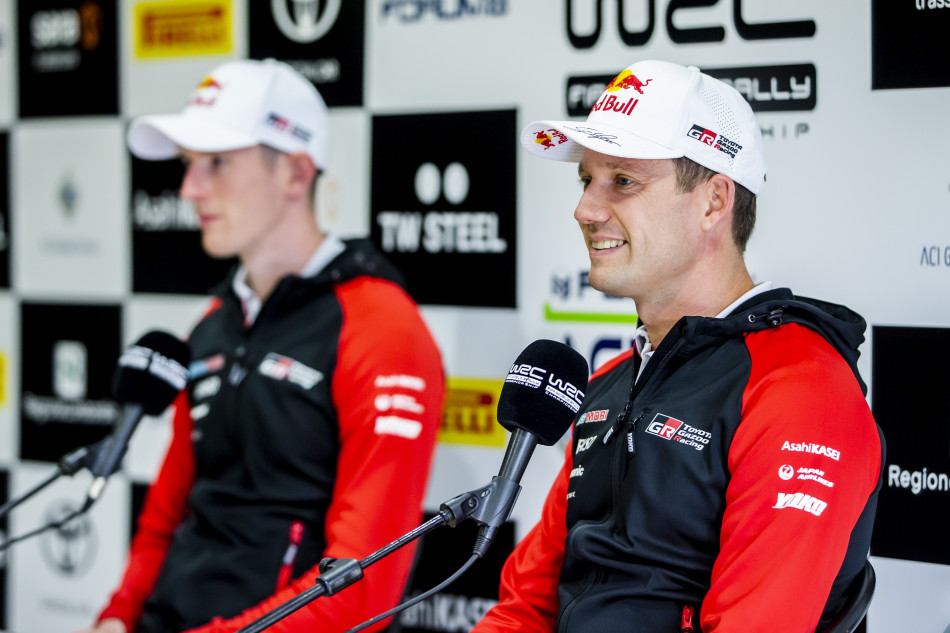 FIA WORLD RALLY CHAMPIONSHIP
Present:
Sébastien Ogier (FRA), Toyota GAZOO Racing WRT
Elfyn Evans (GBR), Toyota GAZOO Racing WRT
Gus Greensmith (GBR), M-Sport Ford WRT
Teemu Suninen (FIN), Hyundai Shell Mobis WRT
Q:
Sébastien, you announced at the start of the year that this would be your last full season in the FIA World Rally Championship. That feels like only yesterday. Now that it is here, how are you feeling going into a weekend which may well see your last WRC title battle?
SO:
Honestly, I don't feel that it's the last. I have heard that a lot recently. Obviously, there is much still to play for this weekend as we are fighting for the title with Elfyn. Honestly, I feel that I do the preparations like always and I will do my best to finish on a high. It's a bit of a weird feeling to know that it is not exactly the last one. Like you say, I may come back next year. Honestly, I don't know how I feel on that. I made this decision to retire and it's a bit strange to not have a proper cut at the end. Anyway, that's for the future. Right now, we are talking about the present and we are here. There is no guarantee to be honest (return in 2022). I feel right now that I am still putting a lot of energy to finish that well this season. I think the pressure is on myself. I cannot really say it is on Elfyn because I have the card in hard and, if I use it well, there is no reason to feel extra pressure. But, of course, I expect him to try everything he can to win the rally. Therefore, I still need to have a good weekend. That's how I feel. At least a little bit better than last year.
Q:
Weather conditions are a little different this year from last. How are the mountain stages looking and where does the real challenge lie this weekend?
SO:
The weather is nice and a bit more sunny. Some easier sections I believe but I don't think it will be dry completely. It will still be a challenging weekend. But, I want to enjoy, as much as I can, my last time with this fantastic car and the last time with Julien (Ingrassia). A lot of things I want to enjoy for the last time.
Q:
Elfyn, situations are reversed from last year. You are now the hunter. How do you approach the title fight this weekend?
 
EE:
Pretty normal rally. There is no point to think too much about the title. As I mentioned already in Greece, it was a long shot then and it's a very long shot now. Nothing has changed really. It's just another rally and, like Seb mentioned, it's the last rally with the cars and all that type of thing. Of course, we have to try and enjoy but really it's just another rally.
Q:
The slippery snowy conditions caught you out last year. There is no chance of snow this time however! How are the mountain stages looking?
EE:
It looks a bit more stable at least. But Seb already touched on it. There is never an easy rally in the World Rally Championship. The conditions we have on the stages are nice but, of course, there are some areas under the trees that are very slippery and the surfaces are changing a lot. Dampness is changing a lot. There is still a lot to go for and a lot to stay concentrated for this weekend.
Q:
Is there anything in your mind thinking why didn't this kind of form come a little bit earlier in the season?
EE:
Well, I think the start of the season was quite okay. You are never fully satisfied but really the damage was done mid year for me. The Safari was very damaging and a couple of bad results also on other rallies in the middle of the year. That's the way it goes sometimes. Of course you can look back and find plenty of things you can do better. We are where we are now and try and get the most from what we can control.
Q:
This is the last round of the season. How would you reflect on 2021? Do we have news yet for 2022? Gus, we see a new co-driver with you this weekend - Jonas Andersson steps in. How has that been going so far and is this a test event to see if the relationship works ahead of next year?
GG:
First I think the bromance is back. I've got my pal back now. Back to racing together. It has been a very good season is terms of improvement. I am very happy. I would have loved to carry on with Chris (Patterson) for next year but the agreement was always for one year and Monza would be used to basically trial who we thought was the best candidate going forward. That is Jonas and everything is going very well so far. We have had a good laugh in the car and I am really looking forward to getting started. It's surprising for how relatively young he is how many WRC starts he has got. That was one of the key things why we thought it would be a great idea to have him in the car. Grateful he said yes.
Q:
It's tough rally and last year we saw difficult weather conditions. It's looking a bit more  stable this year. Does that make it any easier?
GG:
It will be easier, for sure. Travelling at 160km/h coming over a crest and it's full snow without any warning. That was a shock last year. I don't think that is quite going to happen this year. But never say never. It's still in the mountains. Beautiful sunshine and the weather looks nice and also the track looks enjoyable as well. The mountain stages are comparable to other stages we have, yes, but more unique to themselves. To be honest, I really enjoy them. They are not the busiest of stages which means you can be very precise with the pace notes and usually that helps with having a big push on the first pass. Looking forward to it.
Q:
Teemu, welcome back into a WRC car for the final event. We see you continue your relationship with Hyundai, but now with a World Rally Car. How was your pre-event test? How does the car compare with what you have driven before?
TS:
I am really looking forward to see what we can do here. It has been challenging times that we have been jumping from car to car. A fifth rally with a new car – it's been a lot of learning. But with the team everything has been working well. I was happy on the test and let's see what we can do here.
Q:
Tyres are going to be a bit of a factor here. You head into the mountains in the mornings and you are still there at midday. It's going to be a difficult tyre choice first thing?
TS:
Yes, true. And I hear from the team that there might be some humidity in the mornings. This makes tyre choice quite tricky. During recce time we were talking about which tyres to take. There were some differences of choices. It's not going to be easy but we have good weather guys in the team who will tell the precise weather for us and which helps a bit. I am the third car in our team so I can follow the others. That helps also.
Q:
What is the hope moving forward with Hyundai? All their WRC slots are filled next year…
TS:
I stick with the same answer. I really want to do like proper season with a good amount of testing. I will be happy with a WRC2 programme but I will be ready to say yes if we get a chance to do Rally1. 

FIA WRC2 CHAMPIONSHIP
Present:
Andreas Mikkelsen (NOR), Toksport WRT
Jari Huttunen (FIN), M-Sport Ford WRT
Q:
Andreas, WRC2 champion for this season – can you can have a stress-free rally ahead? How nice is it to end the season with the title already sealed?
AM:
Relaxed, I don't know. But we are looking forward to this weekend. I was very happy to win the title in Spain. It means that we can come here with our shoulders low and just enjoy. It's  a beautiful rally out there. But I know if I had to get one point I would be so scared all weekend. Now we can just enjoy. I really like the Monza stages out there. It should be a lot of fun this weekend.
Q:
Last year we had torrential rain and snow. It will be a different rally this time. How was the recce?
AM:
The conditions were quite tricky yesterday but I would say quite a lot better today. It dries so quickly. I expect the rally to be more or less dry, maybe with some damp patches here and there. It should be a lot easier than last year.
 
Q:
A new co-driver onboard. Phil Hall steps in now. How has that worked out so far? A new livery on the car as well to represent the title?
AM:
It has been going really well. We had a good test. Obviously test and rally is very different but everything seems good so far and we had a good recce. I had a lot of pace notes from last year which we could build on. For sure, that is something new for this weekend. What I have seen so far is that everything is looking promising. I think it should be really well. We thought about like having gold suits. That was a bit too much but the car looks really cool and elegant for this rally. But we cannot finish on second place with that car. We have to do it justice this weekend. I think the Škoda is a great car. We have the tools. We had a great run last year and we have to try and repeat that.
Q:
Jari, a team switch sees you in a Fiesta Rally2 for this weekend. You tested on tarmac earlier this week. How was the car? How many kilometres did you cover?
JH:
At the moment my feeling is really good. The car and the team feels good. I am really happy at the moment. Let's see when the rally is starting how it is going. I hope the feeling after the rally is also good. It rained (during testing) so I have no experience in the dry conditions. Let's see what the conditions are in the rally. 
Q:
How does the Fiesta compare to what you had before?
JH:
It's a totally different car. Not need to compare. It's a really nice car.
Q:
What about next year?
JH:
Maybe they (the team) are testing me. We have to look at it like that and think the other way. Hopefully l will be driving with M-Sport. But I really don't know. We will see.
Q:
What were the mountain stages like? Do they compare to any other tarmac rallies? Can you finish on the top step of the podium?
Some parts, yes, you can compare. The mountain stages yes you can compare. The track is really special. I like a lot on the gravel and on tarmac. I like this rally so. Difficult to say (podium finish) but the feeling is really good now. When the rally is starting we will see where we are.
Q:
Has Malcolm Wilson given you any advice for the weekend?
JH:
Fast….full gas…

FIA WRC3 CHAMPIONSHIP
Present:
Yohan Rossel (FRA)
Kajetan Kajetanowicz (POL)
Andrea Crugnola (ITA)
 
Q:
Yohan, the final round of the season and a battle for the title in WRC3. Your recent appeal against disqualification has been dismissed and it's joint points heading into this weekend. How are you feeling about the prospect of the battle?
YR:
The feeling is good. I think the fight will be great. It is the same two all the events. I am happy to be here. I did not drive in Spain and Finland. I am so happy to come back in the World Championship.
Q:
Three wins and two of them on tarmac. How confident are you of success here?
YR:
Yes, I feel on tarmac it is good. It is my prediction (preferred) surface. I think I go to flat out.  The guys just next to me have the same target. So happy to be here and to play for the World Championship. We will see what will happen.
Q:
How are you feeling about the title battle this weekend? What would it mean to you to seal the title in WRC3?
KK:
Anyway, for sure, this is the best season in my career. We won three rallies and two times we were second. But we have some job to do and we need to win one more. That's why I need to be focused on my job. I don't want to be thinking about the championship. This is my plan to stay on the road and be quick and to have some fun. I hope we can do it this weekend. Like for everyone, maybe not for Ogier. For us, this is a big chance. We were fighting all season. This is another rally and I will do my best, for sure. I enjoyed it last year. It is a different rally, with so many tricky parts also. It's going to be dry but, at the same time, with some slippery corners. Maybe it's going to be more difficult than last year. We need to be calm and to focus on the job.
Q:
What are your plans for 2022? Any ideas yet?
KK:
I am talking with my sponsors and am thinking about this. Now the main target is to finish this rally and to do the best what we can do.
Q:
Andrea, you won the event in 2019. What do you remember from that edition?
AC:
Yes, for sure, it's good memories. But, honestly, the race this year will be different compared to two years ago. I just saw the stages and the race track with a lot of mud and loose gravel. It will be very tricky.
Q:
Since last year's edition, the first one counting for the WRC, Rally Monza mixes road and track in a unique challenge. How difficult is it to "change settings" - car and mind-wise - from the more traditional to the circuit stages?
AC:
It will be a lot different. The mountain roads you can be more aggressive depending on the surface depending on whether it will be dry or damp. But the race track stages, we also saw last year a lot of trouble, punctures and things. It will be a really tough event. I would like to show my speed and my target is to be fast. If I am able to win it would be great.