WRC - 2021 RALLYE MONTE-CARLO PREVIEW
The 2021 FIA World Rally Championship season is set to get underway with the famous Rallye Monte-Carlo on January 21-24.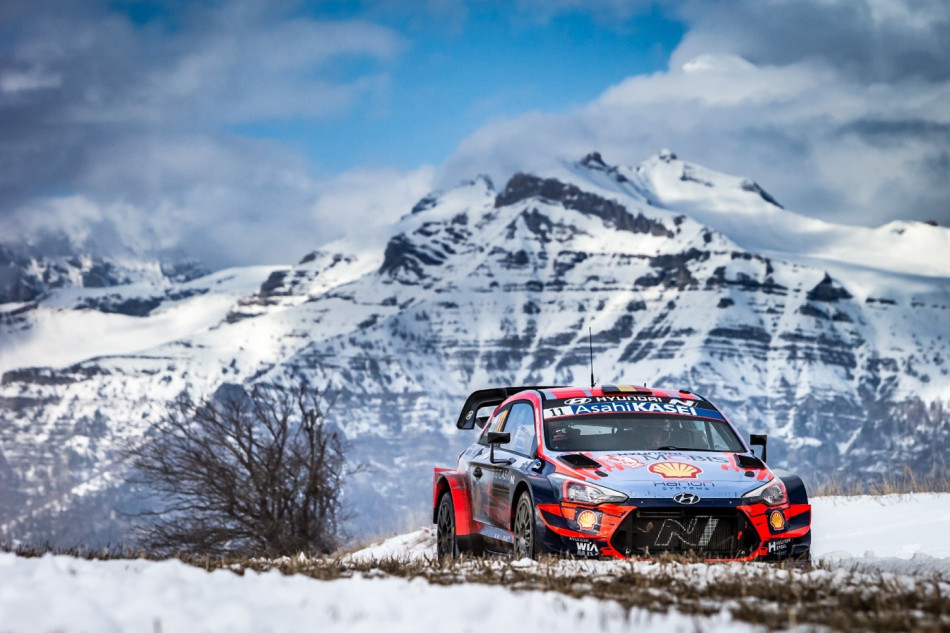 The oldest event on the WRC calendar will celebrate its 110th anniversary on this year's edition. Over that time, the rally has formed a reputation as one of the most demanding in the world due to the unpredictable, wintery conditions in the French Alps, bringing ice and snow to the asphalt roads. This usually makes tyre selection an important element of the event and this year, the crews will be choosing from new tyres supplied by Pirelli, which commences its four-year agreement with the FIA as exclusive tyre provider to the world series' leading competitors.
Six weeks after claiming his seventh world title at the 2020 season-closing Rally Monza, Frenchman Sébastien Ogier lines up with the #1 on his Toyota Yaris WRC. Born in the rally's hometown of Gap, Ogier will be targeting a seventh WRC victory on Rallye Monte-Carlo in eight years. He will once again be joined by 2020 championship runner-up Elfyn Evans, as well as up-and-coming driver Kalle Rovanperä in an unchanged Toyota line-up. Thierry Neuville, who last year interrupted Ogier's winning run in Monte Carlo, leads the Hyundai assault together with the 2019 champion Ott Tänak. The Belgian driver will start the 2021 season with Martin Wydaeghe, who has competed in WRC support categories, in the co-driver seat after deciding just a few days ago to part ways with long-term navigator Nicolas Gilsoul.
Dani Sordo makes his first Monte start since 2018 in the third Hyundai, which he is set to share with Craig Breen during the season for the reigning Manufacturers' champions.
M-Sport fields two Ford Fiesta WRC entries on the opening round for Gus Greensmith and Teemu Suninen. Pierre-Louis Loubet begins a full campaign aboard a Hyundai i20 Coupe WRC entered by the 2C Competition team, while Japan's Takamoto Katsuta also embarks on his first full season in an additional fourth Toyota Yaris WRC.
An expanded FIA WRC2 field of eight cars for the opening round of the season features five different manufacturers of Rally2 cars. Regular category drivers - France's Adrien Fourmaux on a Ford Fiesta Mk II, Russia's Nicolay Gryazin on a Volkswagen Polo GTI, Bolivia's Marco Bulacia on a Škoda Fabia Evo - are joined by Sweden's Oliver Solberg on a Hyundai NG i20 or France's Eric Camilli driving a Citroën C3.
Eleven further crews, led by Frenchmen Nicolas Ciamin and Yohan Rossel in Citroën C3s, are entered into FIA WRC3, while Rallye Monte-Carlo is also the first round of this year's FIA RGT Cup.
THE 2021 ROUTE
While the challenge remains as tough as usual, there are a number of changes for this year's Rallye Monte-Carlo as a result of the impact of the local COVID-19 restrictions in the area. There will be no Shakedown before the rally begins on Thursday afternoon, with two stages to the north of the Service Park in Gap. Friday takes the rally to the west for a loop of three new stages, beginning in the early hours of the day, with the first two tests then repeated in the afternoon. Saturday also starts before dawn for a total of three stages before the crews drive south to Monaco, ready for Sunday's finale. The final leg takes place further west than in recent years following severe flooding last October, meaning no trip to the iconic Col de Turini. Briançonnet – Entrevaux instead hosts the rally-ending Power Stage as one of two tests run twice on Sunday.
MEDIA ACCREDITATION
Media accreditation and attendance is strictly managed with modified terms under COVID-19 regulations.
Media accreditation must be collected personally by accredited Pass Holders at the Accreditation Desk located at the Media Center - Le Quattro, 56 Av. Émile Didier, FR-05000 Gap (Coordinates 44°33'56.0'' N, 06°05'41.2'' E).
The opening hours are:
Monday, January 18:                    14:00 - 17:30 hrs
Tuesday, January 19:                    07:30 - 17:30 hrs
Wednesday, January 20:              07:30 - 17:30 hrs
Thursday, January 21:                  07:30 - 17:30 hrs
2021 WRC RALLYE MONTE-CARLO TIMETABLE AND MEDIA OPPORTUNITIES
Wednesday, December 2
Mandatory media safety briefing via video conference (details TBC)                       17:00 hrs
Thursday, December 3
FIA Press Conference, via video conference (details TBC)                                           10:00 hrs
- FIA WRC3 and RGT                                                                                                                 10:00 hrs
- FIA WRC2                                                                                                                                 10:10 hrs
- FIA WRC                                                                                                                                   10:20 hrs
Official WRC Drivers' Photo – Centre Omnisport COSEC, Gap                                    12:30 hrs
Start of Section 1, Gap Service Park                                                                                  13:10 hrs
First car arrives for media zone, technical zone & final service                                  16:01 hrs
Meet The Crews, broadcast on WRC Facebook                                                              16:30 hrs (approx.)
Friday, December 4
Start of Section 2, Gap Service Park                                                                                  05:04 hrs
First car arrives for  media zone, technical zone, regroup & service, Gap SP          10:36 hrs
First car arrives for media zone, technical zone & service, Gap SP                            16:08 hrs
Meet The Crews, broadcast on WRC Facebook                                                              16:30 hrs (approx.)
Saturday, December 5
Start of Section 4, Gap Service Park                                                                                  05:19 hrs
First car arrives for  media zone, technical zone, regroup & service, Gap SP          10:08 hrs
Meet The Crews, broadcast on WRC Facebook                                                              10:30 hrs (approx.)
First car arrives for Parc Fermé, Monaco Harbour                                                         16:08 hrs
Sunday, December 6
Start of Section 6,Parc Fermé, Monaco                                                                            06:42 hrs
First car arrives for media zone, technical zone & Parc Fermé, Monaco                 14:08 hrs
Podium Ceremony & Price Giving, Quai Albert 1er, Monaco                                      16:00 hrs
FIA Press Conference, via video conference (details TBC)                                           17:00 hrs
FIA PRESS CONFERENCE ATTENDANCE
Thursday, January 21                   FIA WRC3 and RGT
                                                           WRC3 - Nicolas Ciamin (FRA)
RGT - Raphaël Astier (FRA)
FIA WRC2
M-Sport Ford – Adrien Fourmaux (FRA)
Toksport – Andreas Mikkelsen (NOR)
FIA WRC
Toyota Gazoo Racing – Sébastien Ogier (FRA)
Hyundai Motorsport – Ott Tänak (EST)
M-Sport – Teemu Suninen (FIN)
Hyundai 2C Competition – PL Loubet (FRA)
Pirelli - Terenzio Testoni (Rally Activity Manager)
Sunday, January 24                       Winning FIA WRC3 Championship driver
Winning FIA WRC2 Championship driver
Top three drivers in the overall classification
Representative of the winning manufacturer
MANUFACTURER WRC ENTRIES, 2021 WRC RALLYE MONTE-CARLO
Hyundai Shell Mobis WRT           Ott Tänak / Martin Järveoja (#8)
                                                           Thierry Neuville / Nicolas Gilsoul (#11)
                                                           Dani Sordo / Carlos Del Barrio (#6)
Toyota Gazoo Racing WRT          Sébastien Ogier / Julien Ingrassia (#1)
                                                           Elfyn Evans / Scott Martin (#33)
                                                           Kalle Rovanperä / Jonne Halttunen (#69)
M-Sport Ford WRT                        Teemu Suninen / Jarmo Lehtinen (#3)
                                                           Gus Greensmith / Elliott Edmonson (#44)