This page contains archived information and may not display perfectly
WRC - 2021 Rally de España - Event preview
The penultimate round of the 2021 FIA World Rally Championship takes the crews back to smooth asphalt roads for RallyRACC Catalunya - Rally de España on October 15-17.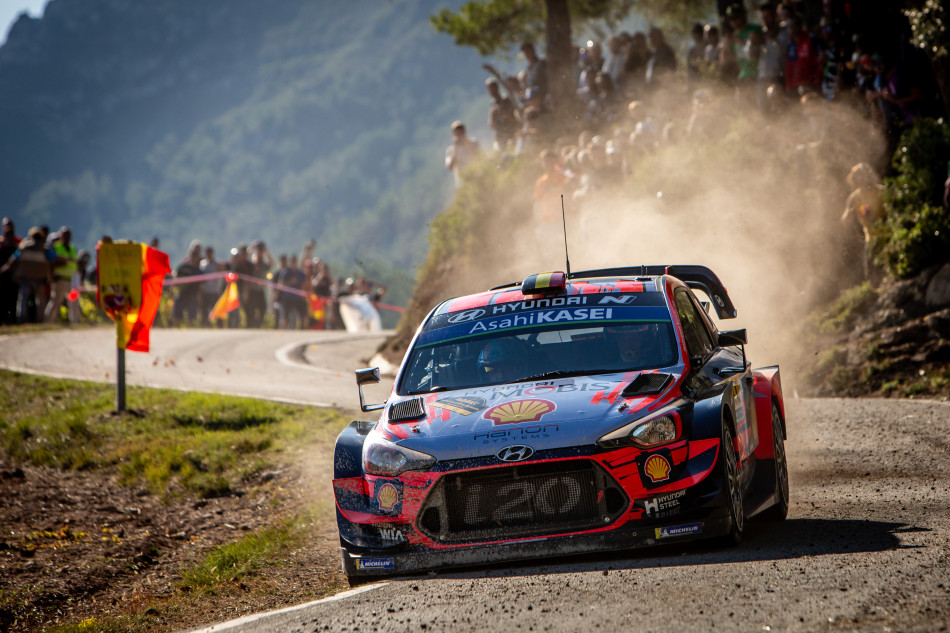 For ten seasons between 2010 and 2019, the event based in Salou, south of Barcelona, was the WRC's only mixed-surface round. Now, as the rally returns to the calendar after one year out due to the COVID pandemic, the focus switches to the fast asphalt stages in the hills above the Costa Daurada, which the event is best known for.
Spain provides Toyota with a first chance to clinch this year's manufacturers' championship, with Hyundai needing to cut into its rival's 61-point advantage to have a chance to take the battle down to the wire. The drivers' title could also be settled early, but only if Sébastien Ogier can add to the lead of 24 points he has over Elfyn Evans after his team-mate's victory in Finland. Toyota can also count on Kalle Rovanperä to push for manufacturer points, while Takamoto Katsuta once more drives a fourth Yaris WRC.
Hyundai's Thierry Neuville can no longer win the drivers' title after his retirement in Finland, but the Belgian, who won in Spain in 2019, heads a close battle for places on the championship podium, with just one point in hand over Rovanperä and two over his team-mate Ott Tänak.
Home hero Dani Sordo returns to Hyundai's third car, while Oliver Solberg, who will share that entry with the Spaniard in 2022, will make a third start of the year in a 2C Compétition-entered i20 Coupé in Catalunya. Another local star, Nils Solans, navigated by Marc Marti, joins the 2C squad in the second Hyundai WRC as as a last-minute replacement of Pierre-Louis Loubet.
Lining up for M-Sport in its pair of Ford Fiesta WRCs are Gus Greensmith and Adrien Fourmaux.
In FIA WRC2, TRT WRT driver Mads Østberg in his Citroën C3 has a further chance to close on the championship leader Andreas Mikkelsen as the Norwegian will not be competing in Spain, while third-placed Marco Bulacia is entered for Catalunya in a Toksport Škoda Fabia Evo but not registered to score championship points. Jari Huttunen is joined in the Hyundai Motorsport N line-up by Finland class winner Teemu Suninen. Movisport's Nikolay Gryazin and ALM Motorsport's Georg Linnamäe once more compete in Volkswagen Polo GTI cars - the former without scoring points as he already had his seven counting events - with Sean Johnston (Saintéloc Junior Team) and Eric Camilli (Sports & You) driving Citroën C3s. There's also a WRC debut for young Czech driver Erik Cais – one of the shining stars of the FIA European Rally Championship this season – in a Movisport-entered Ford Fiesta Rally2.
Kajetan Kajetanowicz heads an FIA WRC3 entry of 14 cars with the aim of closing the 15-point gap to leader Yohan Rossel, who won't be in Spain. Spaniards Pepe López and Jan Solans will be among the favourites on local roads. Finland winner Emil Lindholm will be present but not eligible to add to his own points tally, while Mikko Heikkilä will do a first asphalt outing.
Spain is also the fifth and decisive event in the FIA Junior WRC season. Finland's Sami Pajari leads the way by just three points over Great Britain's Jon Armstrong, with third-placed Mārtiņš Sesks from Latvia a further 11 points back.
Alpine trio Emmanuel Guigou, Pierre Ragues and Philippe Baffoun will also battle it out in the fifth and final round of the FIA R-GT Cup.

THE 2021 ROUTE
Seventeen stages and a total of 280.46 competitive kilometres make up this year's RallyRACC Catalunya Rally de España. The change from gravel to asphalt for the opening day brings a different look to Friday, including one new stage: La Granadella. Vilaplana was last used in this direction in 2014 as La Mussara (which was reversed for the 2019 Power Stage), while Riba-roja returns for the first time since 2012 – having featured in a mixed-surface stage over recent years. All three stages will be repeated after mid-day service in Salou. Saturday is similar to previous editions, with a trio of stages to the north-east, all run twice before a street stage in Salou will round out the day. Santa Marina returns to open Sunday's action before sunrise, paired with the Riudecanyes stage and its popular roundabouts. Both are run twice, with the second pass of Riudecanyes as the rally-ending Wolf Power Stage.

RALLY DATA
Total distance: 1'129.83 km
Stage distance: 280.46 km (19.89%)
Number of stages: 17

MEDIA ACCREDITATION
Media accreditation and attendance is strictly managed with modified terms under COVID-19 regulations. All attendees are required to comply with the COVID protocol as defined by the event organisers (please refer in particular to the COVID page on the event website.
Media accreditation must be collected personally by accredited Pass Holders at the Media Accreditation Desk, located at PortAventura World – Convention Centre, Av. Alcalde Pere Molas Km. 2, 43480 Vila-seca – Salou.
Opening hours:
Tuesday, 12 October: 14:00 - 20:00h
Wednesday, 13 October: 08:00 - 20:00h
Thursday, 14 October: 08:00 - 20:00h
Friday, 15 October: 08:00 - 14:00h

2021 RALLYRACC CATALUNYA TIMETABLE & MEDIA OPPORTUNITIES
 
| | |
| --- | --- |
| Wednesday 13 October |   |
| Mandatory media safety briefing via video conference (details TBC) | 17:00 hrs |
|   |   |
| Thursday 14 October |   |
| Shakedown for P1 and invited drivers, Coll de la Teixeta | 09:00 – 10:45 hrs |
| Shakedown for all priority drivers, Coll de la Teixeta | 10:45 – 12:45 hrs |
| Shakedown for non-priority drivers, Coll de la Teixeta | 12:45 – 14:30 hrs |
| Pre-event FIA press conference, via online video conference (details TBC) | 13:30 – 14:15 hrs |
| Junior WRC | 13:30 hrs |
| FIA WRC2 | 13:40 hrs |
| FIA WRC3 | 13:50 hrs |
| FIA WRC | 14:00 hrs |
| Junior WRC photo opportunity with selected drivers, Salou Parc Fermé | 14:15 hrs |
| Photo opp. with authorities & P1 crews, Podium Salou Passeig Jaume 1 | 18:40 hrs |
| Ceremonial start, Podium Salou Passeig Jaume 1 | 19:00 hrs |
|   |   |
| Friday 15 October |   |
| Start of the rally, Section 1, Salou Service Park | 08:00 hrs |
| First car arrives for media zone, tech. zone & service (TC3A), SP | 13:17 hrs |
| First car arrives for media zone, tech. zone & flexi-service (TC6A), SP | 19:49 hrs |
|   |   |
| Saturday 16 October |   |
| Start of Section 3, Salou Service Park | 07:15 hrs |
| First car arrives for media zone, tech. zone & service (TC9A), SP | 13:17 hrs |
| First car arrives for media zone, tech. zone & flexi-service (TC13A), SP | 18:20 hrs |
|   |   |
| Sunday 17 October |   |
| Start of Section 6, Salou Service Park | 06:00 hrs |
| First car arrives for media zone, tech. zone & service (TC15A), SP | 08:54 hrs |
| First car arrives for media zone, tech. zone & service (TC17A), SP | 13:04 hrs |
| Final podium and prize giving, Podium Salou Passeig Jaume 1 | 15:00 hrs |
| Post-event FIA press conference, via video conference (details TBC)* | 16:00 hrs |
| FIA Junior WRC event and championship winning drivers | 16:00 hrs |
| FIA WRC2 and WRC3 winning drivers | 16:10 hrs |
| Top three overall drivers and winning manufacturer representative | 16:10 hrs |
| * Line-up TBC depending on titles awarded in Spain. |   |
FIA PRESS CONFERENCE ATTENDANCE 
| | |
| --- | --- |
| Thursday 14 October | FIA WRC |
|   | Toyota Gazoo Racing WRT – Sébastien Ogier (FRA) |
|   | Toyota Gazoo Racing WRT – Elfyn Evans (GBR) |
|   | Hyundai Shell Mobis WRT – Dani Sordo (ESP) |
|   | M-Sport Ford WRT – Adrien Fourmaux (FRA) |
|   |   |
|   | FIA WRC2 |
|   | TRT World Rally Team – Mads Ostberg (NOR) |
|   | Hyundai Motorsport N – Teemu Suninen (FIN) |
|   |   |
|   | FIA WRC3 |
|   | Kajetan Kajetanowicz (POL) |
|   | Jan Solans (ESP) |
|   |   |
|   | Junior WRC |
|   | Sami Pajari (FIN) |
|   | Jon Armstrong (GBR) |
|   | Martins Sesks (LVA) |
|   |   |
| Sunday 17 October | FIA Junior WRC event and championship winners |
|   | Winning FIA WRC3 class driver |
|   | Winning FIA WRC2 class driver |
|   | Top three drivers in the overall classification |
|   | Representative of the winning manufacturer |
|   | * line-up TBC depending on titles awarded in Spain |
2021 RALLYRACC CATALUNYA MANUFACTURER ENTRIES
| | |
| --- | --- |
| Toyota Gazoo Racing WRT | Sébastien Ogier (FRA) / Julien Ingrassia (FRA) - #1 |
|   | Elfyn Evans (GBR) / Scott Martin (GBR) - #33 |
|   | Kalle Rovanperä (FIN) / Jonne Halttunen (FIN) - #69 |
|   |   |
| Hyundai Shell Mobis WRT | Thierry Neuville (BEL) / Martijn Wydaeghe (BEL) - #11 |
|   | Ott Tänak (EST) / Martin Järveoja (EST) - #8 |
|   | Dani Sordo (ESP) / Candido Carrera (ESP) - #6 |
|   |   |
| M-Sport Ford WRT | Gus Greensmith (GBR) / Chris Patterson (IRL) - #44 |
|   | Adrien Fourmaux (FRA) / Alexandre Coria (FRA) - #16 |