WRC - 2020 RALLY SWEDEN PREVIEW
The FIA World Rally Championship resumes next week with the unique test of Rally Sweden (13-16 February), round two of the 2020 season.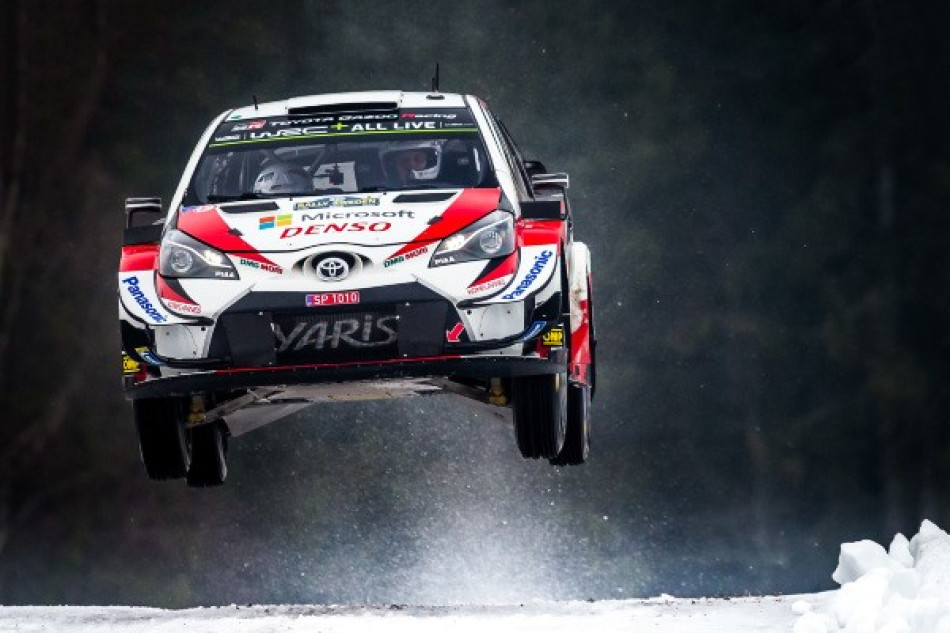 Traditionally the series' full winter event, the rally will run with a modified route this year following unseasonal weather over recent weeks. The challenge will remain however, with studded tyres biting into the ice and snow-coated roads to provide remarkable grip and make this one of the fastest rounds on the calendar.
Thierry Neuville takes the championship lead to Sweden for the first time after his win on the season-opening Rallye Monte-Carlo. Hyundai team-mate Ott Tänak will aim to bounce back from his accident on round one on an event that he won in 2019, while Craig Breen is the team's third i20 WRC. There is a total of five Toyota Yaris WRC on the entry list of the the Scandinavian event, with the factory cars of Sébastien Ogier, Elfyn Evans and Kalle Rovanperä joined not only by the young Japanese driver Takamoto Katsuta, but also by Jari-Matti Latvala, who returns as a privateer for an event he has won four times in the past. M-Sport lines up with the Finns Esapekka Lappi and Teemu Suninen, with the Lithuanian driver Deividas Jocius also in a Ford Fiesta WRC.
The FIA WRC 2 class for factory-supported drivers in R5 cars grows with the addition of Swedish ace Pontus Tidemand in a Škoda Fabia entered by Toksport. He joins PH Sport driver Mads Østberg, the Hyundai pair of Nikolay Gryazin and Ole Christian Veiby and M-Sport duo Adrien Fourmaux and Rhys Yates. There are a further 15 entries in FIA WRC 3 for privateers, including 18-year-old Oliver Solberg or ERC1 Junior Champion Filip Mares, while Rally Sweden is the opening round of the FIA Junior WRC season, where 16 drivers are entered.
THE 2020 ROUTE
As usual, the rally will be based in Torsby and kick off on Thursday evening with the ceremonial start and a super special stage at the trotting track in Karlstad. A modified route features identical schedules on both Friday and Saturday, made up of four stages on each day. The crews will head into Norway for the Hof-Finnskog stage and the returning Finnskogen test, last used in 2012. Then comes the brand-new Nyckelvattnet stage back on the Swedish side of the border, before the short Torsby Sprint on the edge of the service park. Two runs over Likenäs will complete the rally on Sunday, with the second pass as the Power Stage.
MEDIA ACCREDITATION
Media accreditation must be collected personally by accredited Pass Holders at the Accreditation Desk located at the Media Center at the Torsby Service Park (Torsby Flygplats, Vasserudsvägen 3, 685 93, Torsby - GPS: DMS: 60°09'01.9"N 12°59'36.2"E ; DD: 60.150406, 12.993342).
The opening hours are:
Tuesday 11 February: 14:00 - 20:00 hrs
Wednesday 12 February: 08:00 - 20:00 hrs
Thursday 13 February: 08:00 - 22:00 hrs
2020 WRC RALLY SWEDEN TIMETABLE AND MEDIA OPPORTUNITIES
Wednesday 12 February
Mandatory media safety briefing, Photographers' Room, Media Center          17:00 hrs
Thursday 13 February
Mandatory Shakedown for P1 & other drivers as requested, Skalla, Torsby    09:00 - 10:45 hrs
Shakedown P1 & P2, Skalla, Torsby                                                                             10:45 - 11:30 hrs
Shakedown P3, Skalla, Torsby                                                                                       11:00 - 12:30 hrs
Shakedown P4, Skalla, Torsby                                                                                       11:30 – 13:00
Shakedown for non-priority drivers, Skalla, Torsby                                                 12:00 – 13:00
'Meet the Crews' Top 3 Shakedown, Torsby Service Park                                      12:30 hrs
FIA Press Conference, Press Room, Media Centre, Torsby Service Park             13:00 hrs
Starting with P2, P3 & P4 drivers (15')
Followed by P1 drivers (15')
WRC Promoter Media Info Session on new 2020 WRC events, Media Center  14:00
Ceremonial start, Trotting Track, Karlstad                                                                  19:00 hrs
Start of the rally, Trotting Track, Karlstad                                                                   20:04
Friday 14 February
Start of Section 2, Torsby Service Park                                                                        06:47 hrs
First car arrives for holding area, Torsby Service Park                                            12:17 – 14:40 hrs
PR activity with P1 & national P2/P3 drivers (Biathlon), Torsby SP                     13:20 – 14:10
First car arrives for technical / media zone & final service, Torsby SP                15:22 hrs
'Meet the Crews', Torsby Service Park                                                                        During the 45' service
Saturday 15 February
Start of Section 3, Torsby Service Park                                                                        06:47 hrs
First car arrives for holding area, Torsby Service Park                                            12:17 – 14:40 hrs
PR activity with P1 & national P2/P3 drivers (digger competition), Torsby SP 13:20 – 14:10
First car arrives for technical / media zone & final service, Torsby SP                15:22 hrs
'Meet the Crews', Torsby Service Park                                                                        During the 45' service
Sunday 16 February
Start of Section 4, Torsby Service Park                                                                        08:46 hrs
First car arrives for regroup, Ambjörby                                                                       10:48 hrs
Rally Finish & Holding area, Torsby Service Park                                                      13:43 hrs
Podium Ceremony & Price Giving, Torsby Service Park                                          15:00 hrs
FIA Press Conference, Press Room, Media Centre, Torsby Service Park             16:00 hrs
FIA PRESS CONFERENCE ATTENDANCE
Wednesday 13 February             FIA WRC
                                                           Ott Tänak (EST), Hyundai Shell Mobis World Rally Team
                                                           Elfyn Evans (GBR), Toyota Gazoo Racing World Rally Team
                                                           Teemu Suninen (FIN), M-Sport Ford World Rally Team
                                                           Craig Breen (IRL), Hyundai Shell Mobis World Rally Team
                                                           Jari-Matti Latvala (FIN), Latvala Motorsport OY
                                                           FIA WRC 2
                                                           Ole Christian Veiby (NOR), Hyundai Motorsport N
                                                           Pontus Tidemand (SWE), Toksport WRT
                                                           FIA WRC 3
                                                           Oliver Solberg (SWE)
                                                           Filip Mares (CZE)
                                                           FIA Junior WRC
                                                           Fabio Andolfi (ITA)
                                                           Tom Kristensson (SWE)
Sunday 16 February                      Winning FIA WRC 2 Championship crew
                                                           Winning FIA WRC 3 Championship crew
                                                           Winning FIA Junior WRC Championship crew
                                                           Top three crews in the overall classification
                                                           Representative of the winning manufacturer
MANUFACTURER WRC ENTRIES, 2020 WRC RALLY SWEDEN     
Hyundai Shell Mobis WRT           Thierry Neuville / Nicolas Gilsoul (#11)
                                                           Ott Tänak / Martin Järveoja (#8)
                                                           Craig Breen / Paul Nagle (#16)
Toyota Gazoo Racing WRT          Sébastien Ogier / Julien Ingrassia (#17)
                                                           Elfyn Evans / Scott Martin (#33)
                                                           Kalle Rovanperä / Jonne Halttunen (#69)
                                                           Takamoto Katsuta / Daniel Barritt (#18)
M-Sport Ford WRT                        Teemu Suninen / Jarmo Lehtinen (#3)
                                                           Esapekka Lappi / Janne Ferm (#4)
2020 FIA WORLD RALLY CHAMPIONSHIP CLASSIFICATIONS
The provisional classifications for all the WRC Championships is available on the following link:
https://www.fia.com/events/world-rally-championship/season-2020/standings