This page contains archived information and may not display perfectly
WRC - 2020 ACI RALLY MONZA PREVIEW
A special conclusion to the FIA World Rally Championship is in store with ACI Rally Monza hosting this year's deciding round on December 3-6, as a newcomer to the 2020 series.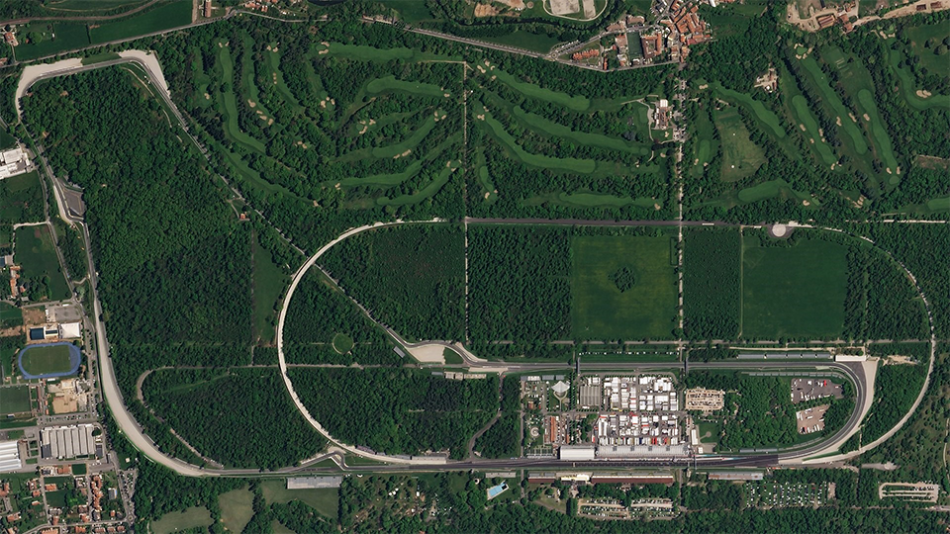 After Rally Italia Sardinia, the series returns to Italian soil for a first event on the nation's mainland since 2003. The famous Autodromo Nazionale Monza – a venue for the Italian Formula 1 Grand Prix since seventy years – has been hosting end-of-season rally events since 1978. But this will be its first time on the WRC calendar. As well as stages at the Monza circuit, using the banked oval and sections of gravel in addition to the Grand Prix track, the rally will feature more traditional rally tests on mountain roads in the north of Bergamo.
Toyota driver Elfyn Evans has a good chance to win the WRC drivers' trophy for the first time. The only contender in the title fight to claim the victory more than once so far this season, the Welshman has a 14-point advantage over his team-mate Sébastien Ogier, who will be trying to grab his seventh world championship. Hyundai drivers Thierry Neuville and Ott Tänak also remain on course to win the title, 24 and 28 points respectively behind Evans.
The battle is closer in the Manufacturers' standings, where Hyundai has a seven-point margin to Toyota in its attempts to retain the WRC laurels. Hyundai will keep Sardinia winner Dani Sordo in its line-up alongside Neuville and Tänak, hoping to capitalise on the Spaniard's past experience at Monza.
Toyota will field its full-season trio completed by impressive rookie Kalle Rovanperä, as well as a fourth Yaris WRC for Japanese driver Takamoto Katsuta. M-Sport will have Teemu Suninen, Esapekka Lappi and Gus Greensmith behind the wheel of the Ford Fiestas, while Ole Christian Veiby is set to step up from FIA WRC2 to drive a Hyundai i20 Coupe WRC with the 2C Competition team.
In FIA WRC2, Toksport has took the Teams title at the last event by virtue of their consistent points-scoring performance and strong 1st and 3rd finishes in both Turkey and Sardegna. But the drivers' title is still to be decided, with Sweden's Pontus Tidemand, driving a Toksport-prepared Škoda Fabia Evo, currently leading Norway's Mads Østberg in a PH Sport Citroën C3 by 18 points.
In FIA WRC3, it is the Bolivian driver Marco Bulacia who is just two points in front of the Finn Jari Huttunen. But Poland's Kajetan Kajetanowicz, who is only 13 points behind his Scandinavian rival, could play the trouble-maker.
The FIA Junior WRC crown is also set to be settled, with Latvia's Martin Sesks leading the series by 10 points. With 16 stage win points available, plus 1.5 times more championship points for the final event, five drivers have a mathematical chance to take the title but all eyes will be on Sesks, Swedish challenger Tom Kristensson and Finnish Sami Pajari.
THE 2020 ROUTE
Shakedown takes place at Monza on Thursday morning before a short super special opening stage to launch the rally in the afternoon. Five more stages from 10 to 16km in length at Monza follow on Friday. Saturday will be the biggest day of the rally, with tests totalling just over half of the competitive distance of 241.14 kilometres. The crews will tackle two loops of three stages on closed public roads near Bergamo, and then end the day with a repeat of Friday evening's 'Grand Prix' test in darkness. A further run over that same stage begins Sunday's action, before two passes of 'Serraglio' to conclude the rally and the season.
MEDIA ACCREDITATION
Media accreditation and attendance is strictly managed with modified terms under COVID-19 regulations.
Media packages must be collected personally by accredited Pass Holders at the Accreditation Desk located at Via Carlo Cattaneo 88, Lissone (MB), Coordinates: 45°36'57.5″N 9°15'30.5″E.
The opening hours are:
Tuesday, December 1:                  14:00 - 18:00
Wednesday, December 2:           08:00 - 20:00
Thursday, December 3:                               08:00 - 19:00
Friday, December 4:                      07:00 - 14:00
2020 WRC ACI RALLY MONZA TIMETABLE AND MEDIA OPPORTUNITIES
Wednesday, December 2
Mandatory media safety briefing via video conference (details TBC)                       17:00 hrs
FIA Press Conference, via video conference (details TBC)                                           19:00 hrs
- FIA Junior WRC                                                                                                                        19:00 hrs
- FIA WRC2 and invited drivers                                                                                                19:10 hrs
- FIA WRC3                                                                                                                                 19:20 hrs
- FIA WRC                                                                                                                                   19:30 hrs
Thursday, December 3
Mandatory Shakedown for P1 and invited drivers, Monza Circuit Track                 10:00 - 11:30 hrs
Shakedown for P1, P2, P3 and P4 drivers, Monza Circuit Track                                 11:30 – 13:30
Start of Section 1, Monza Circuit Track                                                                             13:55 hrs
First car arrives for media zone & Parc Fermé, Monza SP                                           14:20 hrs
Friday, December 4
Start of Section 2, Monza Rally PF Out                                                                             07:25 hrs
First car arrives for technical zone & regroup, Monza SP                                             09:40 hrs
First car arrives for media zone, technical zone & regroup, Monza SP                     12:07 hrs
First car arrives for technical zone & regroup, Monza SP                                            14:37 hrs
First car arrives for technical zone & regroup, Monza SP                                            17:10 hrs
First car arrives for media zone, technical zone & regroup, Monza SP                     18:08 hrs
Saturday, December 5
Start of Section 7, Monza Rally PF Out                                                                             06:38 hrs
First car arrives for media zone, technical zone & regroup, Monza SP                     11:43 hrs
First car arrives for technical zone & regroup, Monza SP                                            16:55 hrs
First car arrives for media zone, technical zone & regroup, Monza SP                     18:08 hrs
Sunday, December 6
Start of Section 10, Monza Rally PF Out                                                                           07:15 hrs
First car arrives for technical zone & regroup, Monza SP                                            09:37 hrs
First car arrives for media zone, technical zone & regroup, Monza SP                     11:20 hrs
Rally Finish, Monza Rally PF In                                                                                            12:45 hrs
Podium Ceremony & Price Giving, Monza Circuit Podium                                          14:30 hrs
FIA Press Conference, via video conference (details TBC)                                           15:00 hrs
FIA PRESS CONFERENCE ATTENDANCE
Wednesday, December 2            FIA Junior WRC
                                                            Martin Sesks (LVA)
Tom Kristensson (SWE)
Sami Pajari (FIN)
                                                           FIA WRC2
                                                           Pontus Tidemand (SWE), Toksport WRT
Mads Østberg (NOR), PH Sport
Guest: Franco Morbidelli (ITA)
FIA WRC3
                                                            Marco Bulacia (BOL)
Jari Huttunen (FIN)
Umberto Scandola (ITA)
Andreas Mikkelsen (NOR)
                                                            FIA WRC
Elfyn Evans (GBR), Toyota Gazoo Racing
Sébastien Ogier (FRA), Toyota Gazoo Racing
Thierry Neuville (BEL), Hyundai Shell Mobis
Ott Tänak (EST), Hyundai Shell Mobis
Richard Millener (GBR), Team Principal M-Sport Ford
Sunday, December 6                    2020 FIA Junior WRC Champion driver and codriver
                                                           2020 FIA WRC2 Champion driver and codriver
                                                           2020 FIA WRC3 Champion driver and codriver
                                                           2020 FIA WRC Champion driver and codriver
                                                           Representative of the 2020 winning WRC manufacturer
MANUFACTURER WRC ENTRIES, 2020 WRC ACI RALLY MONZA
Toyota Gazoo Racing WRT          Elfyn Evans / Scott Martin (#33)
                                                           Sébastien Ogier / Julien Ingrassia (#17)
                                                           Kalle Rovanperä / Jonne Halttunen (#69)
Hyundai Shell Mobis WRT           Ott Tänak / Martin Järveoja (#8)
                                                           Thierry Neuville / Nicolas Gilsoul (#11)
                                                           Dani Sordo / Carlos Del Barrio (#18)                                                         
M-Sport Ford WRT                        Esapekka Lappi / Janne Ferm (#4)
                                                           Teemu Suninen / Jarmo Lehtinen (#3)
                                                           Gus Greensmith / Elliott Edmonson (#44)
2020 FIA WORLD RALLY CHAMPIONSHIP CLASSIFICATIONS
The provisional classifications for all the WRC Championships is available on the following link:
https://www.fia.com/events/world-rally-championship/season-2020/standings