This page contains archived information and may not display perfectly
WorldRX - WORLD RX TITLE BATTLE REACHES TIPPING POINT IN TROIS-RIVIERES
The World RX of Canada at Trois-Rivieres, round seven of the 2019 FIA World Rallycross Championship presented by Monster Energy this weekend looms as a tipping point in the drivers' title battle.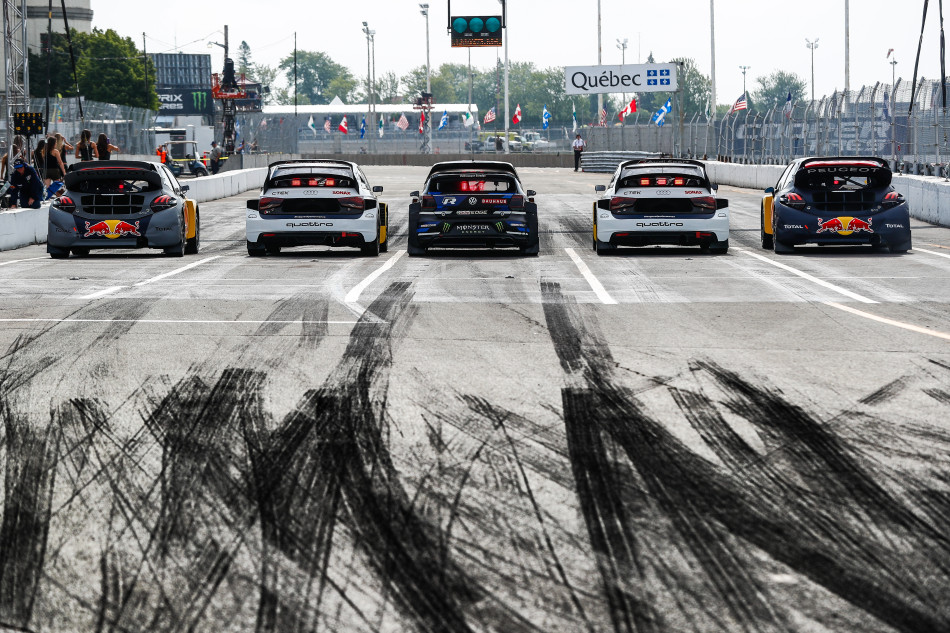 The 1.37km high-speed circuit throws up all manner of challenges. And, as is customary with street layouts flanked by concrete walls, errors are heavily punished.
The Swedish Hansen brothers, Kevin and Timmy head the drivers' standings with 131 and 125 points respectively. In third place on 109 points is Norway's Andreas Bakkerud, still chasing that elusive first victory in 2019. 
After round six in Sweden at the start of July, Kevin said he was set for a battle to the wire. "To lead the championship by just six points is nothing and with Timmy as my team-mate we will continue pushing and at the end of the season we will see who had the most luck and who didn't," he said. 
Meanwhile, Timmy is relishing the challenge of Trois-Rivieres.  "Canada is one of my favourite circuits of the year, because it's a really complete rallycross track. You have asphalt, you have gravel, you have a bit of everything. The asphalt and gravel are in two distinct sections and there's a jump between each section so you really have to switch from one mode to the next," he said. 
"The asphalt section has the highest top speed of the year, and it's somewhere that you have to use all the road, getting as close to the walls as you dare, and that's where you can really make up time. So you need to be quite brave!"
So far the 2019 season has produced five different event winners - including a stunning success for Swedish wildcard Sebastian Eriksson at the Swecon World RX of Sweden. Only Timmy (Spain and Great Britain) has won twice this year.
Having recorded victory in Canada in 2016 and finished second last year, Timmy enters the weekend as favourite. He proved in Sweden, when he rebounded from as low as 16th in qualifying to reach the final, that he can put things right when it matters. 
Kevin competes in the same machinery as his brother for the first time in his career and takes momentum from Sweden having finished second in the final to regain the championship lead.
As for Bakkerud, he has been a bumper-length away from victory most notably at Silverstone and Spa-Francorchamps where he was pipped by Timmy Hansen and Timur Timerzyanov respectively.
Bakkerud was second to Timmy Hansen in Canada in 2016 and a finalist in 2015 where he finished fifth. The Monster Energy RX Cartel driver was disadvantaged by the changeable weather in Sweden and his Audi S1 was brought to a halt by a broken driveshaft in his semi-final. "I'm hoping to put the bad luck of Sweden behind me," he said. "Canada is always a challenge so I'm looking forward to it."
Niclas Gronholm, the winner in Hell, Norway, is currently fourth in the chase on 96 points despite missing the rounds in Belgium and Great Britain through illness.
The GRX Taneco driver believes his Hyundai i20 will be up for the job in Trois-Rivieres. "I'm really looking forward to the race in Canada – I think we have a good car for the track," the Finn said.
"I like racing at Trois-Rivieres even though it is very tricky in some places and since this is a street circuit, there is no room for errors. It's been a long break from racing now, my 'batteries' are fully charged and motivation is high."
GRX Taneco team-mate Timur Timerzyanov, the winner of round three in Belgium, is also looking forward to spreading the World RX gospel. "Rallycross for North America is still a relatively new thing and I am glad that we can show Canadians how exciting it is," the Russian said.
"There is always plenty of action and great racing at Trois-Rivieres, with sudden weather changes possibly mixing up the field even more."
The consistency of Team STARD's Janis Baumanis has brought rewards with the Latvian holding down fifth place overall (89 points) after appearing in four of the six finals to date. The highlight was third place in Norway. 
Bakkerud's Monster RX Cartel team-mate Liam Doran has rued missed opportunities this year. He has made the podium once (in Abu Dhabi) from four finals. The Briton lies seventh with 76 points, two behind Timerzyanov, and is seeking redemption this time out.
"I've struggled a bit at the more traditional rallycross tracks – Norway and Sweden – and I'm looking forward to Canada which is a different style of track. Hopefully it will bring a change of fortune," he said. 
ALL-INKL.COM Muennich Motorsport's Timo Scheider, a semi-finalist in Canada two years' ago, believes Trois-Rivieres will mostly be all about horsepower. "Canada is an engine track. It has the longest and quickest straight on the calendar," he said.
"But you also need good aero and mechanical grip for the dirt section which is quite rough. I think the Seat will be suited to the track and we have a small upgrade for Canada so I'm optimistic."
The five-car GC Kompetition squad are also likely to feature strongly, according to team boss Guerlain Chicherit. "In Holjes we showed competitive pace and found some consistency. Canada is an exciting track for both the Meganes and the Clios and a really fun event to be at," he said.
EKS Sport's Krisztian Szabo and Xite Racing's Oliver Bennett are also looking to overcome the disappointment of finishing down the order in Holjes due to mishaps and mechanical failures. 
Joining the World RX weekend at Trois-Rivieres will be the fourth round of Americas Rallycross, and a double-header weekend for the ARX2 support class. More information about ARX can be found here.
Full World RX Canada entry list here.
World RX Statistics from Circuit Trois-Rivieres:

World RX event #68 (Round 7 2019)
Circuit length: 1370m (the longest of 10)
Average speed (lap record): 105.0 km/h (3rd fastest of 10)
Lap record: 46.959 by Petter Solberg (2018)
Joker lap record: 49.727 by Petter Solberg (2016)
Difference normal/joker: 2.77 (4th longest of 10)
4 laps record: 3:20.947 by Petter Solberg (2016)
6 laps record: 4:57.692 by Petter Solberg (2016)

Past event winners:
2018: Johan Kristoffersson
2017: Johan Kristoffersson 
2016: Timmy Hansen
2015: Davy Jeanney
2014: Petter Solberg

DID YOU KNOW?
Petter Solberg is the sole track record-holder at Circuit Trois-Rivieres; the fastest ever World RX driver at a single lap, a single joker lap, a four laps qualifying race and a six laps finale race.
Solberg is the only driver to have achieved all records at not only one but two circuits. He's also the sole record holder at Lydden Hill.
At the new circuit layout in Barcelona the Hansen brothers have all track records - Kevin the single lap record and Timmy the three others.