This page contains archived information and may not display perfectly
World RX returns to Baltic states for Latvia RX
2017 World RX of Latvia - Preview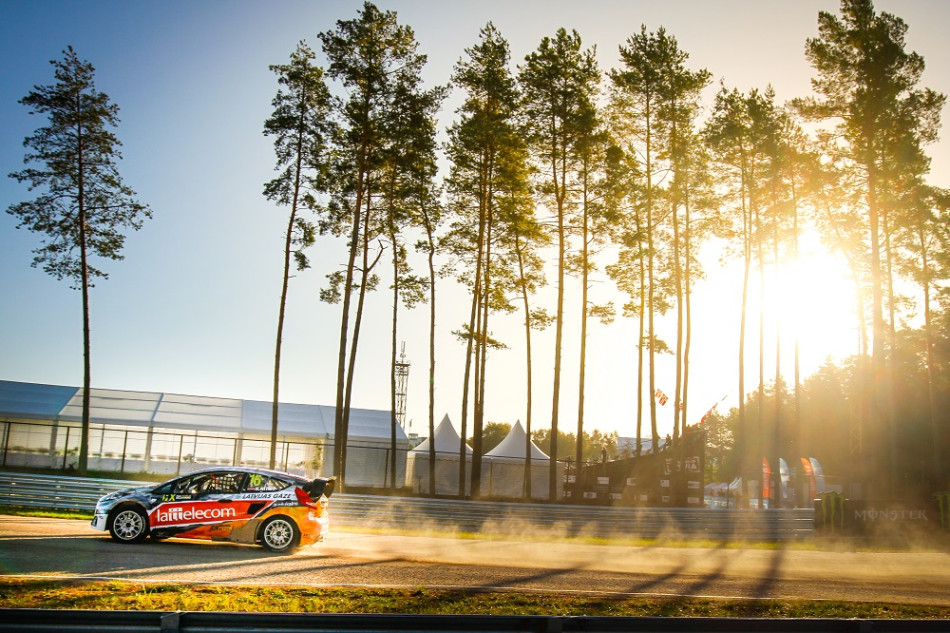 The FIA World Rallycross Championship will visit the Baltic states this weekend as World RX returns to Riga for the second-ever running of the Neste World RX of Latvia (15-17 September). A total of 81 cars will compete in Latvia including 51 Supercars (21 World RX; 30 Euro RX) and 30 Super1600 cars. Riga will also form the final rounds of the FIA European Rallycross Championship for Supercars and S1600.
It is mathematically possible for series leader Johan Kristoffersson to win the 2017 drivers' title in Latvia this weekend with two rounds still to go. He is currently 46 points ahead of his PSRX Volkswagen Sweden team-mate Petter Solberg but Kristoffersson will need to extend that lead to 61 points in order to secure the title.  In the teams' standings, PSRX Volkswagen Sweden could also win the 2017 title in Latvia.  The team is currently 112 points ahead of Team Peugeot-Hansen and if they finish Riga with the same lead by the end of this weekend, they will have secured the 2017 trophy. 
Kristoffersson explained: "Petter and I work really hard together, we work in the same direction all of the time and we worked for this result. We talk to the engineers and when you have a car around you which gives you confidence, it means you can really push. The most important thing in Latvia is more points for the team and another step towards the dream."
Last year marked the first time that World RX had visited Latvia and in spite of torrential rain, the fans descended on the track in their thousands to watch Sebastien Loeb take his maiden World RX victory. "The track is fantastic and was good to drive even in rain," explained Mattias Ekstrom, who came second behind Loeb in the final. "This year, we already tested in Riga and will give our all to reduce our gap to the competition a little more. France was a step in the right direction. In qualifying, I'm shooting for the top spot and want to start from pole position in the semi-finals."
For local hero Reinis Nitiss, this is a very special race: "Riga is my home round, so that's maximum motivation," explained the Latvian.
One major driver change in the World Championship line-up this weekend is JB Dubourg who will not take part due to the imminent birth of his child. Belgium's Francois Duval will replace Dubourg in the DA Racing Peugeot Supercar.  Duval took up the story: "I want to thank the Dubourg family, and especially Dominique, for thinking of me as a suitable replacement for this weekend. Jean-Baptiste understandably needs to stay in France, so his seat was vacant - when I received the proposal, I did not hesitate for a second. I hope the weather conditions will be changeable, which will level the difference in power of the cars. It's difficult to set an exact target, but I will do everything to give the maximum I can."
DTM driver Nico Mueller will also make his second World RX appearance, driving the fourth Audi S1 quattro for the EKS team. Finland's Joni-Pekka Rajala will race a Mitsubishi Mirage Supercar, while French legend Herve Knapick will make his final World Championship appearance in a Citroen DS3 run by his own team. 
In the final round of the Euro RX Supercar Championship, which is led by Sweden's Anton Marklund, 30 drivers will compete. TouringCar racer Philip Gehrman will make his second Supercar start of the year in an Eklund Motorsport Volkswagen Beetle. Another driver to make a return to the series in Latvia will be Poland's Martin Kaczmarski. 
In Super1600, Norwegian star Espen Isaksaetre will race a Peugeot 208 and Germany's Sven Seeliger will compete in a Ford Fiesta. Hungary's Attila Mozer (Skoda Fabia) and Latvia's Martins Lapins (Renault Twingo) will make their debuts, while Arnis Odins and Juris Spikis will race Twingos run by the Traubergs Motorsport team. Edijs Oss (VW Polo) makes it five home drivers in Super1600. 
Timetable
Friday 15 September
1600 Pre-event press conference in the Riga Motor museum beside the circuit
Saturday 16 September
0830 Photographers' briefing
0900 Practice: Super1600
1000 Practice: World RX and Euro Supercar
1200 Q1: Super1600
Q1: Euro RX Supercar
Q1: World RX Supercar
1400 Monster Energy Rig Riot
1430 Q2: Super1600
Q2: Euro RX Supercar
Q2: World RX Supercar
1620 Q3: Super1600
1700 Press conference with top three World RX drivers
1800 Autograph session – World RX - fanzone
Sunday 17 September
0830 Photographers' briefing
0830 Warm-up: all categories, two laps, once only
0930 Q3: World RX Supercar
Q3: Euro RX Supercar
Q4: Super1600
Q4: World RX Supercar
Q4: Euro RX Supercar
Lunch and track maintenance
1245 Autograph session – fan zone
1310 Monster Energy Rig Riot – fan zone
1330 Semi-finals: Super1600
Semi-finals: Euro RX Supercar
1410 Final: Super1600
1500 Semi-finals: World RX Supercar
Final: Euro RX Supercar
Final: World RX Supercar
1500 Podium
1610 Press conference: Top three World RX Supercar
1620 Press conference: Top three Euro RX Supercar
Entries
World RX Supercar entry list
Euro RX Supercar entry list
Super1600 entry list