This page contains archived information and may not display perfectly
World RX moves to Germany as 2016 title fight intensifies
The penultimate round of this year's FIA World Rallycross Championship presented by Monster Energy will take place at Buxtehude in Germany this weekend (14-16 October)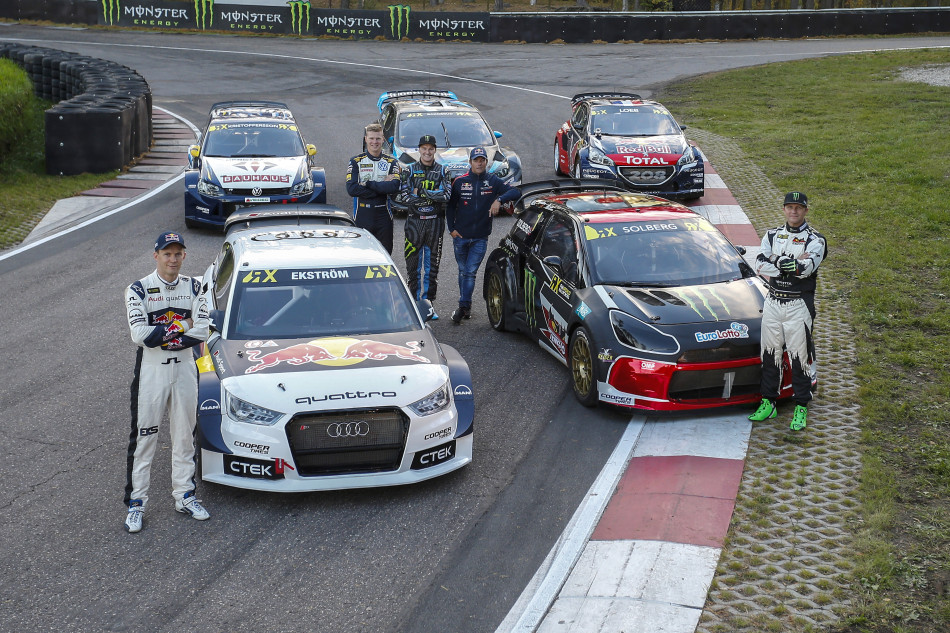 Ahead of the German round of the 2016 FIA World Rallycross Championship this weekend (14-16 October), in the overall driver standings it's Mattias Ekstrom that tops the board with a 27 point lead over Johan Kristoffersson who is second.  If Ekstrom – who has forfeited the final round of DTM to compete in World RX - is able to establish a gap of more than 30 points this weekend, he will win the 2016 title.
Buxtehude also marks the final round of the FIA European Rallycross Championship for Super1600 and TouringCars. Twenty S1600 cars will compete in Germany where Denmark's Ulrik Linnemann currently leads Krisztian Szabo by six points. The title race in TouringCars is set to go down to the wire between Ben-Philip Gundersen, Magda Andersson and Fredrik Magnussen who are separated by just ten points. Germany's Ralf Evers makes his first start in the category driving a BMW E87.
The Estering is the second oldest track in the World RX calendar (Lydden Hill is the oldest), with the circuit having hosted international events since 1973.  Set 30 miles south of Hamburg, the traditional German RX track is only 950 metres long but is among the fastest of the year with a long, downhill run between turns one and two. The 2014 event saw the closest finish in rallycross history when Solberg took the win over Ekstrom by an unbelievable margin of just five thousandths of a second.  Last year's event was won by Davy Jeanney.
Thirty World RX Supercars have entered Germany RX including reigning World RX Champion Petter Solberg who encountered difficulties at the previous round in Latvia where, for the first time in 35 events, he failed to qualify for the semi-finals. The Norwegian was consequently demoted to third in the standings, 34 points adrift of Ekstrom.  Tommy Rustad will drive for the Muennich Motorsport team in a Seat Ibiza Supercar following his victory at the final round of the FIA European Rallycross Championship in Latvia earlier this month.
Representing Germany on their home event will be Rene Muennich and Andreas Steffen but Ekstrom is a popular name in Germany after competing in DTM (the German Touringcar Championship) for over a decade. "There is still a long way to go," explained Ekstrom who is determined not to rest on his laurels. "At Estering and at the season finale in Argentina, a total of 60 points are still up for grabs. And the competition is not resting either – one mistake and the lead could be gone in a blink of an eye."
In addition to the permanent World RX teams and drivers, RX Lites Cup Champion Cyril Raymond will make his Supercar debut as his prize for winning the support series. He tested an Olsbergs MSE Ford Fiesta for the first time in Riga.
American Top Gear presenter Tanner Foust will make his second start of the season in a Volkswagen Polo run by the Volkswagen RX Sweden team, while former Swedish Rallycross Champion Peter Hedstrom will race a similar car. European Champion Kevin Hansen and his Peugeot Hansen Academy team-mate Davy Jeanney will also compete in Riga.
Alexander Hvaal will race the Eklund Motorsport Volkswagen Beetle he has campaigned in Euro RX this season, while his Euro RX team mate Joni-Pekka Rajala will debut a Mitsubishi Mirage in World RX. Italy's Gigi Galli will make his second appearance of 2016 in his Kia Rio Supercar, following his debut in Latvia.
In the World RX Teams' Championship, Team Peugeot-Hansen has been closing on EKS who leads the standings by eight points.  Team Peugeot-Hansen – who is represented by team-mates Timmy Hansen and Sebastien Loeb - will be keen to take advantage of a test that they had at the circuit earlier this season.
Loeb, who is feeling buoyed following his maiden World RX win last time out, explained: "For once, I have prior knowledge of the track because I was able to test there earlier in the year. There aren't many corners but they aren't easy. The first turn – a tight hairpin – is especially delicate. There's a bit of asphalt on the inside and it's quite hard to position the car to optimise exit traction for the long straight that comes afterwards. It's a corner which has the potential to generate some big gaps. After my result in Riga, I know I can win and having a car that allows you to fight for the victory only adds to your motivation. There is no reason why we can't challenge for first place again at the Estering, and a top-three finish in the drivers' championship is still a possibility."
Paul Bellamy, World RX Managing Director for IMG, concluded: "The Estering is a fantastic traditional rallycross circuit which is renowned for its first corner action and has an exit which runs up to the finish line.  The layout makes for extremely close racing until the final lap; indeed our 2014 race was a prime example of just how exciting this circuit can be as it provided the closest finish in rallycross history with Petter and Mattias separated by the tiniest of margins. The drivers' title could be decided in Germany this weekend, and the pressure will be on Johan and Petter to score as many points as possible to prevent Mattias from securing the title.  We will also see the 2016 TouringCar and Super1600 Champions crowned, where only a handful of points separate the top drivers in both categories."
From a Cooper Tire point of view
Paul Coates, General Manager – Motorsport, Cooper Tire Europe, commented: "The Estering rallycross track is another popular circuit and in previous years it has seen some of the closest finishes ever with Petter Solberg crossing the line five thousandths of a second ahead of Mattias Ekstrom in 2014. This may be one of the shortest circuits but the back straight is one of the fastest of the rallycross circuits where speeds can approach 180km/h. This track shows how the Cooper rallycross tyre brings together our extensive multi-disciplinary knowledge and technology to produce tyres that can race at high speeds and, at the same time, are able to cope with the quick changes between gravel and dirt surfaces."
Public Timetable
Friday 14 October 
1600 Drivers' draw for Q1 grid positions and pre-event press conference with Mattias Ekstrom, Johan Kristoffersson, Gigi Galli and Cyril Raymond
Saturday 15 October 
0700 Welcome centre open
0830 Photographers' Briefing
0930 Open practice: all classes
1200 Q1: all classes
1400 World RX autograph session  
1445 Q2: all classes
1615 Q3: TouringCar & Super1600
1700 World RX press conference (top three after Q2)
Sunday 16 October  
0830 Photographers' briefing
0915 World RX warm-up
1000 Q3: World RX Supercar
Q4: TouringCar & Super1600
Q4: World RX Supercar
1230 Semi-finals: S1600
Semi-finals: TouringCar
Final: S1600
1310 Monster Energy Rig Riot
1450 World RX Driver Introductions
1500 Semi-finals: World RX
Final: TouringCar
Final: WorldRX
1550 World RX podium presentation
1610 World RX press conference at media centre
More information
View the World RX entry list for Germany here
The Euro RX (Super1600 and TouringCar) entry list can be found here
Full TV listings for World RX can be viewed on this link
Event information can be found here