This page contains archived information and may not display perfectly
World RX - Kristoffersson signs off record record breaking season with Cap Town victory
2018 World RX of South Africa - Race Report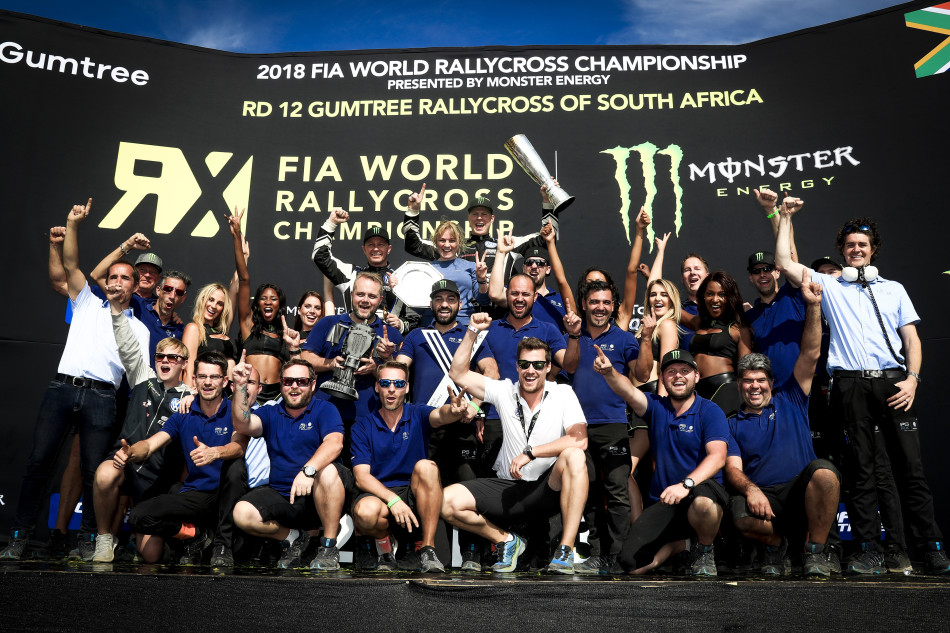 Johan Kristoffersson wins World RX of South Africa
Sebastien Loeb and Mattias Ekstrom complete Cape Town podium
Oliver Eriksson secures RX2 title
PSRX Volkswagen Sweden's Johan Kristoffersson scored victory in the World RX of South Africa, the final round of the FIA World Rallycross Championship presented by Monster Energy.
Sweden's Kristoffersson set three quickest qualifying times to claim TQ (top qualifier) position in his Volkswagen Polo R on World RX's second visit to Cape Town's Killarney International Raceway before winning both semi-final one and the final to secure his record breaking 11th win of the season.
 
EKS Audi Sport's Mattias Ekstrom started on the third row of the grid for the final in his Audi S1 and climbed to second during the race with a strong start, after securing second in the World RX Drivers' Championship when his team mate Andreas Bakkerud retired from the semi-finals. Team Peugeot Total's Sebastien Loeb completed his third full World RX programme with another podium in his Peugeot 208 and finished ahead of team mate Kevin Hansen in the final.
 
"I have to say today is quite emotional. This season comes to an end and it's been a fantastic year for me, really the world championship title sinks in a little bit more now. I really have to thank this great team, they have done everything for me," said Kristoffersson "Without them it wouldn't be possible. I have said that so many times since my first victory in Belgium 2017, but this one meant a lot to me."
 
Ekstrom was pleased to finish his year on the podium. "We actually came to Cape Town to win the race. We were fast throughout the entire weekend, but somehow didn't get into the right rhythm," said Ekstrom. "In the final things finally fell into place. Second is a fantastic result and a good end to a long season, in which Johan was always a small step ahead. Even so, I'm extremely proud of the entire team: We extracted the maximum from our resources. It was also a fabulous year with Andreas. We had a lot of fun together and have something to celebrate this evening."
 
Loeb set the fastest time in Q1 on Saturday and finished on the podium for the seventh time in 2018. "The car was good here, we improved it all year and since the middle of the season we have changed a lot of things," he said. "I think we had good performance, we tried to improve some details and here in the last race were really competitive. I had a good weekend and finally to be third overall, I'm happy."
 
PSRX Volkswagen Sweden's Petter Solberg won the Monster Energy Supercharge Award for having the fastest reaction time at the start of the final in his Volkswagen Polo R but retired on the second lap after a spin. Team Peugeot Total's Timmy Hansen joined team mate Loeb on the second row of the grid for the final but retired after contact with Solberg's car.
 
GRX Taneco Team's Timur Timerzyanov and GC Kompetition's Anton Marklund finished fourth in the semi-finals and didn't progress to the final. Team STARD's Janis Baumanis finished fifth in semi-final one, but EKS Audi Sport's Andreas Bakkerud retired with a technical issue. ALL-INKL.COM Muennich Motorsport's Timo Scheider was fifth in semi-final two but GC Kompetition's Guerlain Chicherit retired on the fifth lap.
 
GRX's Niclas Gronholm was first reserve for the semi-finals in 13th and Olsbergs MSE's Kevin Eriksson and Robin Larsson concluded their 2018 seasons in 14th and 15th. Sebastien Loeb Racing's Gregoire Demoustier finished his first full World RX campaign 17th in South Africa.
Norway's Ben Philip-Gundersen won the final round of the RX2 International Series ahead of compatriot Sondre Evjen and Latvia's Vasily Gryazin. Sweden's Oliver Eriksson entered the final round locked in a battle with Belgium's Guillaume De-Ridder for the title and wrapped up the single-make championship by qualifying for the final. Eriksson led on the on lap one but stopped with technical issues and was classified sixth. Sweden's William Nilsson finished fourth and Finland's Sami-Matti Trogen was fifth.
 
Paul Bellamy, World RX Managing Director for IMG, concluded: "It's been a really good season with a lot of new things that we've done, starting off with the Speedmachine Festival at Silverstone for the first time and going to COTA for our first trip to America. We're seeing the best rallycross driver ever in our championship in Johan and that's something that I think should be embraced. He's just so good. The crowds have been good all year, the live streaming has been a big success and overall it's been a busy and hectic year which has finished with the festival atmosphere here in Cape Town. The South African people have a motorsports history and they are so pleased that we're here. Coming to South Africa has really helped rallycross get on the map out here and we are delighted by that."